Don't Question Jaxon Smith-Njigba's Ceiling—Rookie WRs Tiers 1-2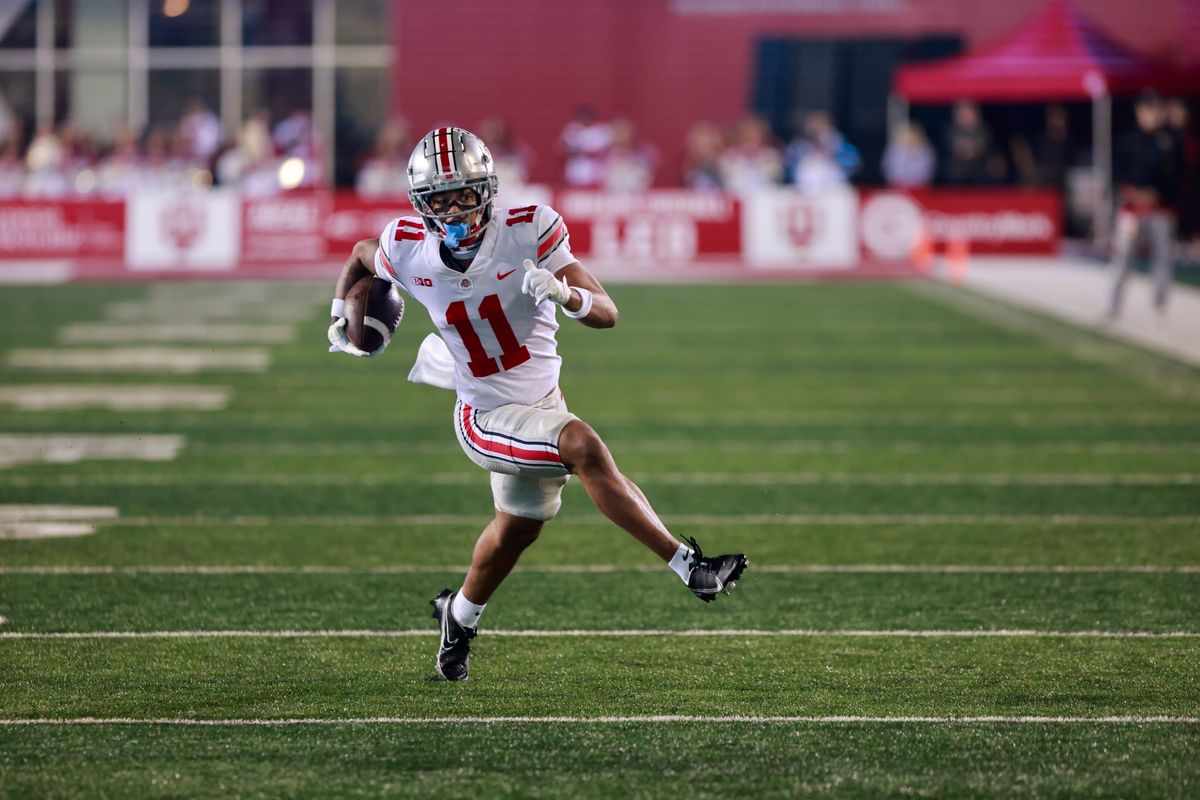 3/15/23
Class Overview
The 2023 wide receiver class looks far shallower than recent WR classes.
Per my model, the 2020 class had seven WRs rated as 1st-round rookie picks. The 2021 and 2022 classes each had eight. For the 2023 class... I have just three WRs that rate as 1st-round rookie picks – although that could change with strong enough draft capital for a few WRs on the borderline.
JJ Zachariason, whose rookie analysis is top-notch, sees a similar landscape:
The depth that we enjoyed from 2020-22 is not typical. Before 2020, you have to go all the way back to 2014 to find a class that had 7+ WRs rated as 1st-round rookie picks in my model. (That ridiculous class had nine WRs with that grade).
So this class is both statistically a little thin... and will feel really thin compared to what we've gotten used to in recent years.
But the top of the class is still exciting. And in my view, the 2023 class includes at least one high-end prospect worth chasing up boards.
---
Tier 1 - Safety and Upside
Jaxon Smith-Njigba
At a Glance
Jaxon Smith-Njigba projects to play primarily out of the slot in the NFL. But at 6-foot-1, 196 pounds, he could do so in the mold of CeeDee Lamb rather than in the part-time role we typically imagine for a "slot receiver." Still, a lack of upside looks like Smith-Njigba's biggest potential red flag, with some drafters likely to take a "sure he'll probably hit, but what will that get you?" approach – particularly in dynasty.
Positive Indicators
Jaxon Smith-Njigba is entering the league after his true junior season and appears to have locked up 1st-round draft capital after absolutely torching the agility drills.
His production profile is impressive... but it is also based essentially on a single season. Smith-Njigba went off in 2021 with a 95/1,605/9 receiving line as a true sophomore. Amazingly, he did so while playing alongside two future 1st-round picks and emerging NFL stars: Garrett Wilson and Chris Olave. Smith-Njigba is over 1.5 years younger than both Wilson and Olave. He was also a year earlier in the Ohio State program than Wilson and two years earlier than Olave. And it's worth mentioning that Jameson Williams transferred to Alabama in advance of the 2021 season, as it was clear that playing time would be an issue for him. Smith-Njigba's ability to stand out against elite teammate competition was off the charts.
In his final game of 2021, Smith-Njigba went absolutely nuts, posting 15/347/3 in a real-life bowl game. This production came without both Wilson and Olave on the field. This has led to a narrative that Smith-Njigba only produced when one of Wilson or Olave missed time. This narrative is off base.
Hilariously, before putting the Ohio State passing game on his back in the Rose Bowl, Smith-Njigba was battling the exact opposite narrative. Writing for the Athletic after Ohio State's victory, Bill Landis wrote:
"I thought he'd struggle some in a game without Wilson and Olave by his side. There was some sentiment that he was the benefactor of less attention with those two also on the field throughout the year. Nope."
This original narrative existed because Smith-Njigba had only one 100+ yard game with both Wilson and Olave out: his aforementioned eruption against Utah. In fact, both Wilson and Olave were in the lineup for five of his seven 100+ yard games. Smith-Njigba was highly productive with two future 1st-round picks in the lineup, and when he had to step up without them to close the year, he did so in historic fashion.
Smith-Njigba's production also looks transferable to a standard NFL offense. He produced only 9% of his yards on screens in 2021. Despite that, he was deadly after the catch. Smith-Njigba produced 1.98 YAC per route in 2021, which bested YAC-god Treylon Burks that year. And Burks produced over twice as many of his yards on screens. As I'll get to, there are some holes to poke in Smith-Njigba's college deployment, but his ability to produce after the catch on traditional routes is a great sign.
Red Flags
Dynasty nerds were ready for Smith-Njigba to scorch the earth in 2022 and solidify himself as the next can't-miss WR prospect. Instead, Smith-Njigba's junior campaign was a total write-off. While dealing with a hamstring injury, he played just three games and recorded just five total catches for 43 scoreless yards.
This lack of a final season is especially unfortunate because, although Smith-Njigba's raw production was insane in 2021, it did not technically constitute a breakout season. As a sophomore, he accounted for just 20% of Ohio State's TDs, leading to a 26% dominator rating. However... it's worth noting that Justin Jefferson posted a 111/1,540/18 receiving line in 2019 that was technically not a breakout either. Market share metrics are very helpful, but they can get skewed by low-end and high-end raw production. It's also harder to dominate in percentage terms when playing next to other elite talents.
Fortunately, we do not have to speculate on if Smith-Njigba really dealt with elite target competition. Because he's entering the NFL a year after Wilson and Olave, we now have very strong evidence that Smith-Njigba faced serious competition from his older teammates. We also have strong hints that the trio's ability to keep Jameson Williams out of Ohio State's plans was a major accomplishment.
Still, Smith-Njigba has just one productive season under his belt, and it's not impossible to poke holes in it (even if I'm personally skeptical of the arguments).
There's also a reason Smith-Njigba didn't run the 40 at the Combine. Despite excelling in the agility drills, he is not expected to have impressive straight-line speed. It's possible he's not even sub-4.6, which would definitely start to raise concerns about his NFL ceiling.
Even with sub-4.6 speed, Smith-Njigba could struggle to do damage downfield. He produced only 55% of his yards on targets traveling 10+ yards downfield, a rate in line with Jakobi Meyers (56%), Christian Kirk (54%), and Hunter Renfrow (53%). But Smith-Njigba's college role might simply tell us that as a 19-year-old, he wasn't as good of a downfield receiver as Garrett Wilson or Chris Olave. That doesn't strike me as particularly worrying and may ultimately have little bearing on his ability to operate downfield in the NFL two years later.
And during his blow-up game without Wilson and Olave, his role changed. 75% of Smith-Njigba's yards against Utah came on targets 10+ yards downfield. We saw the dynamic I'm suggesting with A.J. Brown, who also produced only 55% of his yards on downfield targets while playing alongside DK Metcalf at Ole Miss. He's since developed into a premier downfield threat. And while Smith-Njigba won't be the next A.J. Brown, there may be more elements to his game than he was able to show in 2021. Then again, he may be mostly limited to underneath work at the next level.
Statistical Comps
Justin Jefferson
Nelson Agholor
CeeDee Lamb
Golden Tate
In a class full of genuinely small receivers, it's worth noting that Smith-Njigba weighed in at 6-foot-1, 196 at the Combine. He's significantly bigger than Garrett Wilson (6-foot, 184), who just showed the ability to play outside at the next level.
This makes Smith-Njigba's strong statistical comp to Justin Jefferson extremely interesting. Jefferson also played in the slot in college before emerging as an all-around threat in the NFL. At 6-foot-1, 202, he's built similarly to Smith-Njigba as well. With 4.43 speed, Jefferson is almost certainly the faster of the two, but the comp is a reminder not to get too bogged down in how Smith-Njigba was deployed alongside Wilson and Olave.
Nelson Agholor's profile is a little close for comfort. Agholor was a productive underclassman with a similar physical build. He's had his moments, but a parallel career would be an unmitigated disaster, given where Smith-Njigba will go in drafts.
The comp to CeeDee Lamb helps dispel the notion that "slot WR" is a knock. Lamb played 93% of his snaps in the slot as a rookie and 63% in 2022. However, that hasn't stopped him from developing into an elite fantasy wide receiver. As long as Smith-Njigba can emerge as the top WR on his team, it doesn't necessarily matter where he lines up.
Golden Tate serves as a semi-cautionary tale. He was asked to play outside in his four seasons with the Seahawks before transitioning to the slot in Detroit. He produced a 1,000+ yard season in 3-of-4 full seasons with the Lions but seems to have been misused to start his career. Tate is a reminder that Smith-Njigba could be somewhat landing spot-dependent, especially if it turns out he can only win out of the slot at the next level.
Best Ball Outlook
Smith-Njigba is going in the 5th round of Underdog drafts, which I find a bit frustrating. In my dynasty bubble, it seems like the market doesn't view him as a can't-miss prospect after he didn't play in 2022. However, best ball drafters are pricing him almost as aggressively as they priced Ja'Marr Chase.
But as I mentioned at the top, some drafters will question Smith-Njigba's ceiling, discounting his upside due to his NFL archetype. That would be a mistake. The same logic was used with Justin Jefferson and Garrett Wilson as they entered the league, and both showed that when a "safe" 1st-round WR hits, their ceiling can be... surprisingly high.
As we'll get to with Jordan Addison, I'm not above questioning high-end ceiling outcomes for undersized receivers. But Smith-Njigba is 6-foot-1, 196. He unquestionably has the frame to be an every-snap receiver in the NFL, even if he lines up in the slot more than most.
Ultimately, I think we need to be drafting Smith-Njigba. He has the build and the background to become a fantasy WR1. And with 1st-round NFL draft capital looking locked in, we can't count on a discount materializing at any point this offseason. We're not used to paying this much for non-Ja'Marr Chase rookie WRs in best ball, and JSN isn't a Chase-level prospect. But Smith-Njigba has a strong range of outcomes that can still pretty easily pay off a 5th-round ADP.
Best Ball Recommendation: Target
Dynasty Grade
Early 1st-round rookie pick.
Tier 2 - Downfield Producers