DeWayne McBride is Worth the Risk—Rookie RBs Tiers 5-6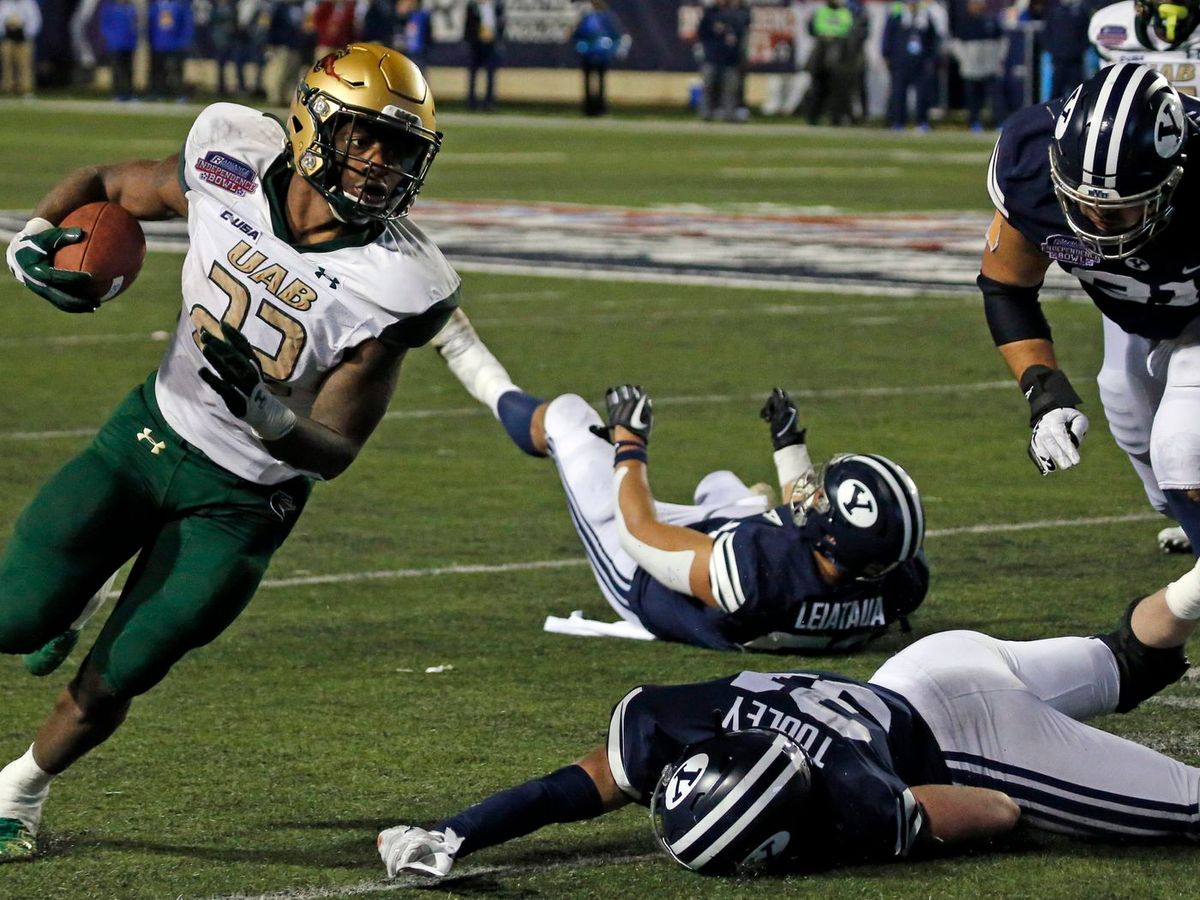 In my first article on the 2023 running back class, I ranked Bijan Robinson, Jahmyr Gibbs, and Zach Charbonnet each in their own tier. Those tier breaks reflect a lack of depth in the upper echelon of the class.
However, in Tier 4, I wrote up a whopping seven RBs. This class gets fun once you enter the second round of rookie drafts and the late rounds of best ball drafts. And once you get into the third round of rookie drafts and the very last rounds of best ball drafts, the class remains fun. That's where we are now.
In Tier 5, we're covering players with uncertain draft capital, many of whom have significant holes in their profiles. But you don't have to squint too hard to see some promising upside in these profiles.
Tier 5 - Last-Round Best Ball Picks
DeWayne McBride
At a Glance
DeWayne McBride is an early declare RB who was an extremely efficient rusher over his final two seasons. However, his receiving profile is almost unbelievably bad. McBride also played at a non-Power 5 school, and while we don't have athletic testing on him, it's unlikely that he would have tested particularly well.
Positive Indicators
As I'll get to, McBride has at least one major red flag. But those weaknesses are easier to overlook because McBride excels at what he does well.
McBride leads the 2023 RB class in elusive rating, narrowly beating out Bijan Robinson. He was a tackle-breaking machine and followed those moves up with yard after contact.
McBride also paired an elusive running style with an ability to handle a large workload. McBride ranks RB8 in my database among all FBS running backs in elusiveness per game. The seven RBs ahead of him form an impressive list: Bijan Robinson, Todd Gurley, Jonathan Taylor, James Robinson, Melvin Gordon, A.J. Dillon, and Kareem Hunt. Unsurprisingly, RBs who can break a lot of tackles and handle a lot of carries make for good fantasy bets.
McBride also ripped off 15+ yard runs at a very high rate. His 54% breakaway percentage ranks in the 93rd percentile among drafted RBs. And again, McBride's ability to handle a large workload makes his breakaway ability look more impressive. The only FBS backs with more breakaway yards per game are Melvin Gordon, Todd Gurley, and Tevin Coleman. And the three backs just behind McBride are Jonathan Taylor, Aaron Jones, and Dalvin Cook.
Additionally, McBride wasn't just efficient at UAB; he was a wildly productive rusher. As a true sophomore, he rushed 205 times for 1,368 yards and 13 TDs. Then in 2022, he upped his game, handling 233 carries for 1,710 yards and 19 TDs. His rushing résumé is extremely impressive, especially for a three-year college back.
Red Flags
McBride crushed it as a rusher at UAB but wasn't facing the most challenging competition as a Conference USA running back. And although McBride handled a solid 16 carries per game, he was still a committee back in college.
In his breakout 2021 season, McBride accounted for just 42% of UAB's backfield production. His 2022 season was stronger, but he still had a low backfield dominator rating of 53%. In other words, while McBride was part of a bruising UAB rushing attack, he didn't have to do all the bruising. Over the last two years, McBride split time with Jermaine Brown, who handled 146 touches to McBride's 207 in 2021 and 185 touches to McBride's 235 in 2022.
The issue for McBride is that if his rushing credentials are a product of his level of competition... he has nothing to fall back on.
Stunningly, McBride has just five career receptions in 30 career games. And McBride's lack of involvement in the passing game wasn't just a scheme issue. Jermaine Brown, McBride's backfield partner, has a respectable 1.03 YPRR. McBride has an abysmal 0.16 YPRR—the lowest career mark for an RB since at least 2015.
Because while McBride didn't run many routes, it wasn't like he was never out there. McBride averaged 6.0 routes per game, just above Derrius Guice (5.3), Rashaad Penny (5.8), and Jonathan Taylor (5.9). His usage was a red flag, but he wasn't historically uninvolved as a receiver. The issue is that UAB didn't seem to care when he was on the field. Whereas Guice (1.33 YPRR), Penny (1.86), and Taylor (1.66) were pretty impressive on limited routes, McBride was a complete afterthought. As a result, his chances of contributing as a receiver are exceedingly small.
But a pure two-down profile doesn't eliminate fantasy upside, especially when the price is essentially zero. We just saw Kenneth Walker emerge as a fantasy difference-maker despite averaging 1.8 receptions per game. If McBride is anywhere near as good of a rusher in the NFL as he was at UAB, he'll still have value without needing to contribute in the passing game.
But level of competition isn't the only reason to be skeptical of McBride's rushing credentials. There's also the issue that he hasn't been able to work out for teams this offseason—the result of a lingering hamstring injury.
His lack of athletic testing makes me a bit queasy... because McBride was frequently tracked down from behind at UAB.
Check out how many times McBride gets caught from behind in this highlight video.
These are his highlights. Yet when he outruns defenders for a long TD after the 3-minute mark in this video, it qualifies as a plot twist.
McBride hit 15+ yard runs with impressive frequency, and his elusiveness is off the charts. His ability to accelerate is not in question. However, at best, his long speed is likely in the 4.55-4.6 range. And it's possible he's in the Ka'Deem Carey 4.7ish range.
Statistical Comps
Devin Singletary
Kareem Hunt
Kenneth Walker
McBride has no close comps in my model.
Devin Singletary shows up as a weak comp because of similarly strong elusiveness and breakaway ability. Yes, you read that right. Singletary was an impressive breakaway runner in college. But like McBride, he was ripping off 15+ yard runs against Conference USA competition. With a 4.66 40, Singletary has been a chunk-play runner in the NFL. The Bills used Singletary on passing downs, but that was a high-end outcome given his underwhelming 0.79 college YPRR. So although McBride is unlikely to see even Singletary-level passing-game involvement, the comp is a reminder that earning a coaching staff's trust can do wonders.
Kareem Hunt was a much more efficient college receiver than McBride. But he wasn't as efficient as you might think, with a solid but unimpressive 1.04 career YPRR. Hunt's off-the-charts elusiveness was a sign that he had more to offer in the passing game than he showed in college. The same could be true for McBride, but I'm not holding my breath for a player with five career receptions. Still, Hunt is an encouraging comp. At the Combine, he posted just a 4.62 40. Like McBride, he didn't have impressive top-end speed. But Hunt was still a highly effective rusher in his prime.
Kenneth Walker shows up as a very weak comp, driven partly by the fact that Walker is one of the only RBs in McBride's ballpark when it comes to receiving efficiency. Walker had a very poor 0.45 YPRR over his college career. But Walker is also a high-end athlete with a 4.38 40 and an elite 10-yard split. There wasn't much concern that Walker would be able to succeed as a two-down back in the NFL. McBride's outlook is much more uncertain.
Best Ball Outlook
McBride profiles as a pretty sketchy bet if priced at anything above free. But here's the thing... McBride is free. Going as RB70 on both Underdog and FFPC, he can be taken in the final couple of rounds of best ball drafts.
And McBride's highly elusive profile could lead to some solid rookie production, especially if he lands in a run-heavy offense or with a mobile quarterback. Let me put it this way: If Zach Charbonnet lands with the Bears, how much will we really be expecting from him as a receiver? David Montgomery just finished RB20 in YPRR, and Khalil Herbert was RB53.
My point is that in certain situations, even RBs with solid receiving profiles will see limited receiving involvement. Usually, that's a bummer. But that's the exact situation we want for McBride. As a highly elusive early-down hammer alongside a mobile QB, he could smash his late-round ADP. And whatever he "loses" in receiving upside wasn't there to begin with.
And fortunately, McBride's assumed lack of long speed seems to be baked into his scouting evaluation. Dane Brugler grades McBride as a 4th-round value despite his assessment that McBride "doesn't have separating speed and can be tracked down from behind." If McBride can still land 4th-round capital despite his apparent weaknesses, he can contribute to fantasy lineups in the mold of D'Onta Foreman.
Best Ball Recommendation
Target in the final rounds
Dynasty Grade
3rd-round rookie pick
Zach Evans