Best Ball: Where Should Tony Pollard Go in Drafts?
3/16/23
Somewhere on the Internet, there is a version of this post where I literally begged you to draft Tony Pollard in the 4th round. Unfortunately, you were not aware of the existence of Legendary Upside when that post was published – and for that, I apologize.
We now live in a world where drafters are operating with the knowledge that the Cowboys have cut Ezekiel Elliott.
But that move is not necessarily a good thing if you (like me) viewed Pollard's 4th-round ADP as one of the biggest opportunities in best ball drafts.
Zeke's departure will open up touches, but it also removes a protection of sorts. Because, in a sense, Elliott was protecting Pollard's 2023 floor by being completely cooked.
Zeke's Decline
Ezekiel Elliott is in an evident and steep decline – which is obvious considering that Jerry Jones was willing to sign off on releasing him. This decline started at least two seasons ago.
In 2021, Elliott handled 237 attempts and produced 25 fewer yards than expected. This was a frustrating result, given that Tony Pollard was flashing elite rushing ability but handling less than half of Zeke's workload.
Then in 2022, the bottom fell out. Elliott still saw significant work, toting the rock 231 times, but he produced 58 fewer yards than expected. Only Najee Harris (-81), Leonard Fournette (-67), and Melvin Gordon (-65) were worse.
Elliott has also devolved into a total zero in the passing game. Zeke was a capable, if unexciting, receiving option early in his career. He finished above 1.0 yards per route run in each of his first three seasons. However, things have been rough over the last few years. After peaking in 2018 with 1.32 YPRR, Zeke has declined every year since – posting a highly concerning 0.64 mark in 2021. In 2022, things got completely out of hand. Among 61 running backs with 20+ targets, only Miles Sanders (0.28) finished lower in YPRR last season.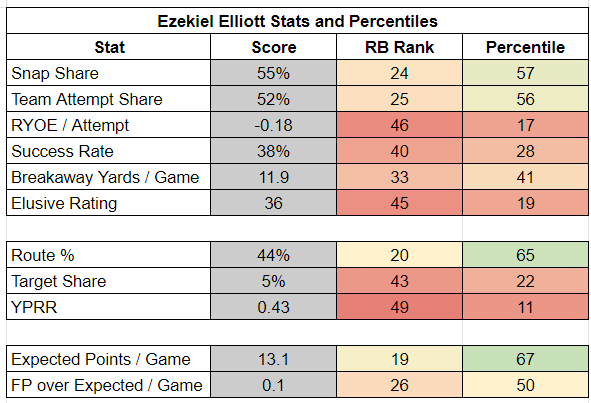 Zeke's decline set up a somewhat counterintuitive fantasy situation for Pollard in 2023. Arguably, Pollard believers should have preferred for Zeke to remain on the Cowboys.
Sure, Elliott's presence would have been an annoying thorn in the side of Pollard's fantasy profile. Elliott scored 12 TDs last season -- he stole significant value and could have again. But on the other hand, Elliott is a known commodity. In most outcomes, Zeke's presence would have provided an ADP discount while still setting up Pollard for a ton of upside in the fantasy playoffs.
Huge Opportunity
With Elliott elsewhere in 2023, Tony Pollard has the potential for a massive increase in opportunity. Unless the Cowboys bring in Bijan Robinson – which I honestly wouldn't put past them – Pollard will likely cruise to a career high in carries.
But this potential opportunity will substantially raise Pollard's price from the absurd 4th-round value he offered in early drafts. And even if the Cowboys only draft a Day 3 back, this looks like a deep RB class. Paired with a rookie, Pollard is a lock to see more early-season touches than he would have with Zeke. But Pollard was also a lock to run circles around Zeke in December and January; a talented rookie could make his fantasy playoff outlook more difficult.
Still, with Pollard now having a clear runway to a true lead-back role, we should stop and appreciate just how well he has played over the last two seasons.
Pollard's Emergence
Entering 2022, Pollard was going in the mid-7th round of Underdog drafts. That made him a very expensive handcuff. But Pollard was coming off a 2021 season where he had flashed elite talent, finishing RB7 in total Rush Yards Over Expected.
That achievement was all the more impressive because Pollard only saw 130 carries in 2021. Elijah Mitchell, who finished RB6 in the metric, needed 77 more attempts to produce just 18 more RYOE. In other words, Pollard wasn't just flashing talent; he was flashing untapped potential.
Pollard's receiving profile was similarly enticing. Pollard saw 46 targets in 2021, setting a new career high, and he was highly efficient when involved as a receiver. Among running backs with 40+ targets, only Christian McCaffrey (2.91) and Cordarrelle Patterson (2.24) finished with a higher yards per route run than Pollard's 1.90.
And in 2022, Pollard delivered on his promise. He was unfortunately hampered by injury for the fantasy playoffs but still nearly delivered a league-winning season. From Weeks 8-14, Pollard averaged 23.1 half-PPR points per game. If you're familiar with my Legendary RBs series, you may remember that 23 PPR points per game is the threshold I use for a legendary, league-winning RB season. Pollard had a stretch where he hit this threshold even without the full-PPR bonus. This is the type of upside we want to add to our lineups.
And despite finally receiving more volume in 2022, Pollard remained highly efficient. His mark of 244 RYOE was bested by only Nick Chubb (who produced 389... Chubb is insane) and Travis Etienne (263). On a per-attempt basis, only Khalil Herbert and Chubb were more efficient.
Pollard also continued to shine as a receiver. He set a new career high with 56 targets and finished RB6 in YPRR. Even in half-PRR leagues, we want versatile running backs, and Pollard has shown explosive playmaking ability in both phases of the game over multiple seasons. And he's coming off an RB1 finish in fantasy points over expected.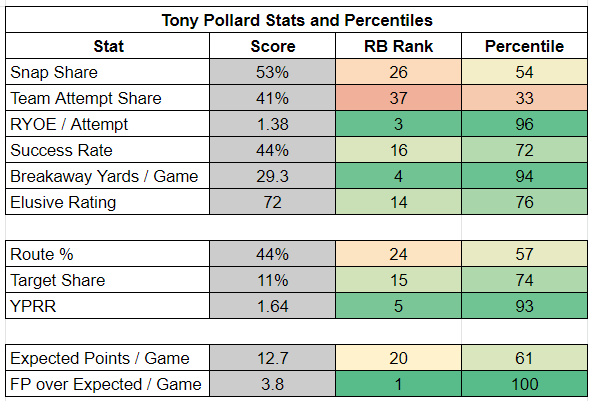 Insane Early ADP
Plenty of NFL news has caught me off guard... but the news that Ezekiel Elliott was unlikely to be on the Cowboys in 2023 was hardly a shock. As detailed above, his play over recent seasons made it the type of move that 31 other franchises would have made ahead of free agency. The only reason there was a chance of Zeke sticking around is that Jerry Jones prefers to live in his own reality.
Even still, Pollard's early 2023 ADP never made any sense. A year ago, Pollard was being selected as a premium handcuff in the 7th round of drafts. Pollard was much more expensive than other No. 2 backs, but he was clearly viewed as a secondary option in Dallas.
As bad as Zeke was in 2022, it's easy to forget drafters went down with the ship, selecting him in the 4th round of drafts. The perception on the Cowboys' backfield flipped in early 2023 drafts, with Elliott falling to the end of the 10th round on both Underdog and FFPC. Pollard was going as an early 4th-round pick in both formats.
But with early drafters no longer seeing Elliott as a serious threat to Pollard, why wasn't Pollard going much higher? Pollard has repeatedly flashed superstar potential yet was being priced as a dead-zone back.
Injury Discount
The only explanation for Pollard's early best ball ADP is that drafters were afraid of his late-season ankle injury.
I am not a doctor. So I cannot meaningfully weigh in on Tony Pollard's injury timeline as he recovers from the torn ankle ligaments and fractured fibula he suffered in January. And perhaps Pollard's injury was indeed serious enough to warrant a significant discount.
But I will say that Pollard was being priced in best ball drafts like a player coming off a severe injury. And while a broken bone and torn ligaments definitely qualify as a major life event, it's not clear that Pollard's injury will impact his 2023 campaign. The Cowboys reportedly expect him back "well before training camp."
Pollard also avoided a cast for his broken fibula. And while I'm probably out over my skis in assuming this is good... it certainly sounds positive to my layman's ears.
Critically, the Cowboys demonstrated a high level of interest in having Pollard on the team in 2023 when they franchise-tagged him over Dalton Schultz. The Cowboys are showing even more faith in him by cutting Elliott. Drafters have seemed far less convinced that Pollard will be ready for 2023 than the Cowboys.
Where Should Pollard Be Drafted?
In Pollard, we're talking about a player profile we often find in the late 1st round of fantasy drafts. He is a highly explosive rusher who offers receiving versatility. And barring an unexpected (but plausible) addition to the backfield, he should have a clear lead in backfield snaps.
Pollard offers a rare mix of consistency, explosion, and receiving ability, and is now very likely to offer a projectable workload. Until he jumps Kenneth Walker at the 2/3 turn, he will remain an extremely comfy click. And we're not there yet – I selected Pollard at the 3.05 in an Underdog draft this afternoon (Wednesday, 3/15).
If Pollard eventually jumps Walker, I might have to pause for a second before drafting him. But I'll still be willing to click the button in the middle of the 2nd round.
---