Michael Mayer Has Elite Target Upside—Rookie TEs Tiers 1-3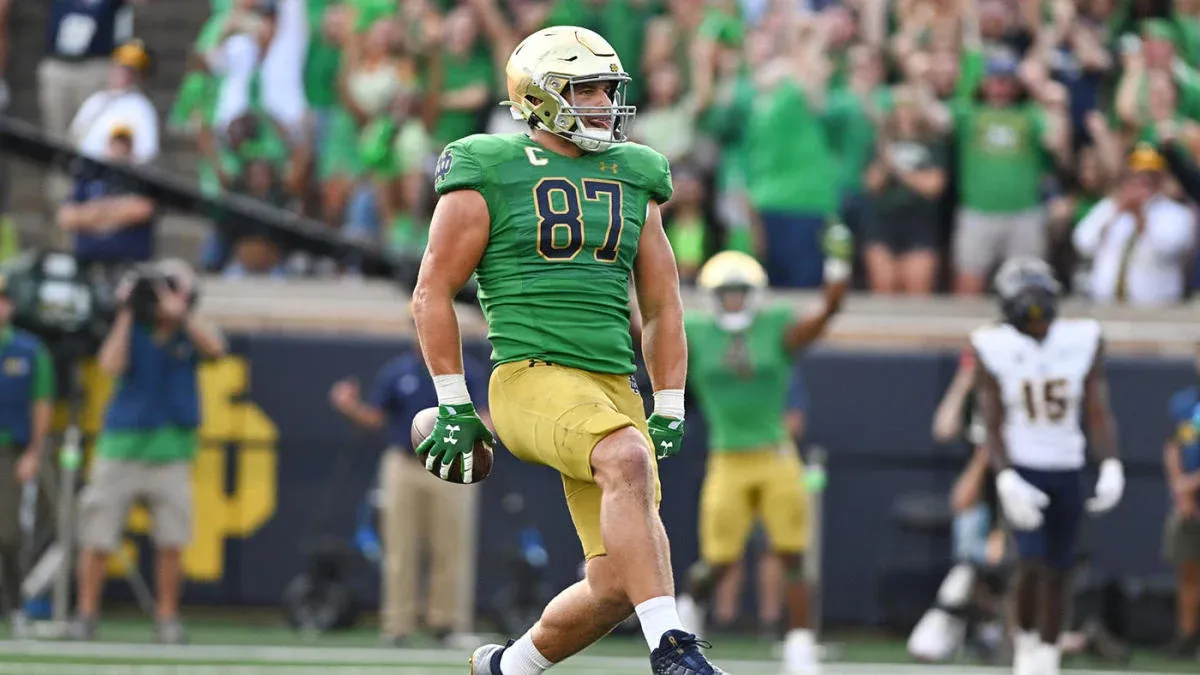 Projecting tight end production is extremely difficult. This is something I emphasized when I was below market on Kyle Pitts in his rookie year.
Of course, like many others, I got caught up in the Kyle Pitts hype after he posted 1,026 yards with 2.02 YPRR as a rookie. But Pitts' disappointing 2022 was a reminder that predicting TE breakouts... is tough.
We can see this by looking at the rookie dynasty value of the TEs currently being drafted at the top of best ball drafts. By Underdog ADP, the top best ball TEs are  Travis Kelce, Mark Andrews, T.J. Hockenson, George Kittle, Kyle Pitts, and Dallas Goedert. No other TEs went in the top seven rounds of the Big Board. Here is where each of these TEs went in rookie drafts:
Travis Kelce (2013)
Mark Andrews (2018)
T.J. Hockenson (2019)
George Kittle (2017)
Kyle Pitts (2021)
Dallas Goedert (2018)
Hockenson and Pitts were highly-regarded prospects, but the other four top tight ends were rookie-pick fliers.
With Pitts yet to deliver on his promise, Hockenson is the only early-round best ball TE with a previous top-five finish who we actually predicted ahead of time.
And we can't really blame the fantasy market here. The NFL isn't sure how to draft these guys, either. Hockenson (No. 8 overall) and Pitts (No. 4) were early 1st-round picks, and Goedert went in the 2nd round.
But Kelce and Andrews both fell to the 3rd round, and Kittle fell to the 5th. We've seen a similar dynamic with past fantasy greats. Tony Gonzalez was the 13th overall pick, and Rob Gronkowski and Zach Ertz went in the 2nd round. But Jimmy Graham and Jason Witten fell to the 3rd, and Antonio Gates was undrafted.
One issue here is that tight end is an extremely complex position. To be played at an elite level, it requires a player to block like an offensive lineman while running routes like a full-time WR... at ~250 pounds. Understandably, most do not become elite players in both departments.
And it's not always clear if NFL teams are even drafting TEs with the expectation of that two-way ceiling. Instead, they may be prioritizing a part of the tight end skill set that they need or that they prefer, with a plan to utilize multiple players.
We've seen high picks spent on receiving specialists like Noah Fant, who are then used in part-time receiving roles. And we've seen many highly-drafted TEs fail to secure meaningful receiving roles at all. Some of those were plain old busts, but it's also likely that blocking ability drove some of the selections.
Even the tight ends who become elite often take several years to get there. For example, although Antonio Gates, Rob Gronkowski, Jimmy Graham, and George Kittle hit 15+ PPR points per game in their second seasons, it took:
Tony Gonzalez until Year 3
Mark Andrews until Year 4
Jason Witten and Travis Kelce until Year 5
Zach Ertz until Year 6
Pitts, Hockenson, and Goedert still haven't gotten there. If they all have elite seasons in 2023, it will mark Years 3, 4, and 6.
The TE position is also littered with failed breakouts (not Ladarius Green, he's gonna get there) and one-year wonders (anyone remember Gary Barnidge?).
Honestly, it's a crazy position.
With this dynamic in mind, it's best to keep costs low when betting on rookie tight ends. But the fact that elite TEs can come from unexpected places also makes taking TE fliers pretty appealing – especially in tight end premium, where hitting at the position comes with outsized rewards. Targeting TEs also makes sense in leagues with deeper rosters, where burning a roster spot for several seasons doesn't come with much opportunity cost.
And this class offers a plethora of strong tight end bets who aren't likely to cost a ton in dynasty and are very cheap in early best ball drafts. Of course, it will be hard to pinpoint exactly which 2023 tight ends will be early fantasy picks in the future, but there's a good chance we get at least one star TE from this class.
---
Tier 1 - The Safe Bet
Michael Mayer
Profile Overview
Michael Mayer played three seasons at Notre Dame and was highly productive for a tight end. As a true sophomore, he went 71/840/7 in 12 games, posting a 24% yardage share and a 25% TD share. He then dominated his offense in 2022 with a 67/809/9 receiving line that was good for a 34% yardage share and a 41% TD share.
Mayer was also solidly efficient, with a career YPRR of 1.95. And he made big strides in every season at Notre Dame. After posting 1.39 YPRR as a freshman, he jumped to 1.99 YPRR in 2021 and to a very impressive 2.44 YPRR in his breakout 2022.
Mayer has a very strong production profile as an early declare TE with an efficient breakout season at a big program.
At the Combine, Mayer wasn't as impressive as several other TEs, but he looks sufficiently athletic.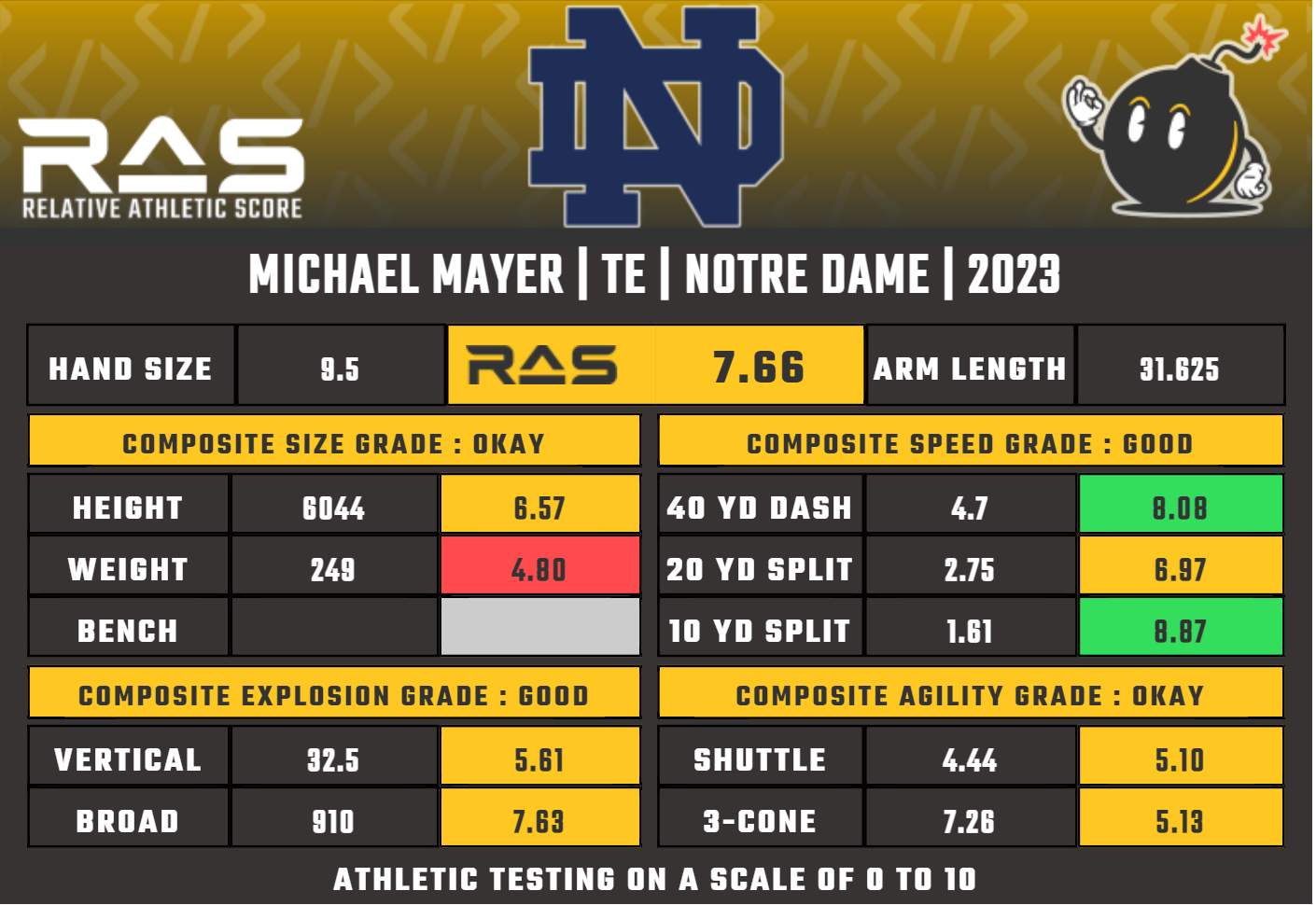 If all we had to go on was Mayer's athleticism, his good-not-great numbers would be a concern. But for a TE, Mayer has demonstrated a rare ability to produce as a college receiver.
If Mayer succeeds with decent athleticism, he wouldn't be the first TE to do so. Mark Andrews had just a 7.28 RAS, and Zach Ertz was at 6.38. Given that Mayer profiles as a big receiver with tight end eligibility, I'm not overly concerned with his lack of elite athleticism. At tight end, receiving skills are the first priority.
And Mayer definitely has target-earning ability. He posted a very impressive 31% target-per-route-run rate in 2022 and was at 24% for his career.
But although Mayer looks like a talented receiver, he isn't going to be the most exciting weapon on the field. Mayer had just an 8.0 career average depth of target at Notre Dame and an 8.2 yards per target. In other words, he was an underneath option who wasn't that efficient on his targets.
Still, if Mayer lands in an offense without strong target competition or with a conservative QB, he looks like he could soak up targets.
As an underneath volume play, Mayer could end up with an Evan Engram-like fantasy profile. Engram has a career 6.8 aDOT but has shown a (streaky) ability to command targets. It's been a bumpy ride with Engram, but he drew 115 targets as a rookie.
And unlike Engram, Mayer is a legit in-line tight end rather than a big slot receiver. That may not seem appealing from a fantasy perspective, but I actually think it's a positive. Mayer was an excellent blocker, grading higher than Darnell Washington in PFF's run-blocking grades. As a volume-based receiving play, it's critical that Mayer has a high snap share. And his blocking ability gives him the upside to develop into a near-every-snap player.
Best Ball/Dynasty Outlook
As I covered at the top, tight end is a challenging position to project. But Mayer still profiles as one of the better bets at the position. He isn't a Kyle Pitts-level prospect, but he's not that far off. As a three-year player with high-end production, efficiency, and sufficient athleticism, he projects as a similar level bet to T.J. Hockenson, Evan Engram, and Noah Fant. In other words, he's a great TE prospect.
Given that, I've been surprised at how tepid the best ball market has been on Mayer. With expected 1st-round draft capital, I assumed he'd be priced around Dawson Knox, Dalton Schultz, Cole Kmet, Chig Okonkwo, and Greg Dulcich – who are TEs 11-15. Instead, he's priced at TE21 on Underdog and TE20 on FFPC.
He's a rookie TE, so I don't want to go crazy... but I'm overweight on Mayer and feel pretty good about that. Like most TEs, he'll probably start slow. But he's likely to come on down the stretch, and that's precisely what I'm looking for in a late-round pick.
In dynasty, the opportunity cost on Mayer will be higher. Taking him in the late 1st of Superflex drafts will feel expensive, especially because this is a deep tight end class. But tight ends are generally costly to acquire in Superflex/TE premium, so I'm still interested in Mayer, even at a premium to the other TEs in this class.
In traditional 1QB dynasty leagues, he looks like more of a mid-2nd-rounder.
Best Ball Recommendation
Target
Dynasty Grade
Mid-Late 1st-round pick in Superflex/TE premium
---
Tier 2 - Downfield Upside
Dalton Kincaid
Profile Overview