Legendary Upside in the Dead Zone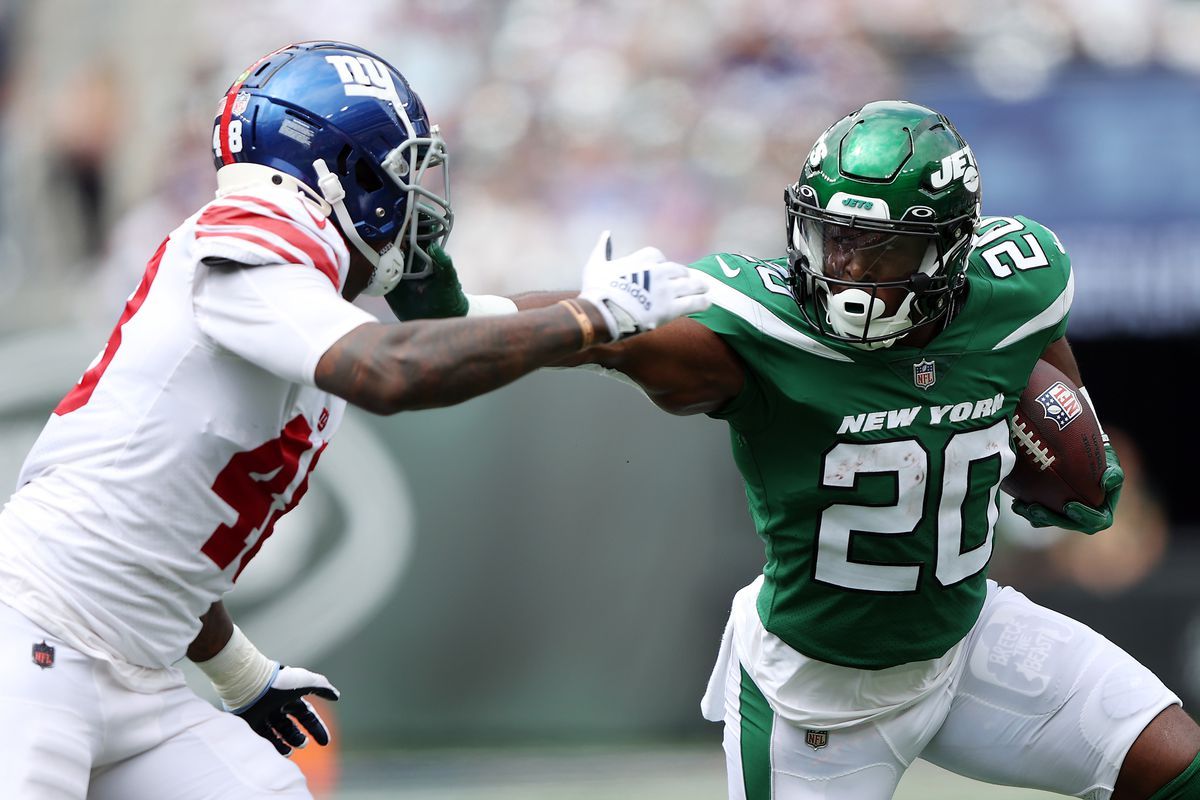 Last week I published legendary RB scenarios for each of the RBs being drafted in the first two rounds. Since then, Josh Jacobs signed with the Raiders and has returned to being a 2nd-round pick... which meant I needed to take another trip to the future.
Below you'll find Jacobs' legendary scenario, a detailed description from a future 2023 season in which he absolutely crushes. You'll also find a silent killer scenario detailing an alternate future in which Jacobs ruins rosters despite turning in a healthy season.
But while I had the time machine whirring again (some might call it a hum, but it's more of a whir), I also decided to check out the legendary seasons for RB9-15 in FFPC Main Event ADP.
For these RBs, I didn't include a silent killer scenario. These RBs aren't generally in Round 2 consideration, indicating that drafters are well aware of their respective red flags and pricing them in, to some extent.
Prioritizing Upside in the Dead Zone
We know from past seasons that Round 3 is where the dead zone tends to begin.
RBs in this range have tended to be a drag on rosters, but it's not because they bust at a higher rate than early-drafted RBs; it's because they bust at a high rate and don't tend to hit in a massive way even when they work out.
For this reason, rookies and unproven players have often been the way to play RB in the dead zone.
If the market is pricing an RB in this range – while having a strong understanding of their skill set and role – that's not a great sign. If the market is unsure about a running back's talent or opportunity, yet they're still going in the top five rounds... that can actually make them a target.
And for a variety of reasons, the RBs in the early part of the 2023 dead zone don't have prototypical dead zone profiles. Their ceilings, in particular, look far more enticing than we're used to at this point in drafts. For that reason, ceiling is what I'll be focusing on in the non-Jacobs profiles.
Josh Jacobs
Legendary Scenario
The Raiders' offense isn't anything special in 2023, but it's not nearly as bad as worry wart drafters made it out to be.
Jimmy Garoppolo stays healthy, and his familiarity with Josh McDaniels' offense is apparent when the Raiders manage to semi-hang with the Bills in Week 2. Buffalo wins 42-33, but the Raiders look fun bad, not concerningly bad.
And the offense remains highly concentrated on its best players. For the second straight year, Jacobs averages 20 attempts per game. The Raiders' offensive line exceeds expectations and stays healthy, aiding Jacobs in running for a career-high 1,666 yards and 15 TDs.
Jacobs also shows that 2022's increased receiving usage was no fluke. He averages 4.0 receptions per game, up from 2022's 3.1. Jacobs sets career highs in receptions (60) and receiving yards (510). Most importantly, he scores a receiving TD – this won't seem real, but I promise you that it is – for the first time in his NFL career.
Jacobs totals four TDs as a receiver, totaling 19 TDs from scrimmage. He scores 63 more PPR points than in his breakout 2022 season, becoming a league winner for the second straight year.
Silent Killer Scenario
If you thought Twitter was hard on Garoppolo before, wait until it sees Jimmy G in a non-Shanahan offense.
Garoppolo melts down against the Bills in Week 2 with just 208 passing yards on 33 attempts... and three interceptions. At the time, the Bills are held up as an elite defense. But after Sam Howell lights them up in Week 3, it becomes clear that they were simply the beneficiaries of facing Aaron Rodgers for his traditional Week 1 stinker and a Raiders offense that will ultimately prove to be one of the worst in the NFL.
Despite being in an unideal situation, Jacobs still handles a ton of work. With 65% of the Raiders' attempts, he profiles as one of the league's biggest workhorses.
But... although his 65% team attempt share ranks RB4 in 2023, it's still well below 2023's 80%. With Zamir White seeing the occasional drive, Jacobs averages 17 attempts per game, down from 20 in 2022.
Jacobs' receiving usage remains solid. With 50 receptions, he falls just short of 2022's mark (53). However, scores zero receiving TDs, again.
And getting in the end zone is a big issue for Jacobs overall. As part of a floundering Raiders offense, he totals just eight TDs.
Overall efficiency is also a major issue for Jacobs. The Raiders' offensive line plays poorly, leading to just 4.1 YPC. Jacobs isn't as inefficient as he was in 2020 (3.9 YPC) or 2021 (4.0), but he's far less impressive than he was in 2022 (4.9). And Jacobs' yards per reception drops to 6.8. It's not a career-low (6.4), but it still hurts after last year's 7.5 mark.
Jacobs finishes with a 289/1,185/8 rushing line and a 50/340/0 receiving line. His 14.7 points per game aren't bad for drafters who got him in the late 3rd round, but his play hurts those who chased him into the 2nd.  
How to Play It
Jacobs is a more fragile bet than he appears. As we sit here in August, he seems quite safe. As long as he's used like last season, what can really go wrong?
But the issue is that a lot had to go right for Jacobs to get the workload he had last year. Jacobs handled 81% of the Raiders' team attempts. Since 2010, only Le'Veon Bell (86%, 2016), Derrick Henry (84%, 2021), and Doug Martin (80%, 2013) have hit an 80%+ share of team attempts.
Jacobs is likely to dominate Las Vegas' carries, but he is very unlikely to dominate touches as thoroughly as he did in 2022.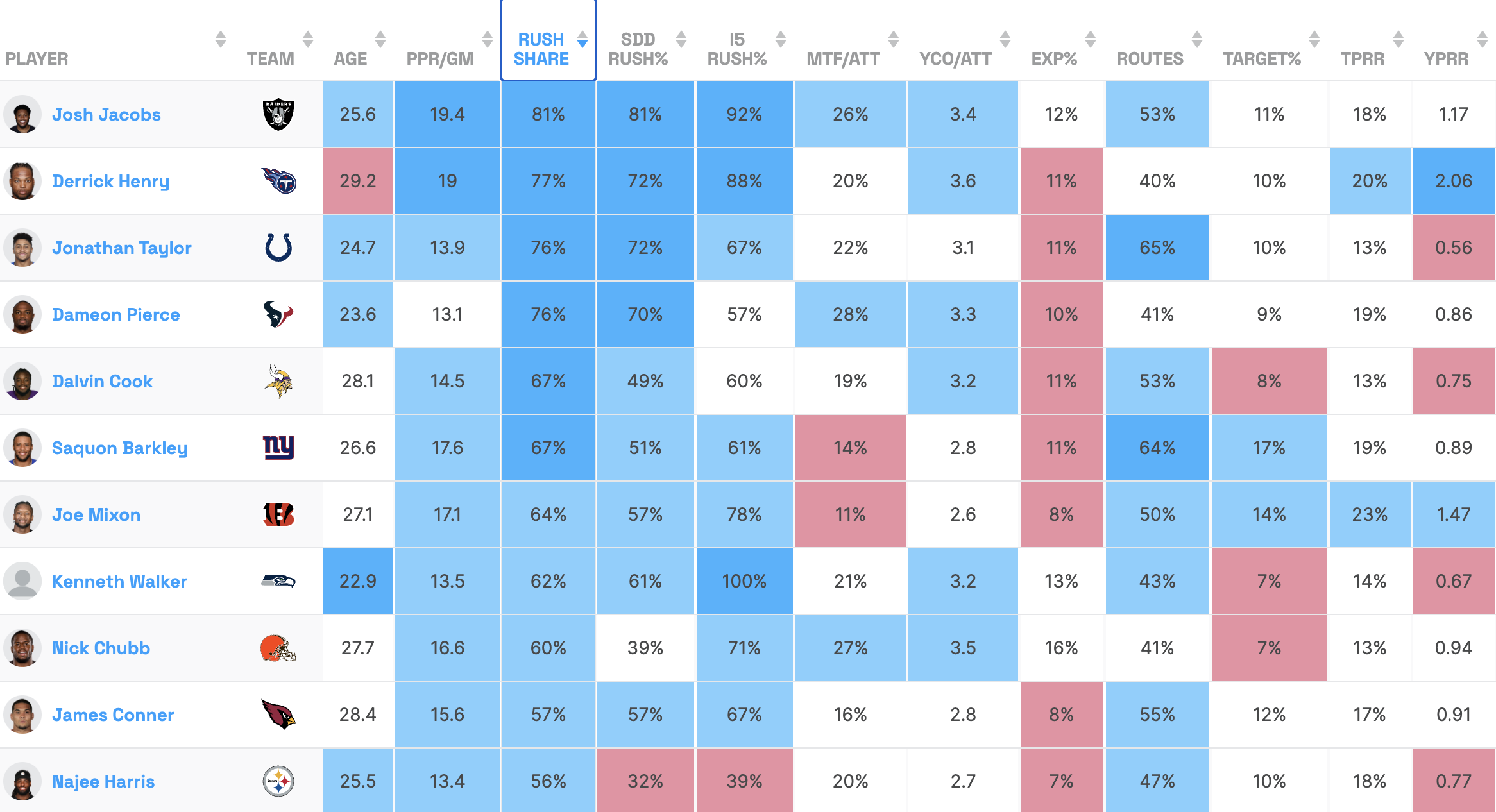 That begs the question, how can Jacobs make up for a potential drop in attempt share?
The first obvious answer is that the Raiders are able to run the ball more. After all, they ranked only 24th with 444 attempts last year. But the Raiders' offense is unlikely to be all that good in 2023, and their offensive line looks concerningly thin. Paired with a secondary that was horrendous last year and isn't expected to be much better in 2023, the Raiders are unlikely to be in a ton of positive game script. It's possible they rush more in 2023, but for Jacobs, it's unlikely to make up for a decent slide in carry share.
And Jacobs has never had elite receiving usage. He averaged 3.1 receptions per game last year, and his career high is 3.6 (2020). Those are solid numbers, but he's never hit 4.0 receptions per game, and his 2.7 career mark is very uninspiring. With the Raiders potentially passing a lot in 2023, Jacobs could set new career highs as a receiver, but a true receiving breakout feels like wishful thinking.
Jacobs' receiving efficiency isn't special either. He has yet to impress in YPRR, posting a mediocre 1.17 last season, with a career-high of just 1.19. He's not a bad receiver, but it's hard to paint him as an underutilized weapon.
Ultimately, Jacobs profiles as a very solid running back, yet one who is unlikely to jump from last year's 19.4 points per game to 23+. For reference, Jacobs averaged 15.2 points per game in 2021. So the jump from last year's production to a legendary season would be nearly as big a win as his breakout was last year. Because, for the purposes of betting on a legendary season, we are asking for a far better season than Jacobs delivered in 2022.
Jacobs was a strong selection in the mid-late third round, but he's increasingly risky as his price rises.
Managed League Recommendation: Don't chase above the 2/3 turn.
Jahmyr Gibbs