RB Success Rate Small Sample Scrubs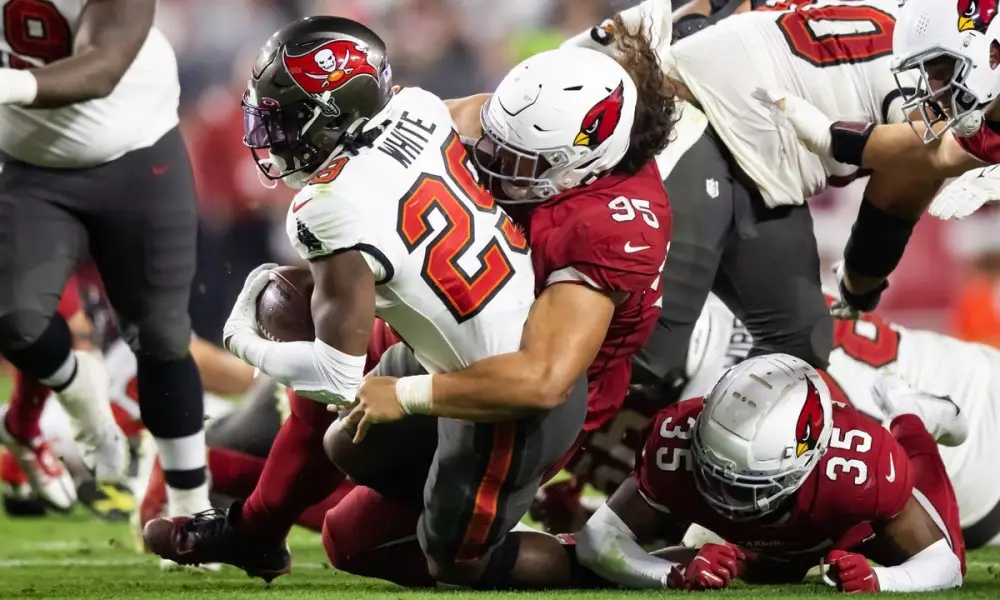 This article is Part 4 of a four-part series analyzing RBs through the lens of NFL Next Gen's success rate metric.
So far, I've covered the metric's high-volume stars and scrubs, as well as small sample stars. Now it's time to cover the RBs who struggled last season but did so on limited samples.
Given the small samples involved, what these players showed last year may not accurately predict how they will play in the future. Their 2022 stats may not reflect who they are or how their coaches see them. But we still have to make decisions on them in drafts... so it's worth examining how they performed.
Below I profile the RBs who finished with a success rate below 40%  last season on less than 200 attempts.
Small Sample Size Red Flags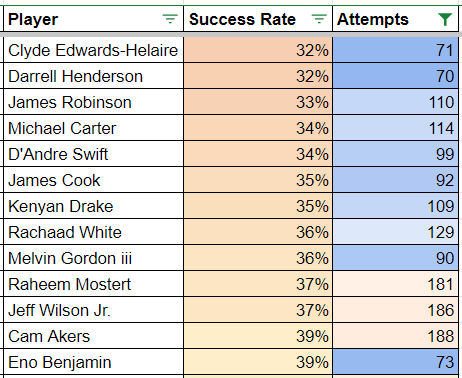 Clyde Edwards-Helaire
Entering 2022, Clyde Edwards-Helaire had an abysmal goal line resume.
Last season's 32% success rate will only reinforce the idea that Edwards-Helaire is a poor fit for short-yardage work.
It doesn't help that CEH has totaled -107 rushing yards over expected on 371 career attempts. His career high in a single season is -19 RYOE.
At this point, Edwards-Helaire is a contingent play on Jerick McKinnon. Because, as a receiver, CEH wasn't bad last season. He posted a very respectable 1.22 YPRR, setting a new career high. To be clear, CEH has not been as promised as a receiving weapon. Since entering the league in 2020, he ranks RB29 in ESPN's receiver ratings. But he could have some value if McKinnon falls off or is injured.
I was intrigued by CEH as a pre-draft 20th-round pick, but I have yet to draft him on Underdog in the post-draft window.
Darrell Henderson and James Robinson
Last season, Darrell Henderson paired a 32% success rate with -30 RYOE and a horrendous 0.51 YPRR.
James Robinson paired his 33% success rate with -42 RYOE and 0.48 YPRR.
Neither back played a ton last year... but they'll struggle to see the field this year as well. At this point, if a team signs either one of them, it can be viewed as a slight positive for the backs ahead of them on the depth chart—given that the signing will make a more threatening addition less likely.
Michael Carter
Michael Carter is entering training camp with an apparent lead on Izzy Abanikanda for the Jets' backup RB role. That fact helps explain why they have been consistently tied to Dalvin Cook.
Carter was explosive in 2021 with 45 RYOE, but his 37% success rate was a red flag. Given that Carter weighed 201 pounds at the Combine and struggled with rushing consistenecy as a rookie, it's not surprising that the Jets added Breece Hall in the 2021 draft, who is a far more natural fit for traditional early down work.
Carter then turned in a disappointing sophomore campaign, while Hall flashed elite efficiency in the same offense. On 114 attempts, Carter  turned in -56 RYOE and an abysmal 34% success rate. This type of inconsistency contributed to Dalvin Cook and Ezekiel Elliott getting cut. And while Carter struggled on limited rushing work last year, it was the second season in a row with a poor success rate. He's unlikely to be the answer on early downs, even if Hall misses games this season.
But Carter still profiles as a functional receiving complement. Carter posted an impressive 1.48 YPRR as a rookie but fell off to 1.08 last year. Still, even after his decline, he was a solid receiving option on a dysfunctional passing attack. And since entering the NFL, Carter ranks RB13 in ESPN's receiver ratings.
I have yet to draft Carter, but if Dalvin Cook signs elsewhere, he's a plausible 20th-round pick on DraftKings. I still struggle to see it on Underdog, where his lack of TD upside makes him an uninspiring contingent play.
D'Andre Swift
Swift fell well short of the 200-attempt minimum for this analysis. But... that's partly because his coaches gave up on his between-the-tackles rushing ability. So his abysmal 34% success rate feels highly relevant.
Concerningly, Swift's 2022 success rate was an improvement on a horrendous 30% success rate in 2021. It's not hard to see why the Lions got frustrated with him.
But the Eagles may be more willing to play to Swift's strengths—and we shouldn't forget that he's excellent at what he does well. Swift has a career YPRR of 1.53 and is coming off a career-high 1.65 last season. Swift also ranked RB8 in ESPN's receiver ratings last year. He's a legitimate receiving weapon.
And although Swift is inconsistent as a rusher, he still brings big play upside to the table. Swift ranked RB30 in RYOE per attempt last year, delivering 31 yards over expected on 99 attempts. That's far from ideal, but considering his inconsistent running style, not all that bad of a showing. The Eagles may get him involved as a big play threat on the ground, in addition to utilizing his passing game ability.
However, Swift's profile makes him very unlikely to see goal line carries. That hole in his game means that we need to be price sensitive. But with Swift's ADP dipping into the 7th round on Underdog, I'm on board. At cost, we can largely ride out what will likely be an inconsistent fantasy profile that matches his running style.
I'm currently at 7% on Swift. Ideally, I'll be at least even with the field by the end of the summer. Because while I'm not looking to reach for Swift, his upside is definitely intriguing in the 7th round.
James Cook
It's too early to tell, with only 92 career attempts, but James Cook may fall into the same RB archetype as D'Andre Swift.