RB Success Rate Small Sample Stars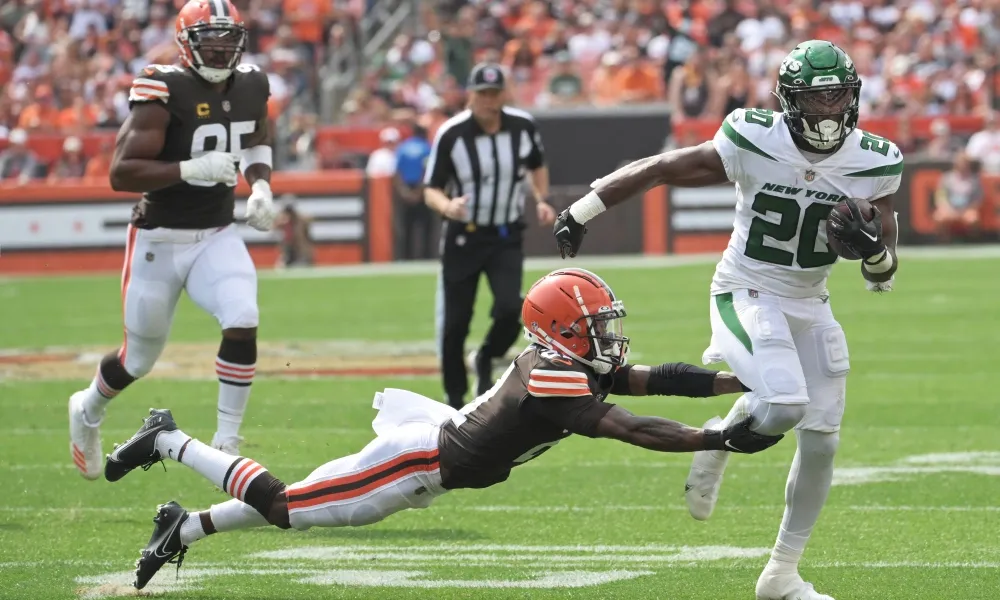 This is my third article profiling RBs through the lens of NFL Next Gen's success rate metric.
This metric has had an intriguing correlation with goal line carries the following season... provided the sample size is big enough. I've already covered the stars and scrubs in the metric, who had 200+ carries last season.
With those players, we can feel reasonably confident their 2022 seasons provided some signal on their true talent level and likely impacted their coaches' evaluations of them. For the players below, we're working with less information, and therefore, we're dealing with a wide range of outcomes for many of these players.
But, still, we have decisions to make in drafts. While these statistical profiles will be noisy, they're still worth analyzing.
Below I profile the RBs who finished with a success rate of 40%+ last season on less than 200 attempts.
Small Sample Size Stars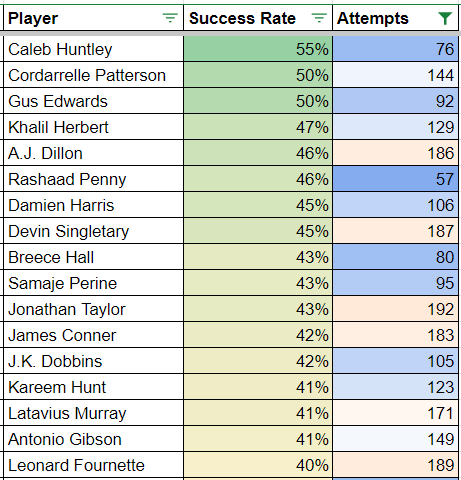 Cordarrelle Patterson & Caleb Huntley
Tyler Allgeier is coming off a very efficient rookie season, making him an interesting contingency bet. But Allgeier's rookie efficiency may overstate his true talent level—because he was actually less consistent than his teammates.
Caleb Huntley only mixed in for 76 attempts, but he posted an absurd 55% success rate. And Cordarrelle Patterson had an elite 50% success rate on 144 carries. This team-level rushing success is a good sign for Bijan Robinson. He's entering a system that generated strong rushing efficiency for three different RBs last year, and his biggest competition for carries was actually the least efficient of the three.
Ben Gretch has recently argued for Patterson as a late-round best ball dart throw, and his elite success rate backs up that assessment. Patterson is 32 years old, but he still looks to have something left in the tank, and his kick returning ability should help him make the active roster each Sunday.
Gus Edwards & J.K. Dobbins
Gus Edwards was an extremely reliable complimentary runner in 2022, with a 50% success rate. And despite returning from a torn ACL, Edwards racked up 100 rush yards over expected on only 92 attempts.
Edwards' small sample size success was encouraging because he had the same profile in 2020. He posted a 50% success rate in that campaign, with 171 RYOE on 154 attempts. Edwards has a history of highly efficient rushing, making last year's excellence a potential return to form.
But to have any value, Edwards needs to be highly efficient. With a career 0.59 YPRR and a 0.37 YPRR last year, his receiving upside is nonexistent, even if the Ravens increase their dropbacks this year.
Edwards will also need to be at the top of his game because J.K. Dobbins should also have a good chance of returning to form.
Dobbins was a big disappointment in 2022. He returned from his ACL tear in Week 3 and then required a clean-up procedure that caused him to miss Weeks 7-13. But Dobbins was sneaky effective when on the field.
Dobbins posted a solid 42% success rate with 96 RYOE. And Dobbins was also excellent in 2020, delivering 218 RYOE on 144 attempts. His efficiency last year could signal a return to his early career form.
Dobbins also offers slightly more in the passing game than Edwards, with a 1.00 YPRR last year and a 0.74 career mark. If the Ravens pass more frequently, Dobbins stands to gain more than Edwards.
Given the big price difference, I've gravitated to Edwards more than Dobbins. However, I'm not happy with my 5% Dobbins exposure on Underdog. I would prefer to be even with the field and will be working on getting there.
Khalil Herbert
Khalil Herbert had an unimpressive rookie season by NFL Next Gen standards, posting a 36% success rate and -8 RYOE on 103 attempts. But he was much more impressive last season, posting a 47% success rate and 185 RYOE on 129 attempts. He will presumably get the first crack at lead-back duties in Chicago.
Although, even Herbert admits that he won't be a workhorse this season.
"You know how things go in the NFL now. They're doing things running back by committee," Herbert said. "You need one, two, three really good guys that really carry the rock and there be no drop-off. I feel like we've got a really strong group. We've got guys who can take it to the house at any given moment. I'm excited to see what we can do."
With a career 0.62 YPRR and a 0.53 mark last season, Herbert isn't going to add as a pass catcher. But that's not what we care about on the Bears. Instead, his goal line role will largely determine his fantasy value in 2023.
Herbert's 47% success rate is a good sign for his ability to keep his coaches' trust. But D'Onta Foreman will make things difficult. His 49% success rate last season could also signal a reliable profile this season. And Foremen – at 6-foot, 236 – may be seen as the more natural goal line back by his coaches than Herbert, who entered the league at 205 and is now listed at 5-foot-9, 212.
I'm heavily overweight Herbert in my early drafts, but I'm also slightly overweight on Foreman. Going forward, I plan to even things out a bit more. As the incumbent, Herbert makes for an intriguing upside bet. But Foreman could easily lead the backfield in TDs and costs the least on Underdog.
A.J. Dillon
Despite a disappointing 2022 fantasy season, A.J. Dillon posted a career-high 46% success rate. Unfortunately, Aaron Jones was even better, with a 49% success rate and 141 RYOE to Dillon's -2. Jones turns 29 in December but doesn't appear to have lost a step.
Jones' continued success will likely force Dillon to operate as a committee back. And the split with Jones will hurt his receiving upside in particular. Dillon flashed some receiving ability in 2021, with 1.51 YPRR, but he fell to 0.82 last season. His 2021 showing hints at some sneaky contingent upside, but he does not have the profile to displace Jones on passing downs.
I'm slightly underweight on Dillon so far. Despite a lower success rate last year, he should have no trouble operating ahead of Jones in short-yardage rushing situations. However, we have yet to see him emerge as the clearly better rusher. And honestly, his lack of explosiveness last year is a red flag, especially considering that the offense will likely take a step back this season.
Rashaad Penny
Rashaad Penny was an elite rusher last season, delivering 71 RYOE with an excellent 46% success rate. Unfortunately, he was injured early in the season and logged just 57 attempts.
But Penny also flashed an elite rushing profile in 2021. Although that season was also abbreviated, it was just as impressive. On 119 attempts, Penny delivered 246 RYOE with an impressive 41% success rate.
Still, even totaling his two most recent seasons, Penny fails to hit 200 attempts. He finished his Seahawks career spectacularly, but he may be unable to recapture that small sample size magic on a new team.
And changing teams comes with risk. Beat writers have indicated that he's not a lock to make the team. B ut if his rushing metrics over the last two seasons align with what he shows in training camp, that won't be a problem. And Penny's new situation also creates upside. He will now be running behind the best offensive line in football.
Penny will also be competing with D'Andre Swift for carries. And while a small sample of strong play may somewhat inflate Penny's success rate, there's no doubt he's a more reliable runner than Swift—who is hugely boom/bust.
However, Swift will have no trouble dispatching Penny on passing downs. And even if Swift doesn't win over the Eagles' coaches, Kenneth Gainwell can be expected to play over Penny as a receiving back. Over the last two seasons, Penny has posted YPRRs of 0.49 and 0.22... and this was during his breakout.
With minimal receiving value and an offense that utilizes the QB at the goal line, Penny will need to be highly efficient once again in 2023 to deliver fantasy value. But at his 10th-round ADP, that looks like a bet worth making. Penny's explosive rushing profile is now paired with an elite offensive line against defenses that cannot sell out to stop the run. It's hard not to imagine some tantalizing spike weeks. I'm currently at 14% exposure on Underdog.
Damien Harris & Latavius Murray
Damien Harris only had 106 attempts last season but showed well on limited work. He rushed for 42 yards over expected with an elite 45% success rate.
And Harris has been highly consistent and effective throughout his career. Since 2020, he's posted success rates of 42%, 43%, and 45%, with RYOE of 78, 142, and 42. He's been reliable and explosive.
Before this exercise sprawled into in-depth RB profiles for the entire NFL, I was simply attempting to look at 2023 projected goal line workloads. Harris looks like the poster boy for this micro-analysis. He has been highly consistent throughout his career and now shares a backfield with James Cook. And as I'll cover in the final article in this series, Cook's success rate is a red flag.
It's a near-perfect setup for Harris to consolidate goal line carries. But Latavius Murray could be a complicating factor.
Harris is on a very cheap one-year deal with the Bills; he signed for $1.8 million with $1 million guaranteed. That doesn't give him much of a leg up on Latavius Murray, who is on a $1.3 million deal with $800,000 guaranteed. Harris is a full seven years younger than Murray, putting him in the driver's seat for a role in the offense.
But the risk isn't just that Murray will pass Harris on the depth chart... it's that both players will have an early down role – or even worse – a split role at the goal line.
So it's worth noting that Murray was also effective last season. Murray wasn't all that explosive, with just 13 RYOE on 171 attempts, but he wasn't terrible and paired that with a solid 41% success rate. Murray could muddy up this backfield split if he still has some juice in his 33-year-old legs.
But Murray's presence is a bit less of a concern because of Harris' underappreciated receiving versatility. Harris had just 22 targets last season... which was a career-high. But he's been consistently efficient in the passing game. He has a career 1.10 YPRR, and 2022's career low was still a solid 1.01. His receiving ability isn't nearly as dynamic as Cook's, but he isn't a liability as a receiver, either.
As a competent receiver, Harris has a path to a three-down workload on an elite offense—because Cook was an atrocious pass blocker last season. By contrast, Harris was very solid in pass protection for the Patriots.
I'm currently at 15% Cook and 10% Harris on Underdog. While Cook is more locked into a baseline role in the offense, Harris has a clear path to a high snap share as a reliable rusher and pass blocker. We've seen the Bills turn the backfield over to Devin Singletary in multiple seasons, who fits that exact mold. After digging into both Bills backs, I plan to cool off a bit on Cook while increasing my exposure to Harris.
Devin Singletary
It's tough to get excited about Devin Singletary. He produced just 37 RYOE last season, while James Cook managed 59 RYOE on 95 fewer carries. And Singletary was even less inspiring as a receiver, posting 0.76 YPRR. That's both a poor mark and a decent improvement on 2021's 0.61 YPRR.
But Singletary impressed in two crucial areas related to his ability to earn snaps.
Singletary was highly consistent last year. His 45% success rate bested 2022 stars like Tony Pollard (42%) and Josh Jacobs (42%). Those players have a brand of success that is much more interesting than what Singletary provides, but he was still more reliable in churning out positive plays.
And Singletary also reliably protects his quarterback. Of the 53 RBs who recorded 50+ blocking snaps last year, Singletary ranked RB6. Only Antonio Gibson, Tony Pollard, Cam Akers, Samaje Perine, and James Conner performed better. So while Singletary doesn't add much as a receiver, that doesn't mean he won't be on the field for passing downs. With a rookie QB under center, the Texans may be wary of playing Dameon Pierce on passing downs, given that he ranked RB44 in pass blocking grade last season.
Singletary is boring, but he could be a trusted presence in high-leverage situations. It's also hard to doubt his contingent value. We've seen him operate in an every-down capacity for the Bills in multiple seasons. He's currently my seventh-most drafted RB.
Breece Hall
Breece Hall was outrageously efficient in nearly every metric last season. Despite logging just 80 carries, he finished RB16 in rush yards over expected, finishing RB1 on a per-attempt basis. And Hall was also highly consistent. His 43% success rate was just above Tony Pollard (42%), Josh Jacobs (42%), and Derrick Henry (42%).