Week 11 Walkthrough: Brandon Aiyuk Hits Open Water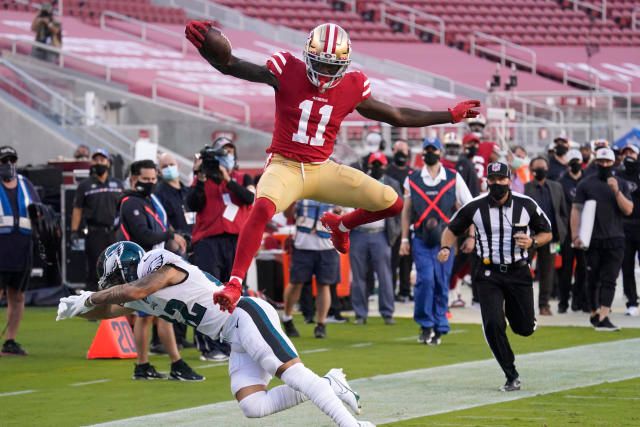 Welcome to the Week 11 Walkthrough.
In this article, I'll outline critical fantasy football context for this 11th glorious week of football.
(The stats below are from PFF, NFLfastR, rbsdm.com, RotoViz, FantasyLabs, ESPN, NFL Next Gen, and Fantasy Life).
Quick Links
Cardinals at Texans, 1 PM
Cardinals Implied Team Total: 21.75
Kyler Murray's return to action was largely encouraging. Sure, he played inefficiently. His one game slots him in as QB38 in EPA per game. But Murray was far better in success rate, ranking QB20. And Murray looked healthy, rushing six times for 33 yards and a TD.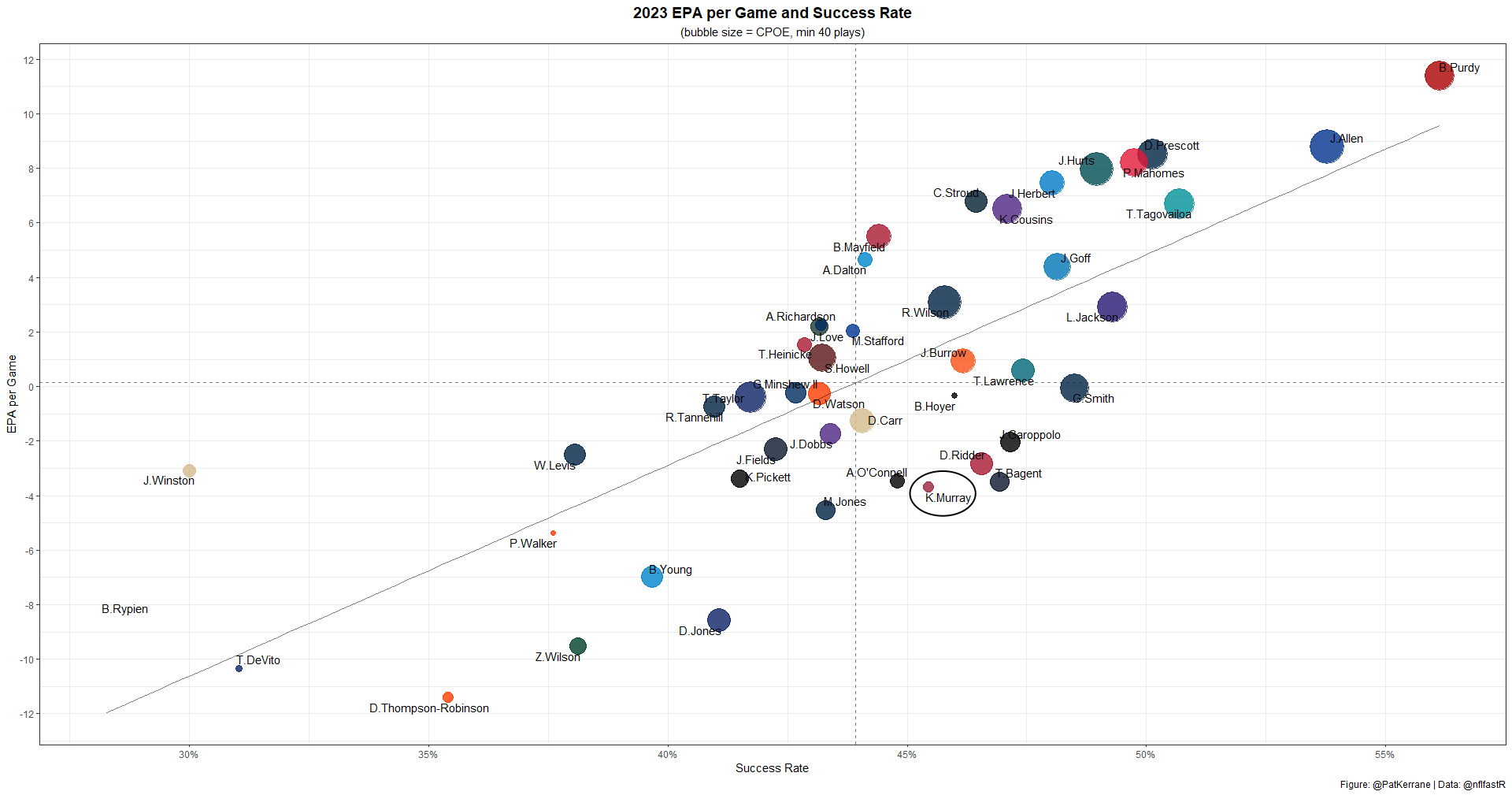 Hopefully, Murray can build on a somewhat promising start in his second game back. And he gets a decent opportunity to do so against a Texans defense that ranks just 25th in EPA allowed per dropback. The Texans have a strong pass rush, but they aren't very strong against the pass overall.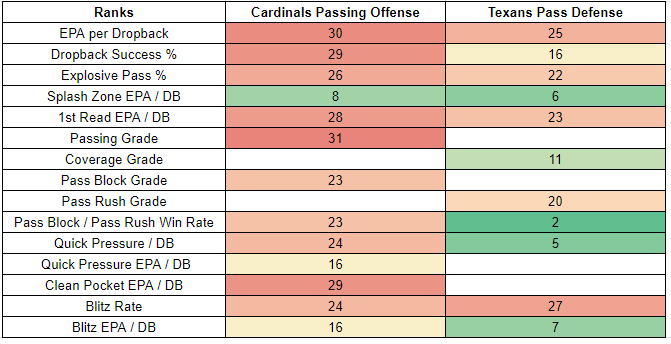 Helpfully, the Texans don't take away first reads very well. That should help keep targets concentrated to Marquise Brown and Trey McBride, who both have high-end first-read target rates.
Honestly, I have those names listed in the wrong order. McBride is making a strong case that he is the top pass catcher in Arizona. He saw eight first-read targets to Brown's three last week. And his 22% first-read target rate not only leads the Cardinals… it leads all tight ends. He's a clear-cut TE1.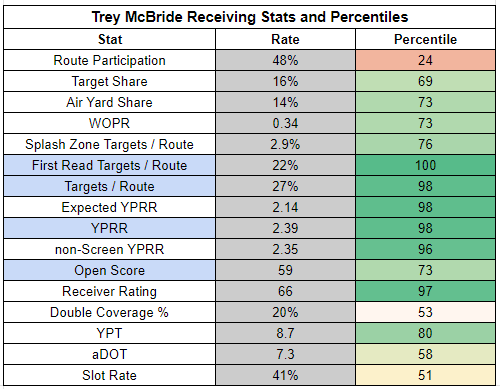 Marquise Brown is also a playcalling priority, with a 21% first-read target rate. And Brown's 12.0 aDOT gives him big play upside on his targets. Given the Texans' pass rush, McBride looks like the slightly better fit for the matchup. But Brown is a very solid FLEX.
Michael Wilson is also in play as a bet that the Cardinals play aggressively. If so, the Texans are likely to respond in kind, giving this matchup shootout potential.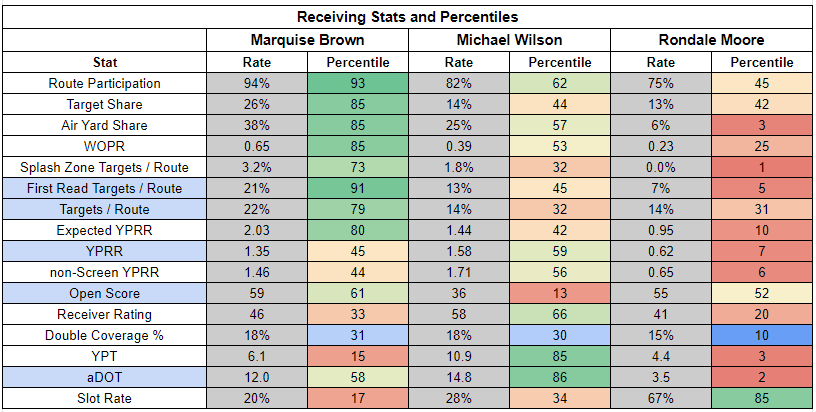 But the Cardinals have been a conservative team, with a -4% PROE and a -3% PROE on 1st-and-10.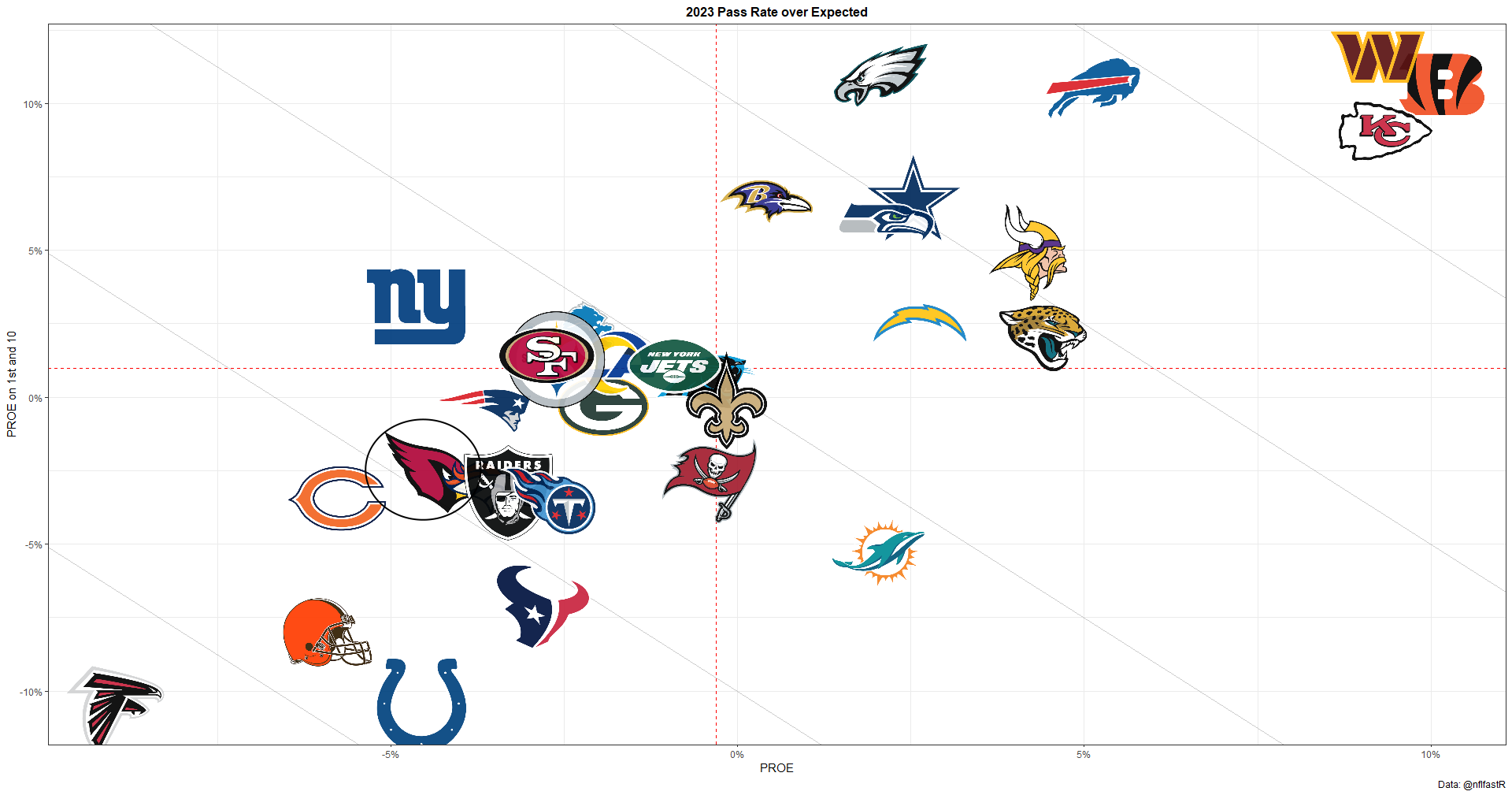 Last week they broke from that approach slightly. For the first time all season, they didn't post a negative PROE. However… they've yet to hit positive territory.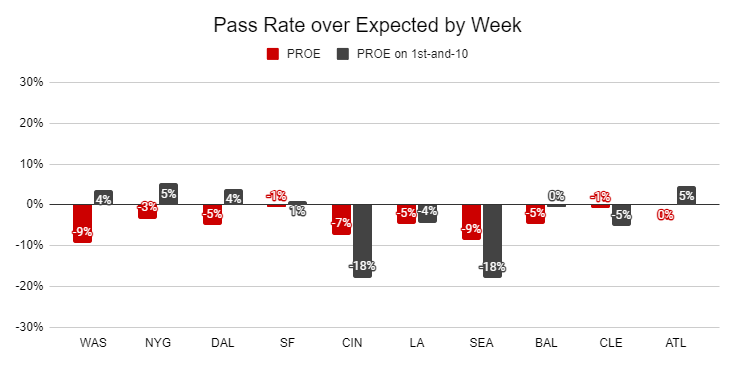 The Cardinals could be tempted to play things conservatively here. The Texans have been decently successful against the run but they rank just 31st in PFF's run grades and 23rd in run stop win rate. The Cardinals could look to test them.

Jonathan Gannon will likely have a lot more confidence in his running game now that James Conner is back in the lineup. Conner returned to a 63% snap share against the Falcons, with 67% of carries. He picked up where he left off.

Conner has been impressive on the ground this season, ranking RB10 in RYOE per game and RB19 in success rate. He's set up for a strong workload and has been delivering efficiently, making him a high-end RB2.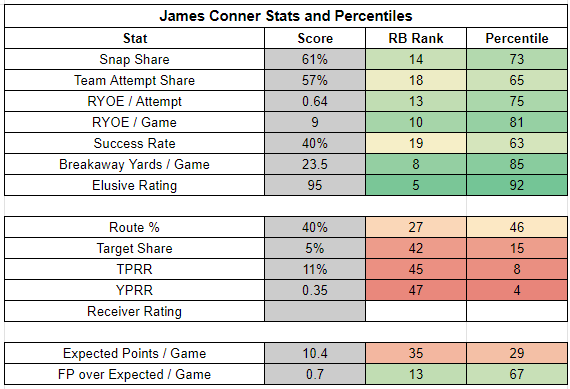 Texans Implied Team Total: 26.75
C.J. Stroud was excellent against the Buccaneers two weeks ago and very good against the Bengals last week. He now has five games with a 60th+ percentile EPA per play, and four games with a 60th+ percentile success rate.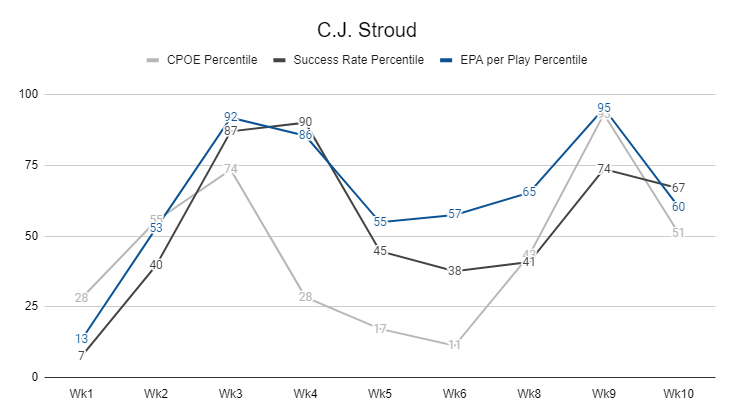 And when looking at the season-long numbers, Stroud is starting to look really impressive. He ranks QB7 in EPA per game, just ahead of Tua Tagovailoa. And he ranks QB16 in success rate, just ahead of Joe Burrow.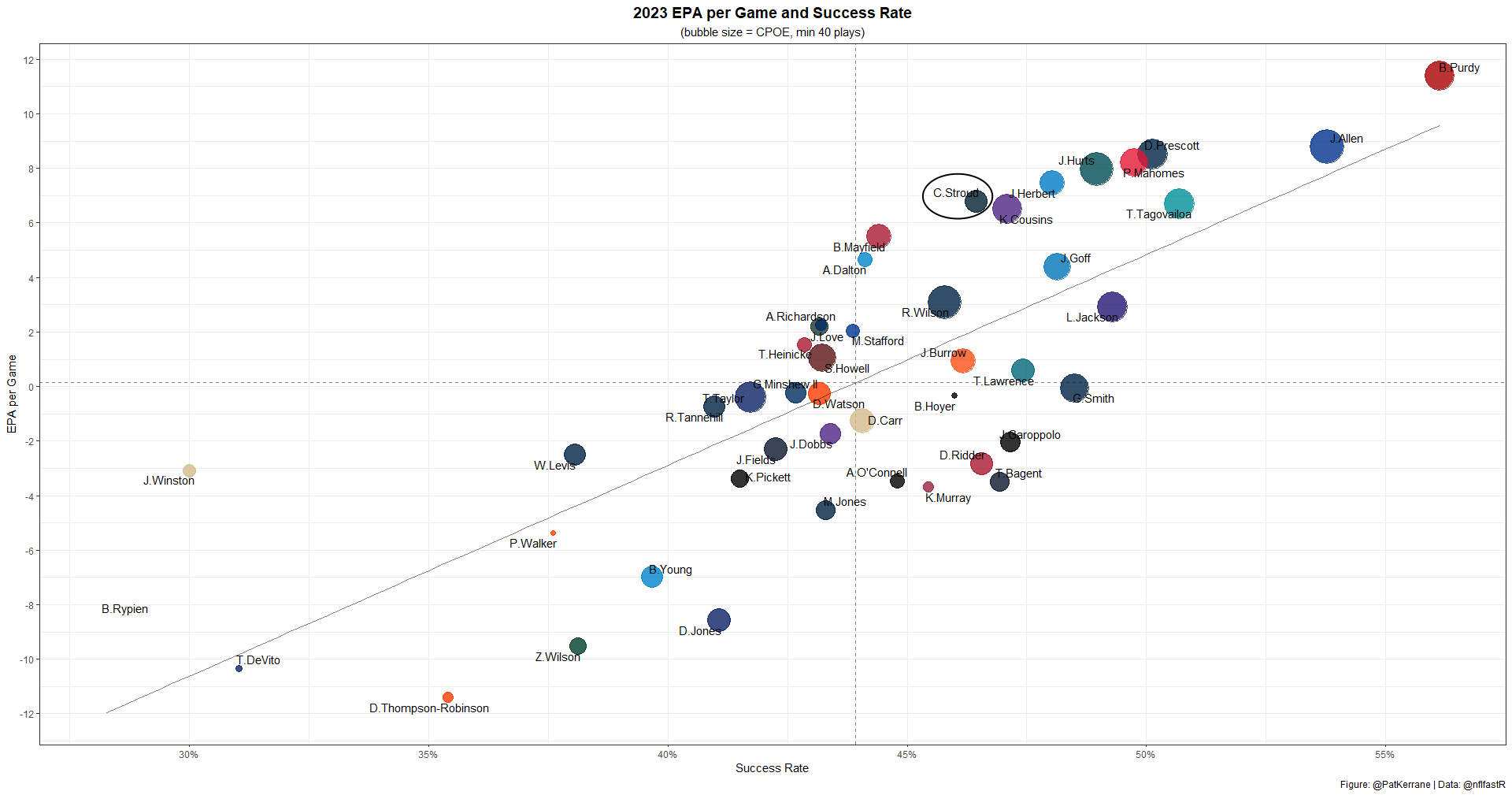 As impressive as Stroud has been, the Texans are still playing like they have a rookie QB. They have a -3% PROE and a -7% PROE on 1st-and-10 and their run-heavy approach has largely run counter to game script.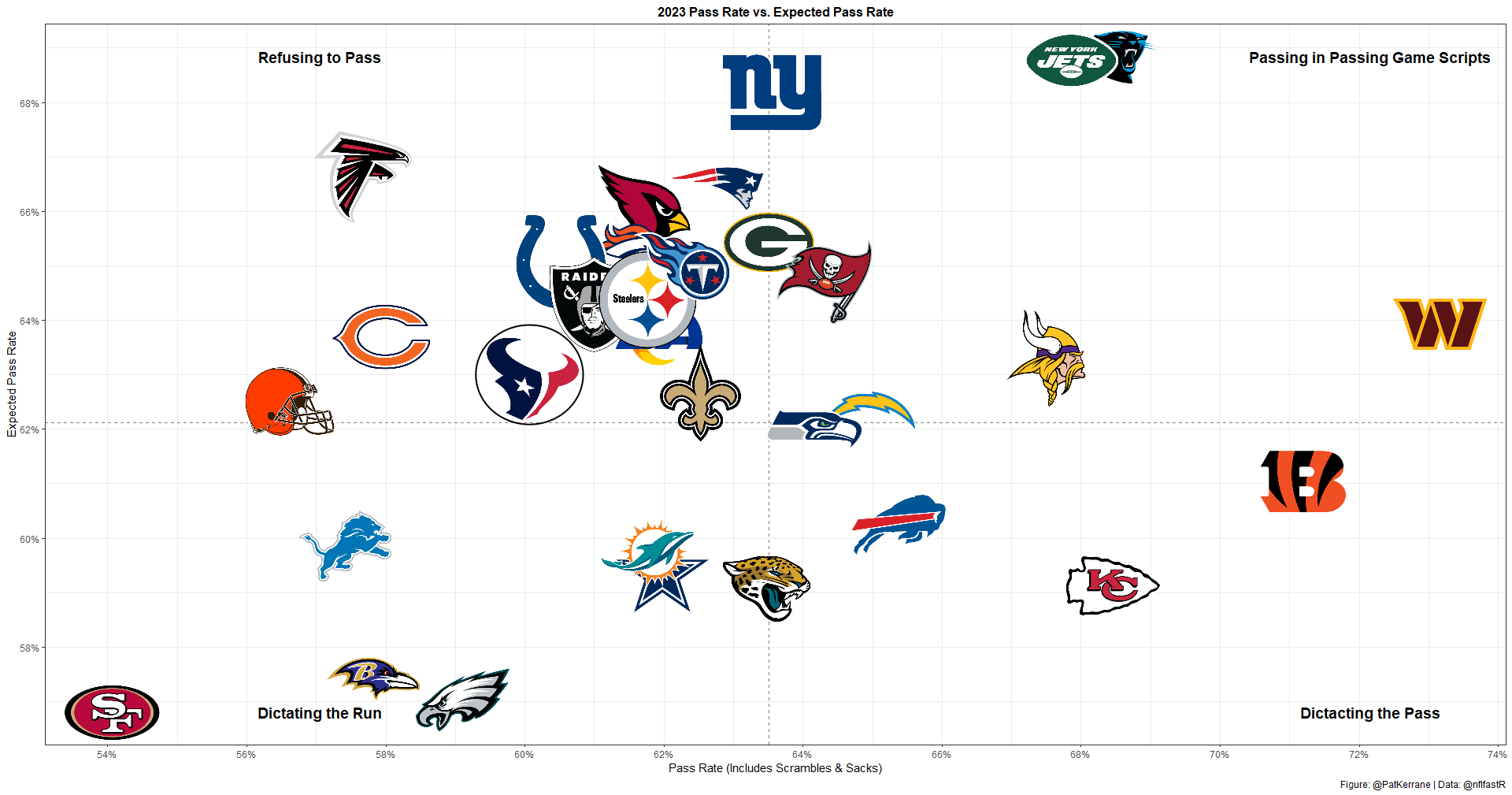 The Texans let Stroud sling it against the Buccaneers, but they went back to a conservative approach against the Bengals, posting a sub-optimal -12% PROE on 1st-and-10. I get that the Texans want to force defenses to respect the run, but man… -12% is the type of rate you see from teams desperate to hide their QB. As productive as Stroud has been, he could be even better if the Texans were willing to lean on him more.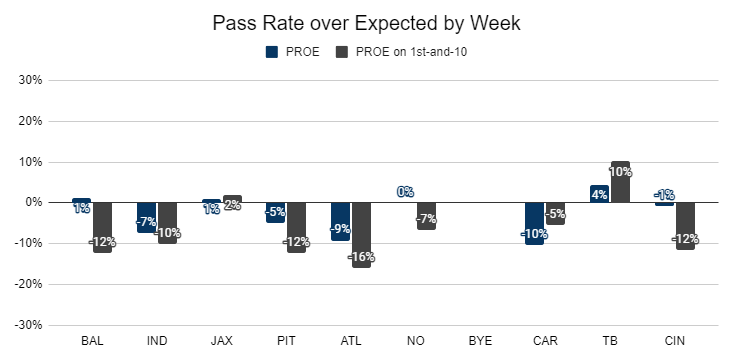 But just because the Texans were overly conservative last week doesn't mean that'll be the case again this week. And if the Texans run the offense through Stroud this week, he could light up an extremely vulnerable Cardinals defense.
The Cardinals are weak against the pass, ranking just 29th in EPA allowed per dropback and 29th in success rate. Even better, they look especially ill-suited to stopping this Texans offense.
Stroud is having an incredibly impressive rookie season, so this isn't to take anything away from him… but to some extent, he's playing point guard. His passes are often beautiful and perfectly timed, but he's also largely executing within a well-designed offensive system. This is illustrated by the Texans' high first-read EPA per dropback. Only the Lions and Dolphins rank higher.
For Stroud to be efficient, it's helpful if the defense he's facing struggles to take away opponents' first reads. For example, the Bengals rank 24th in EPA allowed to first reads per dropback and the Buccaneers rank 25th.
The Cardinals rank dead last.
We also know that the Texans like to attack the deep middle of the field. They rank first in EPA on splash zone throws per overall dropback. The Cardinals rank 20th in defending the splash zone. It's hard to know if the Texans will play aggressively this week. In some ways that's up to Kyler Murray more than C.J. Stroud. But this sets up as an efficient outing for the impressive rookie.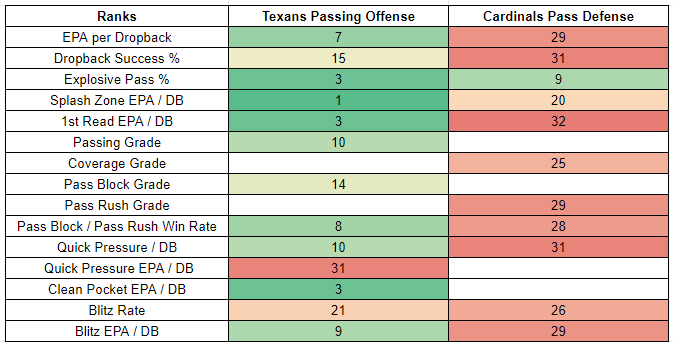 However, this will be an especially tricky week to predict where Stroud's throws will go, with Nico Collins expected to play. After Noah Brown's ridiculous two-week stretch, Collins' 2.63 YPRR no longer leads the team… but it's still close. And Collins' efficiency is backed up by a strong 22% TPRR, whereas Brown is seeing a much weaker 18% TPRR. Provided the reports on Collins' health are positive heading into the game, he looks like a more trustworthy option than Brown—who has been absolutely crushing on his targets in a way that is simply unsustainable.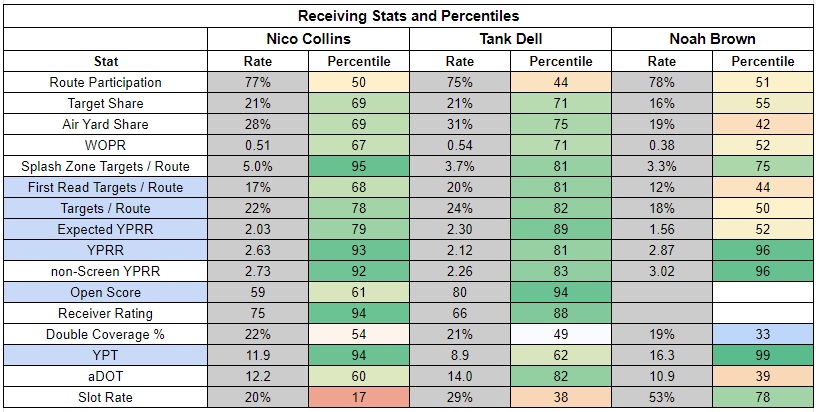 But Tank Dell looks like the strongest play at WR. Given that he's a rookie, Dell's routes seem the least certain. But Dell has led the Texans in routes for three straight weeks, with route participation of 93%, 87%, and 98%. It seems unlikely that he would lose significant playing time to accommodate Robert Woods.
Woods hasn't been bad this season, but he's hardly been a playmaker. He'll likely be limited to a part-time role, primarily as a slot receiver.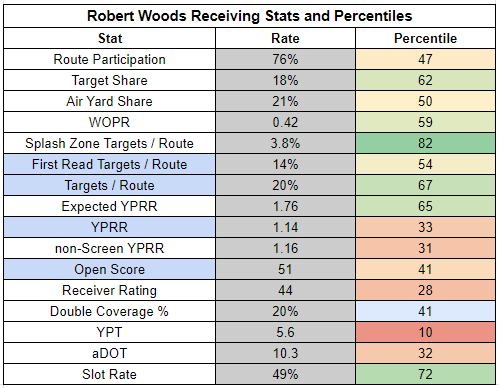 Dell will likely work in the slot some as well, but Noah Brown should see work there more often. Brown has played 53% of his snaps in the slot, while Dell is at just 29%. The Texans' most common 3WR set is likely to be Collins and Dell on the outside with Brown in the slot. Dell has an elite 2.12 YPRR, he ranks WR6 in open score, and he gets a great matchup. He's a high-end WR2.
Dalton Schultz also remains a very strong play. Schultz is earning targets at a near-elite rate and has high-end route-running talent to back that up. He's a locked-in TE1.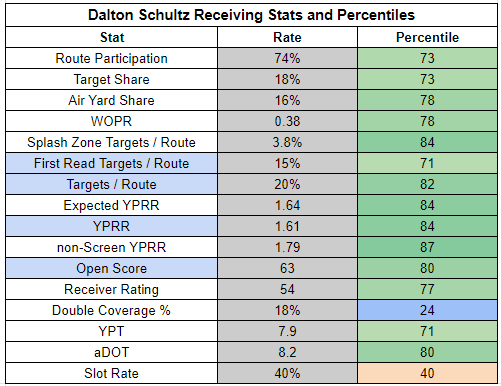 Arguably, the biggest issue for Texans receivers is the Cardinals' run defense. Arizona defends the run very poorly, ranking 24th in EPA allowed per play and 28th in rushing success rate. In combination with an offense that hasn't been pushing opponents, Arizona's poor run defense has turned them into a run funnel.

The hope here for the Texans' passing game is that Kyler Murray can change this dynamic. If not, Devin Singletary is going to get a lot of work.
A couple of weeks ago, on DVS MVP, I compared Singletary to creeping ivy. If you want a young RB to grow, make sure Devin Singletary isn't around. Because whatever backfield he's in… Singletary is gonna take it over.
That joke had more truth to it than I realized. Singletary is coming off a 23-point PPR outing against the Bengals, in which he played on 81% of snaps and handled 91% of carries.

With Dameon Pierce missing practice again this week, it should be Singletary's show once again. Even in a great matchup, he doesn't project for an efficient game, but he's still a solid volume-based RB2.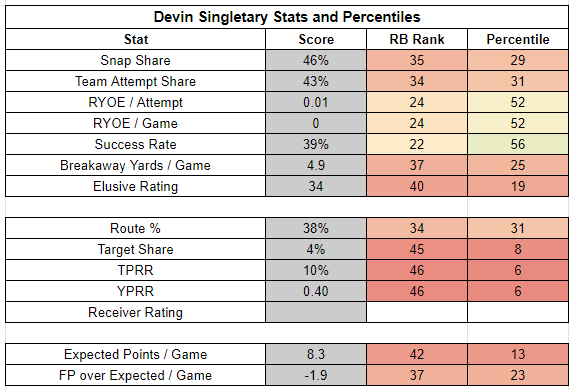 Bears at Lions, 1 PM