Week 10 Walkthrough: Geno Smith Takes Command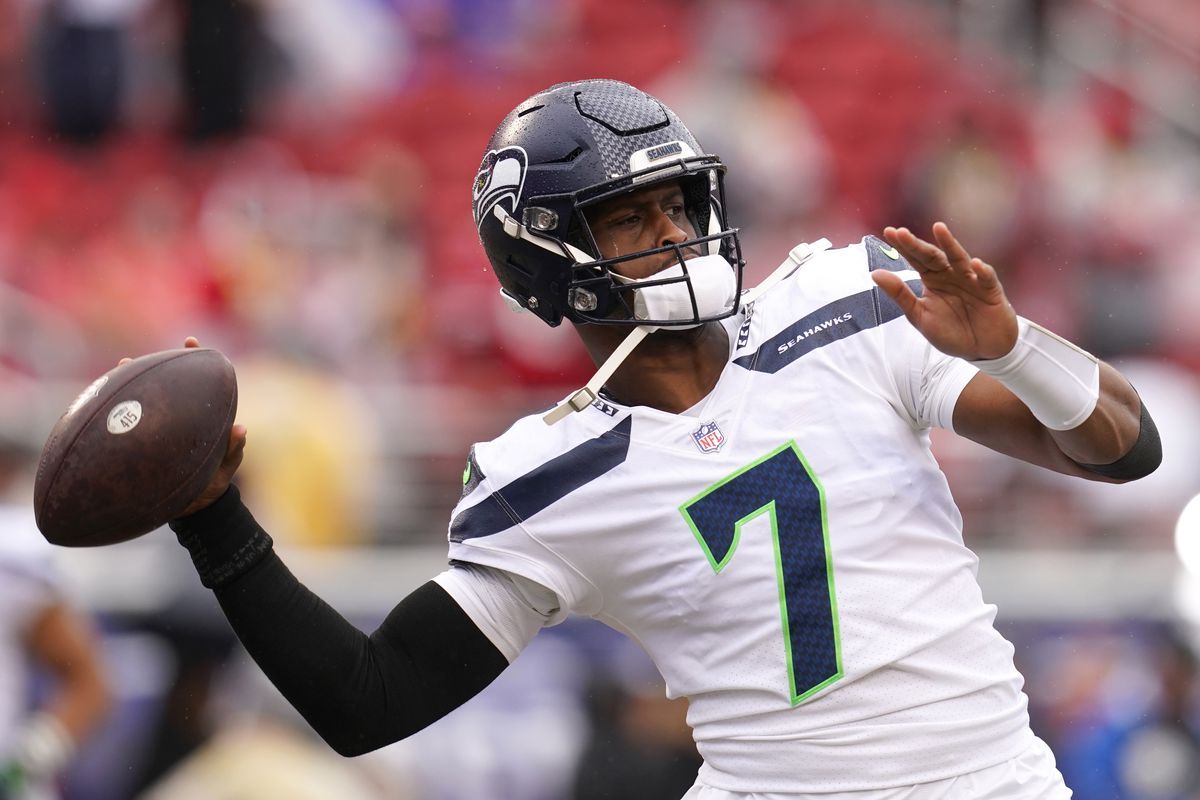 Welcome to the Week 10 Walkthrough.
In this article, I'll outline critical fantasy football context for this 10th glorious week of football.
(The stats below are from PFF, NFLfastR, rbsdm.com, RotoViz, FantasyLabs, Fantasy Points, ESPN, NFL Next Gen, and Fantasy Life).
Quick Links
Colts at Patriots, 9:30 AM, Frankfurt
Colts Implied Team Total: 22.5
Since losing Anthony Richardson, the Colts' passing game has been unimpressive, but functional. Gardner Minshew is profiling a bit like Sam Howell from an EPA perspective.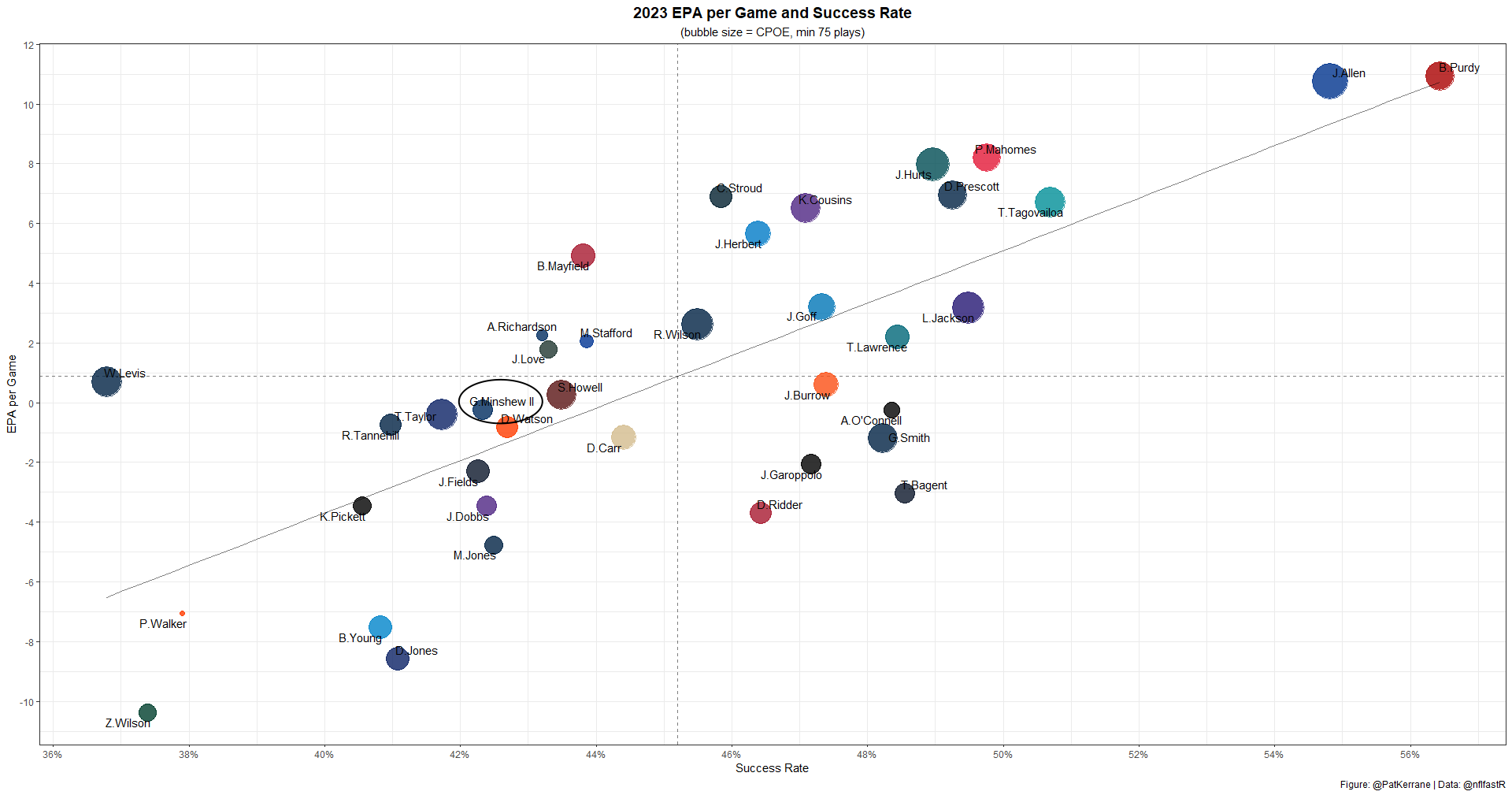 Unlike Howell, Minshew isn't being asked to carry his offense. The Colts are generally a run-first team and have been known to run the ball even in pass-first game environments.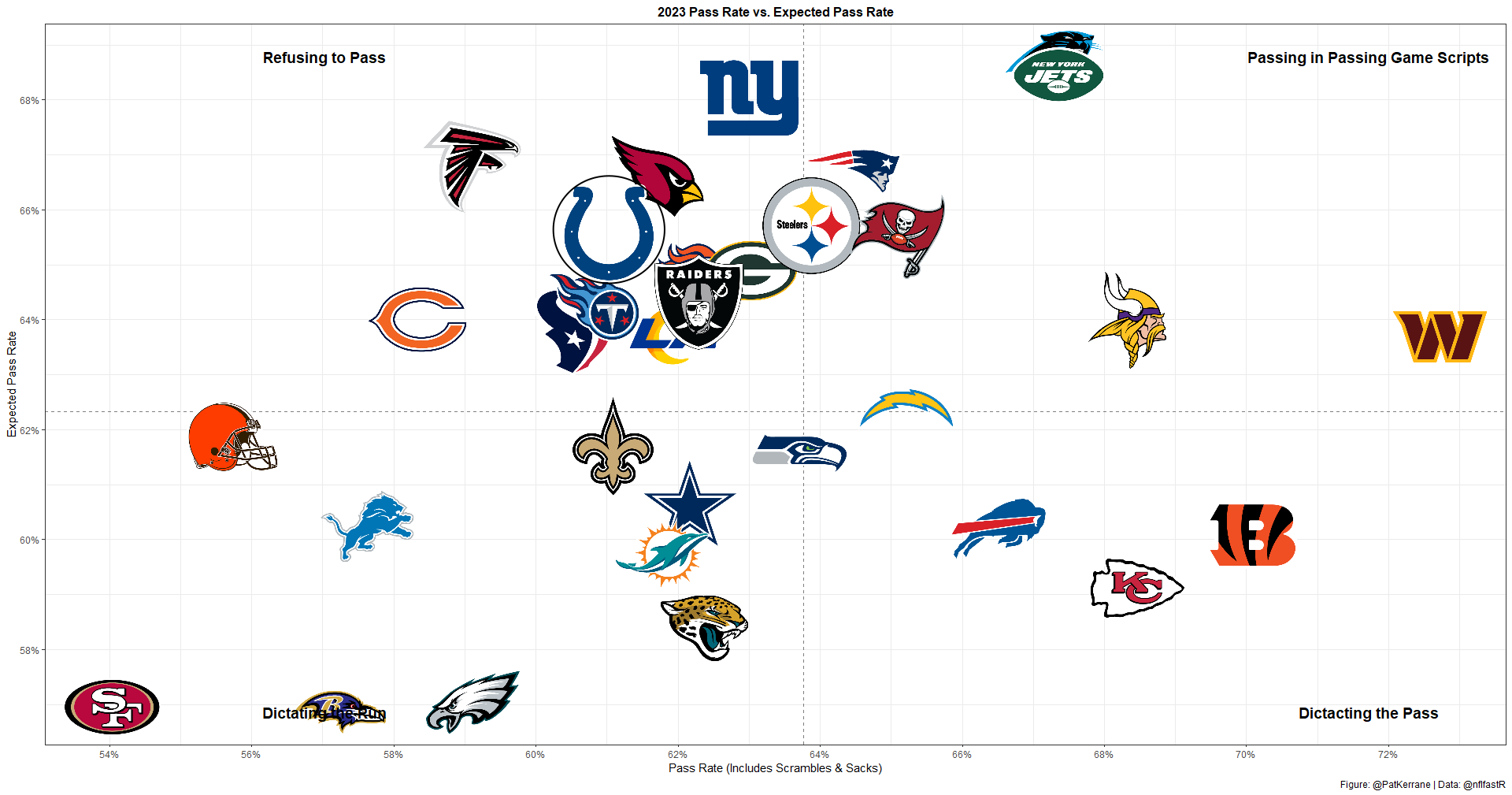 However, the Colts aren't truly hiding Minshew. They went pass heavy against the Jaguars in Week 6 and were more balanced than expected against the Panthers' brutally bad run defense.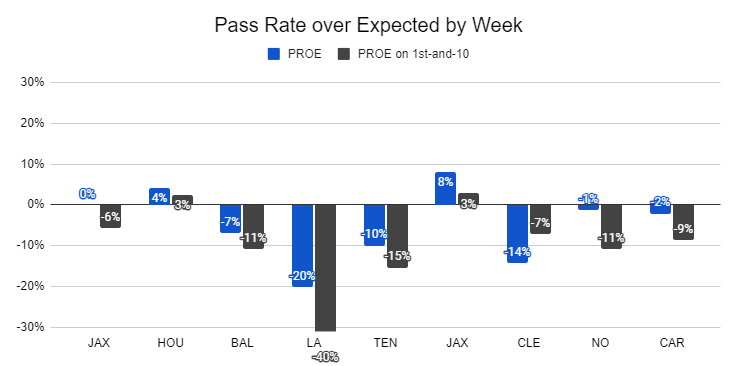 This week the Colts get a Patriots defense that has been very impressive against the run but vulnerable to the pass.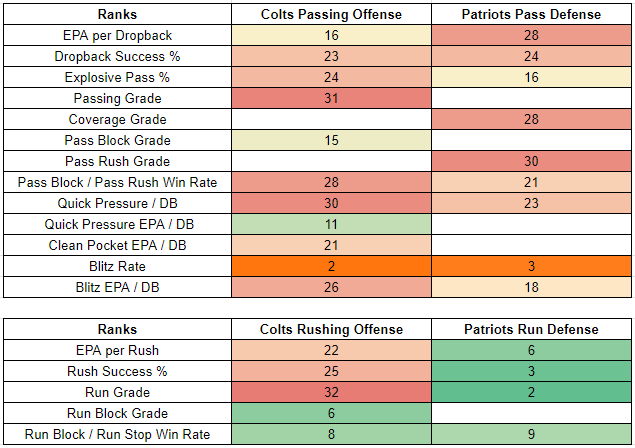 We're unlikely to see the Colts attack aggressively through the air, but there should be decent passing volume on the Colts' side.
Unfortunately, the Colts will likely be without Josh Downs, who is arguably their best WR. Downs leads the Colts in open score and YPRR, showing an ability to get open and produce efficiently. If he can't go, the Colts will be looking for Alec Pierce to step up, but that's unlikely to go well.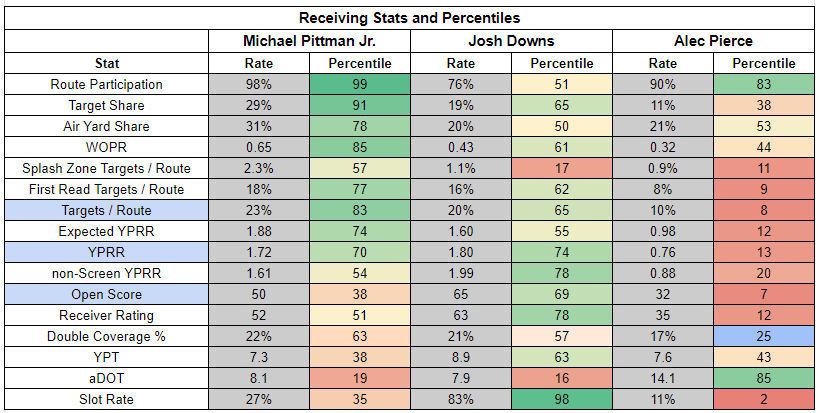 Instead, Michael Pittman will likely see additional target volume, solidifying his position as the passing game's No. 1 option.
Downs was forced from last week's game early in the second quarter and Isaiah McKenzie helped soak up underneath target volume thereafter, producing an 18% TPRR which closely trails Downs' 20% season-long rate.
But, finally, this offense revolves around Jonathan Taylor once again.
Against the Panthers, Taylor handled 75% of snaps and 62% of carries. Zach Moss continues to have a role in the offense, but Taylor is operating like a clear lead back. If not for two pick-6s by the Colts' defense, Taylor could have had a huge game.

This matchup is far less enticing than last week's but the Colts are unlikely to abandon the run, even with a difficult matchup on tap. And Taylor has an encouraging role in the passing game. He had a 23% target share last week and ranks RB15 with a 12% target share this season, despite only playing 50%+ snaps in 2-of-5 games. He has a solid floor here regardless of the game script.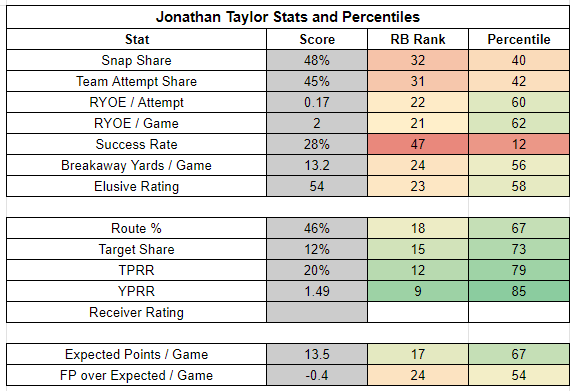 Zack Moss is less involved in the passing game, so this difficult matchup is more of a concern for him. He's also coming off a highly concerning 19% snap share. Moss has been extremely impressive this season, but the Colts made other plans at running back and it was only a matter of time before he fell behind Taylor. He'll have some RB2 appeal in better matchups, but he's best left on benches here.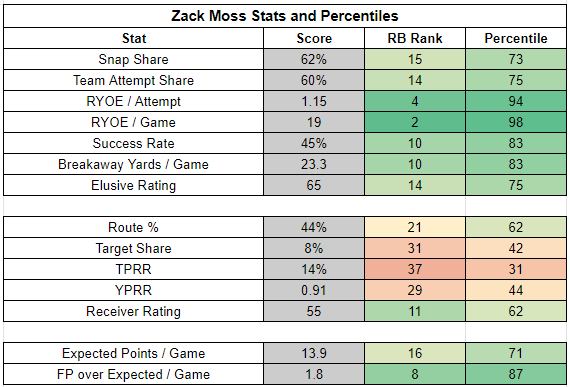 Patriots Implied Team Total: 21
Last week New England faced off against a Commanders defense that is extremely weak against the pass. And the Patriots played the matchup, posting a 6% PROE, their highest of the season.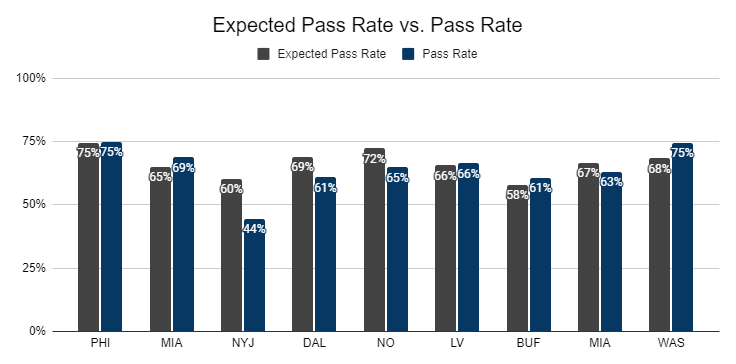 The Patriots' pass-heavy game plan was a bit unconventional, however. Without Kendrick Bourne (ACL) and DeVante Parker (concussion), they shifted to an extreme rate of 12 personnel, rolling out 2 TEs on an absurd 82% of snaps.

This created elite route participation for both Hunter Henry (85%) and Mike Gesicki (87%). Given that neither player can get open, this looks like a desperation move.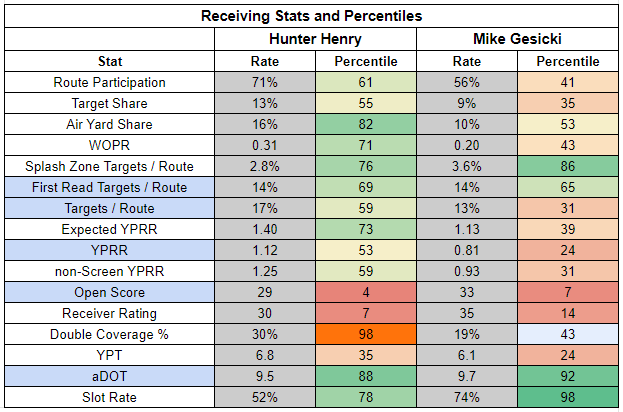 With Parker likely to return this week after logging limited practices, we should see a shift back to more normal personnel deployment. Mac Jones didn't seem to benefit from the new-look offense.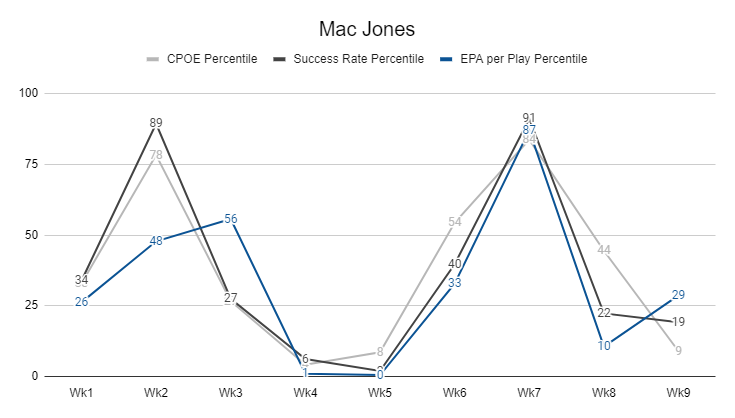 Jones now gets a Colts defense that isn't great but is a few steps up from the Commanders. The Colts pass rush, in particular, looks like a problem. Indianapolis ranks 12th in pass rush win rate and should create problems for a Patriots offensive line that ranks dead last in pass block win rate.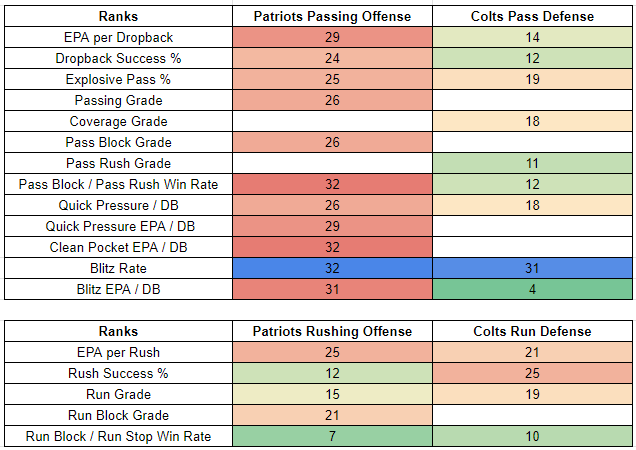 Jones should be looking to get the ball out quickly, which should create opportunities for Demario Douglas. Douglas (83%) had a big lead in route participation over Jalen Reagor (67%) and Juju Smith-Schuster (41%) and his profile continues to look moderately interesting.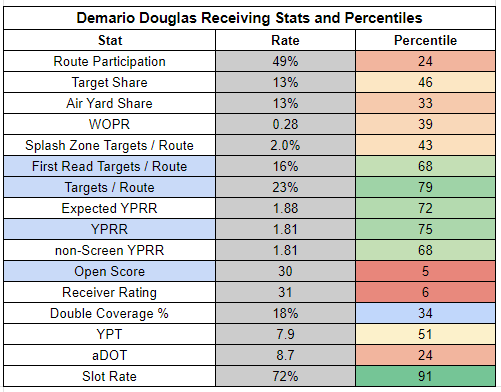 As I noted last week, Douglas has faced very little double coverage this season. That changed last week, with Douglas being double-teamed on 29% of his routes. He may struggle again to be a true focal point of the passing game, but he has a solid floor here.
Provided the Colts aren't overly aggressive, the Patriots would likely prefer to attack the Colts' middling run defense. Rhamondre Stevenson will lead that attack… but not by a big margin. He's had between 41% and 53% of carries for five straight games.

Stevenson hasn't been a good rusher this season. Even after breaking off a 64-yard TD run against Washington, he ranks just RB38 in RYOE per game and RB29 in breakaway yards per game.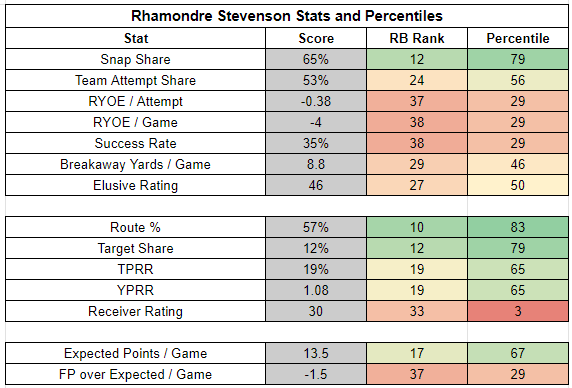 Stevenson's receiving efficiency hasn't been very impressive, but his consistent involvement in the passing game makes him a better bet in pass-heavy game environments. He shapes up as a TD-dependent RB2 this week.
Titans at Buccaneers, 1 PM
Titans Implied Team Total: 18.5
In his second NFL game, Will Levis was less efficient and less accurate than in his exciting debut against the Falcons. But Levis was more consistent, improving from a 7th percentile success rate to a 32nd percentile showing.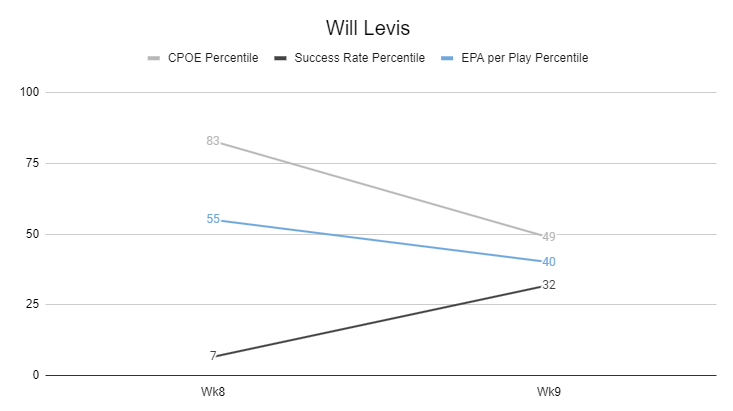 Levis ranks dead last in success rate though, which is a major concern. Zach Wilson is composing a thank you note.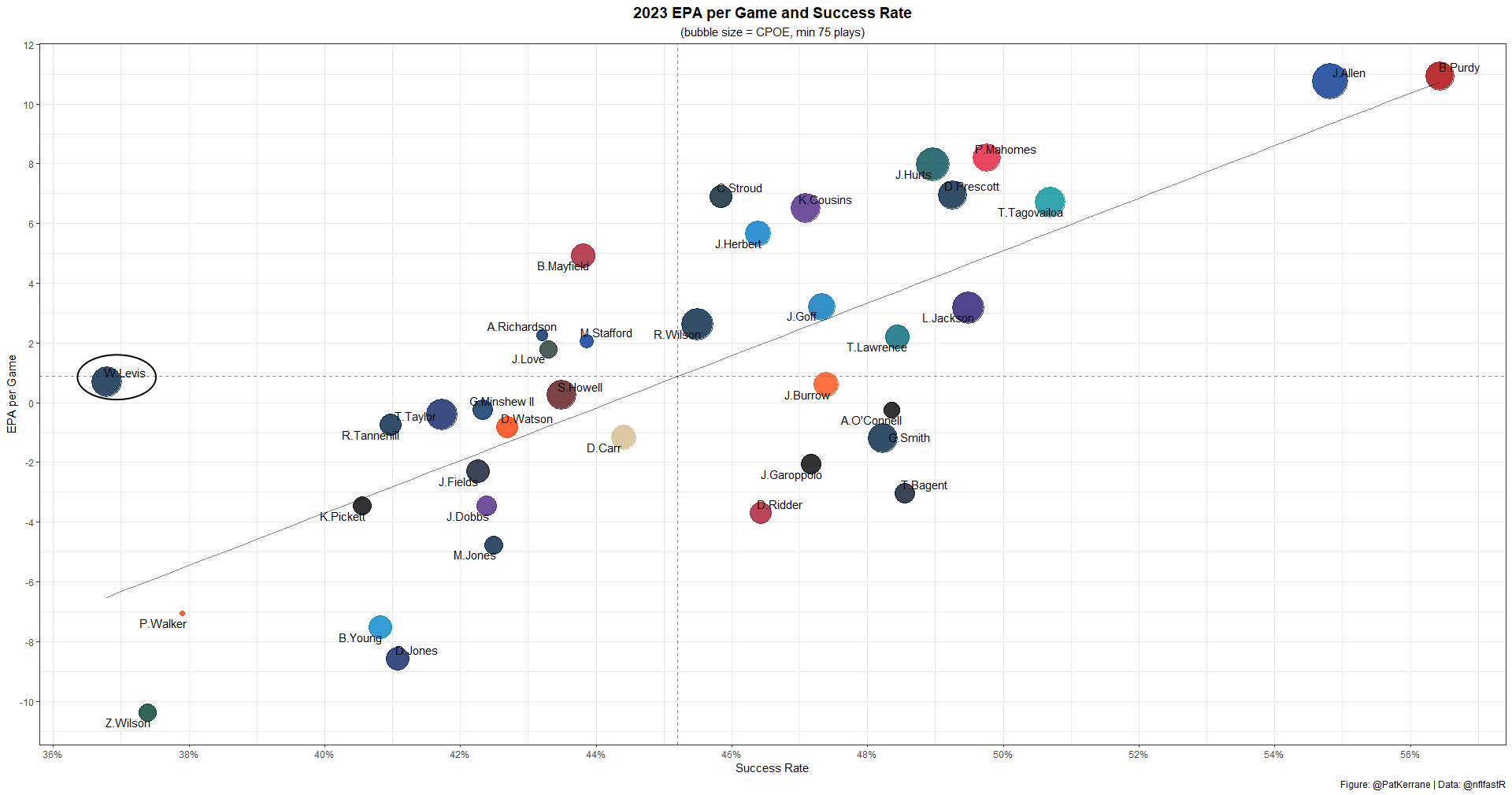 Success rate is more stable than EPA efficiency, making his solid efficiency unlikely to continue unless he can genuinely improve his underlying play.
But as C.J. Stroud just showed us, the Buccaneers aren't opposed to facilitating a rookie breakout. Tampa Bay ranks 26th in EPA allowed per dropback, dead last in preventing explosive plays, and isn't generating a pass rush. Levis may ultimately prove overly dependent on hunting for big plays. But that style is actually an amazing fit for this matchup.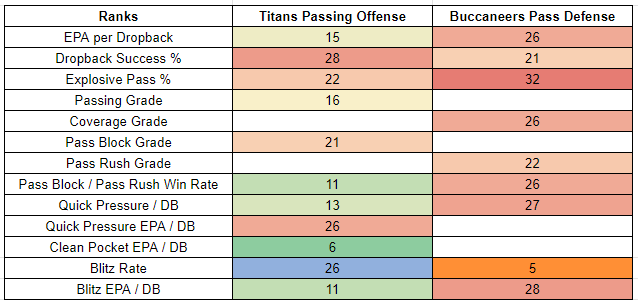 When Levis took over for Ryan Tannehill, I was nervous we'd see the Titans become an extremely run-heavy team, treating their rookie QB like they treated Malik Willis last year. But that's not how Mike Vrabel has played it. The Titans aren't pass-first by any means, but the Will Levis Titans... look like the Titans. They could easily roll out a balanced or slightly pass-first attack against a pass-funnel Buccaneers defense.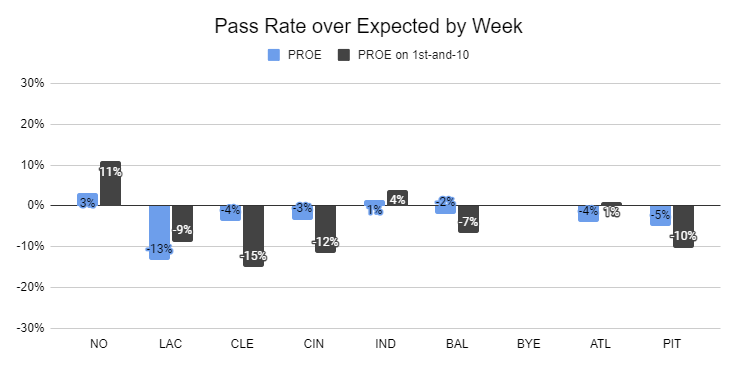 And even if Levis' dropbacks are limited, we should see targets heavily concentrated to DeAndre Hopkins. Hopkins went nuts for 35 points in Levis' debut. His target share then dramatically increased in his second game with Levis under center, to an elite 30% mark. Hopkins has been the focal point of the Titans' passing attack all season, but it's still been nice to see him establish such a strong connection with his new QB.

Hopkins' very deep 15.2 aDOT and 87th percentile open score paired with Levis' cannon of an arm create upside for another explosive performance this week. He's a locked-in WR1.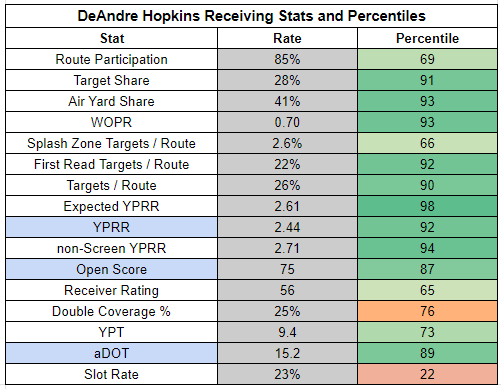 Fortunately, we got some good news on Treylon Burks' scary injury situation.
However, Burks looks unlikely to play this week, which should further condense targets to Hopkins and potentially open up opportunities for Chig Okonkwo.
Okonkwo posted a season-high 82% route participation against the Steelers. He saw just an 11% target share, but it's been encouraging to see his playing time trend up in recent weeks.

Okonkwo hasn't really delivered on the target-earning promise that he flashed in his rookie season, but his 18% TPRR isn't bad either. He's in play as a bet on passing volume.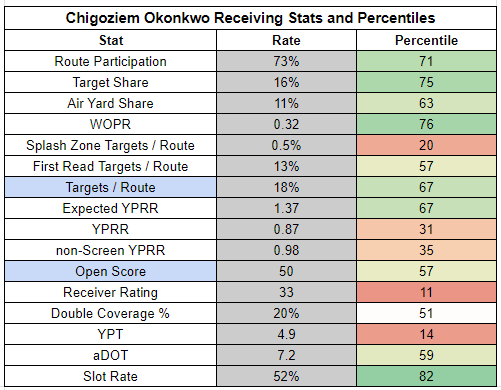 Derrick Henry's outlook mainly depends on whether the Titans are able to keep things competitive. Henry's snap share has dipped below 50% in three games this season, but he's never seen less than 62% of carries. The rushing role remains his.
But if the Titans aren't able to run much… he's at risk of being phased out. He's played on just 4% of long-down-and-distance snaps this season and just 10% of 2-minute snaps.

Despite being a pass funnel, the Buccaneers aren't especially imposing against the run. Sure, they rank second in EPA allowed per rush, but only 17th in rushing success rate and dead last in run stop win rate.

Henry looks plenty capable of getting going against Tampa Bay. He just needs the game script to go his way.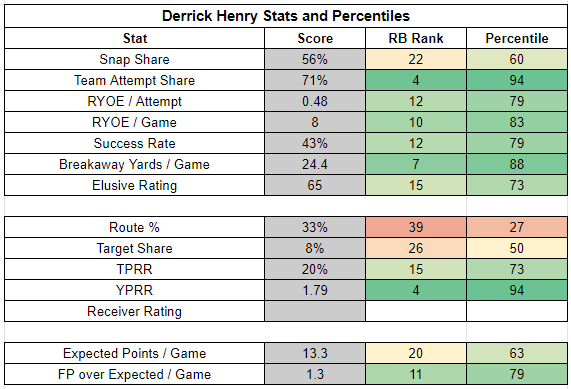 Buccaneers Implied Team Total: 20
Titans and "pass funnel" have been heavily associated for over a year now. But ironically, we have that association this week because the Titans are playing a pass funnel, rather than operating as one themselves.
The Titans aren't bad against the run, but there's no reason to avoid running against them this year.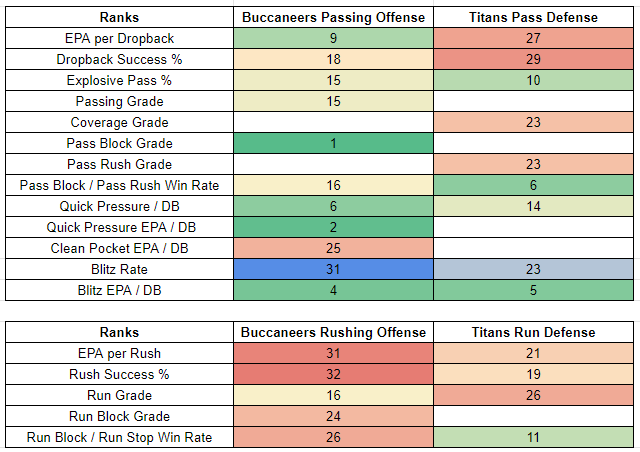 The Titans aren't formidable against the pass either. How the Buccaneers attack here is really up to them and/or will come down to game script.
Given they're coming off a shootout against the Texans, you might assume that the Buccaneers called plays aggressively last week. But the Buccaneers actually posted a -8% PROE, their lowest rate of the season.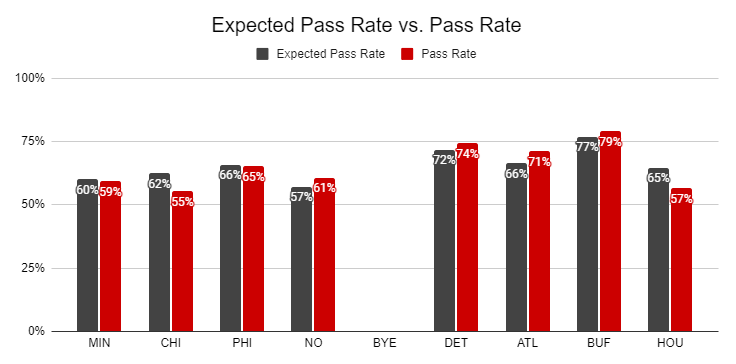 The Buccaneers' run-heavy approach ran counter to game script against the Texans—they were not dictating the run, they were fighting game script.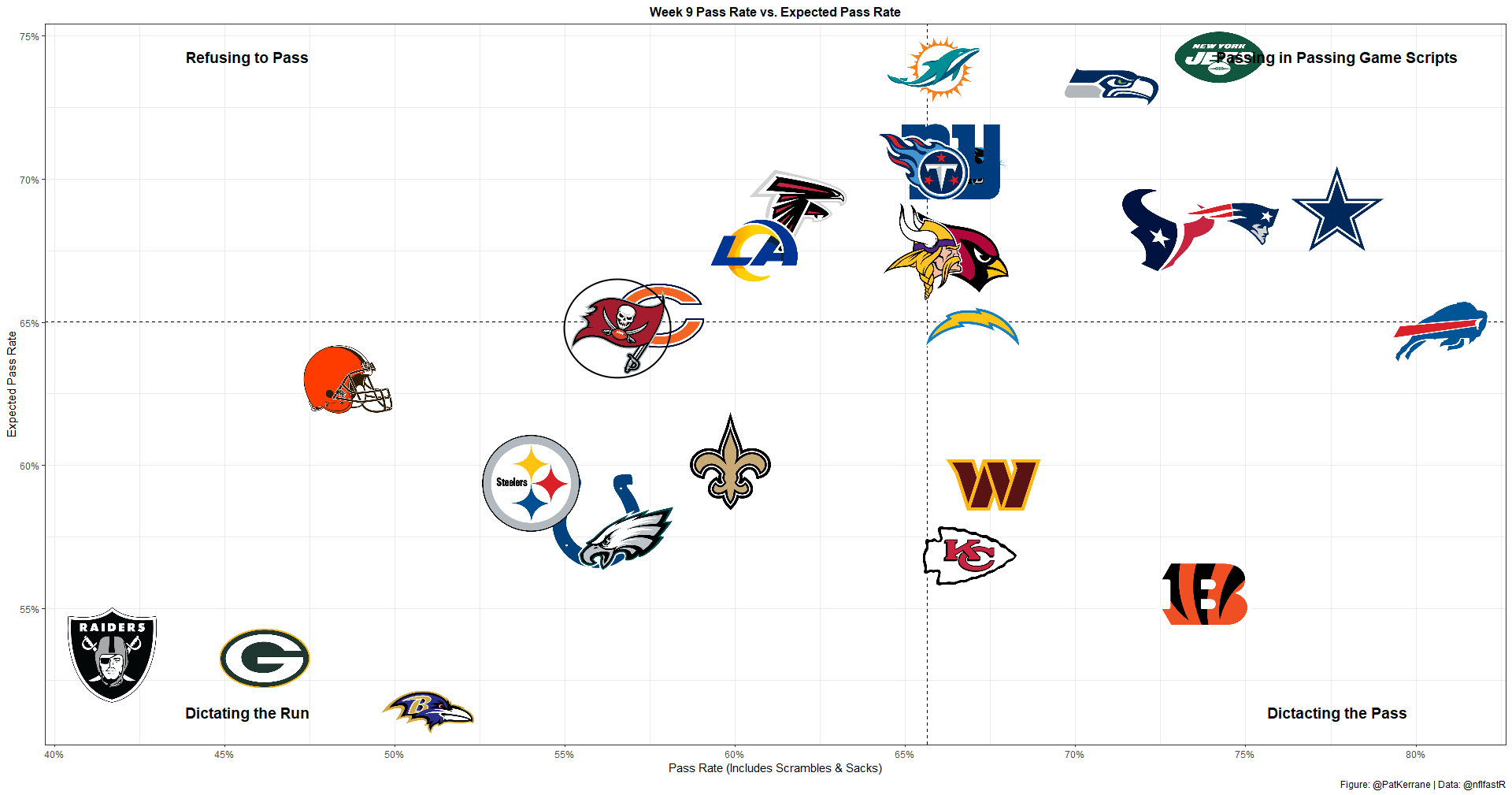 Overall, the Buccaneers have been a balanced team, but their -4% PROE on 1st down is a signal that they'd prefer to play conservatively whenever possible. Given their pass funnel defense, they may have no choice but to pass frequently here. But they are unlikely to build a game plan designed to emphasize Baker Mayfield.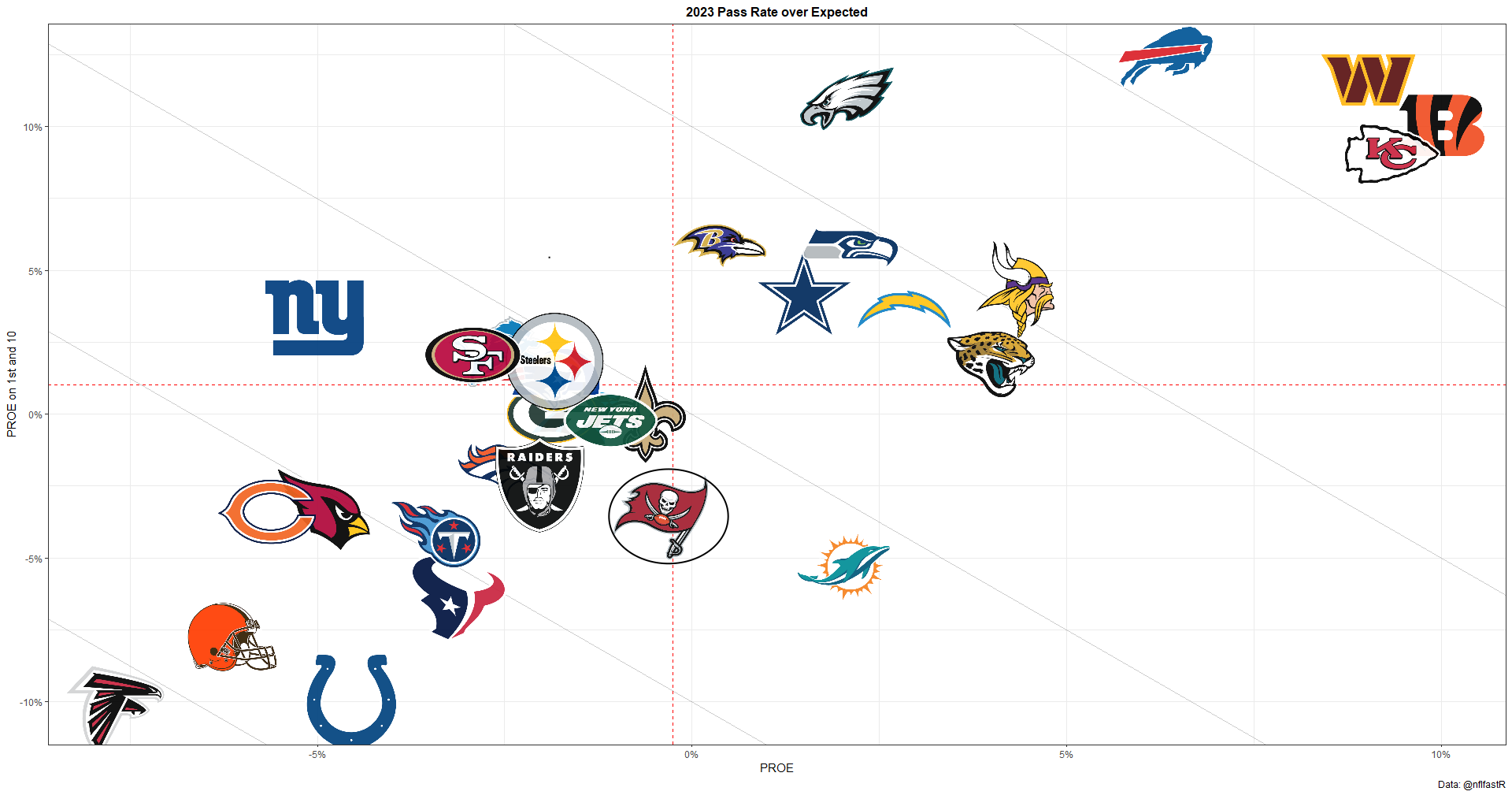 Mayfield is coming off an impressive outing against Houston, his third great game of the season.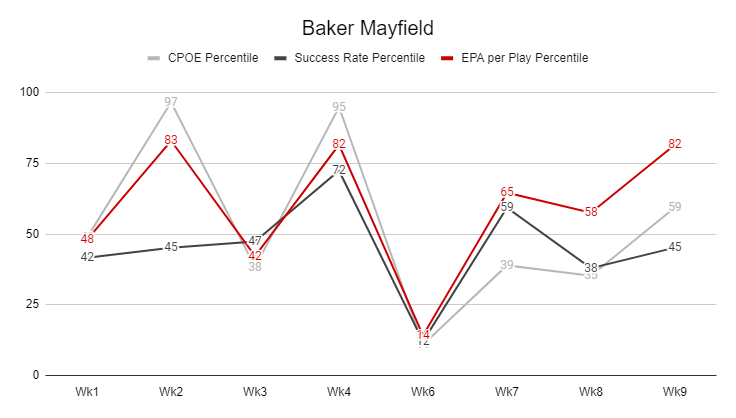 However, Mayfield has been consistently inconsistent. While he's hit a 48th percentile mark in EPA per play in 6-of-8 games, he's hit that mark in success rate just twice this season.
Mayfield's low success rate sets him up as a negative regression candidate. And unlike Will Levis – who also looks like a negative regression candidate – Mayfield is playing a defense that has effectively limited big plays. Tennessee ranks just 27th in EPA allowed per play and 29th in dropback success rate, but they have a solid pass rush and rarely blitz, and rank 10th in preventing 15+ yard pass plays. To beat this defense, Mayfield will need to consistently work the ball downfield, which doesn't always go great.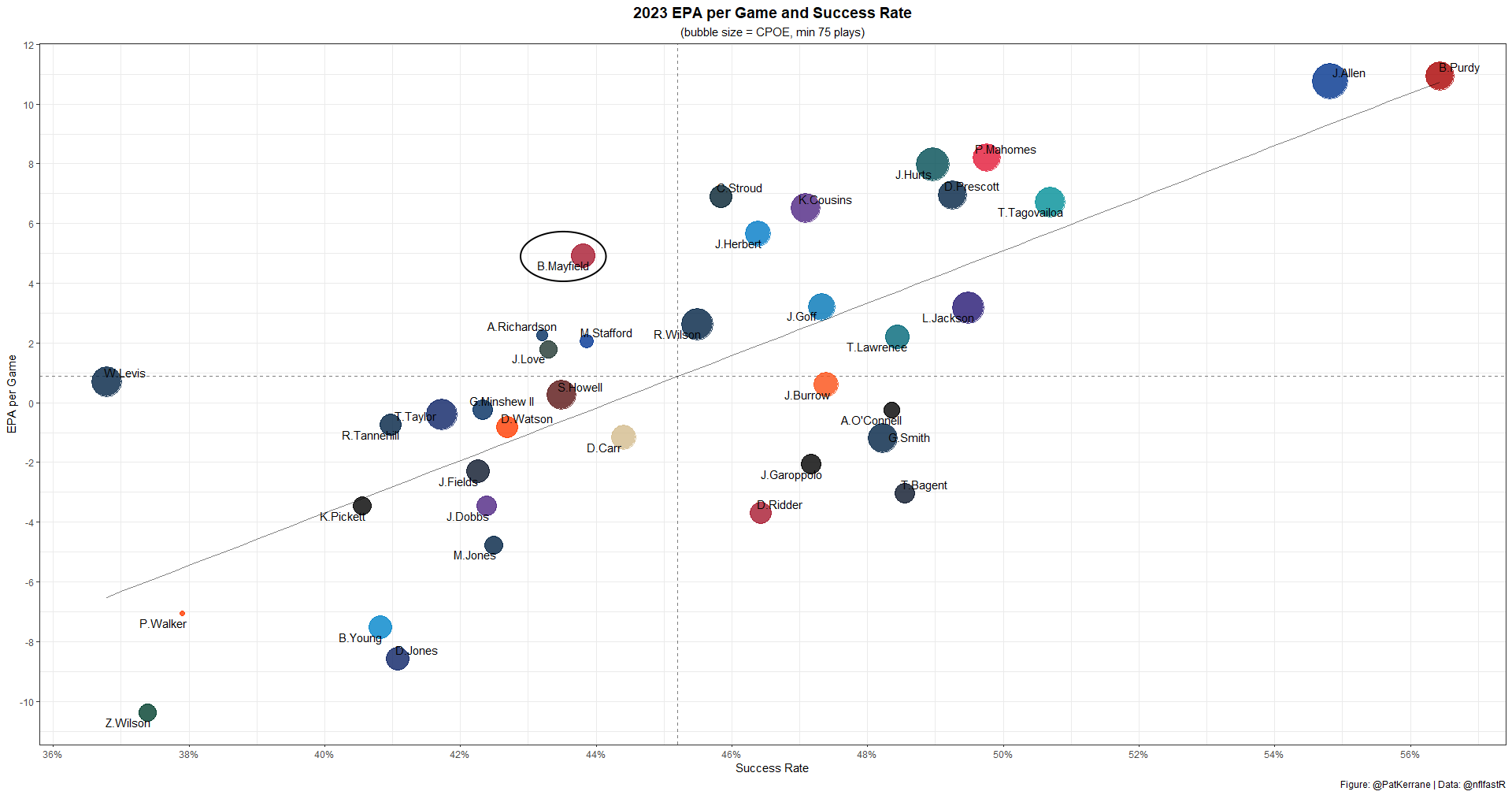 The Buccaneers' passing game tends to flow through Mike Evans, who is a big-play, downfield threat. Evans has an elite 23% first-read target rate and in combination with a deep 14.2 aDOT, Evans' 23% TPRR is setting him up for elite efficiency. He's delivering on that with an elite 2.43 YPRR. And per ESPN, Evans is bringing high-end route running to the table. This matchup isn't a perfect fit for his skill set, but Evans still profiles as a low-end WR1.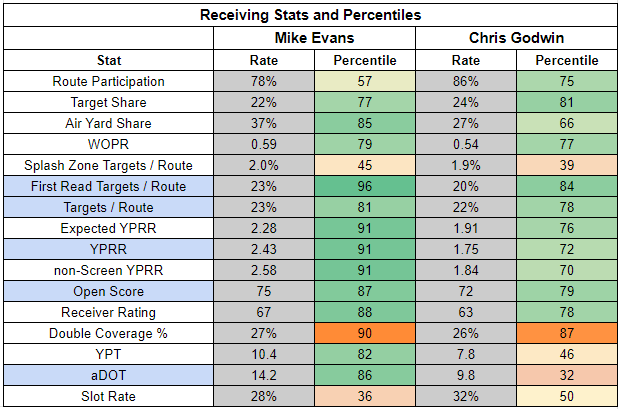 Chris Godwin's 9.8 aDOT makes him more likely to be featured on quick throws, which could be a point of emphasis this week. And despite seeing less valuable target volume than Evans, Godwin has an important role in the offense. He looks like a strong FLEX option.
Cade Otton had a nice game last week, but he's almost entirely a bet on route volume. His 14% TPRR isn't terrible, but he's not flashing much beyond being on the field a lot.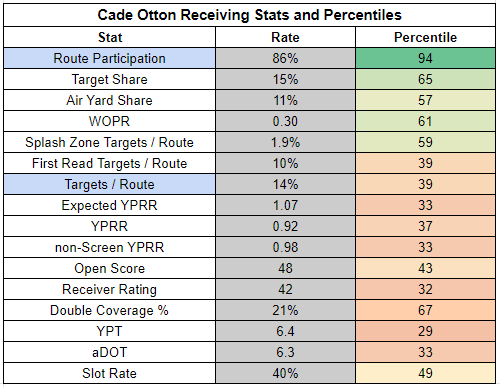 Given how unexplosive Rachaad White has been, it feels like the Buccaneers should be more open to a pass-heavy offensive approach. But that's not how they're playing it. And in fairness to White, his rushing profile no longer looks abysmal. White's explosiveness is a major issue. But he's been solidly consistent, ranking RB23 in success rate. And against the Texans, White posted an elite 55% success rate, the third-highest of the week. He's at least giving the Buccaneers a reliable rushing element, even if he's coming up painfully short as a big play threat.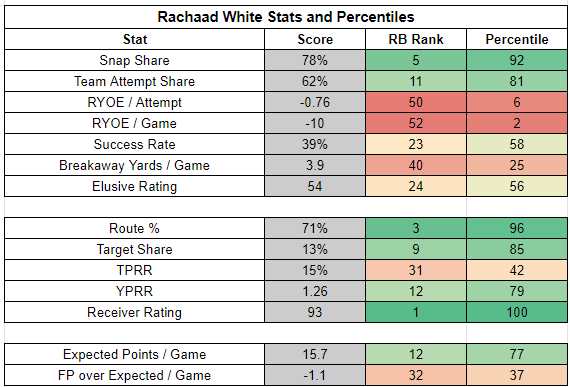 White's receiving profile is also very strong. He has a very respectable 1.26 YPRR and ranks RB1 in ESPN's receiver ratings, ahead of Christian McCaffrey (RB2) and Austin Ekeler (RB3).
White still has total control of the Buccaneers backfield as well. If anything, his control is increasing. White has posted 64%+ carry shares in each of the last three weeks.

Texans at Bengals, 1 PM