Week 9 Walkthrough: Chris Olave, Revenant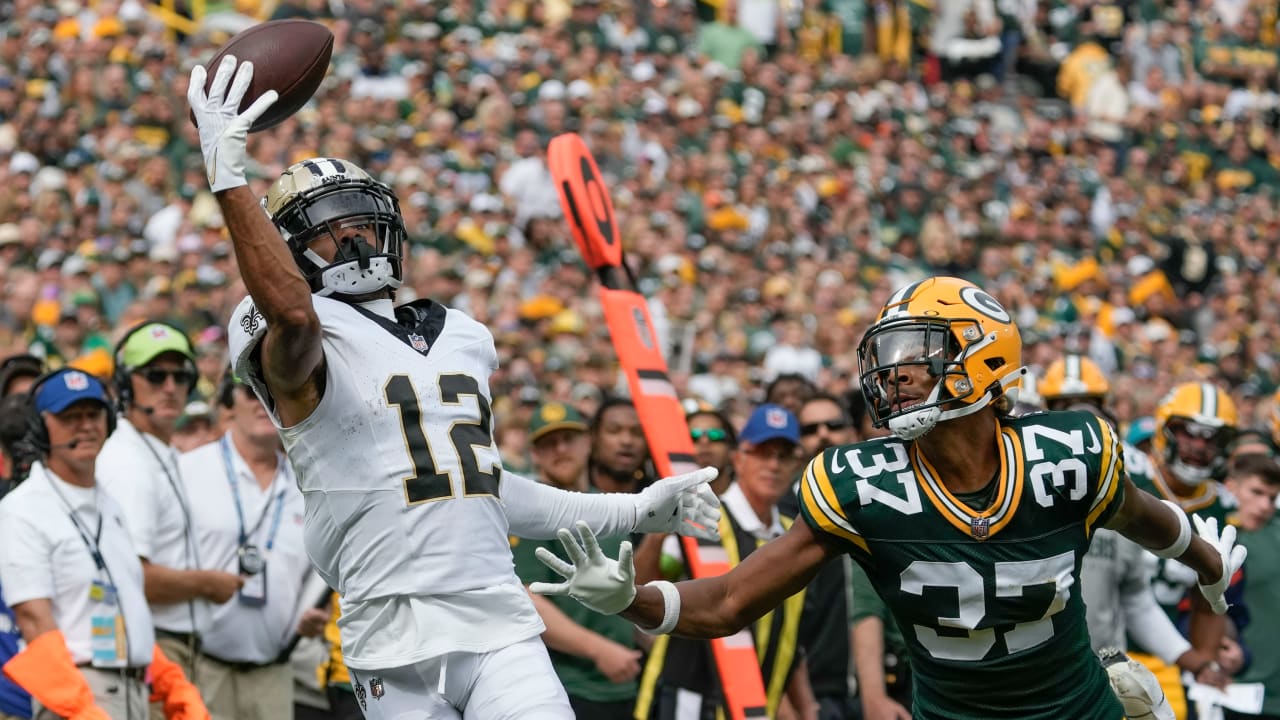 Welcome to the Week 9 Walkthrough.
In this article, I'll outline critical fantasy football context for this ninth glorious week of football.
(The stats below are from PFF, NFLfastR, rbsdm.com, RotoViz, FantasyLabs, ESPN, NFL Next Gen, and Fantasy Life).
Quick Links
Dolphins at Chiefs, 9:30 AM, Frankfurt
Dolphins Implied Team Total: 24.25
Tua Tagovailoa is having a very strong season. He ranks QB4 in EPA per game, QB3 in success rate, and QB5 in completion percentage over expected. The three rankings imply efficiency, consistency, and accuracy.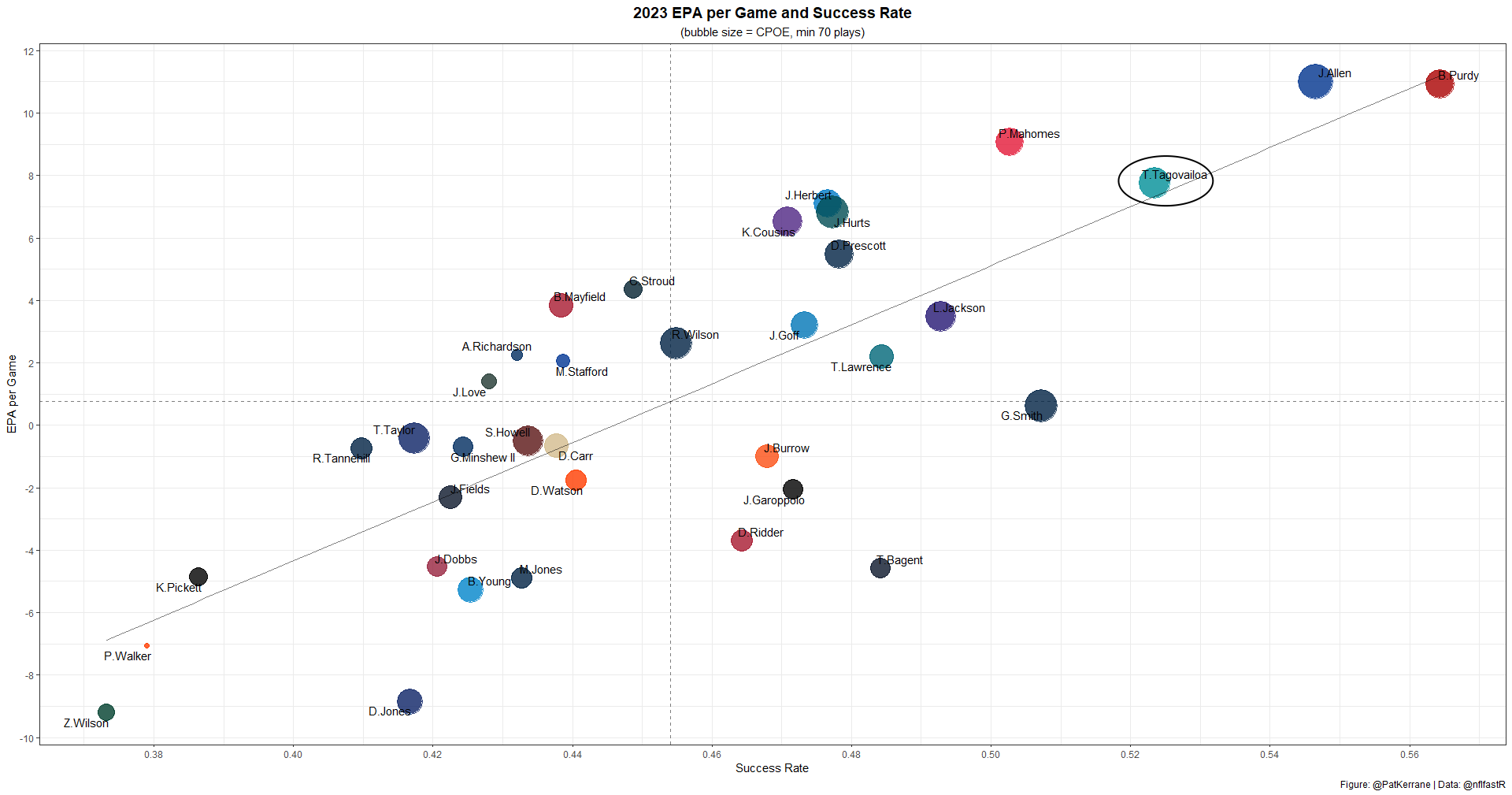 But Tua's play in Weeks 1-3 was much stronger than it has been over the last five weeks. In fact, Tagovailoa is coming off his lowest marks in success rate and CPOE of the season.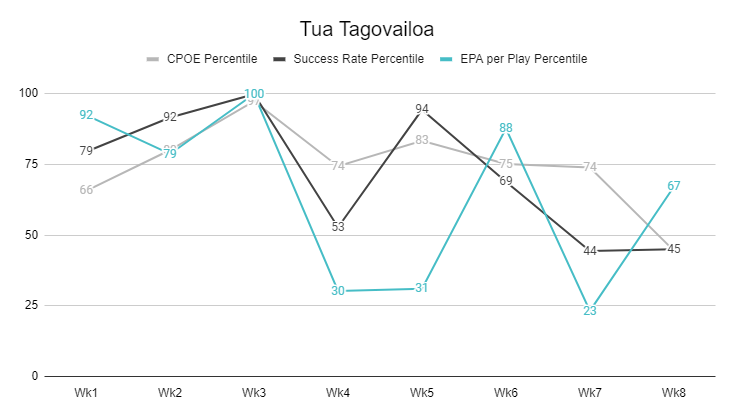 Tagovailoa now gets a Chiefs defense that has been elite against the pass, ranking third in EPA allowed per dropback and second in dropback success rate. They have also been extremely effective at limiting big plays… which is an important strength to have against a Dolphins' passing game that relies heavily on generating explosive passing plays.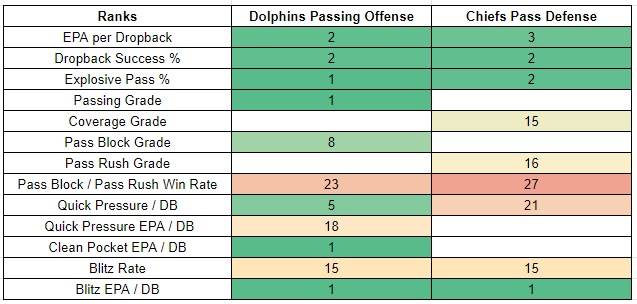 Although the Chiefs have a strong pass defense, they don't pressure the passer very well, ranking just 27th in pass rush win rate. And although the Dolphins' offensive line isn't great, the offense excels at getting the ball out quickly. Tua is averaging 2.28 seconds per dropback and 2.22 seconds per throw, both of which are the fastest in the NFL. The Chiefs are unlikely to generate a ton of pressure this week… and Tua has been deadly from a clean pocket.
This isn't a matchup where we'd expect Tua to easily pick apart an effective secondary, but the Dolphins should look like the Dolphins.
Mike McDaniel is also likely to call plays fairly aggressively. At times, Miami has been very run heavy this season, but they've largely shifted to the run when salting away big leads. And even against very weak run defenses like the Giants and Panthers, they posted a positive pass rate over expected.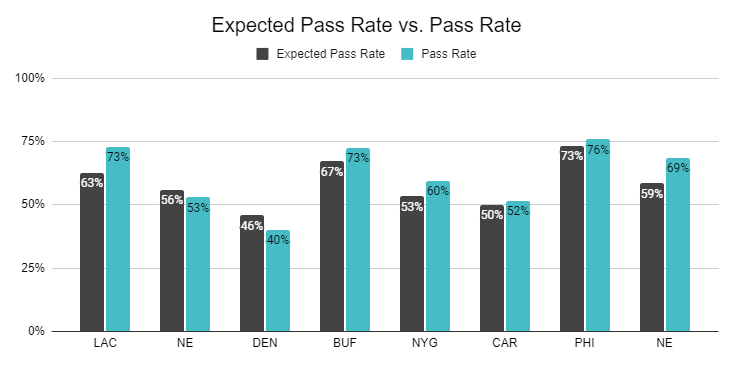 Facing Patrick Mahomes, McDaniel is unlikely to become overly focused on a weak Chiefs run defense.

Passing volume is also a bit less of a concern when a passing game is as concentrated as Miami's. Tyreek Hill continues to dominate on a per-route basis and Jaylen Waddle has an elite profile by non-Hill standards.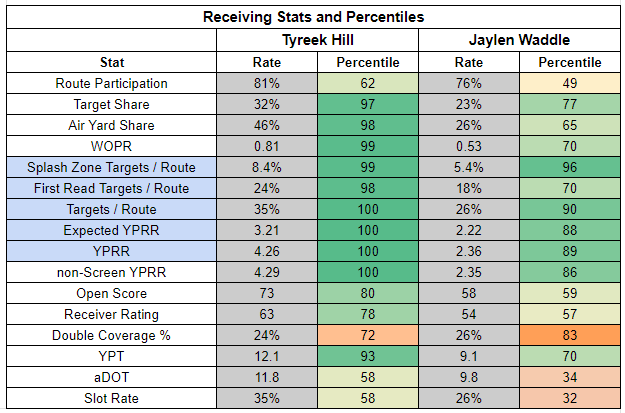 The backfield appears to be shifting toward a timeshare; Raheem Mostert saw just 54% of carries last week, while Jeff Wilson siphoned away 21% and Salvon Ahmed stole 8%. Mostert profiles as more of a volatile fantasy starter than he did in Weeks 1-6.
But Mostert has been an extremely efficient rusher this year and faces a vulnerable Chiefs run defense. He profiles as a low-end RB1.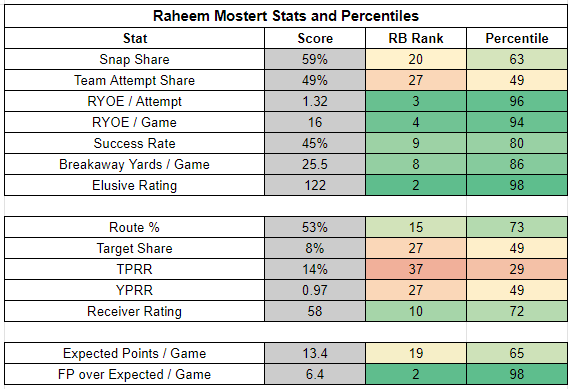 Chiefs Implied Team Total: 26.25
Patrick Mahomes is coming off a highly disappointing loss to the Broncos. Despite facing a very weak pass defense, he finished just QB29 in EPA.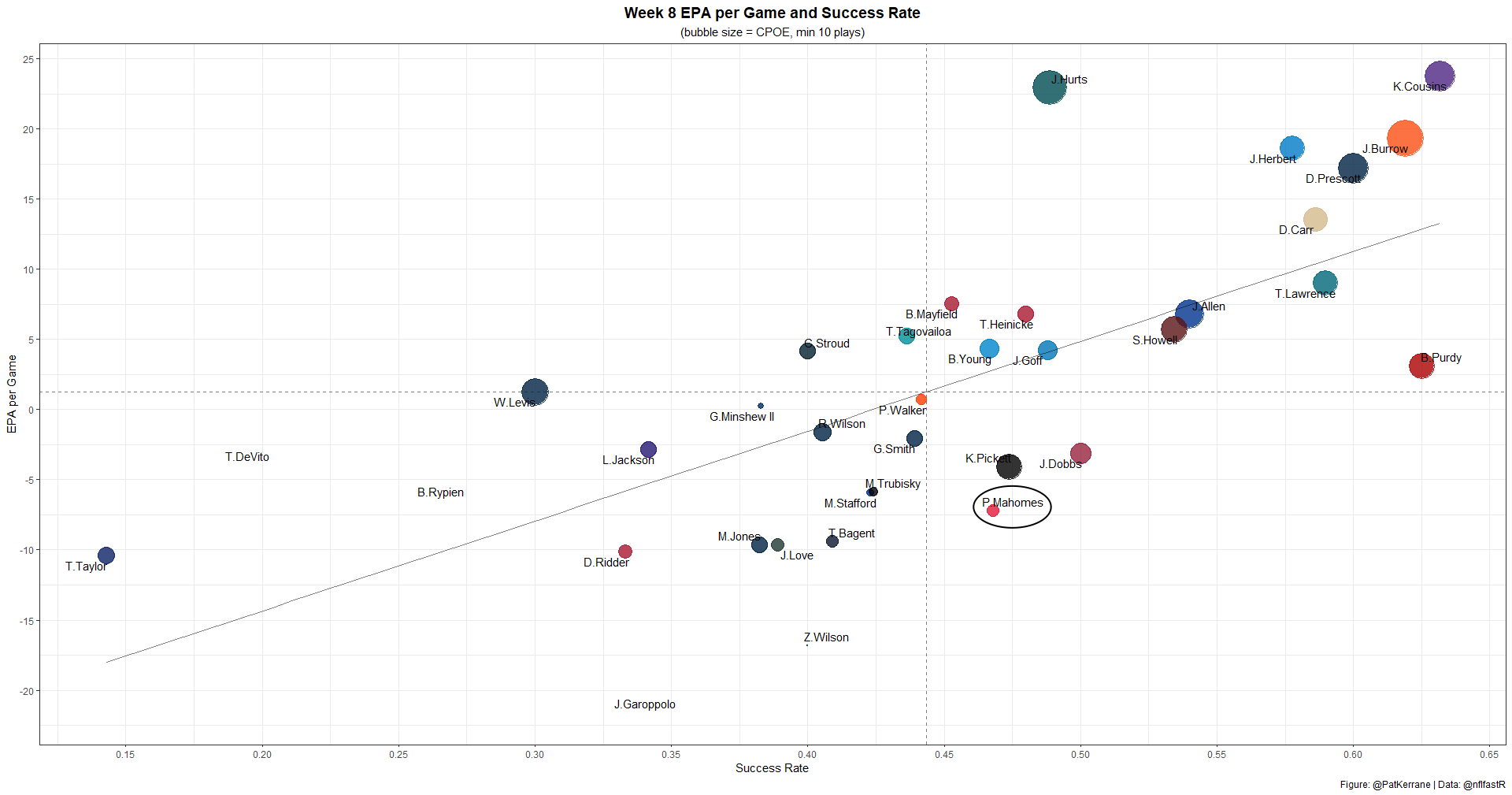 However, from a success rate perspective, Mahomes wasn't bad. His 47% success rate was just 5 points below his season-long rate, putting him on par with Jared Goff.
And Mahomes still looks very strong from a season-long perspective, ranking QB3 in EPA per game and QB5 in success rate.
And the Chiefs are a lock to run their offense through Mahomes. They lead the NFL with a 9% PROE, and have been pass first in every single game this season. Moreover, they've had a PROE of at least 7% in 6-of-8 games.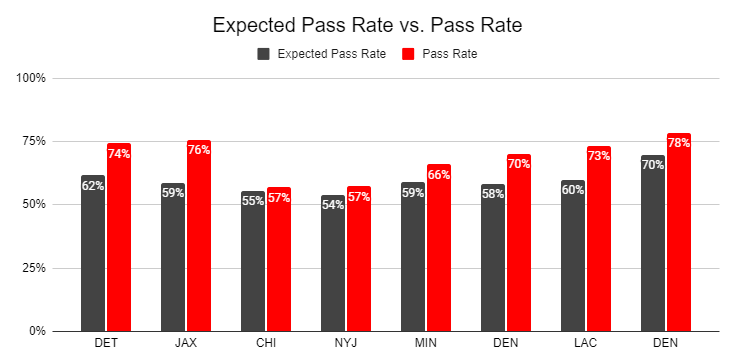 The Chiefs now face a Dolphins defense that hasn't been all that successful this season but rates well in both PFF's grades and in the ESPN player tracking metrics. They're a legitimate test, but we're talking about Patrick Mahomes here.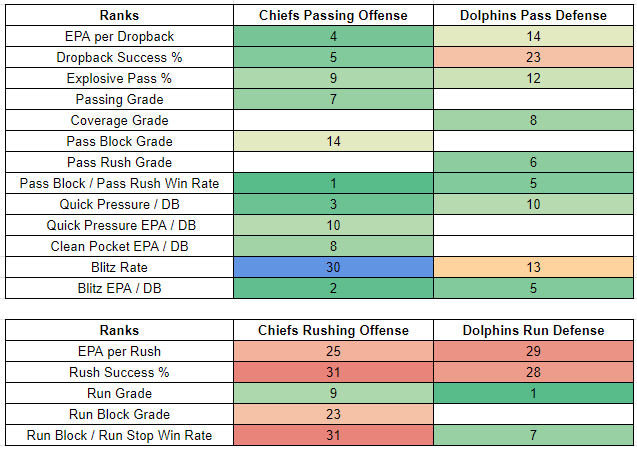 The issue is that Mahomes doesn't have much help from his wide receivers. Rashee Rice has emerged as his top weapon at the position, but isn't yet in a full-time role. The rookie posted 60%+ route participation for the second straight week, but is still frequently leaving the field.

This is frustrating, given his very strong per-route profile. Sure, Rice is running a bit hot on his targets. His 9.5 YPT is quite high for his ultra-shallow 6.1 aDOT. But still, Rice is clearly the best option at WR.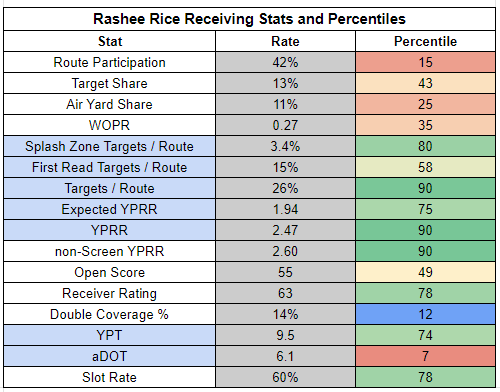 Because of his limited role, Rice is a boom/bust option. But he's a viable FLEX.
Travis Kelce remains locked in.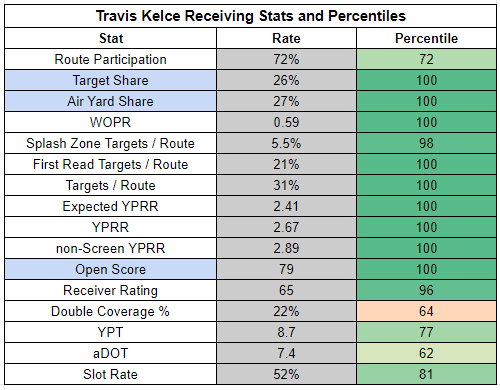 In the backfield, Isiah Pacheco's role remains very steady. He's seen a 54% snap share and 67% carry share for two straight weeks and profiles a solid lead back with a rushing-driven workload.

Pacheco looks like a high-end RB2 against a Dolphins run defense that is probably better than they look on paper, but unimposing nonetheless.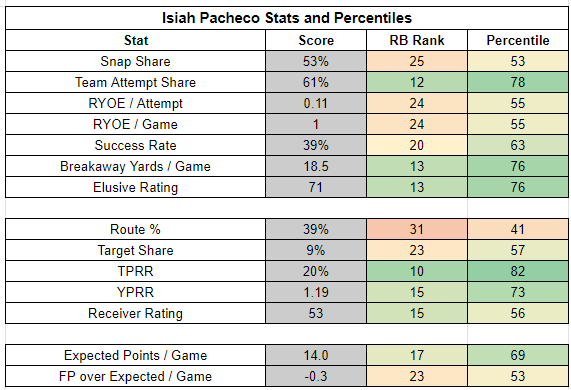 Bears at Saints, 1 PM
Bears Implied Team Total: 16.5
Entering Week 8, Tyson Bagent looked like a positive regression candidate… on paper. But as I noted in last week's Walkthrough, Bagent's profile was highly reliant on screen passes—boosting his success rate.
Against the Chargers, Bagent attempted just three screen passes. And – unsurprisingly – his success rate dropped precipitously.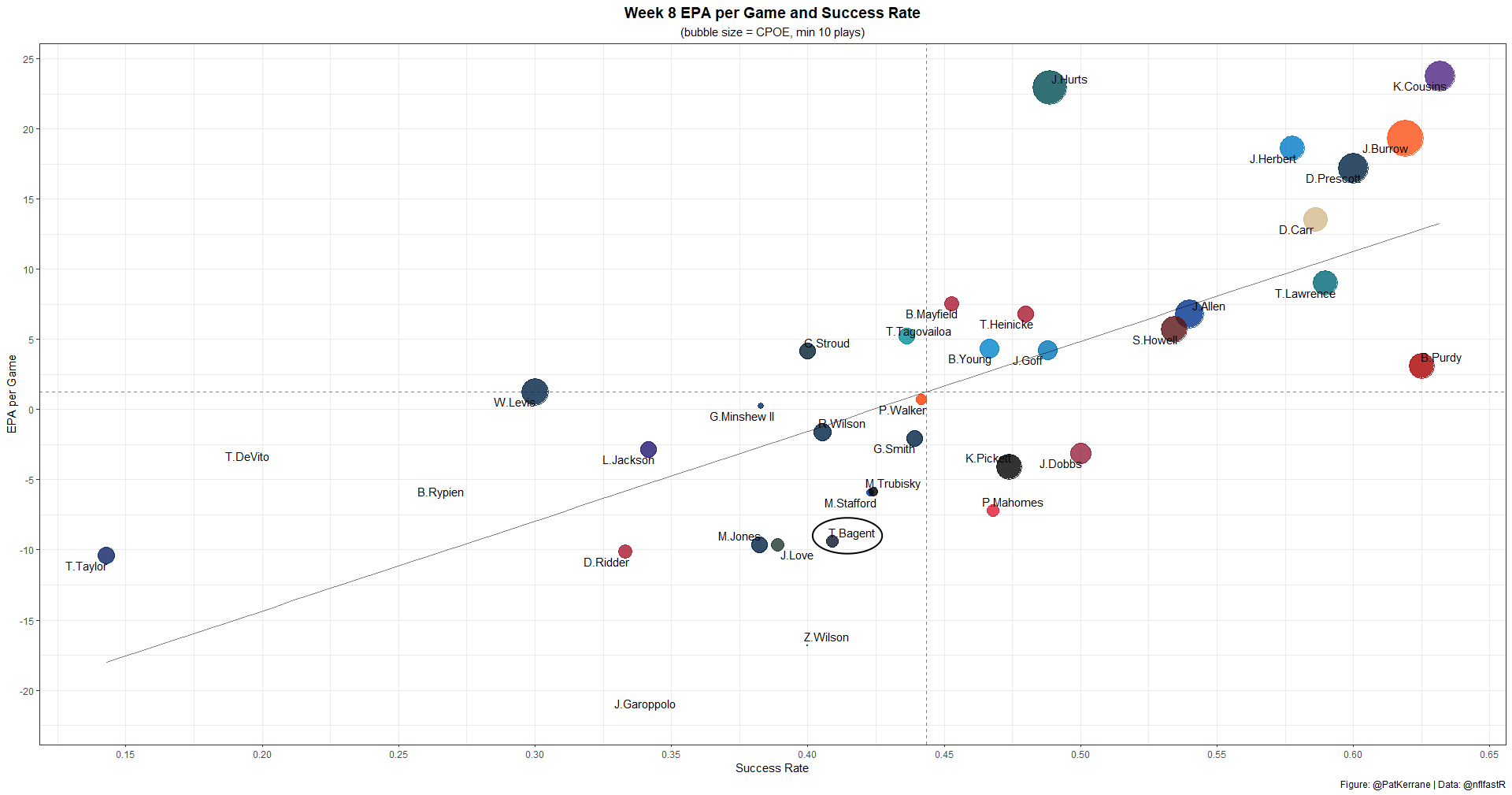 Bagent now ranks QB30 in EPA per game and QB8 in success rate. Normally with a discrepancy like this, I'd expect success rate to be the more reliable metric. But in this case, with Bagent's success rate largely manufactured, I trust the EPA number more. Bagent will likely bring a Josh Dobbs / Desmond Ridder level of play to the table.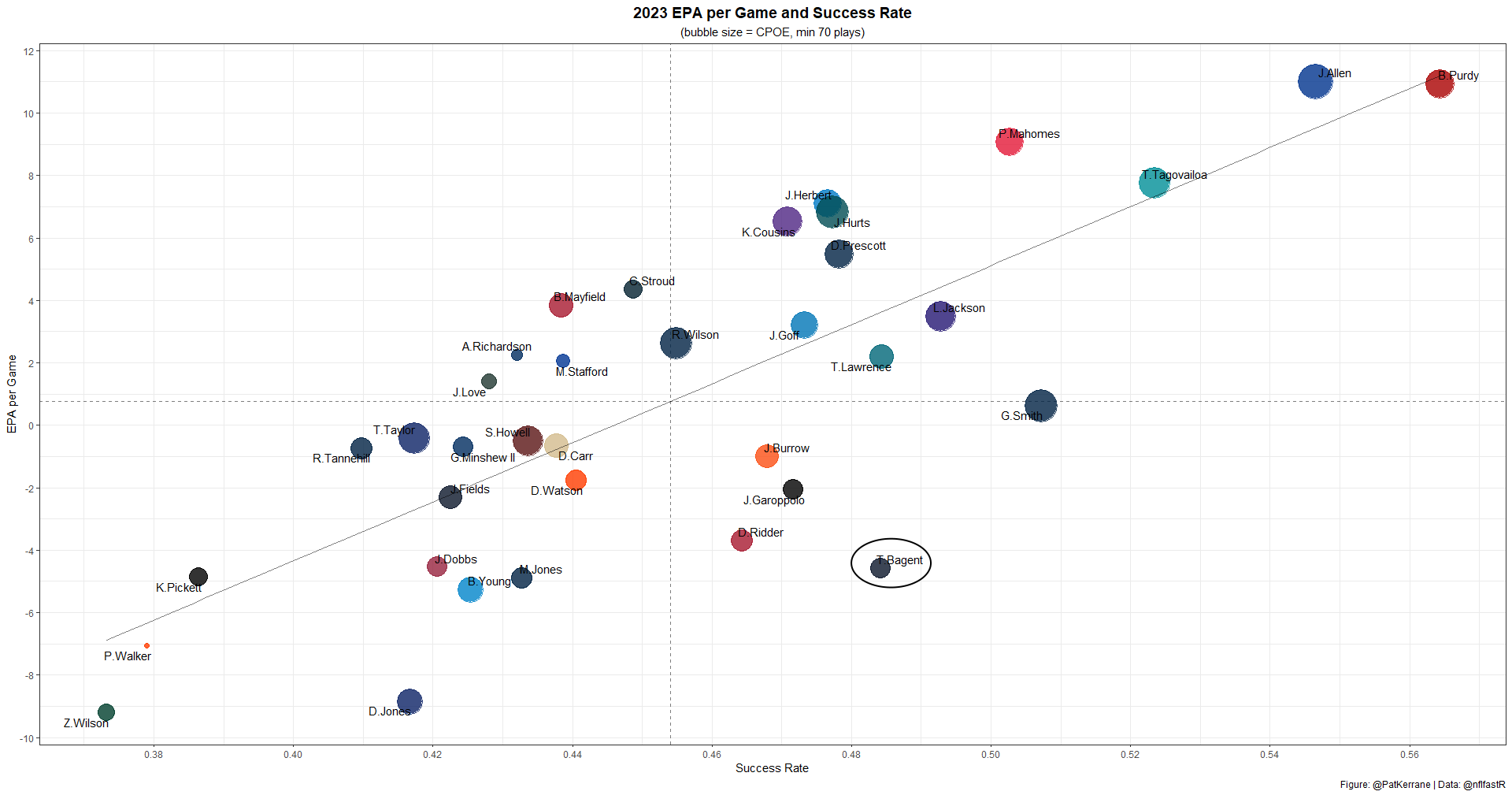 Bagent looks overmatched against a Saints defense that ranks ninth in EPA in allowed per dropback and third in dropback success rate. The Saints don't have a good pass rush, but they are extremely sound on the backend, and will likely force Bagent into mistakes even without pressuring him quickly.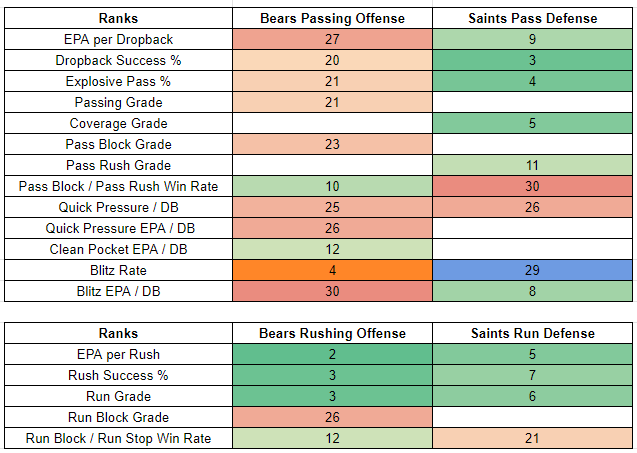 Bagent won't get a ton of help from the run game here, either. The Saints have an impressive run defense that will likely keep the Bears' rushing efficiency in check.
That doesn't mean that Chicago won't try to get their running game on track. Only the Falcons (-8%) have a lower pass rate over expected than the Bears (-5%).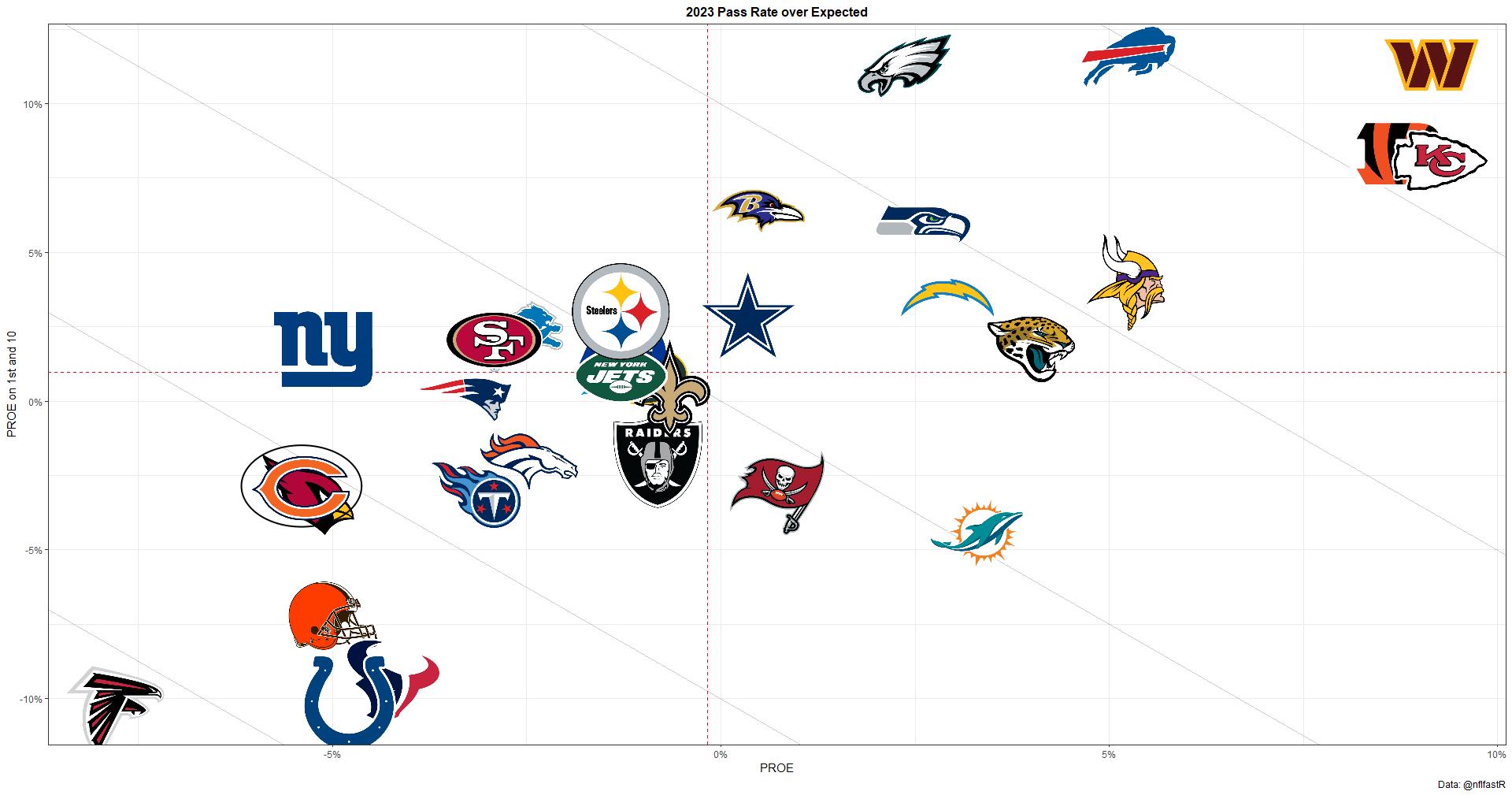 The Bears have been even more run heavy with Bagent under center than they were with Fields. Over the last three weeks, they've posted PROEs of -16%, -6%, and -9%. Efficiency will be an issue, but we can count on the Bears to run the ball.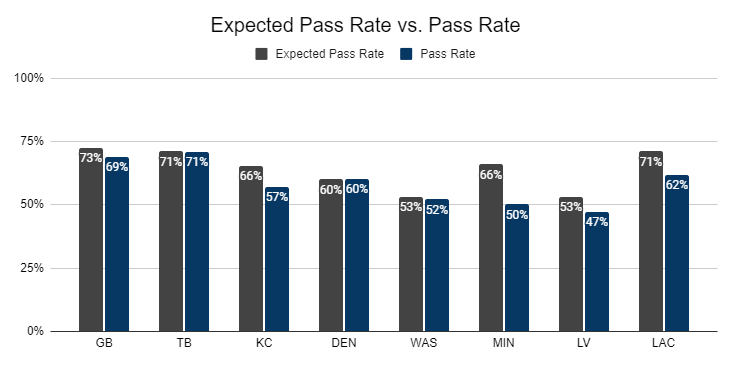 Unfortunately, the Bears backfield has devolved into a three-man committee.
Roschon Johnson returned to the lineup against the Chargers, seeing 37% of snaps, 21% of carries, and 11% of targets.

With Darrynton Evans also involved, D'Onta Foreman dropped to a 30% snap share and 38% of carries.


This makes Johnson and Foreman hard to trust here, which is a bummer, given how good Foreman's rushing profile has been.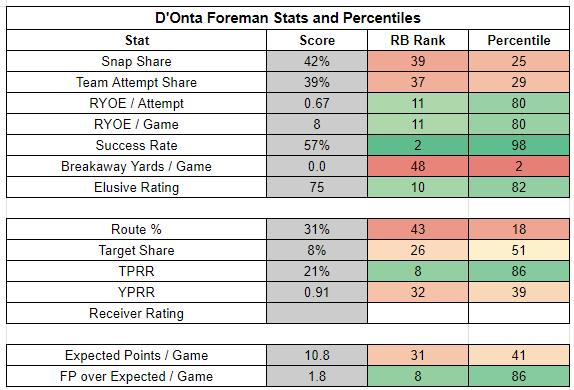 Although the Bears will try to hide Bagent as much as possible, there's a good chance for the Saints to push them as 7.5-point favorites. That sets up D.J. Moore for a decent shot at volume.
Moore's outlook has taken a big hit with Bagent. When Moore put up an 8/131/1 receiving line against the Broncos, he had a 17.1 average depth of target. When he exploded for 8/230/3 against the Commanders, Moore had a 14.0 aDOT. With the Bears, he's been at his best as a deep threat.
But in Bagent's two starts, More has posted aDOTs of 4.1 and 8.5. Moore's simplest path to value is for the Bears to get back to a screen-heavy plan of attack, which would likely incorporate him in a significant way. Otherwise, we're hoping Moore can make a couple of big plays on limited downfield volume.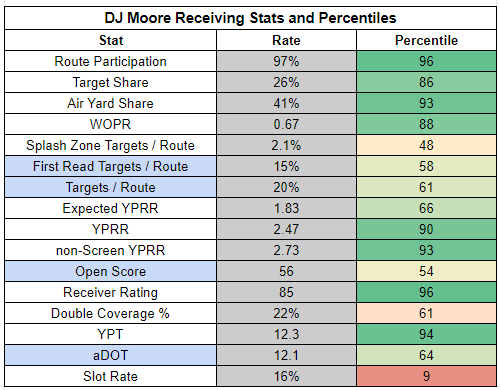 Cole Kmet benefited in a big way from the Bears' return to a more traditional passing game last week. Kmet wasn't targeted in Week 7 but saw 10 targets against the Chargers. Kmet is unlikely to see that level of involvement again, but it's nice to see his volume spike with Bagent under center. Kmet has been very solid this season, with a 20% TPRR and a 58 open score. He'll be a reliable underneath option.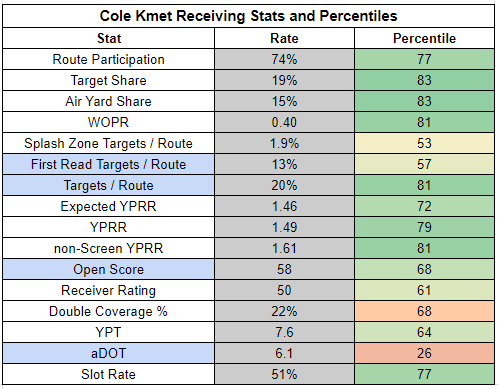 Saints Implied Team Total: 25
Derek Carr is coming off his best game of the season. Against the Colts, Carr threw for 310 yards and two TDs, finishing QB6 in EPA and QB6 in success rate.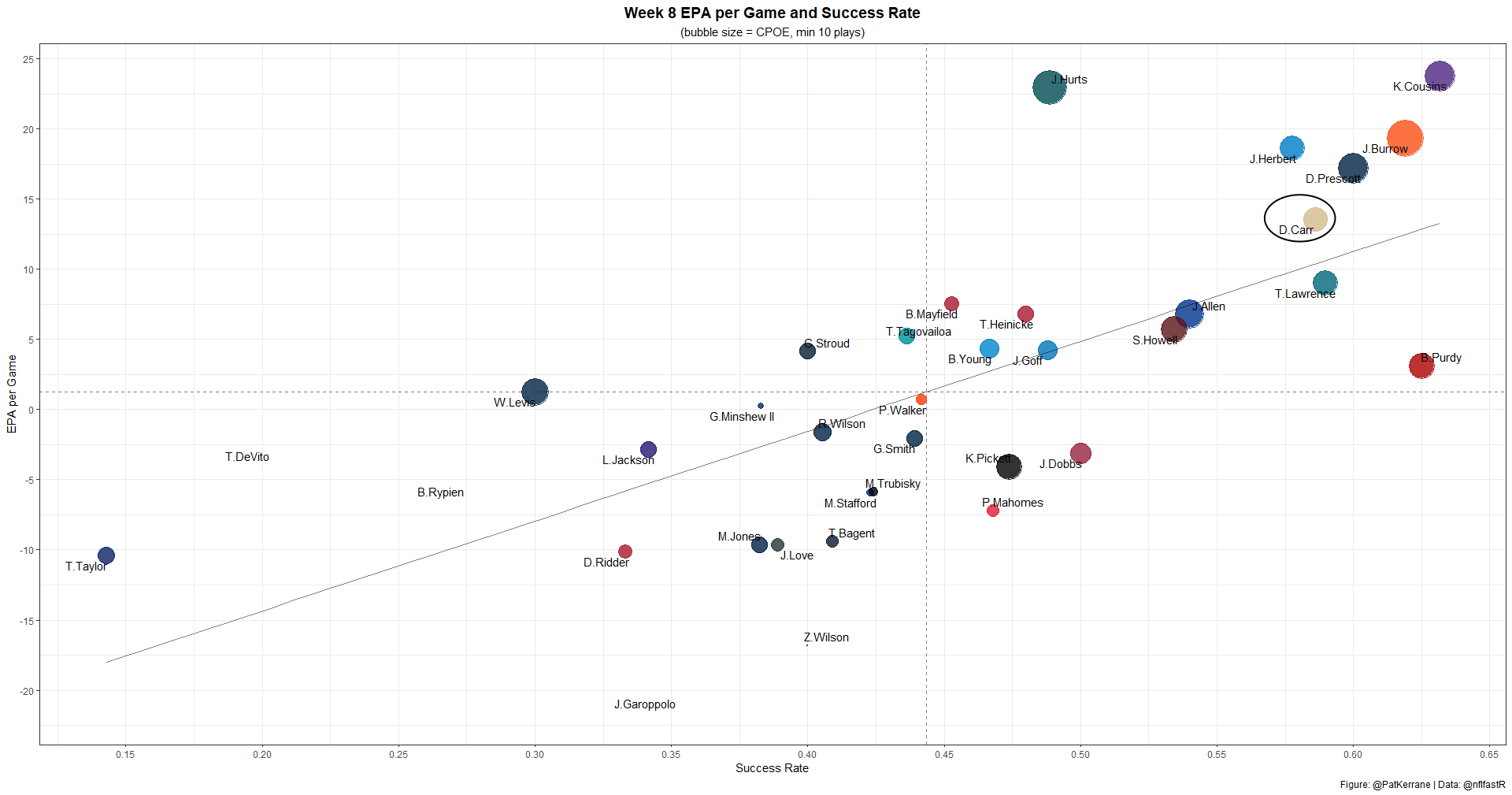 Carr has had some decent games this season, but this was his first truly great game of the year.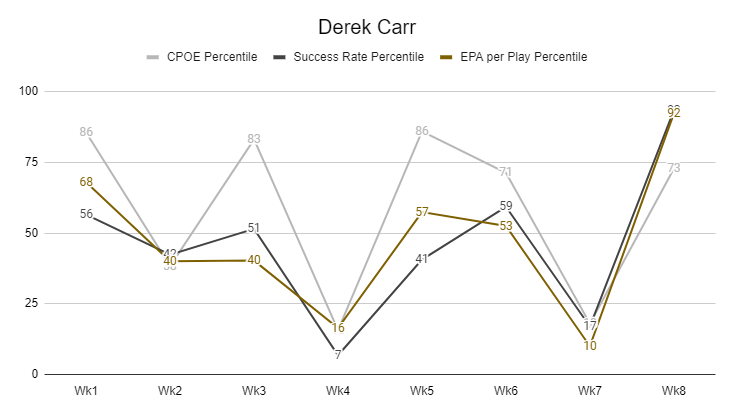 Overall, Carr has pretty pretty unimpressive, sitting in the Sam Howell zone. But as Howell just reminded us, that doesn't rule out a ceiling game in the right environment.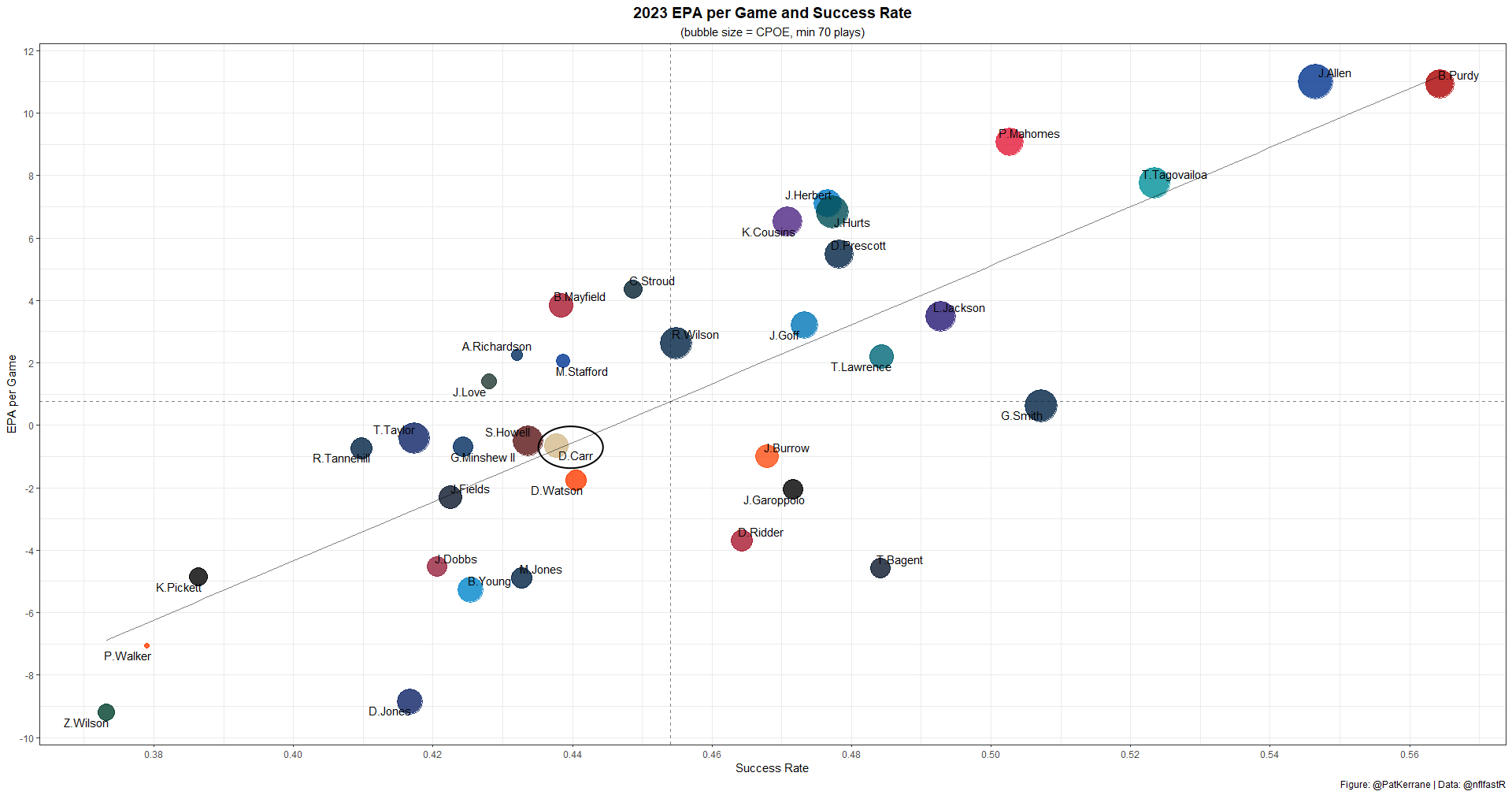 Carr now faces a Bears defense that ranks 31st in EPA allowed per dropback and 28th in dropback success rate. Their secondary is weak, ranking 27th in PFF's coverage grades, and they don't have a pass rush, ranking 31st in quick pressure rate.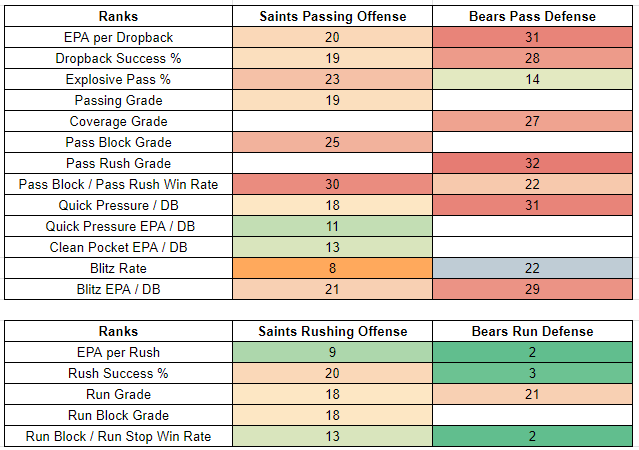 Even the addition of Montez Sweat is unlikely to help a ton. Sweat has not been an especially impressive pass rusher this season, ranking 56th in PFF's pass rush grades among EDGE players. He's been an elite run defender, ranking third in run grade. But his underlying pass-rushing metrics aren't great.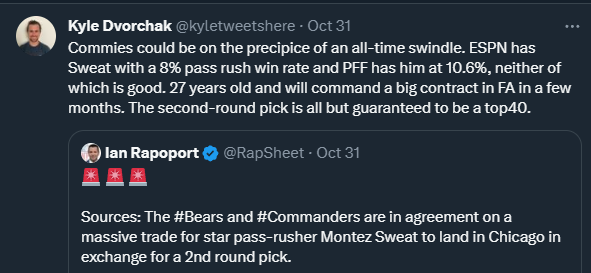 Although the Saints have a great passing matchup on tap, they're unlikely to completely lean into a pass-heavy game plan. New Orleans has been a balanced team, with a -1% pass rate over expected and a 0% PROE on 1st down.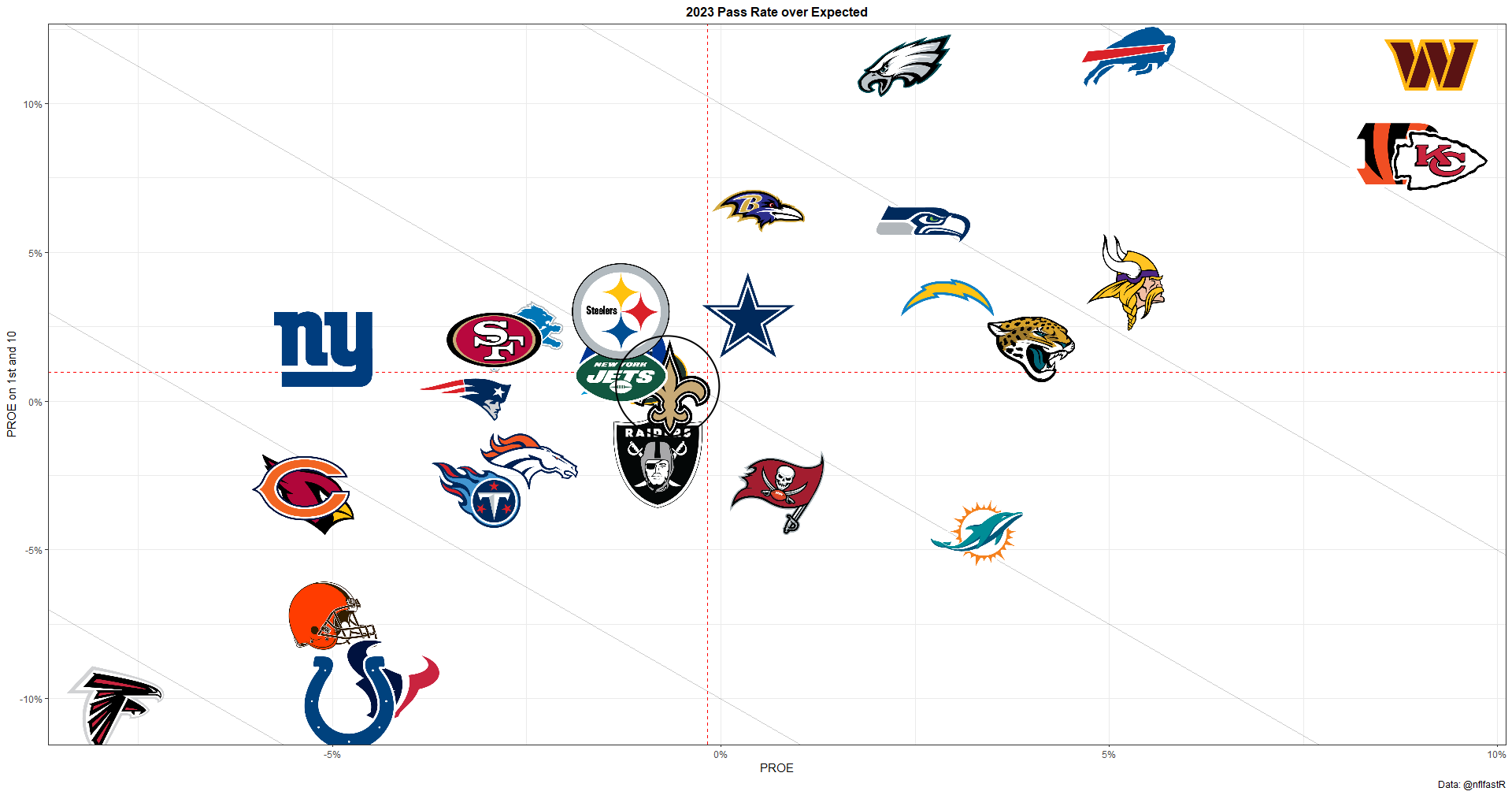 Even against a run funnel Colts defense, the Saints didn't play overly conservatively. Their balanced philosophy should lead to a solid passing-volume floor, even if they don't go nuts.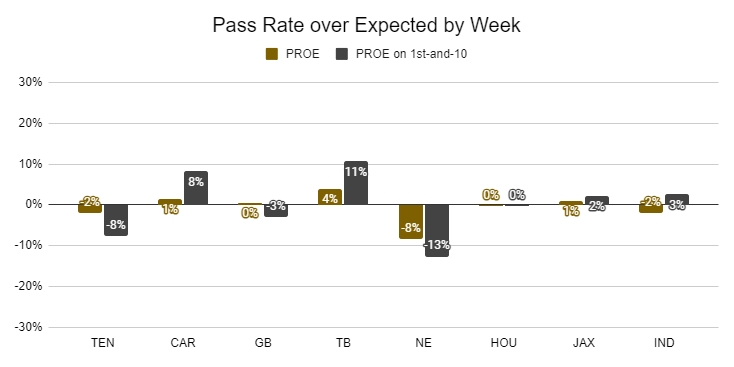 And as long as the Saints drop back at a decent rate, Chris Olave is set up for his best game of the season.
Olave has an elite 22% first-read target rate and is showing an ability to earn targets beyond first-read looks. That's usually a good sign for a player's route-running ability. And sure enough, Olave ranks WR19 in ESPN's open score, just ahead of DK Metcalf and Justin Jefferson.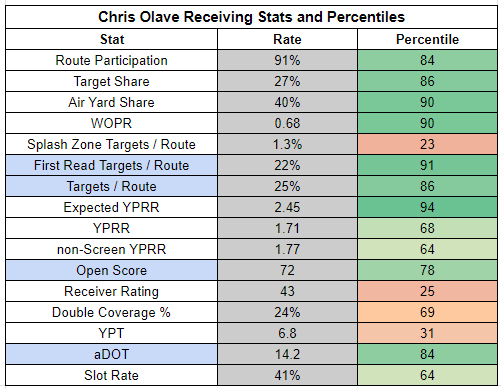 Olave's role in the Saint's offense is frustrating. He's dependent on deep targets, with a 14.2 aDOT. But Olave's targets tend to be deep and along the sideline. He ranks just 23rd percentile in splash zone target rate. But… the Bears have been susceptible to deep sideline targets. The Bears rank 14th in preventing 15+ yard passing plays. But only the Commanders and Lions have allowed more 15+ yard passes on downfield targets along the side of the field. Olave's role makes him less reliable week-to-week, but this matchup sets him up to remind the fantasy world of his elite deep-threat ability.
Compared to Olave, Michael Thomas and Rashid Shaheed look far less interesting, although both are in play in this plus matchup. The issue for both players is that they've struggled to get open. Still, as Shaheed proved last week, when a player with an 18.2 aDOT does get open, it leads to a big day.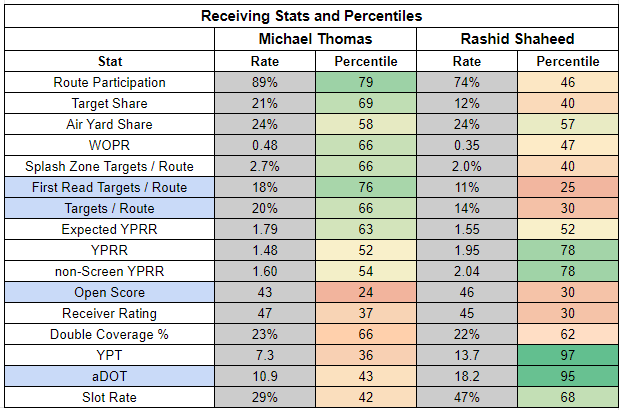 Thomas is more volume-dependent. His 10.9 aDOT isn't shallow exactly, but he's not much of a YAC producer at this stage of his career, ranking WR45 in ESPN's YAC score. He's a volume-based PPR FLEX option.
Alvin Kamara is also a volume-based receiving play. Even while going off for 27 PPR points against the Colts, he handled just 49% of the Saints' carries. He's best off if the Saints attack through the air. Kamara has a 12%+ target share in every game this season, hitting 17%+ in 4-of-5.

Kamara's efficiency profile highlights the importance of his passing game role. Kamara ranks RB3 in YPRR and RB11 in ESPN's receiver rating but just RB40 in RYOE per game and RB41 in success rate.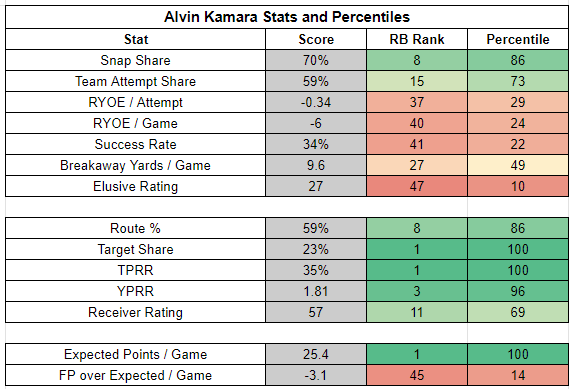 With the potential for the Saints to move the ball very efficiently through the air, Kamara is a high-end RB1.
Seahawks at Ravens, 1 PM