Week 8 Walkthrough: Nico Collins Makes a Splash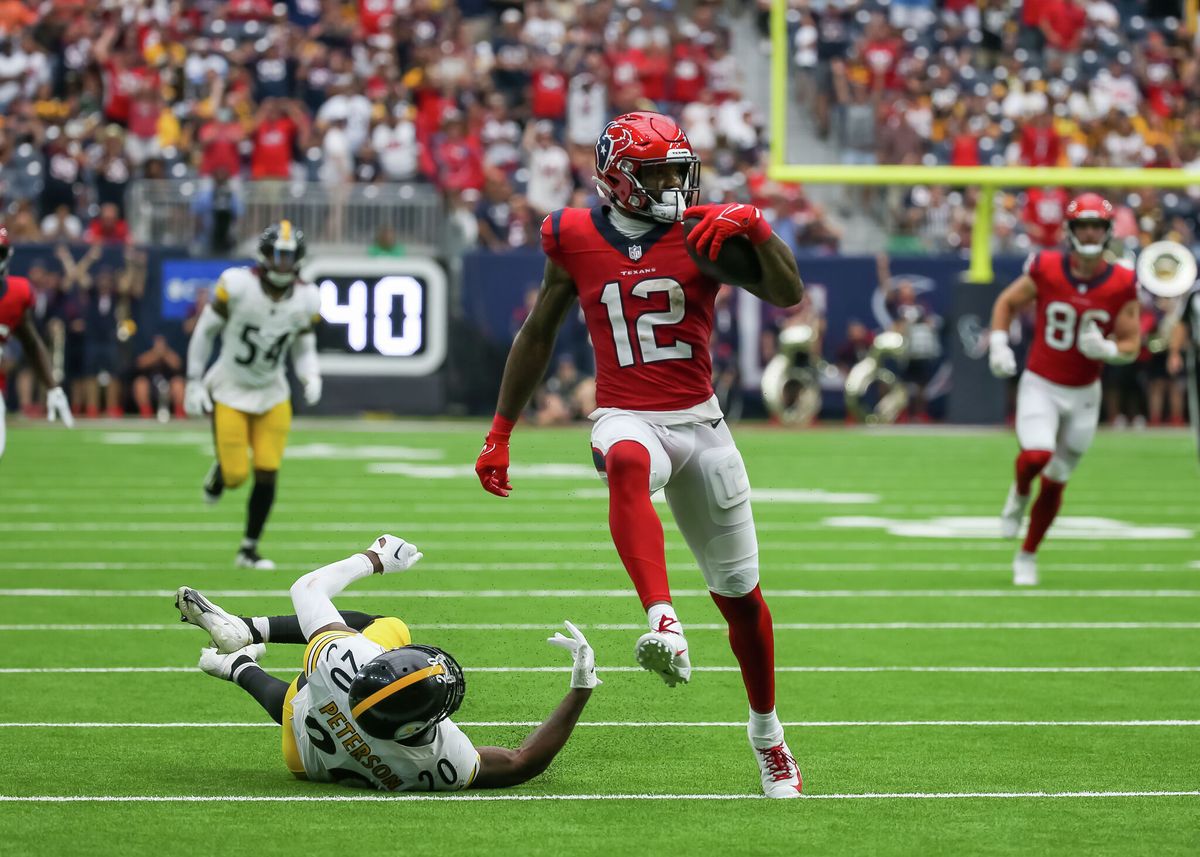 Welcome to the Week 8 Walkthrough.
In this article, I'll outline critical fantasy football context for this eighth glorious week of football.
(The stats below are from PFF, NFLfastR, rbsdm.com, RotoViz, FantasyLabs, ESPN, NFL Next Gen, and Fantasy Life).
ESPN's Receiver Tracking Metrics
It's Week 8. The injury bug is biting and the NFL just smacked us with a zero bye week scheduling travesty. But the good folks at ESPN have the pick-me-up we desperately need.
Their receiver tracking metrics are live.
Like their trenches win rate metrics, their receiver metrics are based on NFL Next Gen player tracking data. You can read more about them here.
These metrics include open score, catch score, YAC score, and an overall receiver rating built from the component metrics. Of these, open score is my favorite. We're deep in the weeds on player production. If a player is an outlier in per-target efficiency one way or the other, we're likely to have already taken notice.
But open score can help us predict who will see targets in the future as well as understand which highly targeted WRs are supporting that volume with high-end route-running ability. Brandon Aiyuk's ridiculous 3.25 YPRR isn't going to hold—but it looks more "real" once you realize that he's led the NFL in open score this year.
To a degree, I view open score as descriptive. If I think a WR is an effective contested catch deep threat, an occasional lack of separation isn't a big deal. Mike Williams has never scored higher than 56 in the 0-100 scale. He's still a very good WR.
But there's a limit. Marquez Valdes-Scantling was an effective deep threat in 2021, with an open score of 48. But with an open score of 26 last year, MVS was a cardio specialist, as he's been this year.
Open score can also highlight early-career breakouts. I'm especially encouraged by George Pickens' jump in open score this year. In combination with improved efficiency and production, his breakout campaign looks legitimate.
Open score is also very helpful in evaluating tight ends. I was very bullish on Mark Andrews this offseason, in part because he led all TEs in open score last year. And I didn't dare predict an age decline for Travis Kelce, who finished TE2. Kelce ranks TE1 this year. I sat up in my seat when I saw Dalton Kincaid ranked TE3 through seven weeks. Shoutout to Jake Ferguson, who ranks TE6, one spot ahead of Dalton Schultz. Ferguson's breakout is coming.
At RB, I prefer to rely on the total receiver score, so I've added that metric to my RB player charts. The ability to get open is definitely part of the puzzle at RB, but RB targets are earned far less than their downfield counterparts. This metric was one of the reasons Jaylen Warren is my highest-drafted RB this year (edging out Breece Hall). Warren finished RB3 in the overall score last year behind Christian McCaffrey and Austin Ekeler. We'll get to Warren's rank this year later in the article (it's high).
A big thanks to ESPN for making this data publicly available… and for thoughtfully developing it.
Let's get to it.
Quick Links
Texans at Panthers, 1 PM
Texans Implied Team Total: 23.25
C.J. Stroud was extremely impressive in Weeks 3-4. But he fell off a bit in Weeks 5-6. Stroud was still impressive, but he was flashing genuinely elite play for a second there.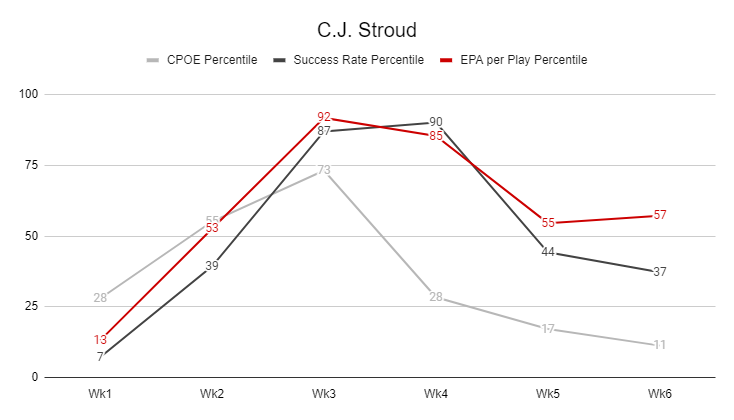 Still, Stroud is having an awesome season for a rookie QB. He ranks QB9 in EPA per game and QB17 in success rate and is performing like a capable veteran QB.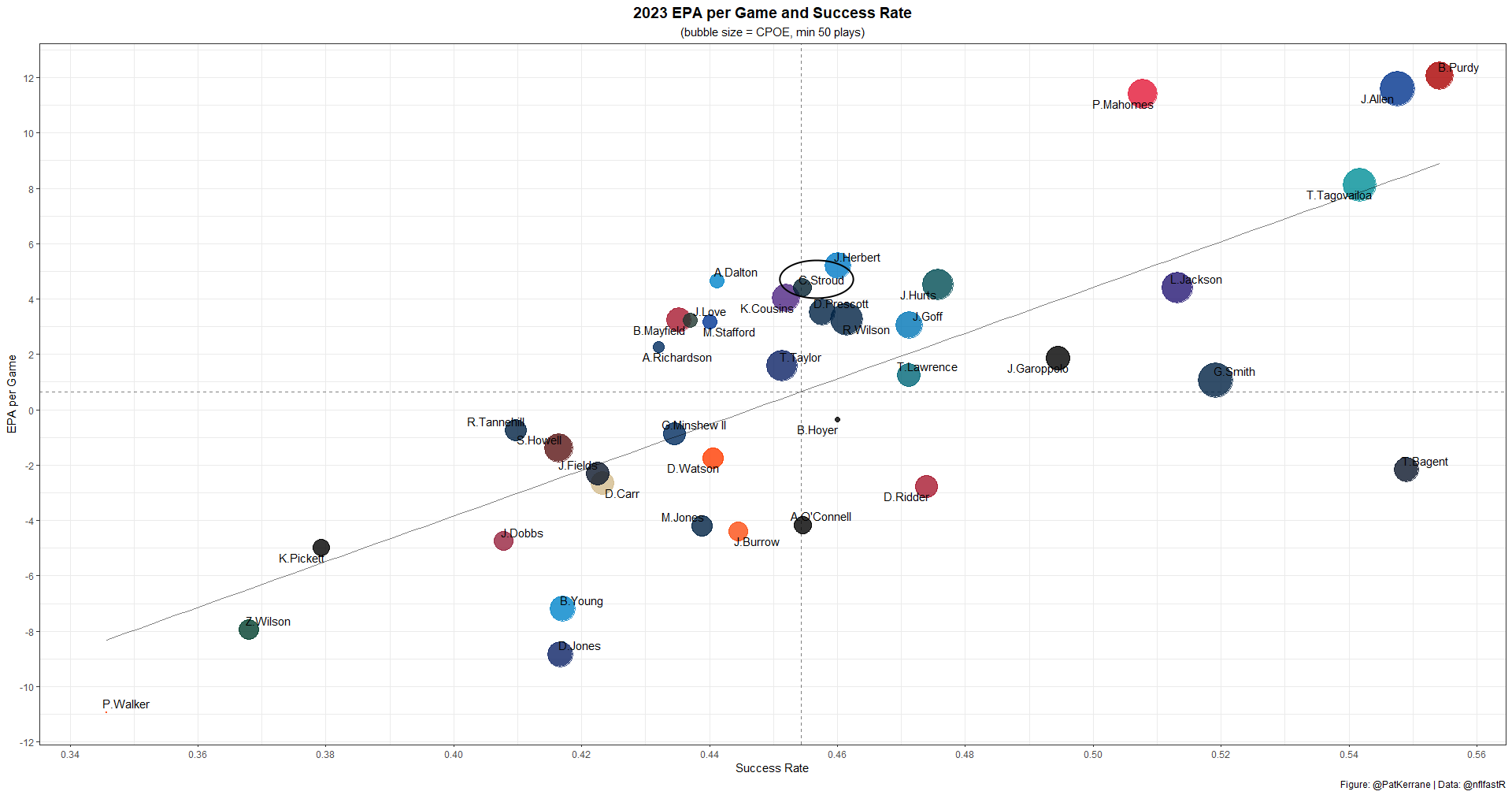 But the Texans aren't putting too much on his shoulders. Along with the Falcons, Colts, and Browns, the Texans are one of the NFL's truly run-heavy teams this season.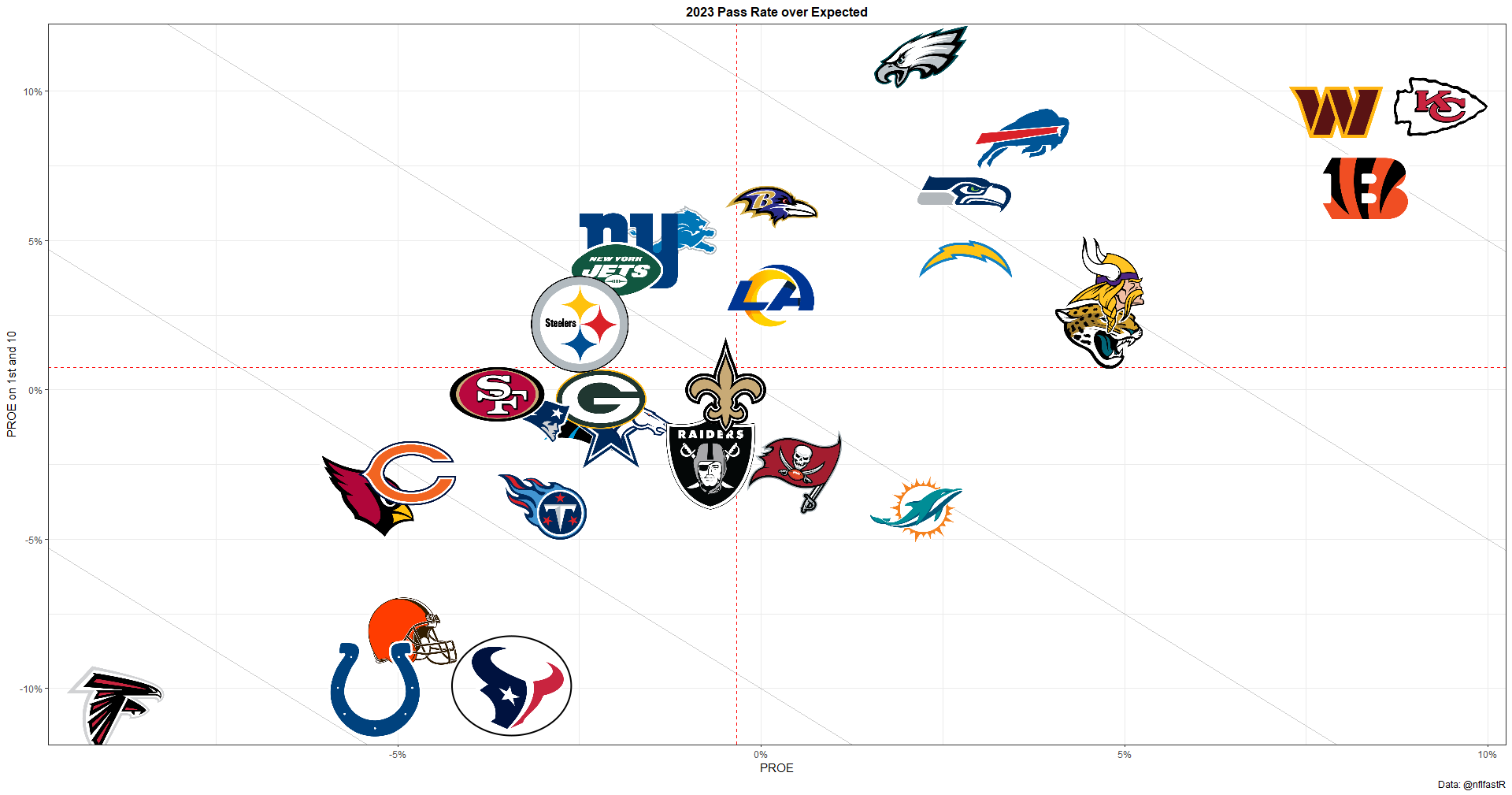 You can bet that the Texans were happy to see a matchup with Carolina leading the way out of their bye. The Panthers have been an absolute joke against the run.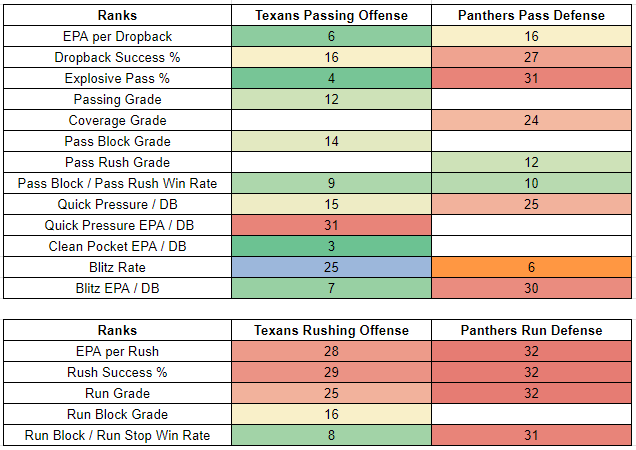 But the Panthers' banged-up defense is allowing explosive pass plays at the league's second-highest rate as well. The Texans will be looking to attack deep against them, even if they implement a run-heavy attack overall.
Stroud has seen a healthy 24% of his attempts (QB18) on play action, and he is attacking deep on those throws, with an 11.4 aDOT (QB6). This is nice to see since play action can unlock big plays.
Play action passing makes up 20% of the NFL's total pass attempts and 25% of the league's splash zone pass attempts. As you might expect from a tactic that pulls linebackers up, play action is opening up the downfield-middle of the field.
Play action also impressively accounts for 32% of 15+ yard pass plays as well.
But honestly, the Texans don't even need the play action boost to attack the splash zone… that's already their thing. They're attacking the deep middle of the field more than any other team this season… and it's not even close. The Texans are targeting the splash zone at nearly a 16% rate; the NFL average hovers just below 8%.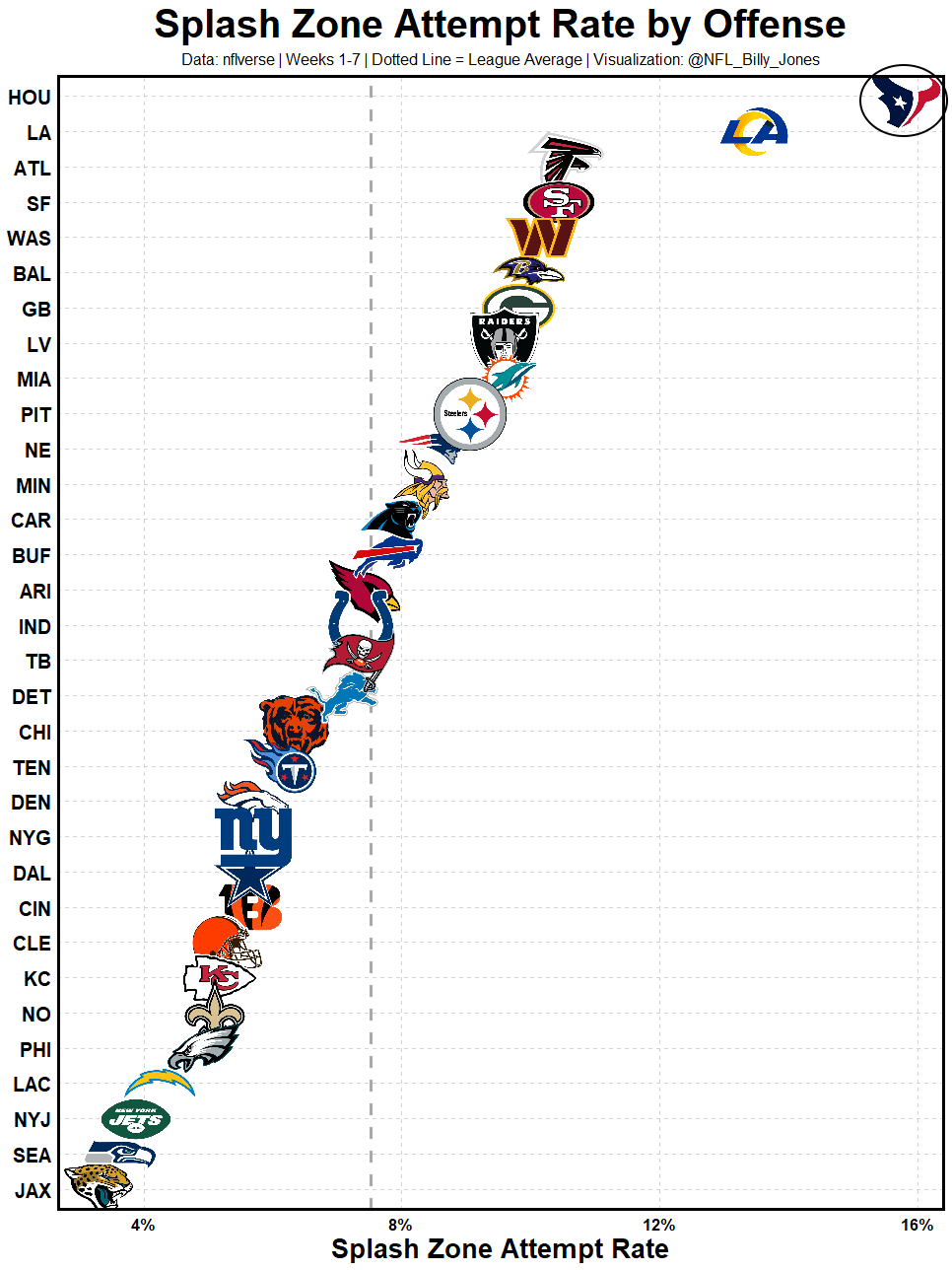 Of course, it shouldn't be a surprise that the Texans are attacking downfield and over the middle. Hayden Winks has shown these targets lead to fantasy scoring at a higher rate and fantasy scoring is driven by yards and TDs… which NFL teams also tend to like—especially NFL teams in the Shanahan tree.
I first started writing about this idea when looking at Mike McDaniels' offensive design last season. And of the top 10 teams in splash zone attempt rate, five are run by coaches who worked under Kyle Shanahan, or by Shanahan himself. This is scheme at work.
But scheme isn't the only element at play. You also need a QB capable of throwing into tight windows over the middle of the field.
This is a fun clip in which Benjamin Solak explains how Stroud manipulates a linebacker with his eyes to open up a window for Nico Collins in the splash zone.
The Texans are unlikely to have a ton of raw passing volume, but they should still post a high rate of splash zone attempts, given their aggressiveness in attacking that part of the field and the Panthers' propensity for allowing 15+ yard passes.
And if looking to play this angle, Nico Collins is your best bet. Collins is seeing splash zone targets at an elite rate… to the point that he looks like the NFL's preeminent splash zone specialist.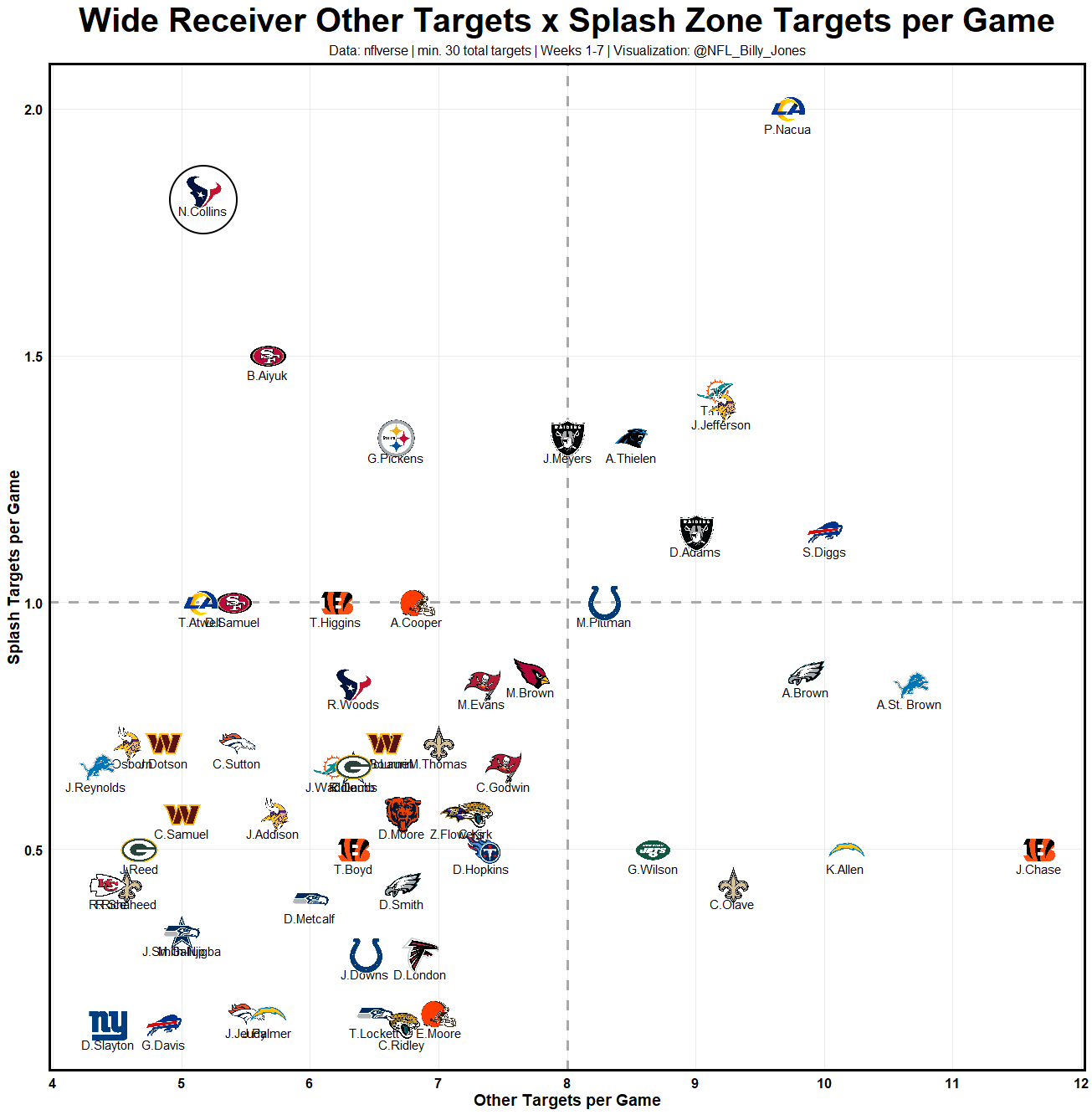 (Shoutout to Billy Jones for making these sweet splash zone visuals. You can check out the rest of them here).
When comparing Nico Collins to Tank Dell, he doesn't necessarily look like the superior player. He actually has a lower first-read target rate and a far lower open score. Dell has been elite at getting open, while Collins has only been above average.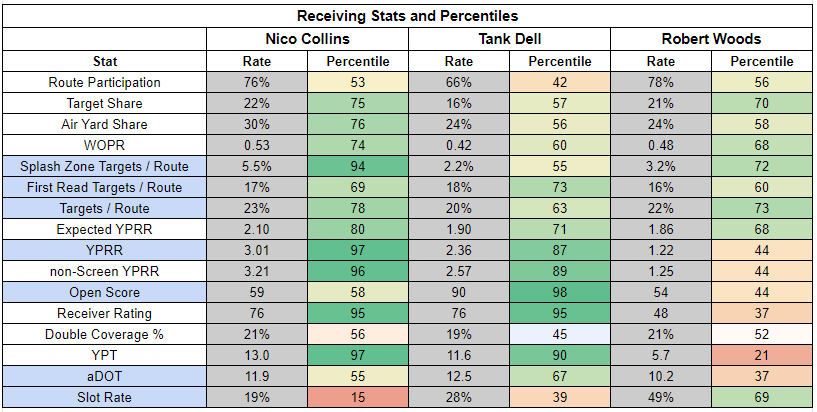 But when looking at splash zone targets, it's pretty clear that Collins is the primary weapon for this part of the Texans offense. And that's the way to attack this passing matchup. Collins a locked-in WR2.
Dell also looks like a strong play, profiling as a high-end FLEX option. He might not run as many splash zone routes, but I'm never going to look down on a WR with elite route running skills.
And things could be very concentrated to Collins and Dell this week, with Robert Woods expected to miss the game with a foot injury. This opens up playing time for Noah Brown, who returned to a significant role in Week 6, with Dell out of the lineup.

But Brown has played very poorly this season, and his presence is likely to boost targets slightly for the other WRs. Find a way to get Collins and Dell into lineups.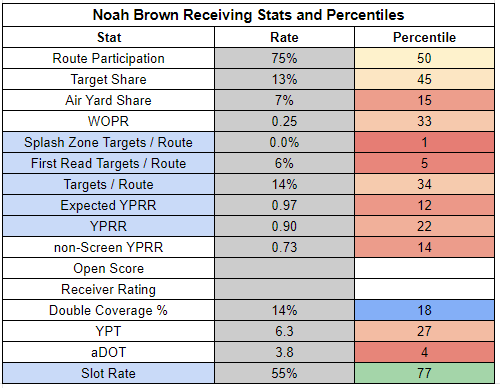 Dalton Schultz also looks like a solid start. Schultz saw his playing time dip in Week 4, but he was back up to 70% route participation in Week 6.

And Schultz has gotten in on the splash zone fun, with one of the highest splash zone target rates among TEs. He profiles as a low-end TE1.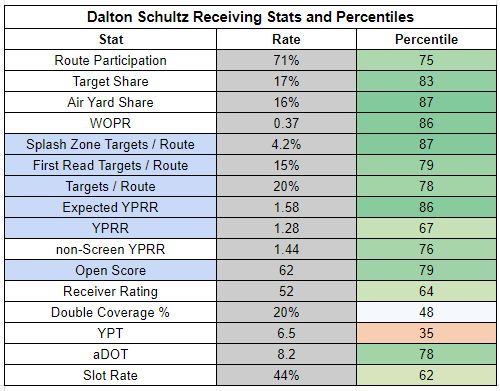 The Texans' passing game weapons are bets on big plays from a productive offense. But in the backfield, we can also count on volume.
The Panthers have been truly horrific against the run. They are essentially two tiers below the next worst run defense.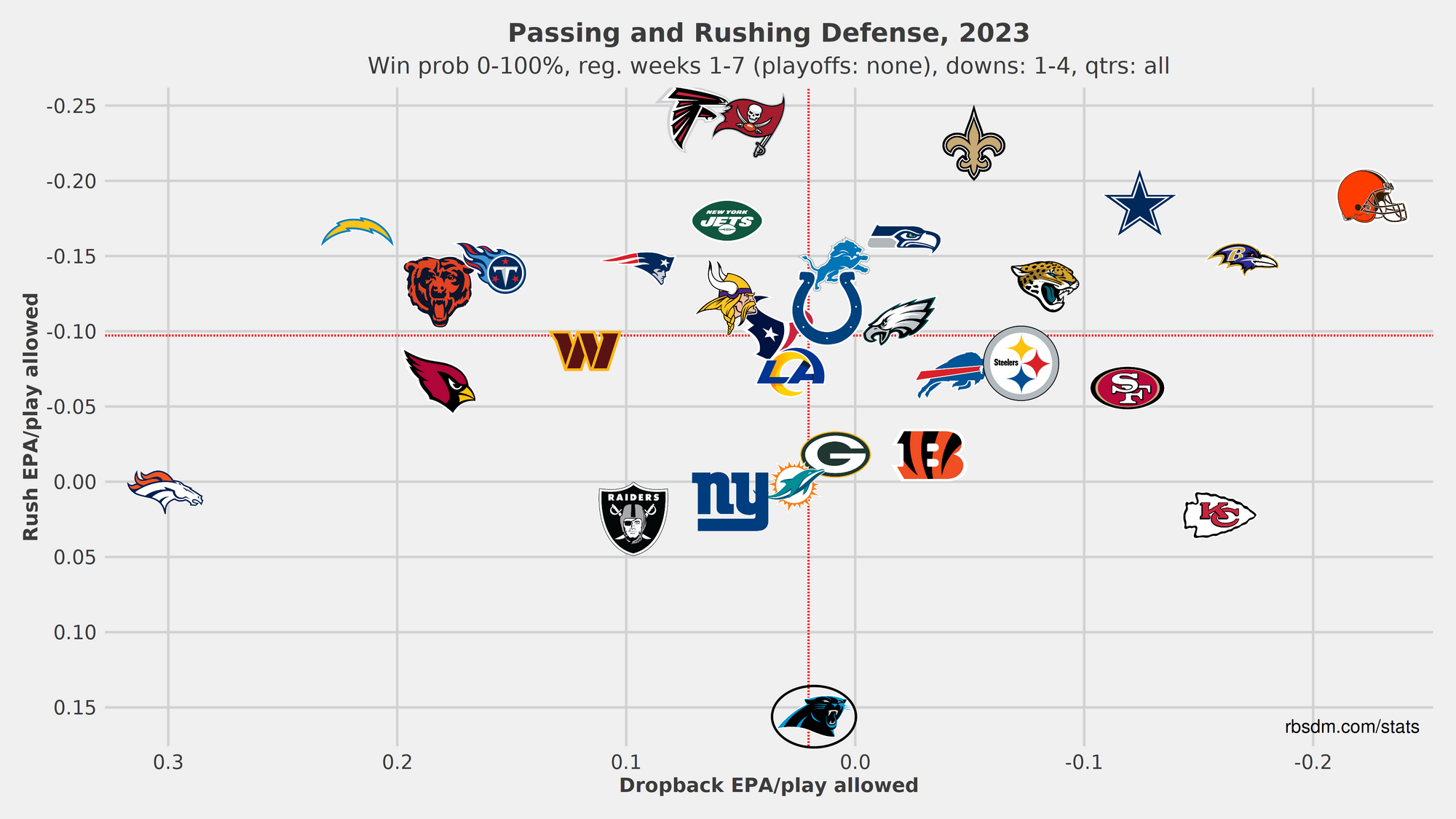 Volume is welcome news for a backfield that looks to be undergoing a shake-up. In Week 6, Devin Singletary handled 52% of snaps and 40% of carries with Dameon Pierce at 35% of snaps and 43% of carries. It was Singletary's first time leading the backfield in snaps.


Singletary hasn't been very good this season, but he has been decently consistent. His 40% success rate is significantly better than Pierce's 35% rate. Ultimately, the Texans could feel that Singletary's consistency is more important than Pierce's theoretical explosiveness. That edge is theoretical because it feels like Pierce has to be more explosive than Singletary… but he really hasn't been this season.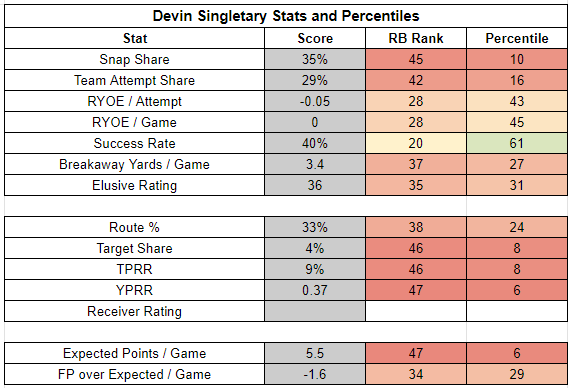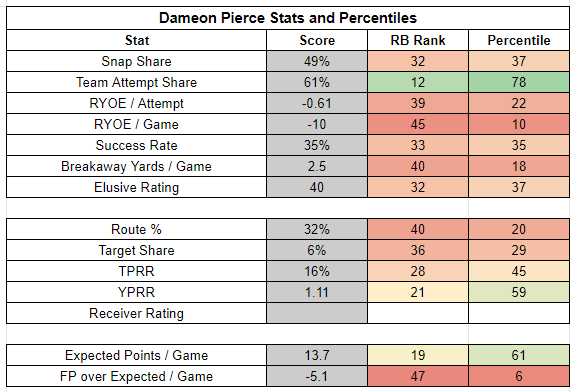 With the rushing workload likely to be split again, both backs look like TD-based fill-ins this week.
Panthers Implied Team Total: 20.25
The Panthers are having a very different experience with the No. 1 pick in the draft than the Texans are with the No. 2 pick.
Young has been one of the least efficient QBs in the NFL this season, ranking QB32 in success rate, ahead of only Zach Wilson, Daniel Jones, and P.J. Walker in EPA per game.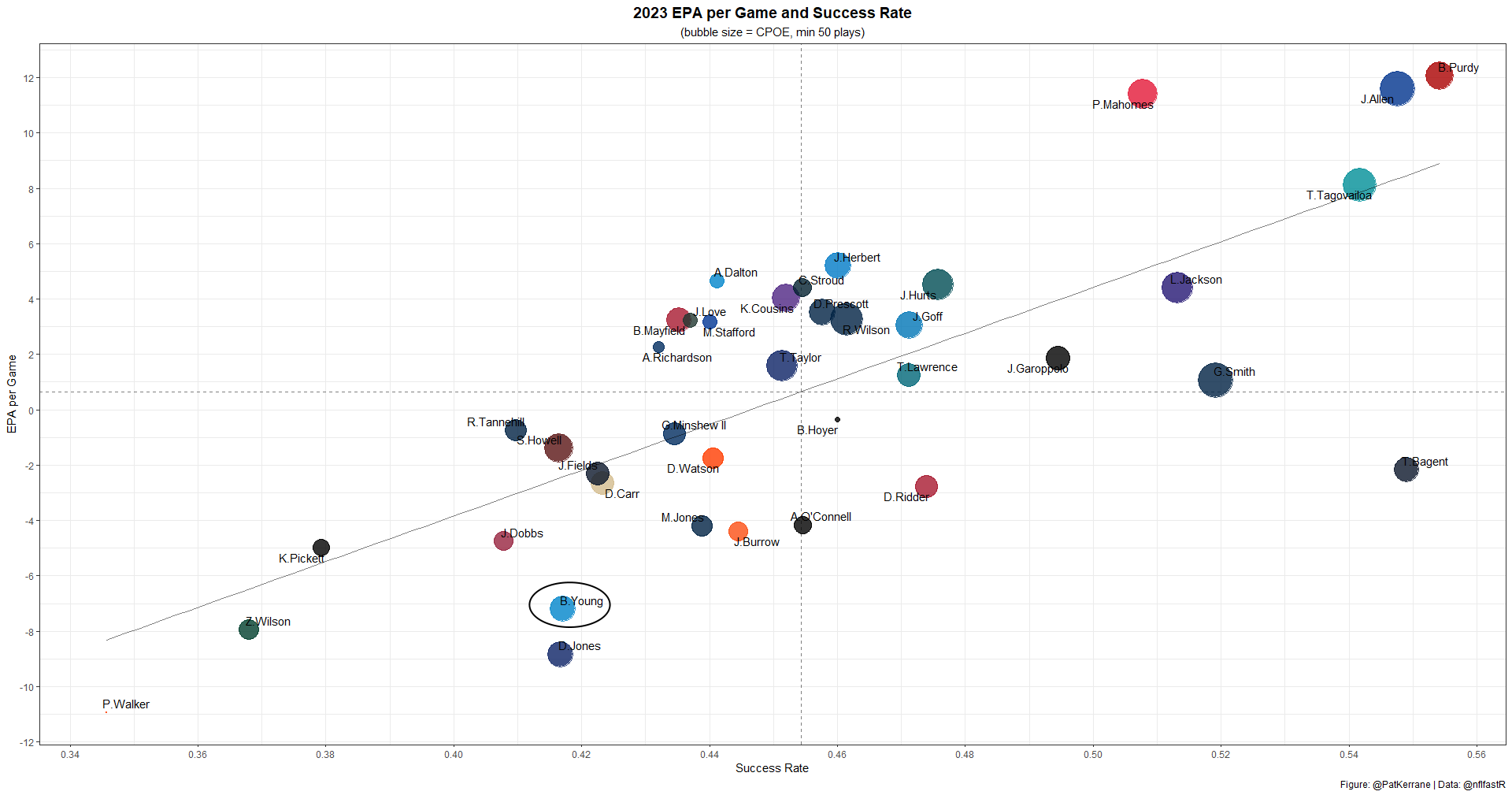 And the last time we saw Young, he turned in a very inefficient performance against the Dolphins.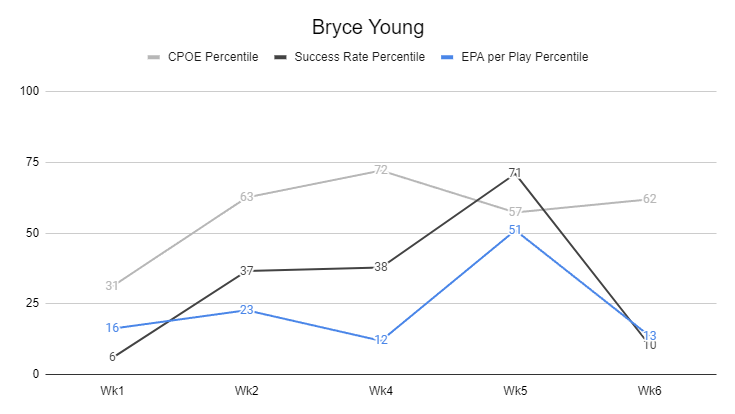 Young is now going against a Texans defense that doesn't rate very well in EPA allowed per dropback or in success rate but may be stronger than those metrics suggest.
Houston's pass rush looks especially troublesome. They rank ninth in quick pressure rate and third in pass rush win rate and should be able to keep Young off balance behind a mediocre offensive line.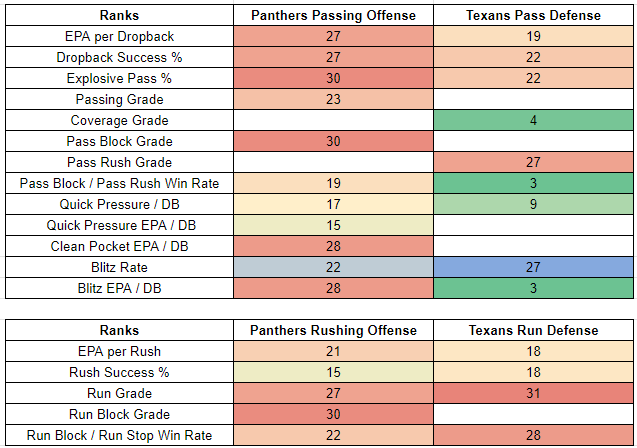 Pressure is particularly concerning for Young. In the Eagles/Commanders game preview (up next), I introduce a new stat—one that Young rates very poorly in. For now, it suffices to say that every time I watch Young casually drop back I'm like… does this dude think he's playing flag football? To my eye, there's very little urgency to Young's game. Hopefully, he sped up his internal clock during the bye week.
But fortunately for those looking to play fantasy players in this game, the Panthers are willing to pass from behind. As long as the Texans can push the Panthers, we should get passing volume on the Carolina side.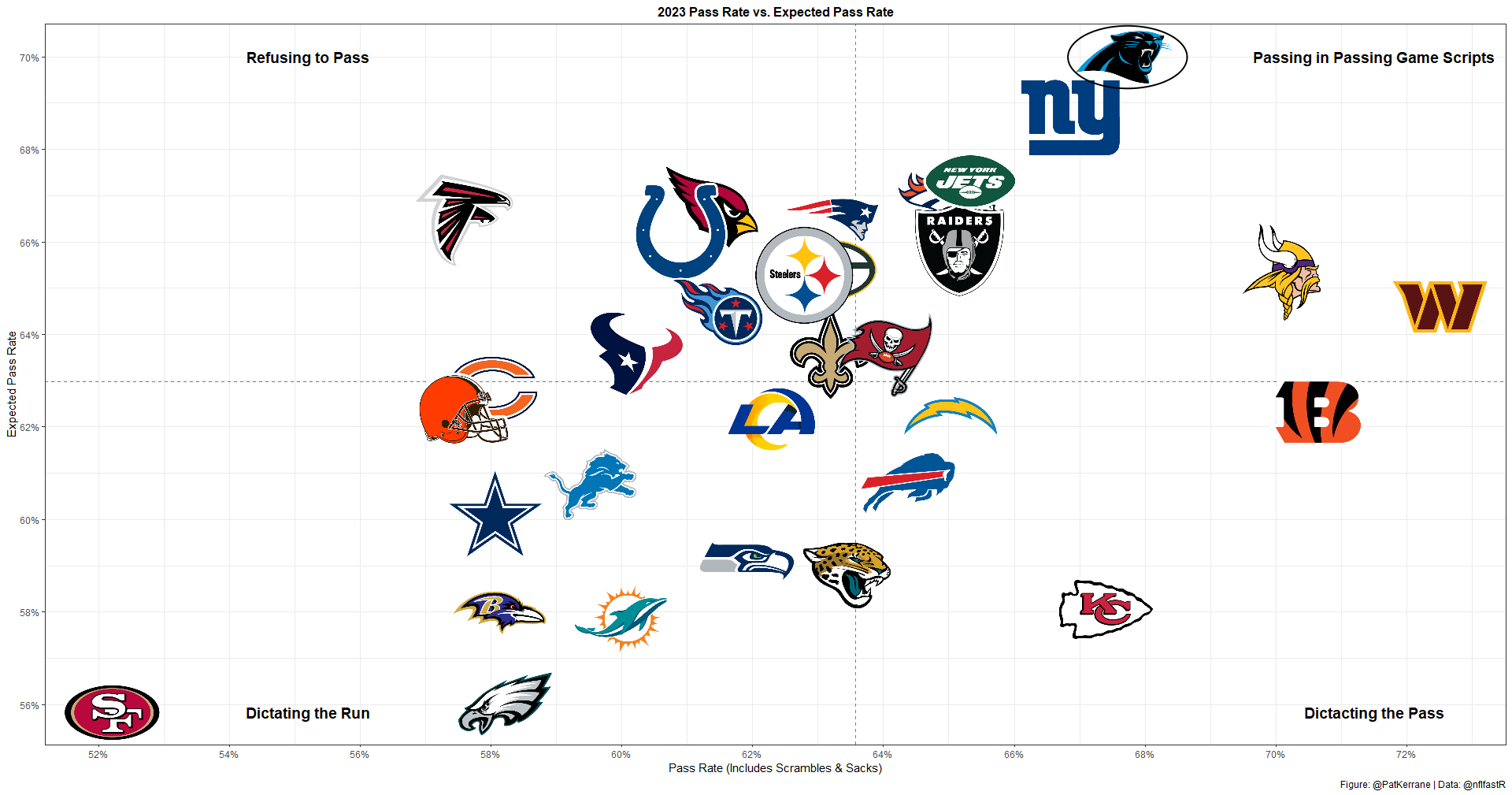 But even with volume, I just don't feel comfortable betting on a WR with this profile.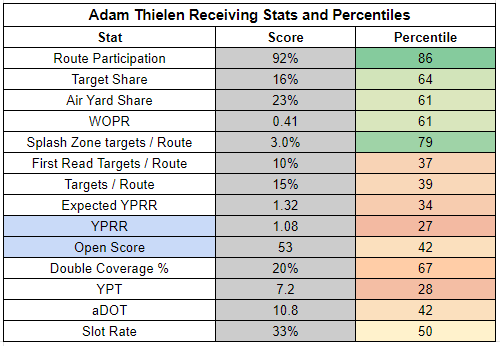 As you can see the 33-year-old Thielen has seen a major dropoff in his per-route efficiency and just isn't getting open all that well anymore. Easy to see why I hard-faded him this year.
Wait.
That's Thielen's 2022 profile.
One sec, let me pull up his 2023 profile. Shouldn't be too much different.
Nooooooooo! God!
No! God! Please! No!
No!
No!
Nooooooooooooooooooo!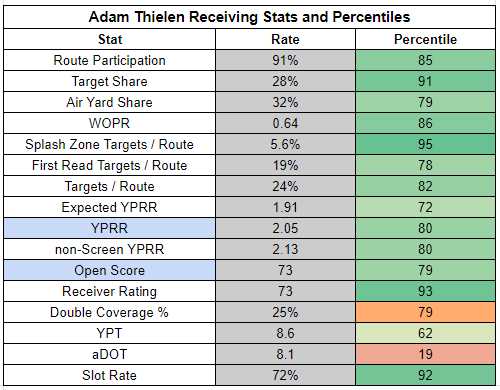 Thielen is a locked-in WR2.
In the backfield, one of my bigger fades is actually working out. Frank Reich told reporters that his running game will operate "largely by committee." I found the exact answer in the press conference and Reich's comments didn't strike me as mega bearish for Miles Sanders. Reich actually mentioned that they love Sanders, and it sounded partially like he was hedging on Sanders' health. But there's also an element where Hubbard has played well when given opportunity, and the coaches probably realized that during their self-scouting process with a week off.
Hubbard hasn't been spectacular this season, but he's been better than Sanders.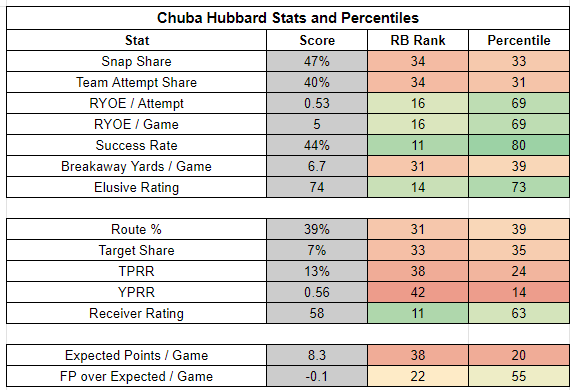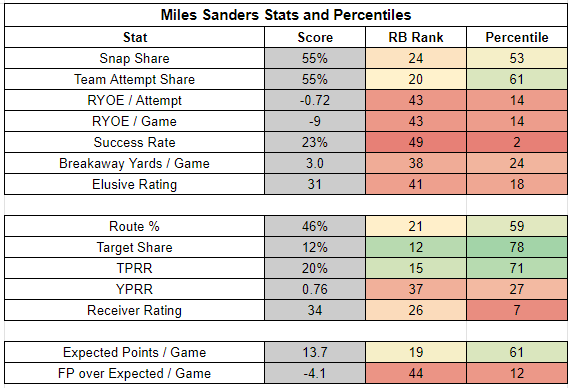 As I wrote in Week 3, this shouldn't really come as a surprise.
"Unfortunately, the Panthers are starting the less talented player. If this seems outrageous, consider that Hubbard has a 2,000+ yard / 20+ TD rushing season on his college resume. In that glorious 2019 season, Hubbard rushed for more yards after contact than Sanders rushed for overall in his lone season as the Penn State starter. And in 2022, despite running behind a worse line, Hubbard matched Sanders' RYOE per attempt and posted an impressive 1.55 YPRR. Sanders' 0.28 YPRR ranked RB71—dead last.
With Sanders installed as the lead back this week, he profiles as a TD-dependent RB2. Meanwhile, Hubbard should remain on benches, but he's a priority stash."
Against a below-average Texans run defense Sanders and Hubbard both look like TD-dependent RB2 options. If given the choice on my fantasy roster, I'd start the more talented player.
Eagles at Commanders, 1 PM
Eagles Implied Team Total: 25
Jalen Hurts dealt with a knee injury against the Dolphins, which may have affected his willingness to throw deep in the second half, but Hurts still turned in a strong game overall. Even better, he's not listed on the injury report this week.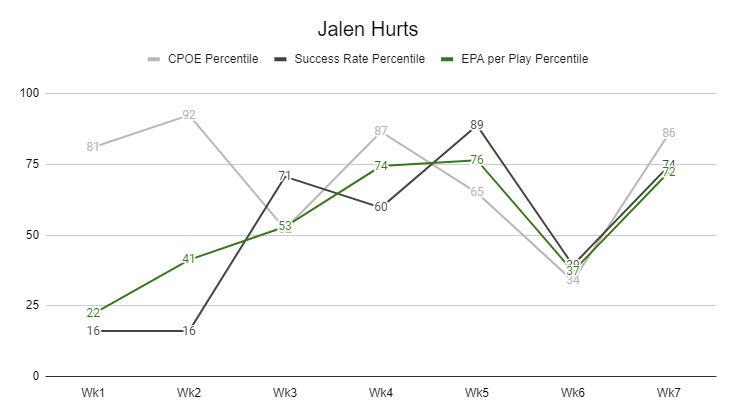 While Hurts isn't having a truly elite real-life season, his ability to combine high-end efficiency with general mobility and an unstoppable short-yardage rushing role makes him a true fantasy star.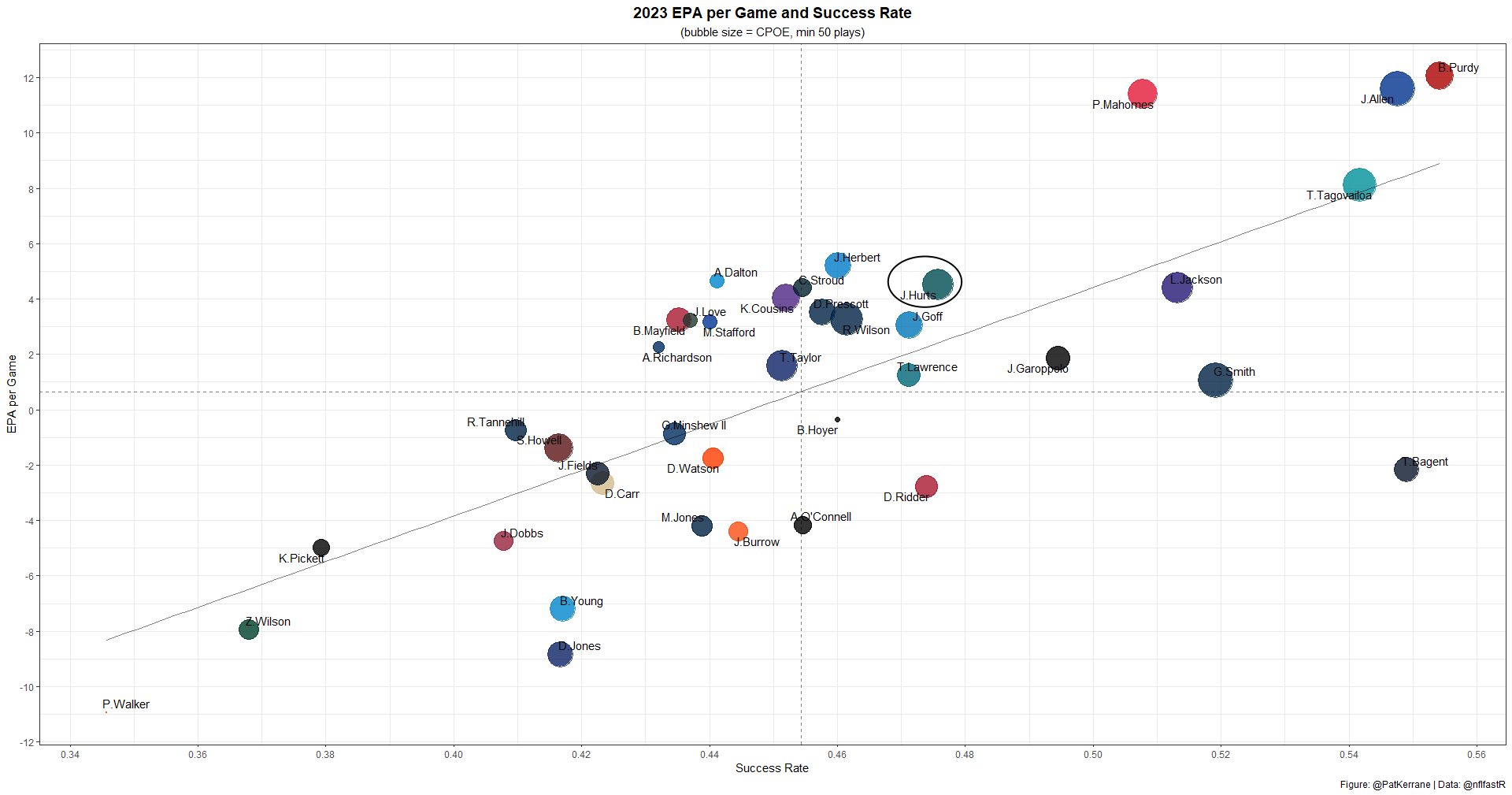 Hurts now gets a Commanders defense that he was highly efficient against in Week 4. He threw for 319 yards and two TDs, while rushing for 34 yards in the Eagles' 34-31 overtime win.
It makes sense that Hurts had success against Washington. The Commanders have been quite poor against the pass.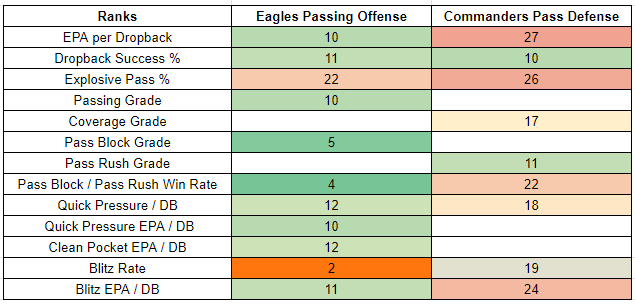 The Commanders have struggled to prevent 15+ yard passes. This is a scary weakness against the Eagles, given that the Philadelphia line should have no trouble holding up against a mediocre Washington pass rush.
With a 2% PROE, the Eagles have been slightly pass-first this season. To be clear, they've been pass-first relative to a very low expected pass rate. The Eagles have just a 56% expected pass rate this season; only the 49ers rank lower.
But the Eagles have an 11% PROE on 1st down, signaling a level of aggressiveness that could lead to more passing volume in the right environment. In this matchup, it's likely a signal that the Eagles will attack through the air at a decent rate for as long as this game stays competitive.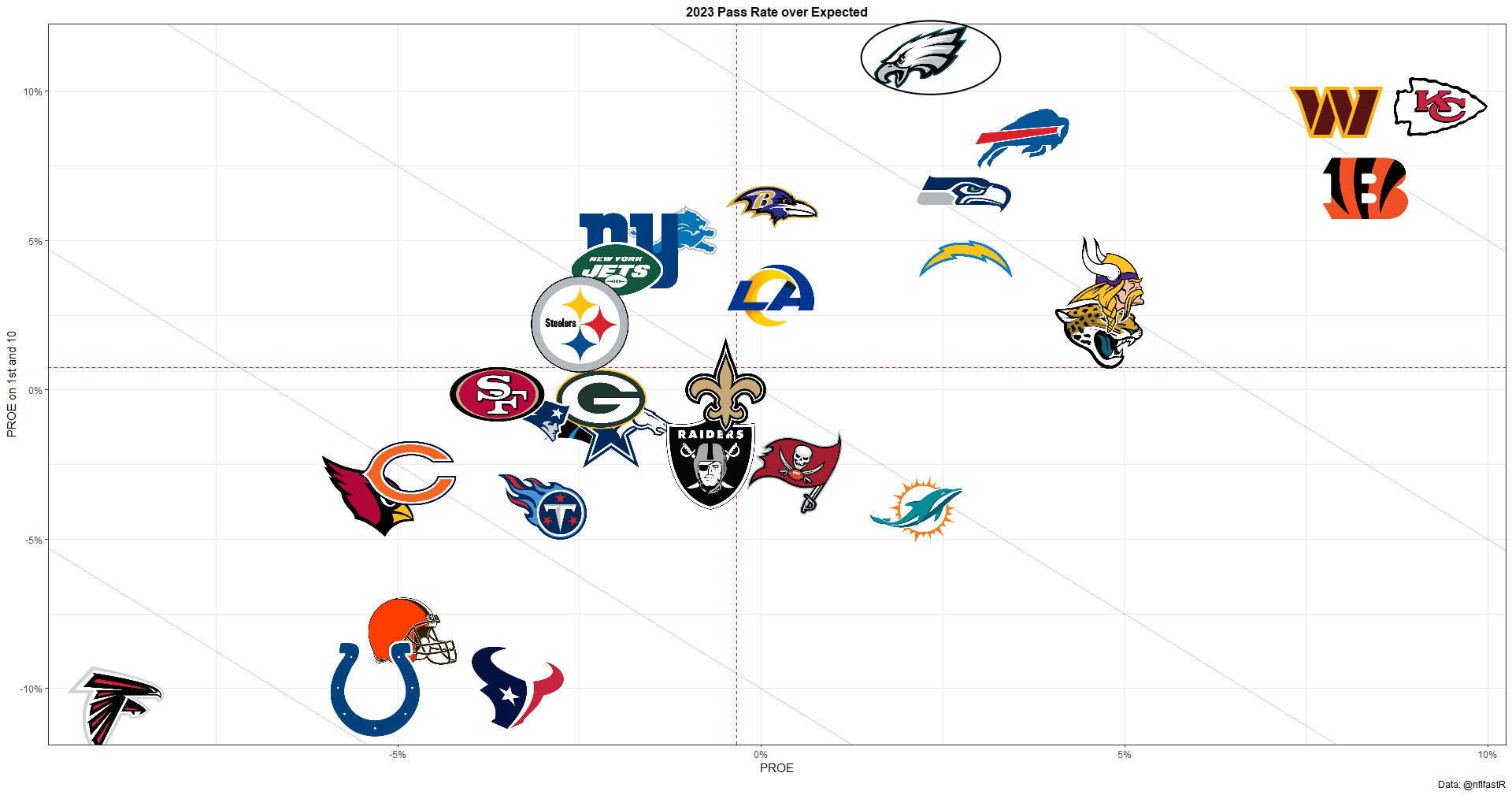 At this point, passing volume isn't a major concern for A.J. Brown. He's dominating targets and air yards… and he's earned that right. Brown ranks 94th percentile in open score and is delivering on his targets, leading ESPN's overall WR metric. Brown also ranks WR1 in receiver rating when looking at the last two years combined. This is what an elite WR at the peak of his powers looks like.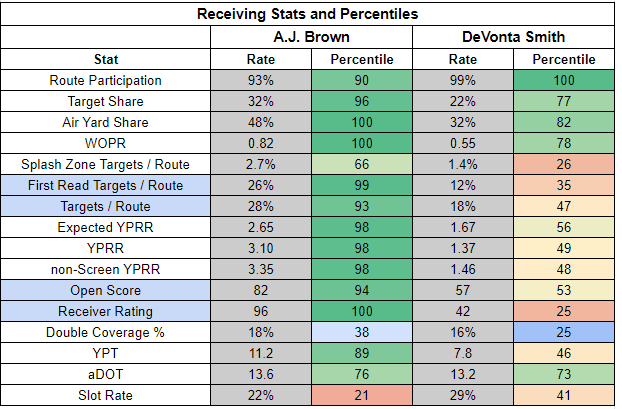 This also sets up as a good matchup for DeVonta Smith, but we can't ignore the fact that Smith is firmly behind Brown. Even last season, Smith was just WR44 in open score. His slight dropoff in the metric this year is disappointing, but his route running is generally in line with what was expected. But while we're zoomed out, I should note that Smith still ranks WR20 in ESPN's receiver ratings over the last two seasons. He's ahead of Davante Adams, Cooper Kupp, Tee Higgins, DK Metcalf, Chris Olave, and Amon-Ra St. Brown.
But Smith's play this season has definitely been disappointing. With just 1.37 YPRR, he's playing inefficiently for a player of his caliber. There's not a ton in his profile this year to suggest that a rebound is imminent. But zooming out, we can feel confident this is a good player, in a good matchup, on a good offense. Stick with him.
After I noted Dallas Goedert's lack of screen game involvement in Week 5, the Eagles promptly fixed the issue. Goedert has seen seven screen targets over the last two weeks, surpassing even his notable 2022 rate. He's also been more involved in general, seeing his YPRR jump from 0.63 to a much healthier 1.32.
But Goedert's resurgence has come against two strong pass rushes, where his low aDOT and screen viability have come in handy. This matchup sets up less favorably, with big plays looking easier to hit downfield. Goedert's 17% TPPR remains fairly unimpressive, as is his 1.16 YPRR on non-screen routes. He's in play as a bet on the offense, but Smith still looks like the clear secondary option.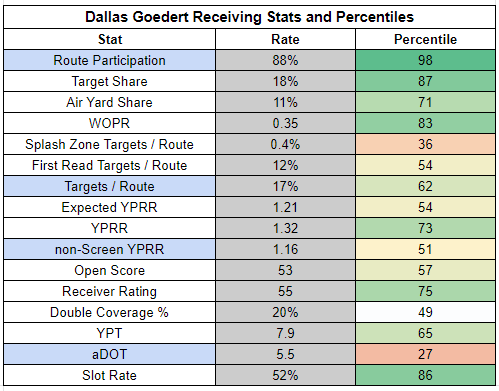 It's fun to imagine the Eagles being aggressive this week, but unless Sam Howell can get back on track, they may not have to be.
If the Eagles are in control of this game, they shouldn't have any trouble pounding the rock.

D'Andre Swift has settled into a clear lead role. He doesn't have total control of the backfield, but he's a safe bet for a healthy workload this week.

And Swift has been solidly efficient this season, combining breakaway ability with consistency. Per NFL Next Gen, he looks to be leaving some yards on the field, but he's clearly the top runner in the backfield. Swift profiles as a low-end RB1.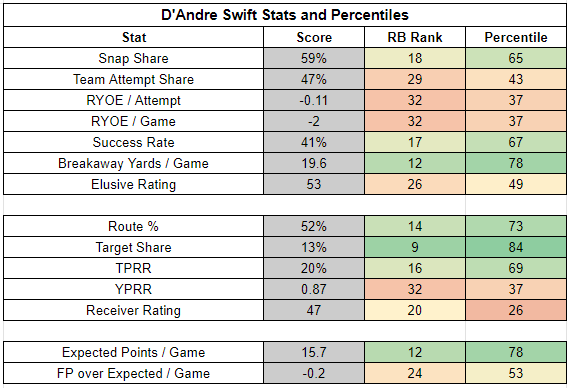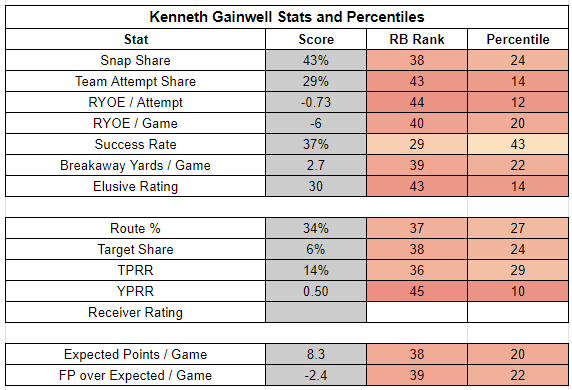 Commanders Implied Team Total: 18.5
After hanging with the Eagles in Week 4, I thought Sam Howell had a firm grip on the Commanders' starting job for the foreseeable future. But his play has fallen off since, especially against the Giants last week—his worst showing since melting down against the Bills.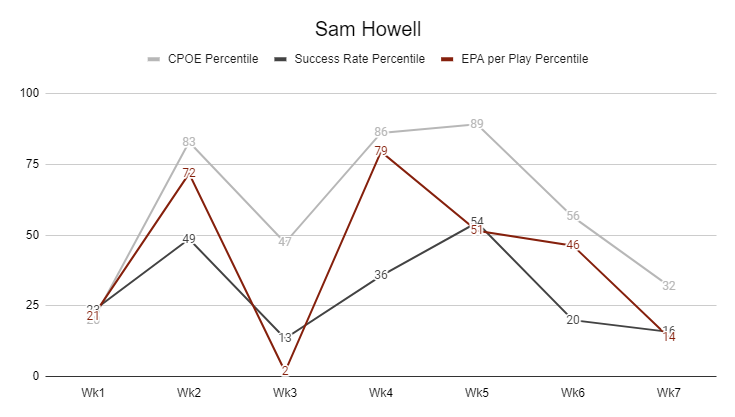 While Howell isn't at risk of getting benched this week, he now looks like the type of QB who we could see on the bench before the end of the season. Howell ranks QB25 in EPA per game and QB34 in success rate.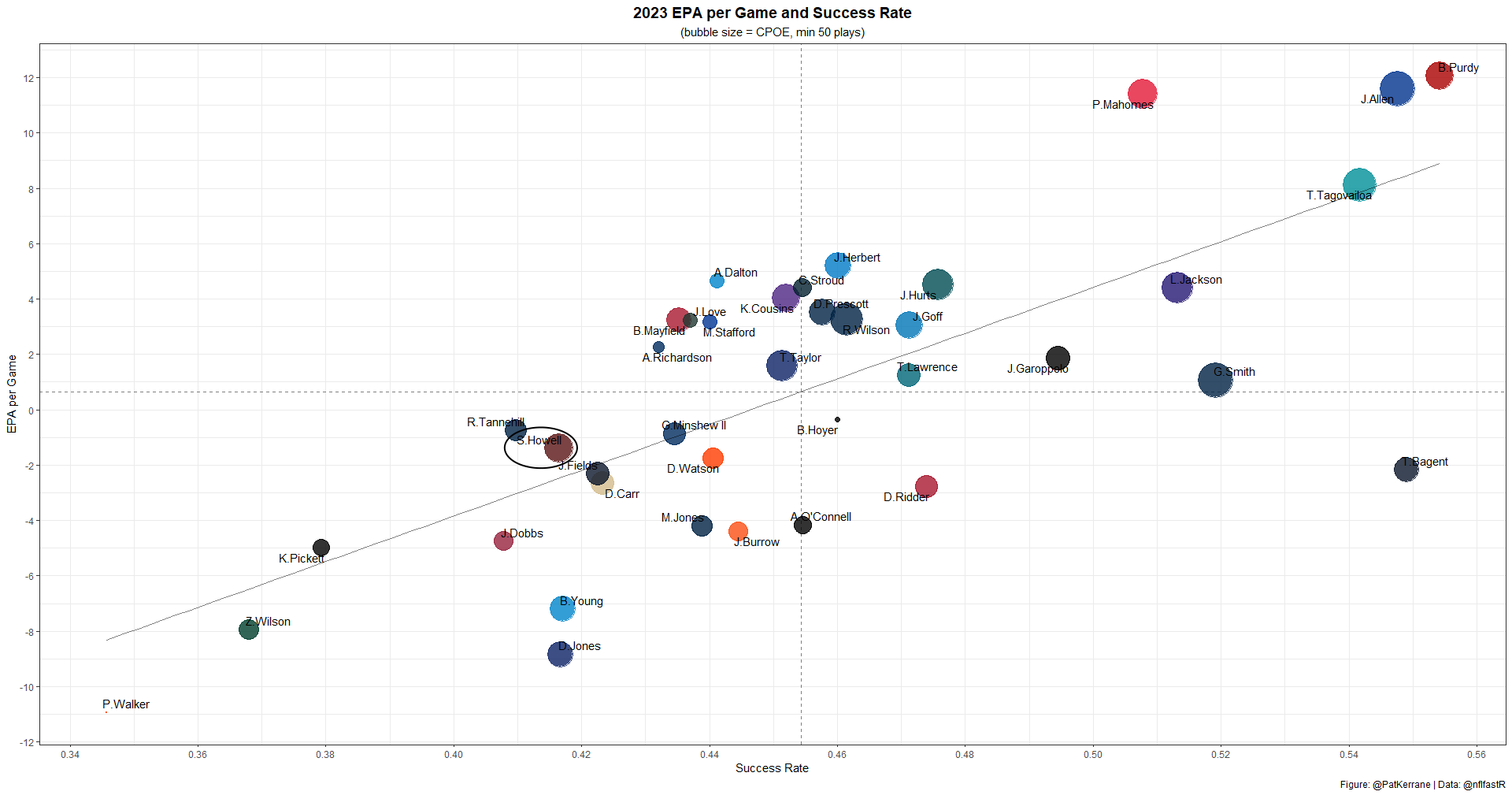 One of Howell's biggest issues is that he's slow to come off his first read. PFF has charted Howell with a sack on 15% of single-read dropbacks. These are plays where only he appeared to make only one downfield read and then was sacked.
His Week 6 matchup against the Falcons provides a quintessential example. Skip to the 10:16 minute mark.
Howell keeps his eyes downfield the whole way… waiting … waiting… but then the pass rush is on him. He tries to spin out of a sack, but it's too late. He ducks into the collapsing pocket before being brought down.
Howell's willingness to let plays develop can lead to exciting throws. Check out this near-miss deep shot to Dyami Brown (charted as a first-read throw). Howell hangs in the pocket and delivers an on-time deep throw despite knowing he's about to take a big hit.
But Howell's internal clock for when he needs to bail on the primary play design seems several ticks slow. Here's another example where Howell makes only one read before realizing it's not gonna happen, but too late to avoid a sack.
JT O'Sullivan notes that he thinks Howell is holding the ball too long here, hoping to make something happen.
As an aside, Ben Gretch has noted that "first-read" is probably not the best description for what is being charted under that definition. There's definitely merit to that.
While watching some of these "first-read" plays, I sometimes saw Howell will take a quick look at a second receiver before being sacked. It got to the point that anytime Howell moved his head, I turned into Rick Dalton.
But the issue isn't really about whether Howell only looked at the deep post or whether he also glanced at the intermediate crosser before getting sacked. The issue is that he spends too long waiting for the called play to develop, instead of bailing to a plan B, whether that be another downfield read, a checkdown, a scramble drill, or a rushing attempt. It's not really about how many "reads" Howell is making; it's about not moving off the primary design of the play. So I'll be referring to these as primary-design dropbacks.
In theory, sticking with the primary design of a play – even if it means taking a big hit – is fun. We all like big-time throws. But Howell's insistence on sticking with the called play is hurting the Commanders' offense.
When looking at primary-design dropbacks, only Daniel Jones has a higher sack rate than Howell.
And if downfield playmaking is Howell's defense here, let's compare Howell to Patrick Mahomes.
Mahomes has taken a sack on just 3% of primary-design dropbacks, the lowest rate in the league. This helps explain why Mahomes has dominated without a functional WR corps for over a year. Clearly, part of what makes Mahomes a superstar is his ability to quickly recognize when it's time to move to plan B or C.
And Howell's sack rate doesn't even tell the whole story.
For one thing, Howell drops back a ton. Although Daniel Jones is taking sacks on a higher rate of his primary-design dropbacks, Howell has taken 13 more such sacks in total. He's far and away the NFL leader in raw sacks on primary-design dropbacks.
Howell also has 12 primary-design throwaways (QB1), five primary-design batted passes (QB2), and six primary-design interceptions (QB2). The overall picture is of a quarterback who is sticking with a concept past the point when the defense has caught up to the play. When Howell finally makes a decision it's often too late to generate a positive result.
With this in mind, I took a look at all sacks, interceptions, batted passes, and throwaways that PFF has charted as occurring on a single read. I weighted all of these "fails" equally—which is kind to Howell, given his sack rate, and kind to myself since no teams are on bye this week.
Howell is committing a primary-design fail on 17% of his plays this season. He leads the NFL by a wide margin.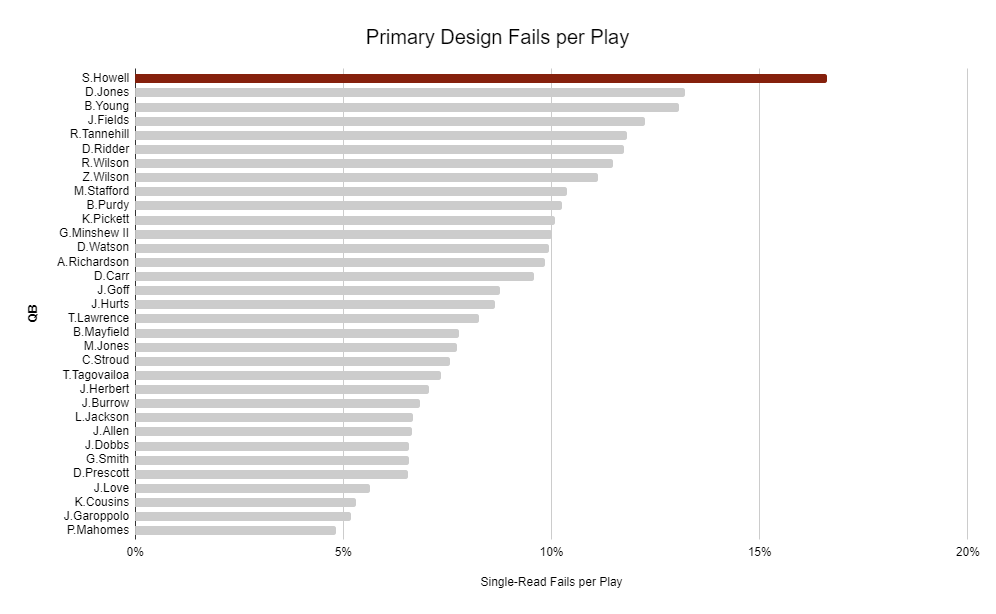 I'd like to dig into this concept more at some point. But for now, it's safe to say that Howell's high sack rate is very much tied to the way he plays the quarterback position.
It's possible that with pristine blocking he'd be consistently hitting plays downfield. But most likely, his narrowed vision is obscuring downfield opportunities that a true playmaker would be scanning for.
The Eagles have already made Howell pay for his delayed release (5 sacks in Week 4) and are highly likely to do so again.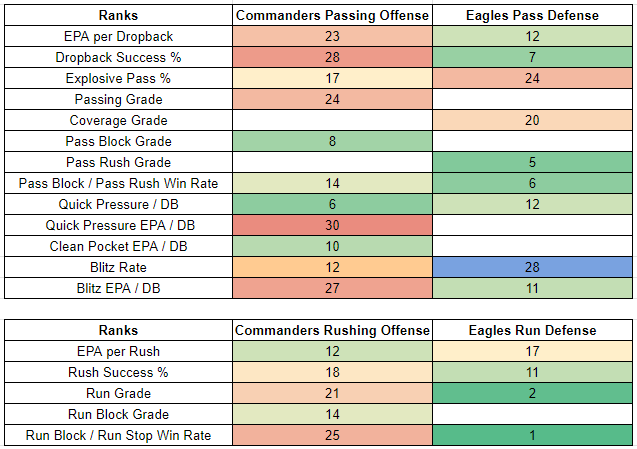 Howell definitely needs to speed up his clock in the pocket. But we should also recognize that his receivers aren't helping him out much. He'd be able to get the ball out quicker if his WRs were getting open.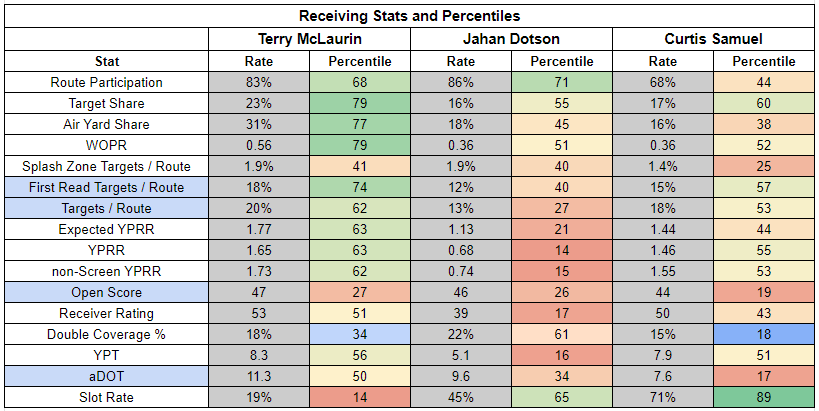 Terry McLaurin ranks just 27th percentile in open score, and that leads Washington's primary WRs. This makes McLaurin's lead in first-read targets very important. If he were the No. 4 option in the passing offense, McLaurin's numbers might look a lot like Jahan Dotson's. But fortunately for McLaurin's fantasy managers, Dotson is fourth in the target pecking order, not Terry.
The open score data also helps explain why Logan Thomas has remained relevant. The TE leads Washington's primary receivers in open score.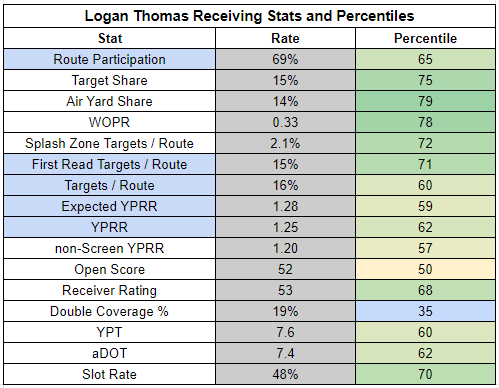 However, Thomas' route participation is falling off.

With Thomas' playing time now in question, only McLaurin looks like a safe bet in the passing game. Curtis Samuel is probably the next best option.
On the ground, the Commanders could be shifting their approach.
So far, the Commanders have operated – along with the Chiefs and Bengals – as one of the NFL's true pass-heavy teams.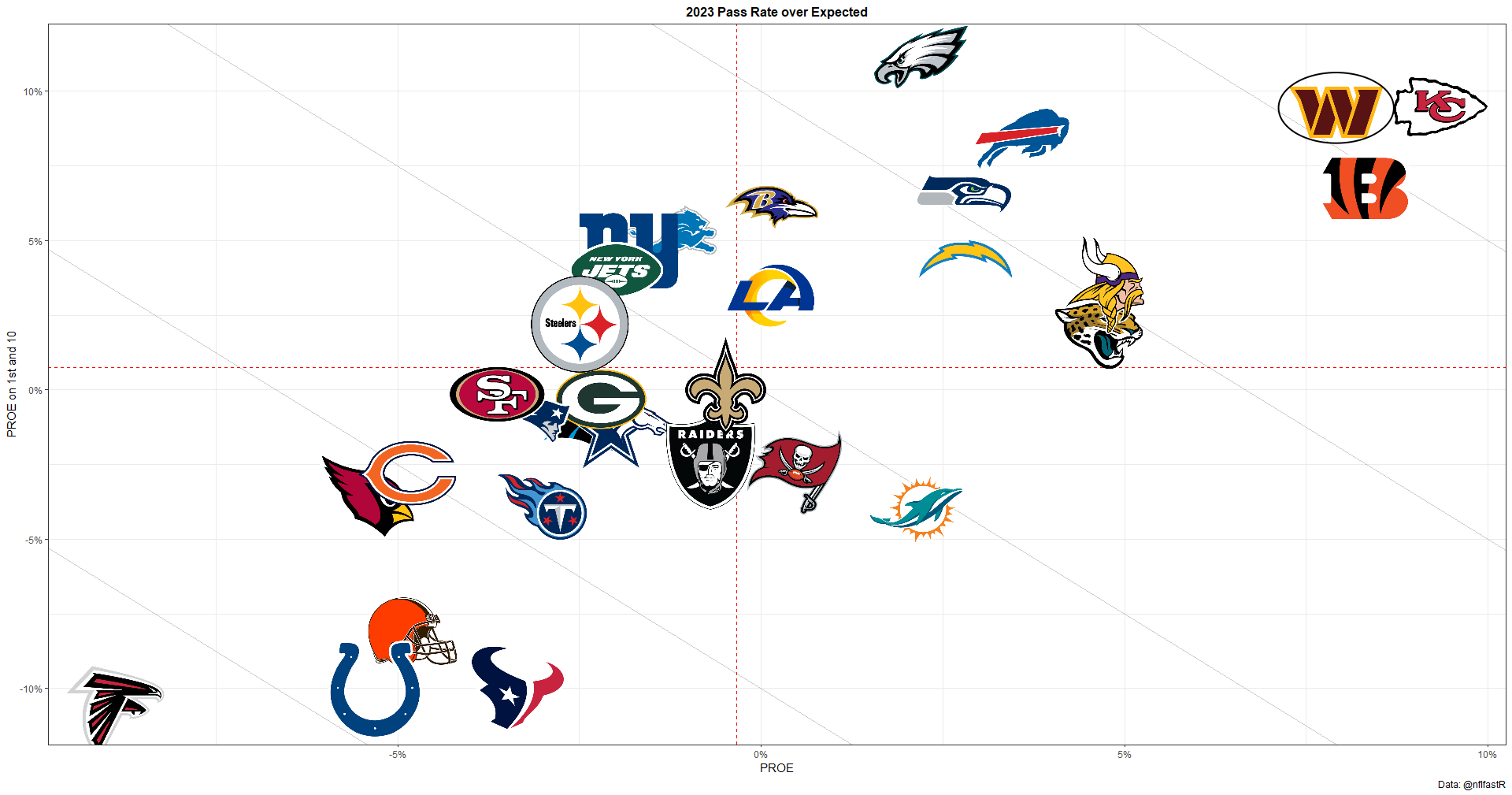 But the Commanders may be feeling queasy about continuing to run their offense through Howell..
The Commanders have been pass-first in every game this season but went run-first on 1st down for the first time in Week 7.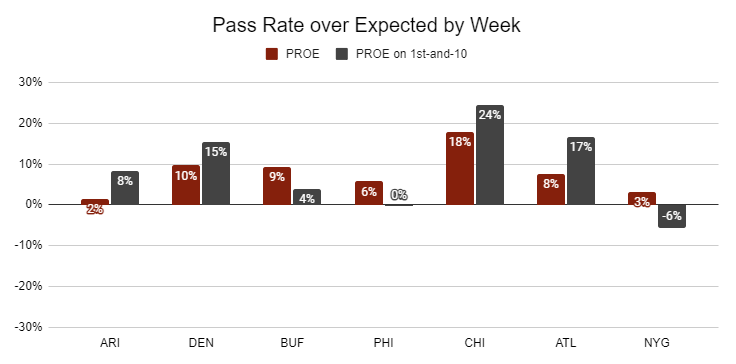 The Commanders aren't likely to radically shift their philosophy this week, but they could be more conservative than usual for as long as this game is in contention.
And it's possible the Commanders are shaking up their backfield personnel as well. Against the Giants, Chris Rodriguez saw 39% of carries, severely impacting Brian Robinson's workload.

Per Ben Gretch, this looks like a signal.
"This seemed to be planned, as Rodriguez got his first touch on the game's second drive, got another opportunity in the second quarter, then got three straight rushes on the first drive of the third quarter, and also got back-to-back carries on the game's final drive, as Washington was pushing to try to tie the game. Those opportunities early in each half and then also late when the game was on the line are all bad news for Robinson."
It makes sense that the Commanders would be interested in what Rodriguez has to offer. Brian Robinson hasn't been a bad rusher this season, but he's been thoroughly mediocre. With a limited workload possible again this week, along with the potential of being scripted out of the game, Robinson is best left on benches.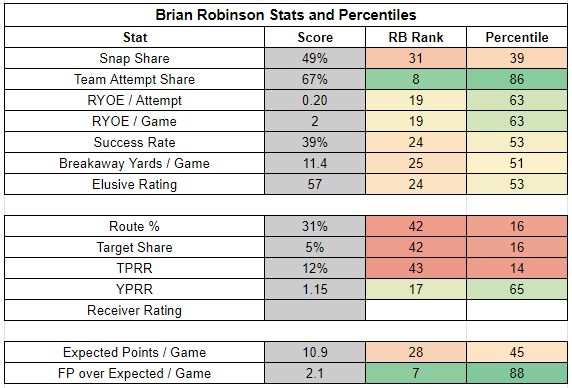 Rams at Cowboys, 1 PM