Week 5 Walkthrough: De'Von Achane, the Myth, the Man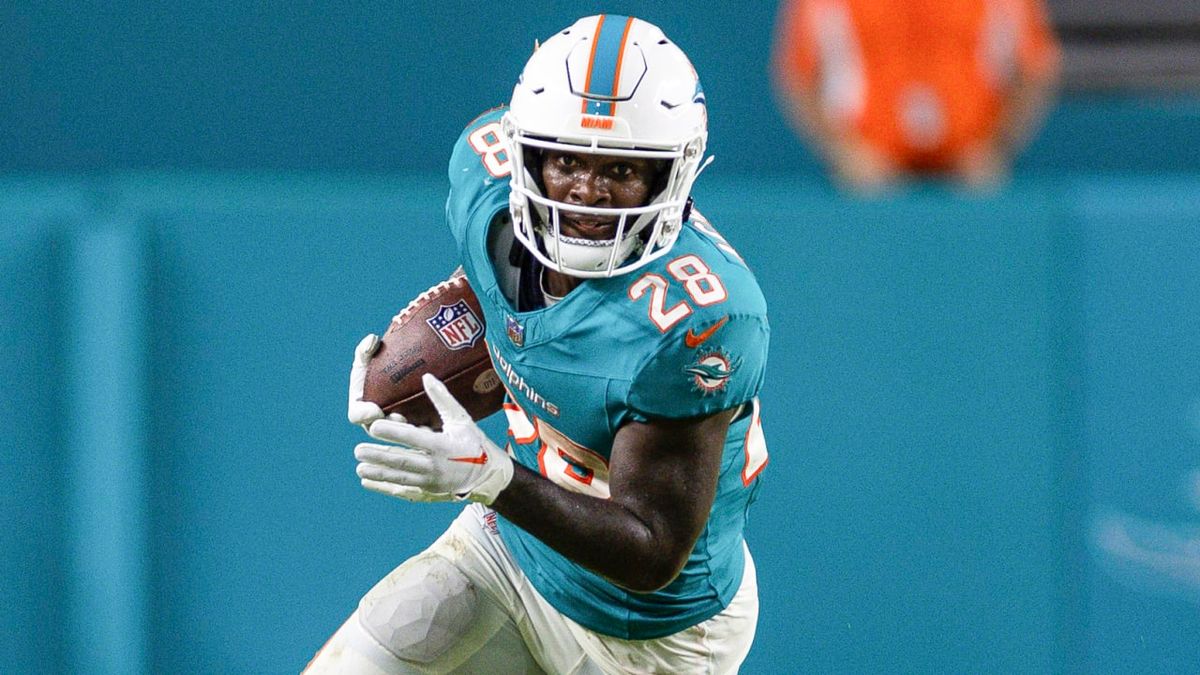 Welcome to the Week 5 Walkthrough.
In this article, I'll outline critical fantasy football context for this fifth glorious week of football.
(The stats below are from PFF, NFLfastR, rbsdm.com, RotoViz, FantasyLabs, ESPN, NFL Next Gen, and Fantasy Life).
Quick Links:
Jaguars at Bills, 9:30 AM, London
Jaguars Implied Team Total: 21.5
Trevor Lawrence is trending in the right direction. In Week 1, he posted an 11th percentile EPA per play. He was in just the 12th percentile in Week 2. It was a rough start to the season.
But Lawrence's efficiency improved substantially over the last two weeks.
Lawrence still ranks just QB26 in EPA per game. But his consistency has been very solid; he ranks QB9 in success rate. That season-long consistency indicates that his improved efficiency over the last two weeks is likely to be a genuine step forward.
Doug Pederson also seems to believe that Lawrence's improved play is for real. The Jaguars returned to a pass-first approach against the Falcons, producing a 6% pass rate over expected. In Week 3, they rolled out a conservative game plan against the Texans, with a -3% PROE and a -16% PROE on 1st down. So it was heartening to see them return to an aggressive style in a game environment where they could have justified pounding the rock. I was a bit nervous about Jacksonville's play calling philosophy entering Week 4 but they look like a solidly pass-first team.
But the Jaguars are unlikely to be truly aggressive against a very strong Bills defense that ranks third in EPA allowed per dropback and third in coverage grade.
The Bills could let up some big plays, though. Only the Broncos are allowing a higher rate of 15+ yard passes, and the Bills just lost CB Tre'Davious White to a torn Achilles. White ranks CB20 in PFF's coverage grades and represents a significant loss for the Bills defense.
But it's likely to be an up-and-down game for Lawrence. Although the Bills haven't gotten to the passer all that well, they rank third in pass rush win rate and should have success against a Jaguars offensive line that ranks just 29th.
It's been a strange start to the season for the Jaguars' WRs. After a bullish Week 1, Calvin Ridley quieted down in Weeks 2-3, despite seeing seven first-read targets against both the Chiefs and the Texans. He then fell to just two first-read targets against the Falcons.

Christian Kirk has seen the opposite trajectory. He saw just two targets in Week 1 but has been heavily targeted over the last three weeks.
When comparing the two on a per-route basis, Kirk's usage is arguably stronger.
But Kirk's routes also look more fragile. With 69% of his routes coming in the slot, he could see less playing time than Ridley if Zay Jones returns to action. But, clearly, the reactions to Kirk's Week 1 performance (guilty) were directionally inaccurate.
But I wouldn't lose faith in Ridley. He's locked into 2WR sets, leads the team in first-read target rate, and has a QB who is trending toward high-end play. The Week 1 reactions on Ridley also look silly, but he's still a solid WR2.
Evan Engram is coming off a big week in the underlying numbers, with all eight of his targets coming on first reads.
With very few appealing options at the position, Evan Engram is a very solid TE start.
If they can get away with it, the Jaguars are likely to maintain some balance this week, which is good news for Travis Etienne. The Bills are very strong against the pass but rank just 20th in EPA allowed per rush and 25th in rushing success rate.
And Etienne is coming off a season-high 84% snap share against the Falcons. He's handled 72% of attempts for the Jaguars this year and will carry the load again this week.
Etienne is also running a lot of routes, ranking RB7 with 65% route participation. Theoretically, that should keep him involved even if the Jaguars play from behind this week.
But then again Etienne is running mostly empty routes, with a target per route run (TPRR) of just 14%. This is creating a very inefficient receiving role; Etienne ranks RB28 with a 0.89 YPRR.
So although Etienne has a firm grip on lead back duties in Jacksonville, it isn't creating a ton of fantasy value; he ranks just RB19 in expected points per game. Etienne profiles as an RB2 in a matchup that the Jaguars will try to keep him involved in… but one where they ultimately might have to abandon the run.
Bills Implied Team Total: 27
Josh Allen is coming off an incredible game. Against the Dolphins he posted 25.9 expected points added; he was worth nearly four TDs to the Bills. Allen was also incredibly consistent as well, with a ridiculous 69% success rate. If not for the existence of Brock Purdy, Allen would be a chart breaker.
Allen now ranks second to Purdy in both EPA per game and success rate. He's currently forming a clear top tier with Purdy and Tua Tagovailoa.
Allen now gets a Jaguars defense that ranks 10th in EPA allowed per dropback and 12th in dropback success rate. They aren't pushovers.
At the same time, the Jaguars' defense isn't particularly scary and could even be a plus matchup for Allen.
The Jaguars don't have a strong pass rush, ranking 23rd in pass rush win rate. Jacksonville has attempted to juice its pressure rates with a moderate dose of blitzing. But that approach is very likely to backfire if they attempt it here. The Bills rank first in EPA per dropback against the blitz.
The issue is that Allen is also deadly from a clean pocket. The Jaguars are strong in coverage, ranking seventh in PFF's coverage grades, but no NFL secondary will fare well if Allen has time to pick them apart.
The bigger issue for Buffalo pass catchers is that the Jaguars offense isn't a lock to push the Bills.
The Bills have technically been pass-first this year, passing 3% more than expected. But the expected rate matters for a team with a high-end defense. The Bills have had an expected pass rate over 60% just once this season.
With a league-leading 12% PROE on 1st down, it's very clear that the Bills will lean on Allen if this game shoots out. But if it doesn't they aren't going to handle things like the Chiefs might, by passing aggressively in a positive game script, which creates the potential for limited passing volume.
Fortunately, the Bills' target tree is very condensed.
Stefon Diggs profiles as a truly elite WR, with a 30% target share, 39% air yard share and an elite 0.72 WOPR. He is accounting for a huge portion of the Bills' passing offense and is bringing elite efficiency to the table with a 2.83 YPRR.
Meanwhile, Gabe Davis continues to do Gabe Davis things. His 0.43 WOPR and 1.64 YPRR are both middling. But Davis remains the clear deep threat in the Bills' offense, with an ultra-deep 17.4 aDOT and a 32% air yard share.
Davis is always just a splash-play bet, but the thesis behind that bet remains firmly intact.
Although Dalton Kincaid's production has been disappointing, the rookie had a quietly encouraging Week 4 in the underlying numbers.
Kincaid set a new career-high with 79% route participation, and his increased usage came in a game where the Bills set a season-low in 12 personnel sets.
The Bills are still playing a lot of 2TE sets, and will continue to do so this season. But entering the season, I was extremely skeptical that Kincaid would be able to live on 2TE sets alone. His more realistic path to relevance looked to be passing Dawson Knox on the depth chart.
Week 1 indicated that there will be weeks where both tight ends are used extensively in the passing game. But over the last three weeks, the Bills have not had enough TE routes to support both players. And so it's extremely bullish to see Kincaid post high-end route participation in the same game that Dawson Knox fell to a very weak 48%.
Kincaid's route participation could very well drop back into the ~65% range this week, but it's pretty clear that he's in the process of becoming the Bills' TE1. This week, he's a bet on a TD. Knox should be left on benches.
Week 4 was a disappointing result for James Cook. The Bills' backfield doesn't tend to be especially valuable. Josh Allen doesn't pass RBs all that often and has historically stolen goal line TDs. But with the Bills defense looking excellent this season, they should be in plenty of positive game script as opposing offenses struggle to keep up with them. This season, there could be real value in the Buffalo backfield if one RB can take control.
But with the Bills salting away a lead against the Dolphins, Cook saw just 41% of snaps and 44% of team attempts. He's now seen less than half of the Bills attempts this season.
Cook's role is still valuable, it's just, frustratingly, much less valuable than it could be. But Cook did see two inside-the-5 carries against the Dolphins, which is very nice to see given that he's operating as a part-time back.
We also shouldn't lose sight of the fact that Cook has been very impressive this season.
For the second straight week, Cook posted a very impressive success rate in NFL Next Gen's rushing metric. He's up to RB8 on the season, pairing high-end explosiveness with impressive consistency and now faces a Jaguars run defense that looks overrated.
Jacksonville has held up extremely well so far, ranking fourth in EPA allowed per rush and third in rushing success rate, but rank just 24th in PFF's run grades and 30th in ESPN's run stop win rate. I'm not buying them as an elite run defense.
If the Bills were willing to lean on Cook, he would look like an elite RB1. As is, he's a high-end RB2.
Giants at Dolphins, 1 PM
Giants Implied Team Total: 18.75
The Giants just signed Daniel Jones to a four-year, $160 million deal, with $92 million guaranteed. And while it's hard to know exactly how much they were expecting from Jones, it had to be better than this.
Jones ranks QB28 in success rate, dead last in EPA per game, and has Brian Daboll throwing things.
Entering Week 4, it was easy enough to dismiss Jones' struggles as matchup related. He was terrible against the Cowboys and 49ers, but those are very good defenses. His strong showing against the Cardinals is a better reflection of who he really is.
Right?
Apparently not.
Against a very beatable Seahawks pass defense, Jones was – crazy but true – less efficient than Dorian Thompson-Robinson and much worse than Aidan O'Connell.
This is how the matchup looked entering the game… and yet Jones was less efficient than last-minute fill-ins.
https://www.legendaryupside.com/week-4-walkthrough-justin-fields-do-or-die/
With Jones playing so poorly, I'm a little shocked that the Giants haven't attempted to go run heavy. Their -2% PROE against the Seahawks set a season low, but with an aggressive pass rate on 1st down it was a fairly balanced game plan.
The Giants' ongoing commitment to the pass offers some hope this week in a matchup where they're almost certain to be trailing, as 11-point road underdogs.
If they had confidence that they play from ahead, we could see the Giants attack a weak Dolphins run defense. But Daboll is sharp enough to know the score here. Daniel Jones will be dropping back plenty against a Dolphins defense that isn't that strong… but could still give him trouble.
The big issue for Jones is that the Dolphins are getting to opposing passers. They rank 10th in pass rush win rate and 13th in quick pressure rate, and the Giants are just 22nd in pass block win rate and dead last in quick pressure rate. Jones should face some pressure, which he has handled very poorly so far this season.
The Dolphins rank 13th in blitz rate and teams are bringing the heat when facing Jones. That makes sense, given that the Giants have been dreadful against extra rushers, ranking 29th in EPA per dropback.
The Dolphins are beatable if you can consistently find success in the passing game. Josh Allen just posted a 69% success rate against them, which led to a 48-point shellacking. But Jones has hit a 60%+ success rate just once under Brian Daboll, and it was against the Jeff Saturday Colts. If anything, this looks like a get-right spot for the Dolphins defense.
If any Giants pass catcher truly surprises this week, my money would be on Wan'Dale Robinson. Robinson was up to 64% route participation against the Seahawks, passing Parris Campbell who was at just 34%.
Additional playing time is big for Robinson because the Giants have been featuring him with a 22% first-read target rate and a 27% TPRR.
Even better, Robinson looks like a particularly good fit for this matchup. We can count on the Dolphins to put up points, which means we can correspondingly count on passing volume from the Giants. We also know that underneath throws will be available against this defense and with a 3.2 aDOT, Robinson thrives on underneath throws. With the potential for another playing time bump, Robinson looks like an intriguing DFS punt.
But Darren Waller is the better bet in season long leagues. Waller's 17% TPRR has been disappointing, but the TE has a fairly shallow 8.2 aDOT and could also be part of the Giants' plan to consistently move the ball through the air. He's a pure volume play, but that goes a long way at the TE position.
In the backfield, we could see Saquon Barkley return to action. The franchise RB logged limited practices on Wednesday and Thursday. But Barkley's exact level of health will be crucial for his fantasy value. Barkley has not been explosive this season. Instead, he's been solidly consistent and has handled big workloads. His appeal is as a volume play. If he can't get in a full practice on Friday, he looks like a boom/bust bet.
Dolphins Implied Team Total: 29.75
Tua Tagovailoa is coming off a disappointing week against the Bills. But even in a down game, Tua was able to deliver a success rate above the 50th percentile.
And Tua is moving from the impressive Bills to a vulnerable Giants defense. If the Dolphins offensive line can hold up, Tagovailoa will rack up big plays.
The Giants rank sixth in pass rush win rate and fourth in quick pressure rate. So they're getting to opposing QBs. That's a potential issue for a Dolphins line that will be without Terron Armstead (knee) and ranks 16th in pass block win rate.
The funny thing about the Giants is that they probably don't need to blitz, but they do anyway. That's Wink Martindale's thing. Per Rivka Boord, the Giants led the NFL in blitz rate in 2022 and Martindale twice led the NFL in blitz rate in four seasons with the Ravens, finishing third and sixth in his other two seasons. Tua has been deadly against the blitz this season, but does not guarantee that Martindale will chill.
We should see Tua take some sacks this week, but he's likely to more than make up for that with big plays downfield. On plays where the Dolphins' offensive line holds up… the No. 1 offense from a clean pocket will be going against a secondary that ranks 29th in PFF's coverage grades and is allowing 15+ yard passes at the eighth-highest rate.
Seems like a pretty great setup for Tyreek Hill, who will be looking to reclaim his YPRR title from Brandon Aiyuk.
This matchup looks somewhat similar to Miami's Week 3 matchup against the Broncos. I have no doubt that Hill will turn in a strong game, but he could be blocked from a massive game due to the Giants' expected inability to keep pace. But Hill's profile is so strong that he could easily crush in a couple of quarters.
Jaylen Waddle looks more boom/bust against a defense that is ceding big plays. Waddle almost has to be in lineups this week but with a weak 13% first-read target rate and 18% TPRR, Waddle's floor is lower than ideal. His ceiling is too high to pass on, though.
Speaking of high ceilings… De'Von Achane saw a lot of work last week.
De'Von Achane crushed against the Broncos in Week 3, with only a 42% snap share. Then against the Bills, he was up to 66% of snaps, with a 47% carry share and a 13% target share. It was the kind of day that makes it hard not to think that Achane is emerging as the starter in Miami.

Per PFF, Achane's Week 4 workload was worth 14.2 expected PPR points, while Raheem Mostert's was worth 9.2.
After Achane's terrific showing against Denver, Miami used a trailing script against Buffalo to get a longer look at him.
But over the last two weeks, De'Von Achane has feasted on non-competitive snaps, so it's hard to know what his true role looks like. Still, it's hard not to take notice of his usage last week, given the massive ceiling he keeps hinting at.
And I think, collectively, we get why the Dolphins would turn the backfield over to Achane going forward. The rookie has been as electric as it gets.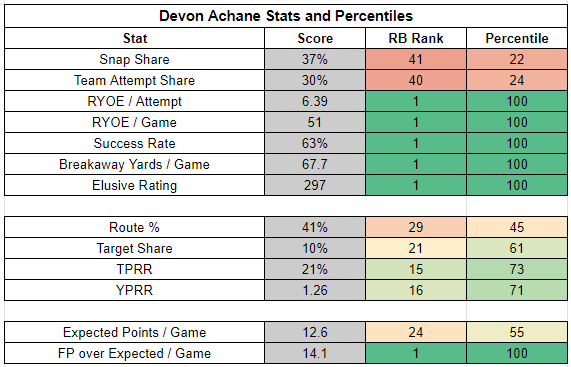 Anchane is absolutely destroying every per-attempt rushing metric. Even more impressively – and somewhat stunningly, given his part-time usage – Achane is elite in the per-game rushing metrics as well. The rookie ranks first in rush yards over expected per game and breakaway yards per game. Achane has 27 career carries, yet he's putting up elite per-game numbers. It's wild stuff.
You may hear talk of negative regression this week.
Since Achane is RB1 in like… every rushing metric. Yeah, that's fair. He can't run even close to this hot for long.
But regression is not a force that universally levels players to league average. When regression comes for Achane, it will return him to a productivity level commensurate with his talent. And it is abundantly clear that Achane is extremely talented.
The rookie now faces a Giants defense that ranks 24th in EPA allowed per rush and ranks 27th in PFF's run grades. That defense is also attached to a flailing offense that won't be able to keep up with the Dolphins for long. With the Dolphins playing from out from this week, you have to think they'll be excited to deploy their talented young RB.
Achane is risky. If this game remains competitive, his role could be much smaller than ideal. But that is a risk worth taking in this matchup because Achane can take this matchup over.
Raheem Mostert has gone from the toast of the middle-late rounds to a veteran impediment in an Achane-esque blink of an eye. But Mostert also looks like a solid start this week, with the Dolphins likely to be salting this game away.
Texans at Falcons, 1 PM
Texans Implied Team Total: 19.75
There are a couple of ways we can predict improvements in play. One is to look for positive regression.
For example, let's look at the No. 1 pick in the NFL draft. Bryce Young's EPA is much lower than you'd expect based on his success rate and his play should be somewhat better going forward.
But let's look at the No. 2 pick in the NFL draft. With C.J. Stroud we're not looking at regression… we're looking at improvement.
After struggling in Week 1, Stroud has made huge improvements since.
The NFL is a noisy sport; a "trend" is often just a random grouping of good or bad games. But I'm willing to take the leap on young players. That's how we find stars before our opponents.
After Stroud posted very strong efficiency against the Jaguars, I mostly bought in. Entering last week, my two big questions were if Stroud would be ready for a difficult Steelers defense and if the Texans would be willing to lean on their young passer.
Stroud was ready.
Against the Steelers, Stroud finished QB7 in EPA and QB3 in success rate.
Stroud is now up to QB12 in EPA per game and QB14 in success rate. It won't be a completely smooth positive trajectory, but Stroud looks to be in the unexpected and incredibly impressive position to solidify himself as a top-12 NFL QB in his rookie season.
But the Texans may not be entirely ready to lean on their young QB. They posted a -5% PROE against the Steelers, with a very conservative -12% PROE on 1st down. When in a neutral or positive script, the Texans have been content to play things fairly conservatively.
Last week, Stroud faced an impressive Steelers pass rush. But this week he gets a Falcons defense that has been quite poor at getting to the passer, ranking just 27th in quick pressure rate.
The Falcons have been solid in coverage, but Stroud has been deadly from a clean pocket, ranking third in EPA per clean pocket dropback.
The Falcons offense is never a good bet to push an opposing passing game, so volume is likely to be somewhat limited this week. But the Texans' coaches should feel confident that Stroud can have success dropping back against this defense.
The Texans WRs are dead set on throwing us off the scent. Nico Collins appeared primed for a breakout game in Week 3, but Tank Dell hit instead. Then with Dell looking like a slight favorite over Collins in the passing game, Collins exploded against the Steelers with a 7/168/2 receiving line on nine targets. Collins now looks like a borderline elite receiver, with Dell falling back to the pack.
But this remains a somewhat volatile situation. The zoomed-out view is that Collins and Dell are very likely to lead this passing game, and likely in that order. But week to week, it'll be tough to nail.
Neither Collins (73%) nor Dell (71%) are running routes at an elite level. Neither Collins (19%) nor Dell (17%) are seeing first-read targets at an elite rate. And with aDOTs of 12.7 and 12.0, both are operating fairly deep downfield.
So we have a situation where the top two options in the passing game are both borderline full-time players with good-not-great offensive roles and boom/bust per-target profiles. It's going to lead to more fun games for both in the future. But we're also likely to get burned any time we become overconfident in how targets will be distributed in a given week.
There's also the issue of Robert Woods' continued role in the offense. Woods isn't much of a fantasy option, but his 21% target share is meaningful and it makes Collins and Dell harder to rely on.
Fortunately, Dalton Schultz has fallen out of the rotation. The tight end is coming off 42% route participation and has very poor per-route target numbers.
Collins and Dell don't have much of a floor, but both are strong upside FLEX plays as bets that Stroud has time to attack downfield.
Dameon Pierce should see plenty of work this week, in a game plan that is unlikely to be overly aggressive.
Pierce is coming off a season-high 24 attempts and has had a valuable workload this season. He ranks RB16 with 14.3 expected points per game. But Pierce has run poorly this year.
Rushing inefficiency is a major problem for Pierce because he isn't seeing much work as a receiver. His 8% target share ranks just RB29. For Pierce to bounce back, he'll need to produce more efficiently on the ground.
Pierce is going against a Falcons defense that ranks first in EPA allowed per rush, although that's partly been schedule-driven. Atlanta faced Miles Sanders, A.J. Dillon, and Jahmyr Gibbs to start the season, but even Travis Etienne struggled badly against them last week, producing 19 fewer yards than expected. This isn't an ideal matchup for a Pierce resurgence.
As a two-down runner in a tough matchup, Pierce profiles primarily as a bet on a TD, but he should have enough volume to return value as a solid RB2.
Falcons Implied Team Total: 21.75
Desmond Ridder was rough against the Jaguars, finishing QB31 in EPA and QB22 in success rate. But what else is new?
For the season, Ridder ranks QB32 in EPA per play and QB26 in success rate. He's offered very little hope of efficient play going forward.
Ridder's success rate hasn't been terrible this season, though. And while – hey… he could start playing like Gardner Minshew – isn't an enticing sell if you're a Falcons fan, it's a somewhat realistic outcome and one that would be huge for the Falcons' receivers.
But even with better play from Ridder, Falcons pass catchers are in a bad way.
Like last year, Arthur Smith is refusing to pass.

The chart above shows average expected pass rate and average pass rate. And averages sometimes hide things. For example, a single outlier performance might be enough to make the Falcons look like a consistently stubborn team. But in this case, the average isn't hiding anything at all. Week in, week out, and regardless of game script, the Falcons pass less than expected.
With that in mind, it's very difficult to see the Falcons taking to the air this week.
The Texans rank 11th in EPA allowed per dropback and are well suited to disrupt the Falcons passing attack, such as it is.
Ridder has been blitzed heavily this year and he's actually handled that fairly well. His big issue has been handling quick pressure playing behind a Falcons offensive line that ranks 30th in pass block win rate.
The Texans rank second in pass rush win rate and sixth in quick pressure rate, and they are getting to the passer without blitzing. It's a potentially disastrous matchup for Ridder, who has struggled with pressure since his days at Cincinnati.
So even by their standards, the Falcons will likely be run-heavy this week. Because, while the Texans are good against the pass, they're much weaker against the run, ranking just 25th in EPA allowed per rush and 28th in run stop win rate. Arthur Smith needs a minute alone with this matchup chart.
Bijan Robinson is the only Falcon who is even remotely exciting this week. But the rookie is genuinely exciting.
Robinson's share of team carries has increased in every game this year, culminating in a career-high 67% in Week 4.
Robinson also posted a 17% target share, second only to Alvin Kamara. And despite being tied to a deeply disappointing passing game, Robinson has been an extremely efficient rusher and a very respectable receiver.
The Falcons are a good bet to melt down on offense this week. And yet, Robinson profiles as a high-end RB1. He's good.
But man, the passing game.
It's one thing to have an inefficient, low-volume passing game. But to have one that's also spread out? That's just gross.

As bad as things have been for Kyle Pitts, Drake London is two TDs away from being in the exact same situation. Sure it's more frustrating to see Jonnu Smith being targeted if you have Pitts than if you have London, but it's still terrible for both receivers. And Smith's involvement isn't having a huge impact on Pitts' routes. Pitts logged 83% route participation against the Jaguars and is up to 89% on the season. The Falcons don't drop back much, but he's out there when they do.
The issue is that he's a deep threat who isn't fully healthy in a Desmond Ridder offense. That is leading to a low target rate and a poor YPT.
But I continue to think that London's fantasy outlook is even more dire than Pitts'. To be clear, both players are in hell. But some circles of hell come with TE eligibility, at least.