Week 4 Walkthrough: Justin Fields, Do or Die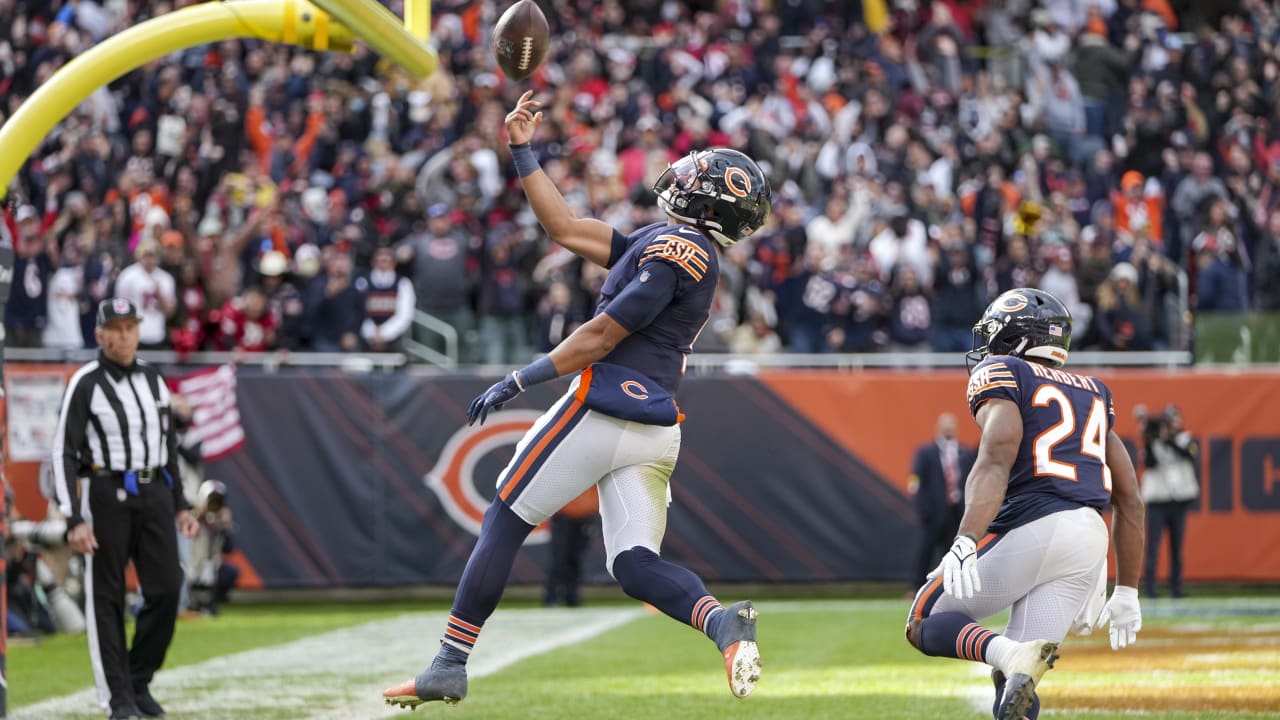 Welcome to the Week 4 Walkthrough.
In this article, I'll outline critical fantasy football context for this fourth glorious week of football.
(The stats below are from PFF, NFLfastR, rbsdm.com, RotoViz, FantasyLabs, ESPN, NFL Next Gen, and Fantasy Life).
In honor of Mike McDaniel, I've added explosive (15+ yard) pass rate to the matchup charts.
Quick Links:
Falcons at Jaguars, 9:30 AM, London
Falcons Implied Team Total: 20.25
The Falcons' commitment to the run has not wavered. They posted a -5% pass rate over expected in Week 3, with a -10% PROE on 1st down. Their -10% PROE this season is the lowest in the NFL.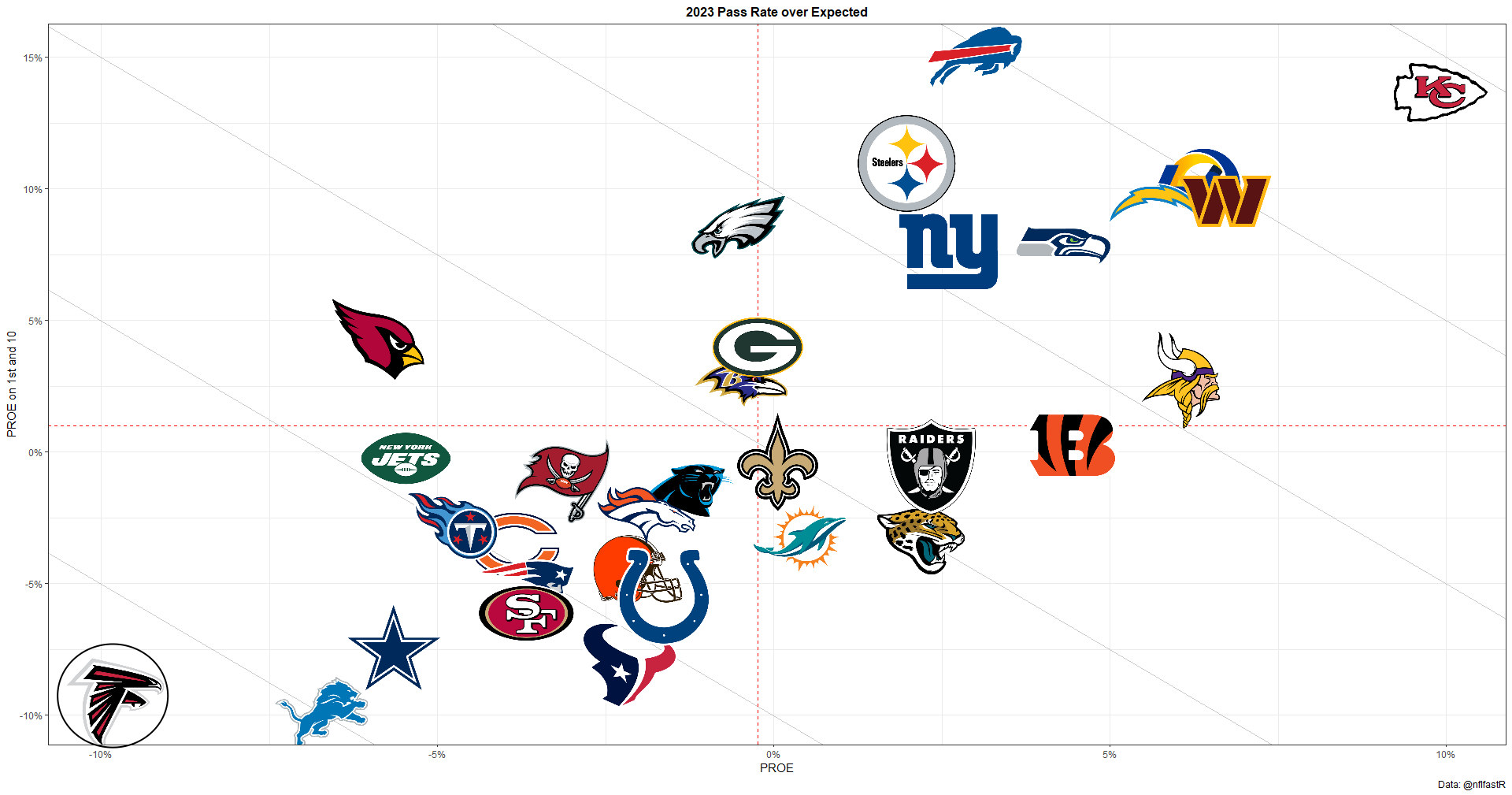 But, the Falcons might be pretty bad. Last week, the Lions were able to control the game against them, creating a 77% expected pass rate, the highest of the week.
And although the Falcons fought that script, they stopped short of refusing to pass. Desmond Ridder dropped back 47 times, setting a new career high.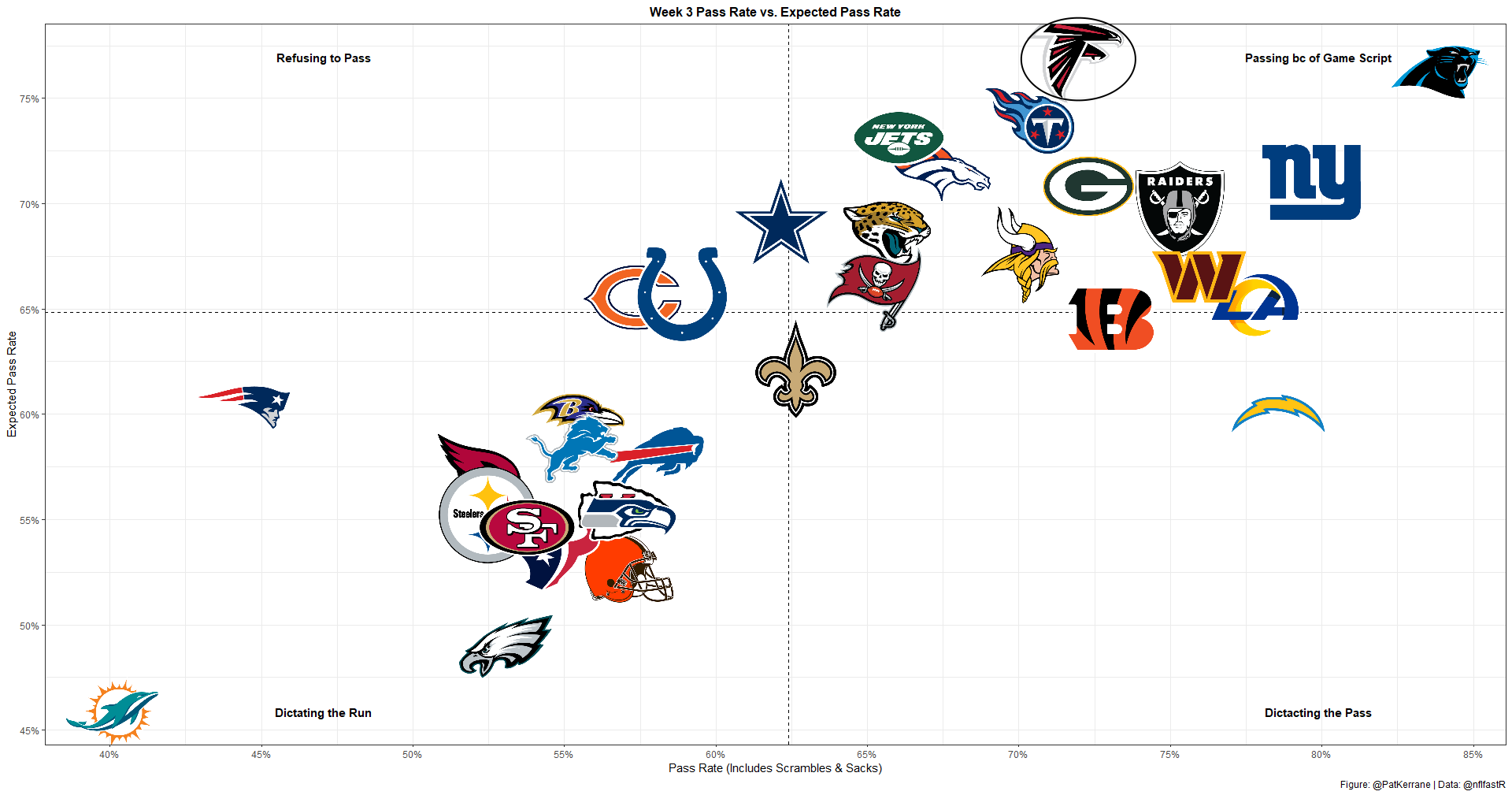 Unfortunately, Ridders' style of play doesn't work when the volume knob is cranked to 11. He's more of a Raffi acoustic set kind of guy.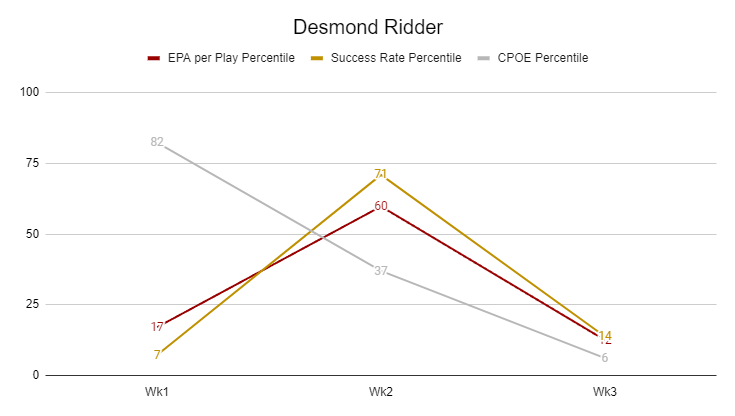 Last week, I speculated that Arthur Smith was attempting to limit Ridder's passing volume. Week 3 strongly reinforces the idea that Smith would prefer to hide his QB; Ridder finished QB29 in EPA per play, QB29 in success rate, and dead last in completion percentage over expected.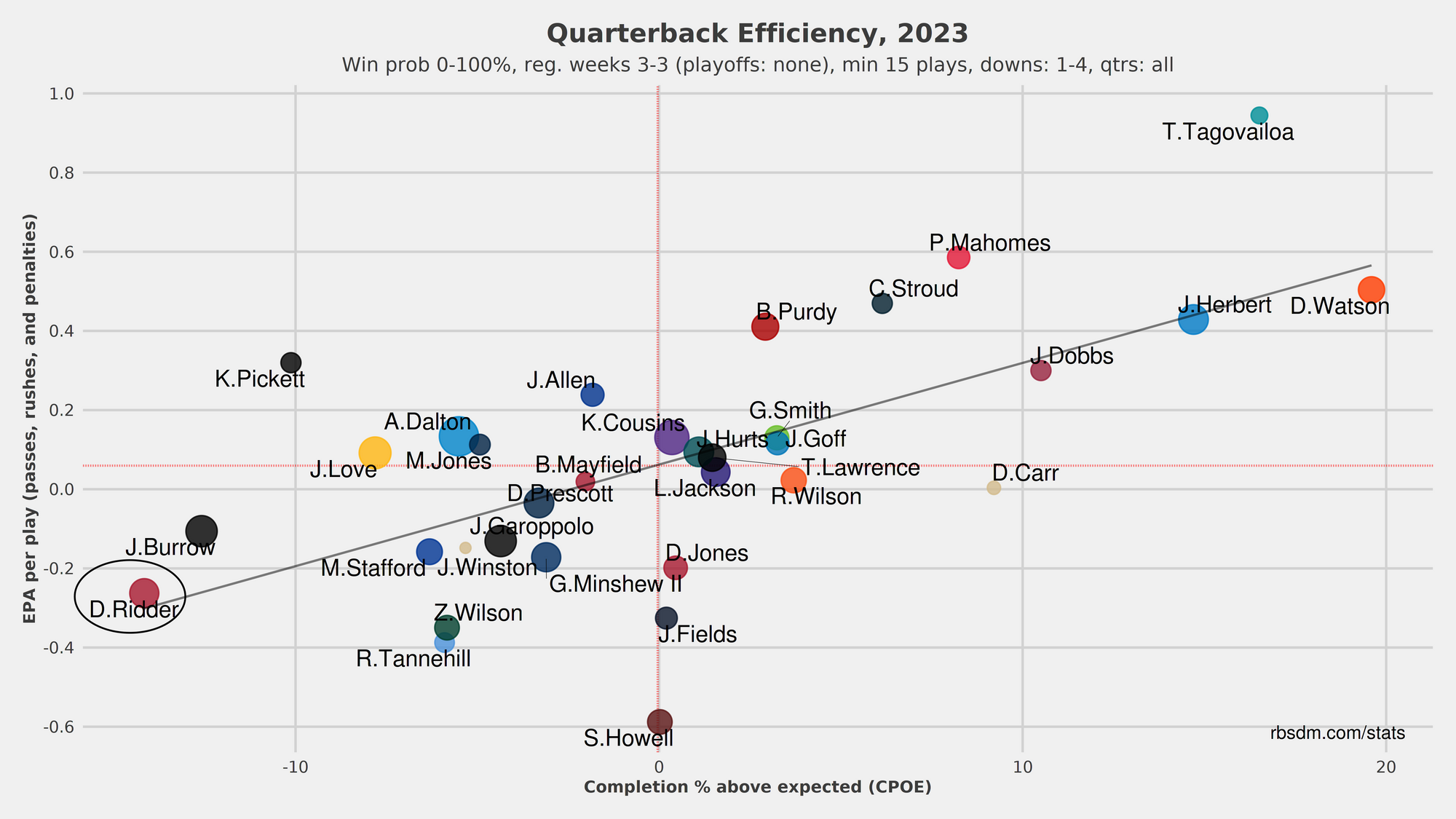 For the season, Ridder ranks QB26 in EPA per game and QB27 in success rate. His play hasn't been as bad as the very worst QBs in the NFL, but it's still been a rough start to the year.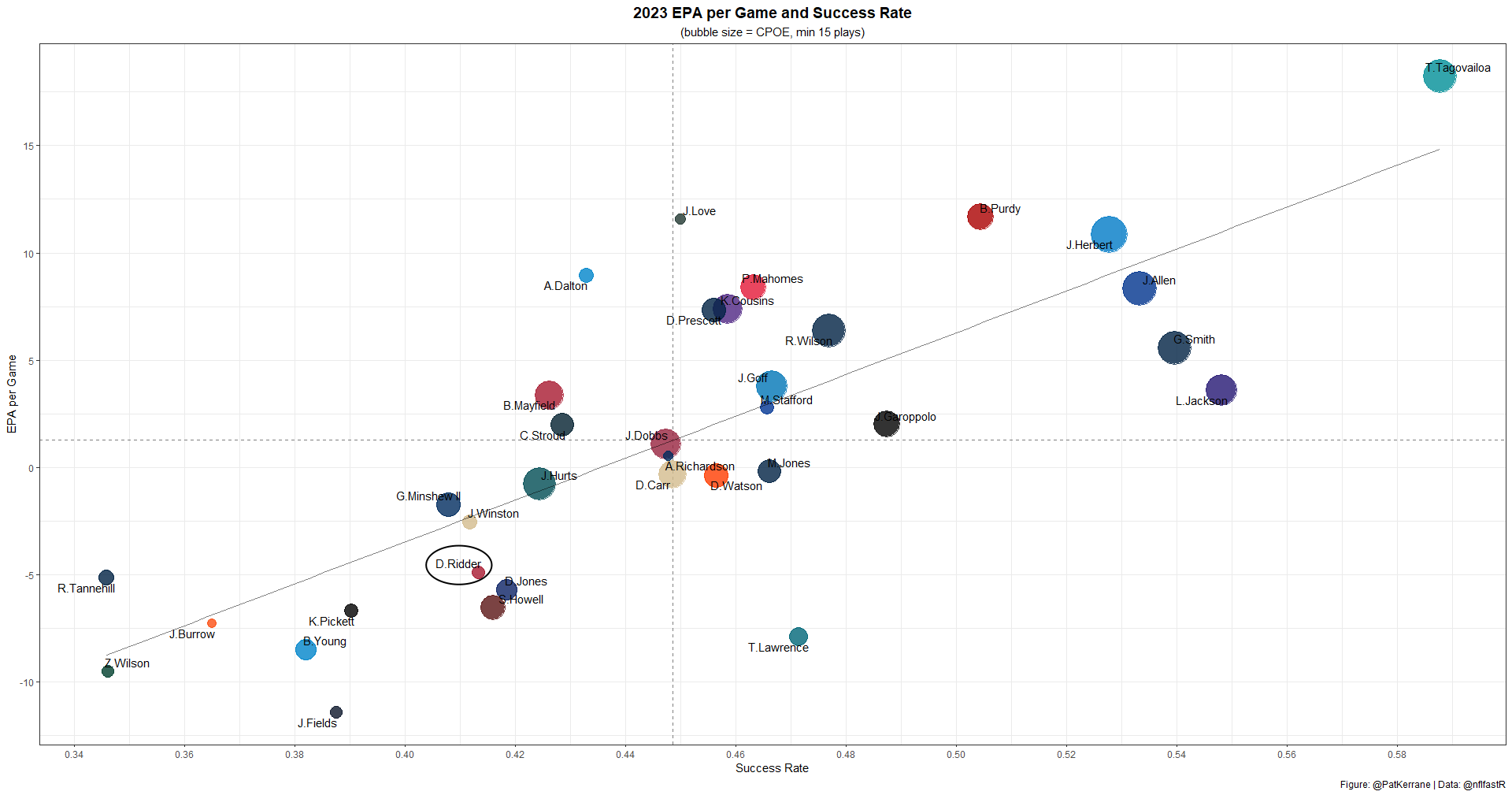 Unless the Jaguars' passing game comes alive in a big way and makes this game surprisingly fun, the Falcons will limit play volume by pounding the rock. And the Jaguars defense is a sneaky good matchup for them.
On paper, the Jaguars look well-suited to stop the Falcons. They are competent against the pass and very strong against the run.
But their 29th ranking in ESPN's run stop win rate provides a strong indication that they are very overrated on the ground. Remember they faced the Deon Jackson Colts in Week 1, and then got the Chiefs' and Texans' underwhelming rushing attacks. The Falcons will be unafraid to test Jacksonville's run defense.
Especially since they have an emerging superstar leading their backfield.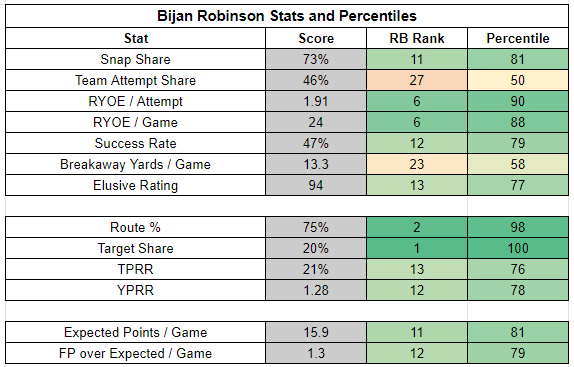 Bijan Robinson continues to profile as a versatile, dynamic playmaker. He ranks RB6 in RYOE per game, RB12 in success rate, and RB12 in YPRR. His workload is the only thing holding him back from producing a legendary fantasy season.
And things are starting to fall into place.

Robinson has had a lock on Atlanta's backfield receiving duties from the jump. He debuted with 77% route participation and continues to post elite numbers. He currently ranks RB2 with 75% route participation.
But Robinson's share of team attempts was lacking against the Panthers, at just 38%. He rebounded in Week 3 with a 56% share against the Lions.
In examining a legendary scenario where Robinson averages 23+ PPR points per game this season, I only had to give Robinson 55% of team attempts to get there. With a 15% target share and elite efficiency, Robinson looked capable of breaking fantasy football. He currently has a 23% target share.
Robinson isn't breaking fantasy football just yet, but he's definitely trending in that direction. Even attached to a struggling passing game, Robinson profiles as a borderline elite play this week.
But man, the passing game.
Kyle Pitts continues to rip our hearts out, playing a role barely bigger than Jonnu Smith's.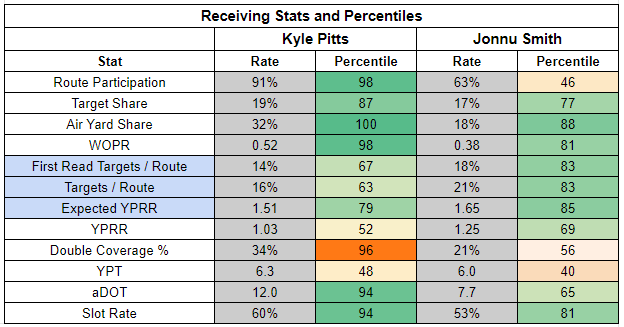 But this isn't just a Pitts problem. It's a systemic issue.
Smith's expected YPRR of 1.65 bests Pitts' 1.51. But that's because Smith has the most valuable per-route role on the entire team.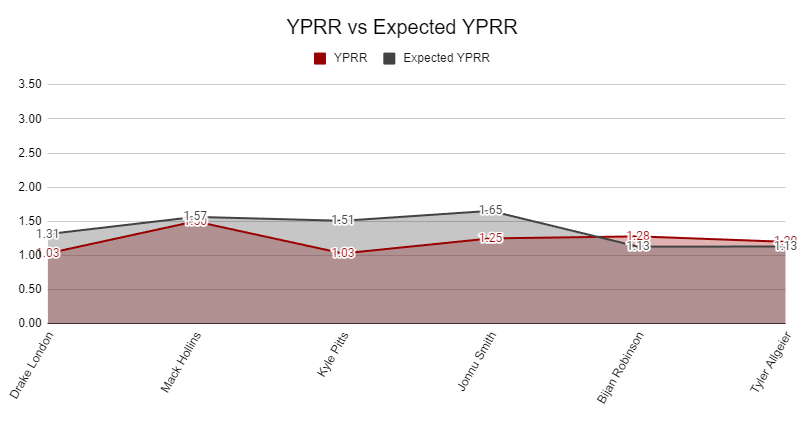 Heading into the season, I felt confident that even if Atlanta's play volume didn't increase, we'd at least see a concentrated target tree. But the Falcons aren't feeding either of their downfield playmakers; Drake London is failing to separate from Mack Hollins in the same way that Pitts is failing to distance himself from Smith.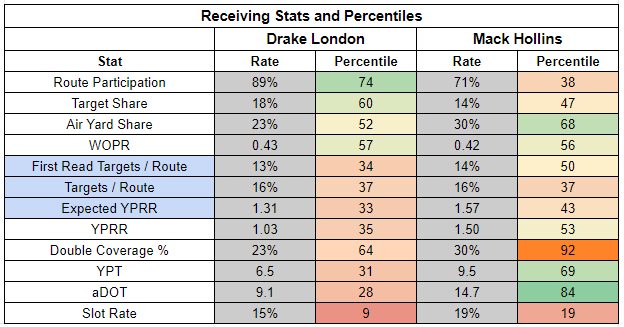 The Jaguars have a shot to push the Falcons to the air, which makes London and Pitts viable spike week bets. But the underlying numbers are ugly here, and London's outlook honestly looks worse than Pitts'.
Jaguars Implied Team Total: 23.25
It's been a disappointing start for Trevor Lawrence. Entering Week 3, Lawrence looked like an obvious bounce-back candidate. And he did bounce back... sort of.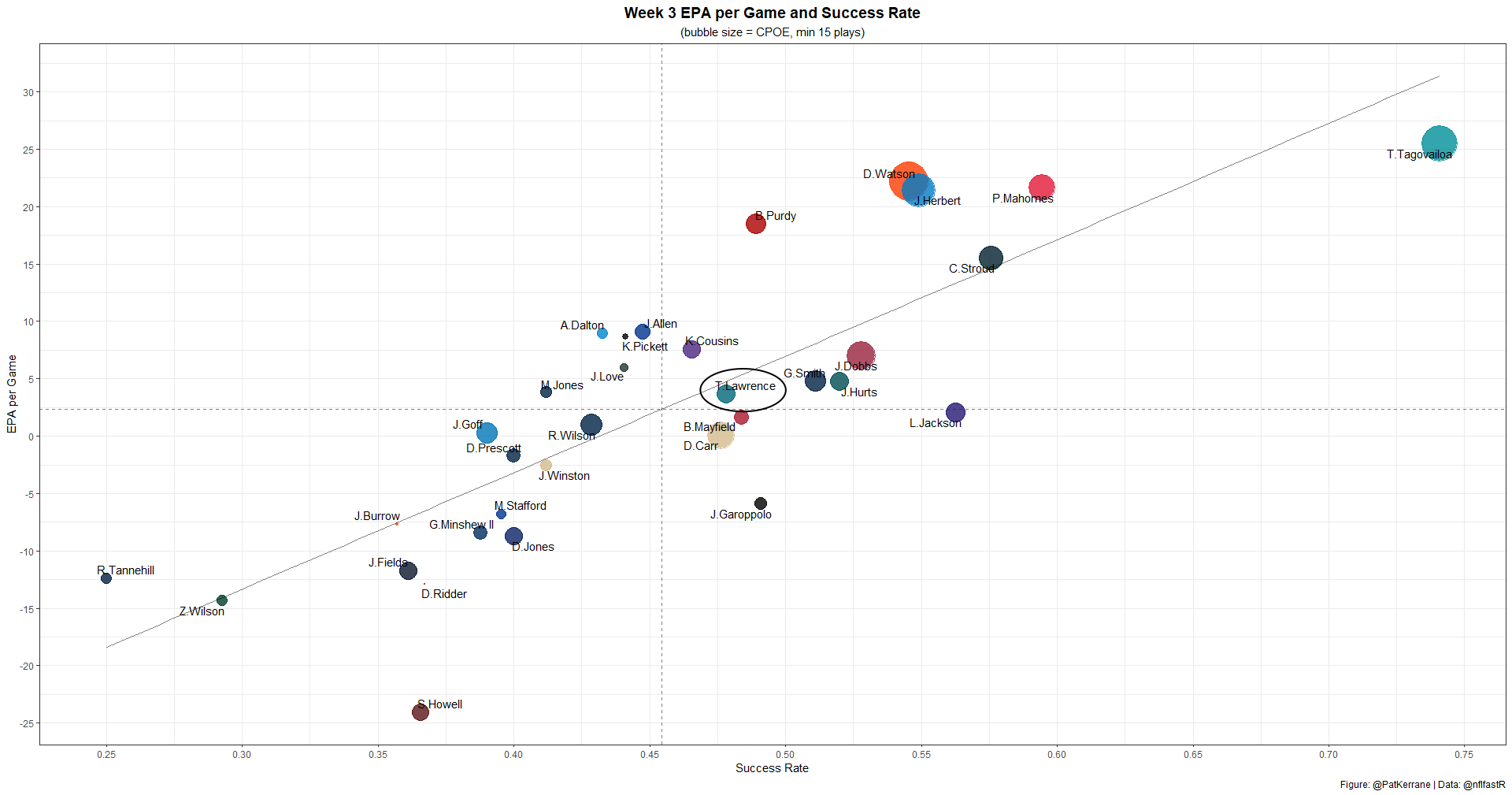 After Weeks 1-2, Lawrence's success rate looked far better than his efficiency. He was playing consistently well but turning in big negative plays.
Against the Texans, Lawrence's efficiency was in line with his consistency, allowing Lawrence to post his first positive EPA per play of the season.
But the hope for Lawrence wasn't just that he'd post positive efficiency against the Texans, it was that he'd turn in high-end results against a beatable pass defense. Instead, Jacksonville suffered a 37-17 defeat, dropping to 1-2.
We got positive regression from Lawrence, but his mediocre Week 3 performance doesn't instill confidence that we're headed for a true 2023 breakout.
And passing volume also looks like it could be an issue.
Lawrence has failed to throw for 300+ yards in a single game this season, despite hitting 40+ passing attempts in each of his last two. This week, volume could be hard to come by, with Atlanta implementing a run-heavy offensive approach.
And it's hard to trust the Jaguars to create a high-volume game environment on their own.
Against the Texans, the Jaguars were very conservative, posting a -3% PROE and a -16% PROE on 1st-and-10.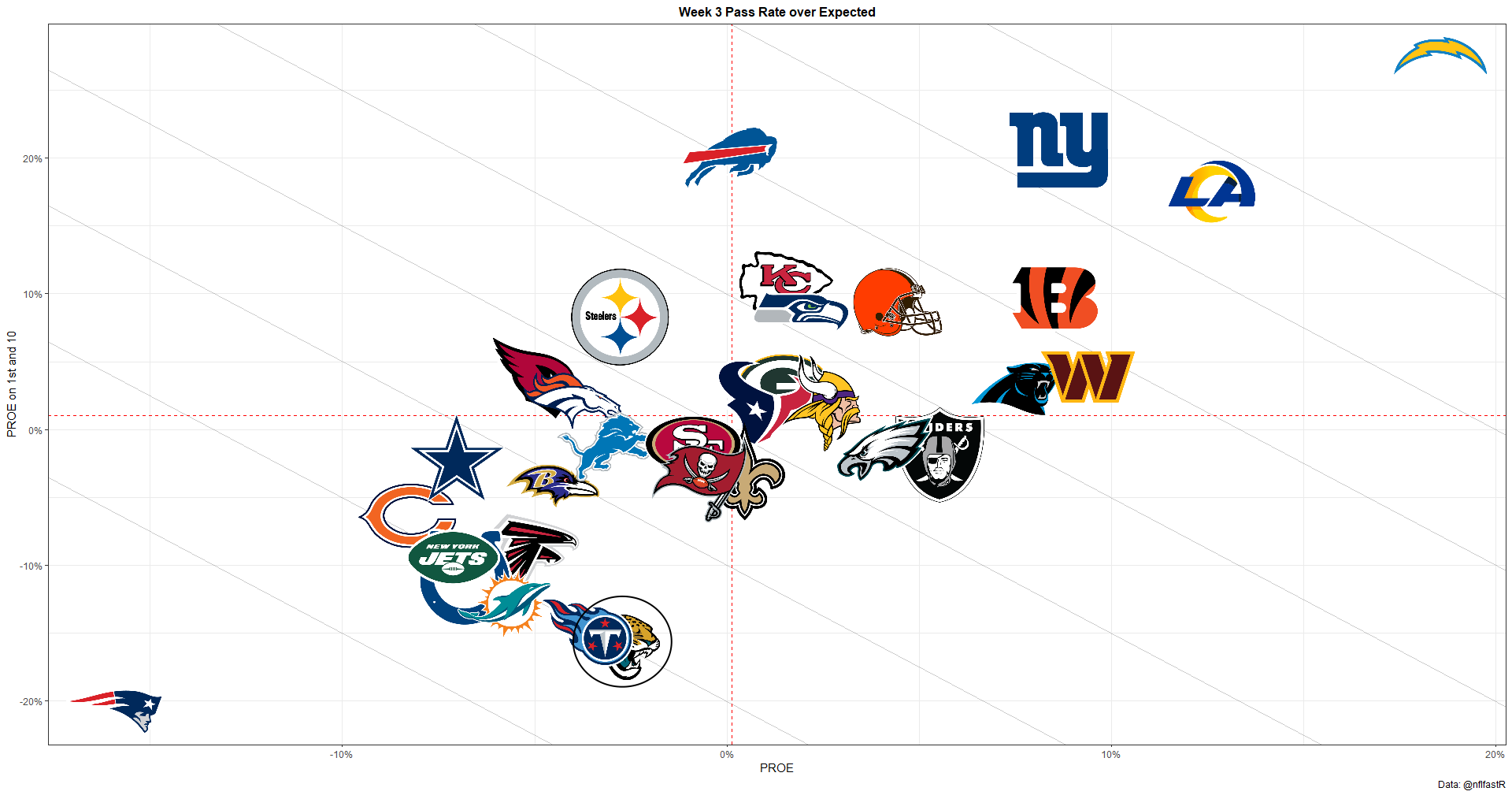 To be fair, the Jaguars weren't run-heavy in Weeks 1-2. But it's still not a great look as they head into a matchup with the Falcons.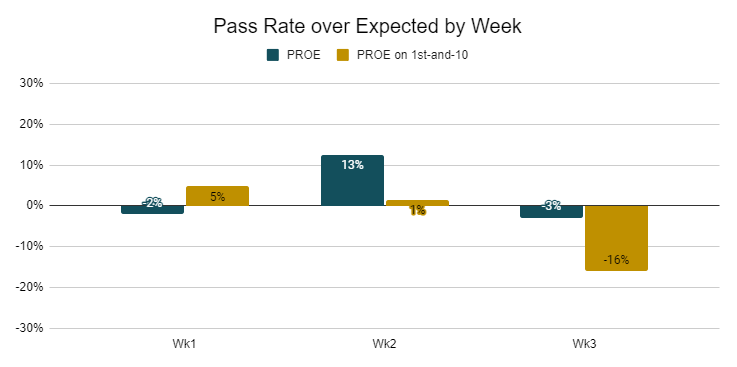 If the Jaguars want to implement a run-first offense, the Falcons' defense won't push them off that plan. From the lens of EPA, the Falcons have been more efficient at stopping the run than the pass. But their rushing success rate is actually quite poor and their dropback success rate is very solid. The Jaguars can play to their own perceived strengths here.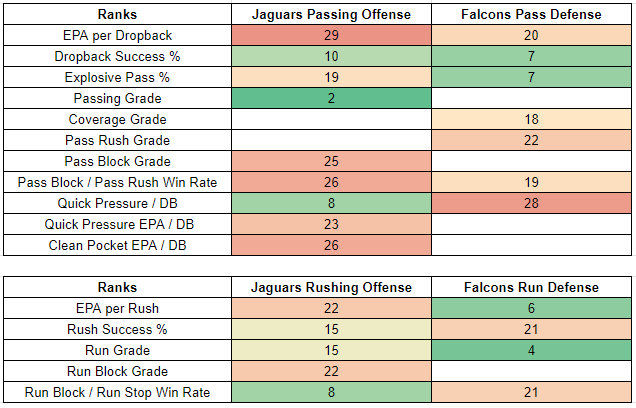 But how do the Jaguars see themselves?
If Jacksonville sees themselves as a run-first team, the game plan will run through Travis Etienne. Etienne is dominating snaps and carries, with Tank Bigsby operating as a clear backup.

But there are a few issues with Etienne's profile—he's not seeing a ton of receiving work, his efficiency is middling, and he doesn't have a lock on goal line carries.
Frustratingly, Bigsby has gotten all three of the Jaguars' attempts inside the 5 this year, and although Etienne is dominating routes, he's not seeing targets at a high-end rate. And even when Etienne has the ball in his hands, he could be doing more with it.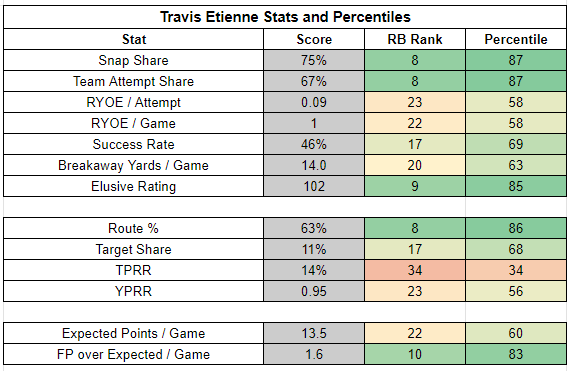 It's unfair to say that Etienne has been bad this year. He hasn't. But he's not doing enough to overcome a disappointing lack of high-value touches. Still, if the Jaguars play the Falcons on Atlanta's terms and implement a run-first game plan, Etienne will lead the way. Given his excellent rushing efficiency in 2022, this matchup creates the potential for a strong fantasy performance.
If the Jaguars are looking to get back to the passing game this week, Calvin Ridley still looks like the clear leader.
Ridley has been outgained by Christian Kirk for two straight weeks, but his underlying numbers look very good. His biggest issue is a poor 6.9 yards per target. But he's drawing targets like a No. 1 receiver.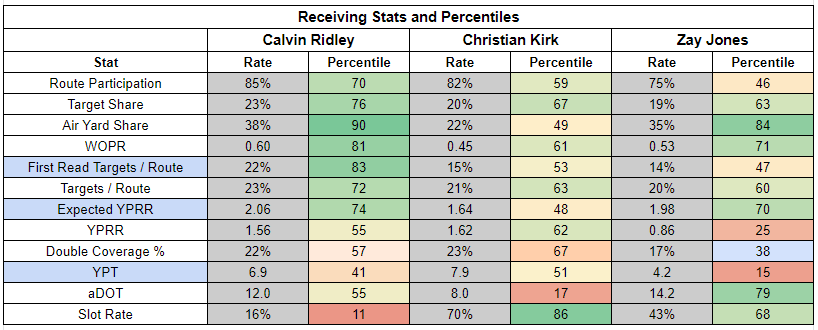 Still, Christian Kirk's outlook is much stronger than it appeared after Week 1, when he posted 66% route participation against the Colts. He's rebounded in a big way.

With Zay Jones reportedly a long shot to play this game, Kirk should be out there for nearly every route and profiles as a solid FLEX play.
Evan Engram remains a bet on high-end route participation and a good-not-great target profile. That profile is more interesting in high-volume game environments, which this probably will not be. But Engram appeared to benefit from Zay Jones' Week 3 absence, posting a 21% TPRR for the second straight week. Engram's upside is limited by his shallow 3.4 aDOT.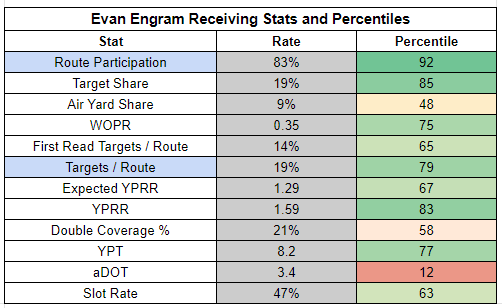 Broncos at Bears, 1 PM
Broncos Implied Team Total: 24.75
The Broncos are coming off a deeply embarrassing loss. But Denver's inability to stop Miami's offense shouldn't distract us from Russell Wilson's decently promising 2023 rebound.
Wilson ranks QB10 in EPA per game and QB8 in success rate. He's definitely not one of the top passers in the league, but he currently leads the above-average tier.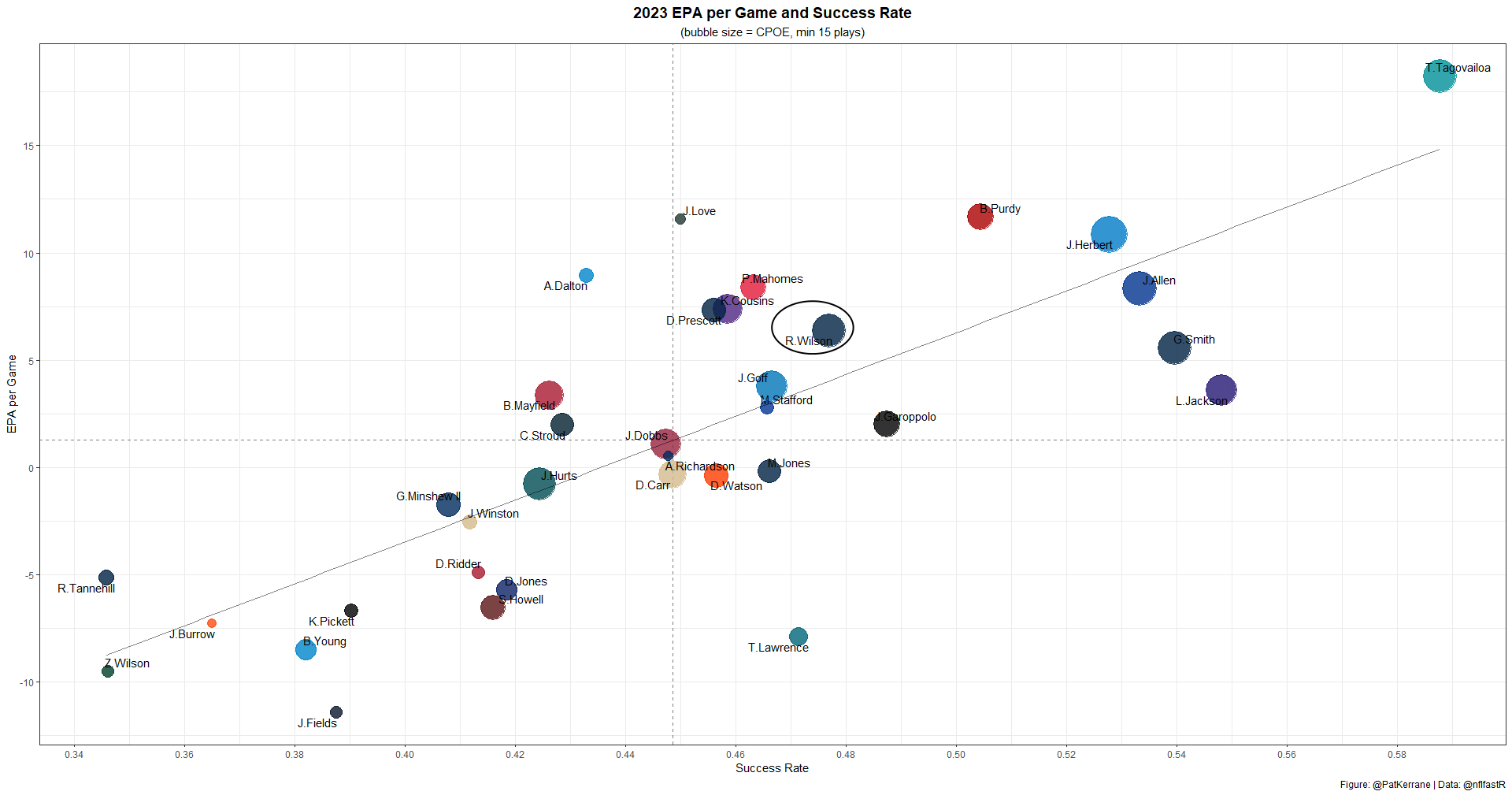 The Broncos aren't aggressively running their offense through Wilson, but they aren't actively hiding him either. They've operated with a slight lean to the run so far, posting a -2% PROE overall and on 1st down.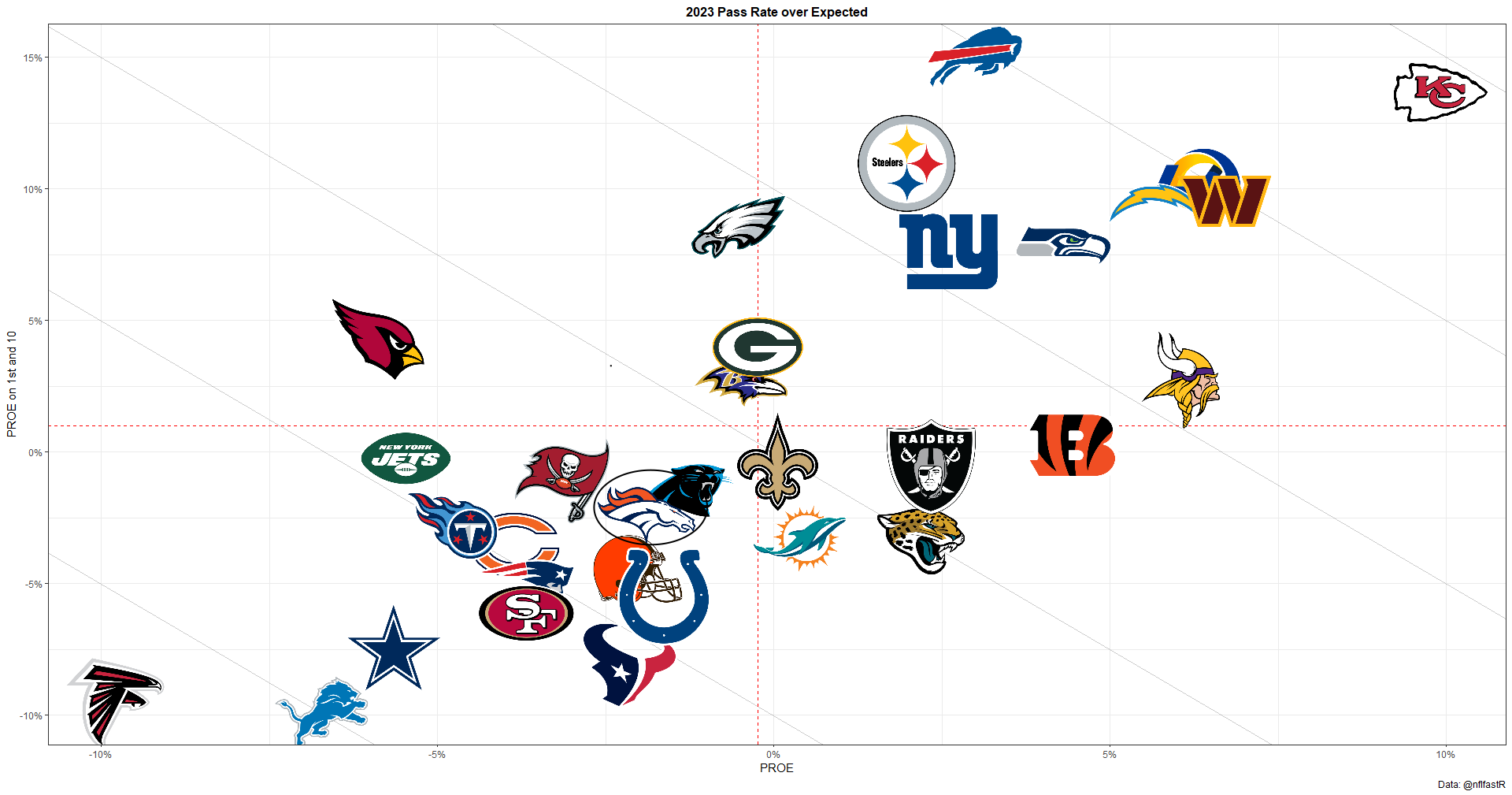 And this week they have the chance to play the worst pass defense they will face all year... since they can't play themselves.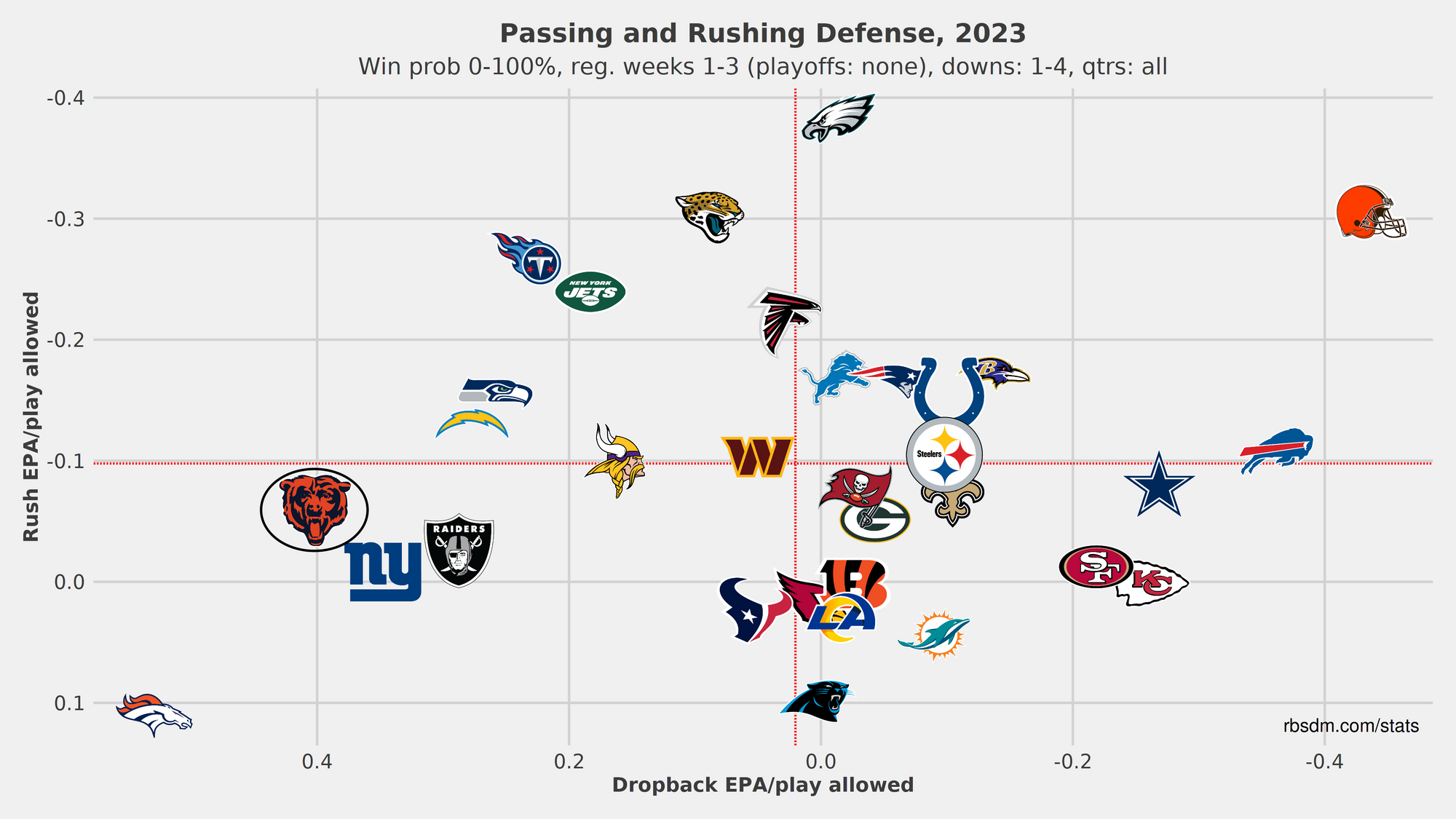 The Bears are 31st in EPA allowed per dropback, 28th in coverage grade, and are allowing explosive plays at the third-highest rate.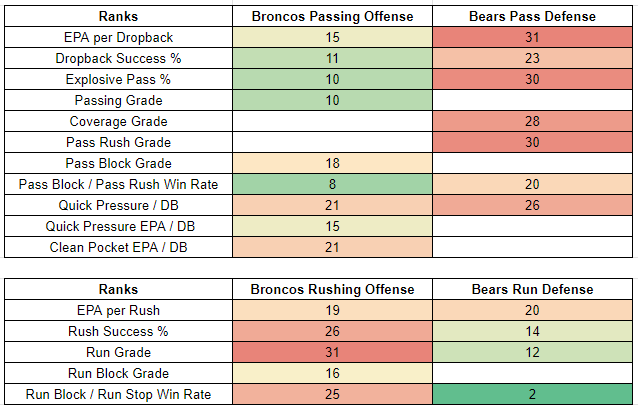 Russell Wilson is set up for one of his best outings of the season, particularly as a downfield passer.
Let's hope Marvin Mims is on the field more.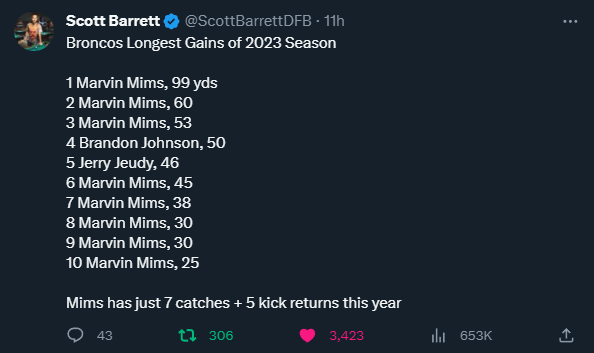 Mims has been absolutely electric when on the field this season, but his 23% route participation makes him impossible to start. Your only option is to watch him compile starter-level fantasy production on your bench.

The weird part about this situation is that the Broncos are calling plays with Mims in mind when he is on the field. His team-leading 26% first-read target rate is elite, but Sean Payton only has a small role carved out for Mims, instead trusting Brandon Johnson and Lil'Jordan Humphrey in a wider variety of situations.
But this is Mims' demand for more playing time.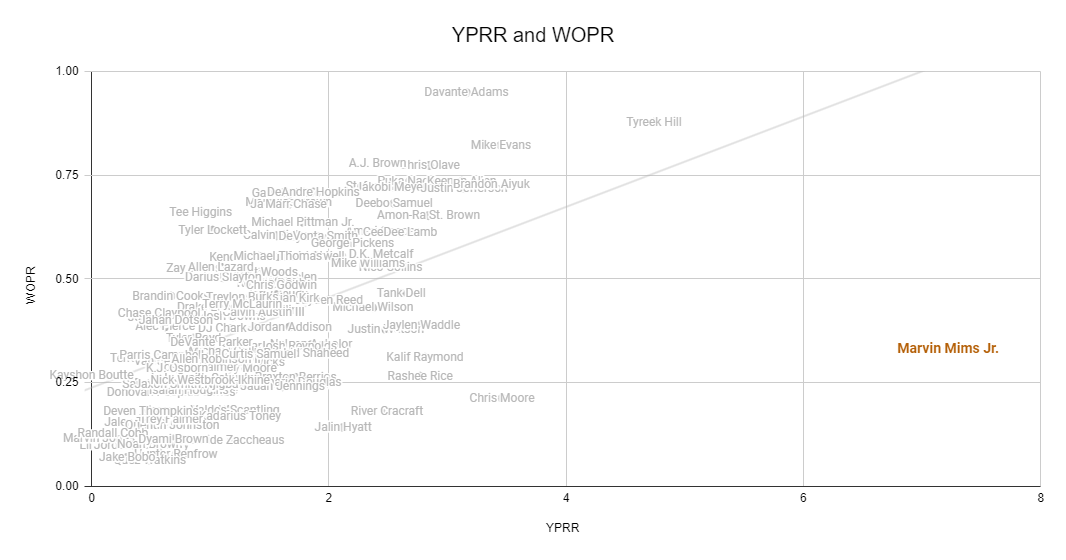 Against a Bears defense that is horrendous against the pass, putting Mims into your starting lineup wouldn't even be that crazy this week. It's the type of move that could easily create a zero in your lineup. But if you genuinely feel like you don't have a better option... you might be right.
Mims isn't just good at drawing targets; he draws coverage as well. His 30% double-coverage rate is far higher than Jerry Jeudy's or Courtland Sutton's and Mims continues to earn targets at a crazy high rate despite the extra defensive attention.
In his current rotational role, Mims isn't out there to help anyone get open. He's out there to execute the package of plays the Broncos have installed for him. But if Mims were to play more, he would naturally see his expected YPRR drop from a preposterous 4.26. It would still likely be very good, just not otherworldly. At that point, Jeudy and Sutton would benefit from the threat of Mims opening up additional room in the offense. That would help offset his target earning ability, to some extent at least.
With that in mind, I'm not worried about Mims seeing additional playing time this week if considering whether to play one of Jeudy or Sutton. The rookie is unlikely to see a huge playing time bump in one week. And even if he does, he should help stretch a very weak Bears pass defense. The veterans both profile as solid FLEX plays, assuming Jerry Jeudy (knee) is expected to get a full slate of routes after Friday's practice.
Things look less optimistic in the backfield. Javonte Williams has been a very inefficient rusher this season, ranking RB45 in RYOE per game and RB44 in success rate.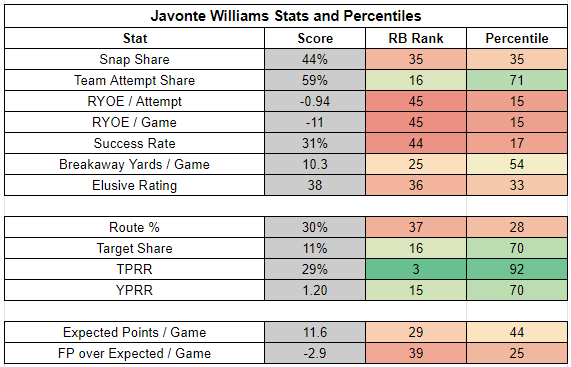 And Williams' playing time is trending in the wrong direction.

Given that Williams is coming off a multi-ligament knee tear, I wouldn't read into this all that much long-term. The Broncos may feel that they ramped him up too quickly, but he's avoided any setbacks and his late-season outlook remains strong. But in this game, I expect that we'll again see him in a part-time role, making Williams difficult to trust, despite a soft matchup.
Bears Implied Team Total: 21.25
In a league with Zack Wilson starting games, it's actually crazy that Justin Fields ranks dead last in EPA per game... but that's where we're at.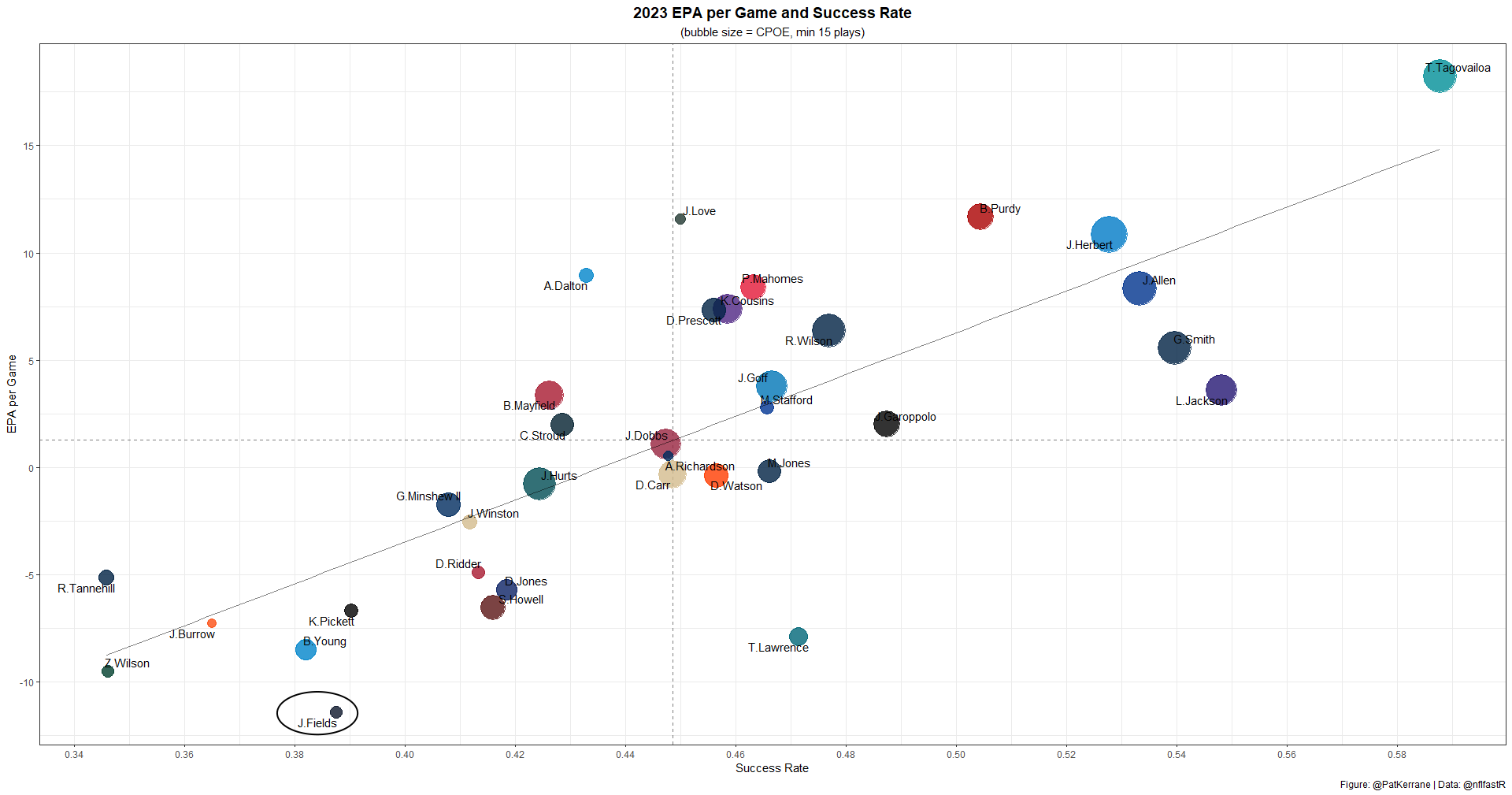 Fields has averaged -11.4 expected points added per game. The dude is nearly two TDs away from positive efficiency.
Fields' success rate isn't quite as disastrous, ranking QB31, but that's a weak silver lining.
At this point, it's hard to see anything saving Fields' real-life value. He'll likely have a starting job next year, on the last year of his rookie deal. But after that, things look pretty bleak. Fortunately, his short-term fantasy value has a lot more potential.
The first thing we need to see is designed rushing attempts. We got that last week. Fields executed seven designed runs; only Lamar Jackson (11) and Jalen Hurts (8) had more. Fields added four scrambles, totaling 47 yards on 11 carries. Entering Week 3, Fields was averaging four scrambles per game, but just 2.5 designed runs. Hopefully, the Bears coaches are over their amnesia and have rediscovered Fields' rushing ability.
The next thing we'd want to see is an insanely incompetent pass defense.
And wouldn't you know it...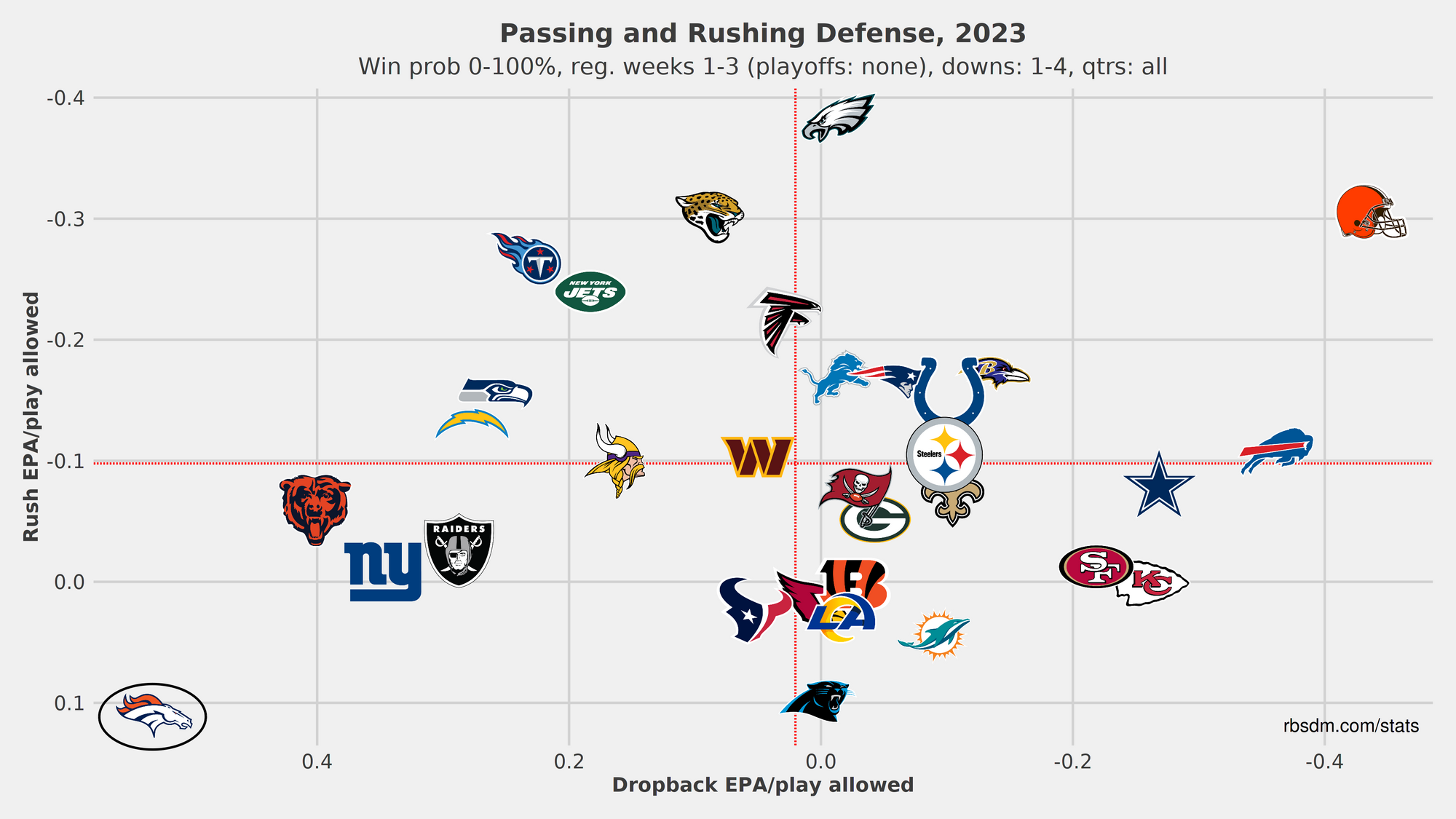 While the Bears' passing offense looks like a disaster, the Broncos' pass defense might be even worse.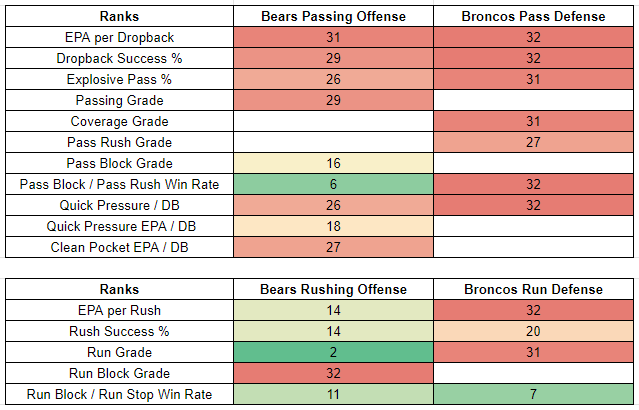 After last week's disaster, the Broncos appear especially susceptible to speed. That's highly relevant for this matchup, provided the Bears coaches remember that their QB is a deadly fast rushing threat.
I know it's been a rough start to the season for Fields. And he might just go down as a fantasy bust. But if we're going to get a blow-up game out of him, this is the spot.
After a slow start last year, Fields became a DFS slate breaker, and I'll be betting on him to emerge again this week against a defense that ranks dead last in EPA allowed per dropback and EPA allowed per rush.
And that makes it a good week to get hurt by D.J. Moore again.
Moore has been a consistent feature of the Bears' passing attack, running a route on 96% of dropbacks. But he has a very poor 12% first-read target rate. The thing is... that rate leads the team.
We know that Fields isn't comfortable running this offense and is holding onto the ball too long, and that is undoubtedly costing Moore targets that the Bears' playcalling is setting him up for. The overall setup is disastrous, but Moore does appear to be the top option in the passing game.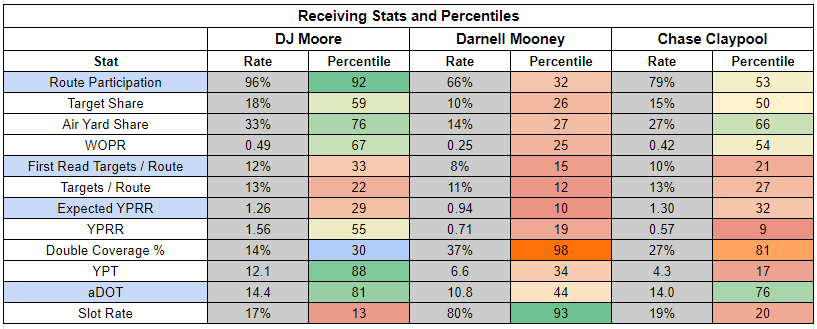 Moore's underwhelming first-read target rate may indicate that he isn't getting open at a high rate, exacerbating Fields' indecisiveness. But even if that's ttue, the Broncos defense should be good for some lapses in coverage.
And with a 14.4 aDOT, Moore comes with big play potential against a defense that just let up 11 15+ yard passes to Miami. If you aren't willing to play Moore this week, I get it, but he proably shouldn't be on your roster then.
On the rushing side of things, hopefully Fields will handle a big chunk of the workload. The rest will be split up between Khalil Herbert and Roschon Johnson.
Although Herbert has a majority of snaps the last two weeks, he may have functionally ceded control of the backfield to Johnson last week.

With Herbert slipping to 32% of team attempts and Johnson seeing a season-high 36%, the rookie looks like just as strong of a start this week.
Herbert is unlikely to deliver value on his summer ADP, but he still looks like a viable spot start for now. His 64% success rate hints at untapped rushing efficiency.
But Johnson also looks intriguing, especially if the Broncos are able to push the Bears to the air. Johnson's receiving usage and efficiency have been impressive.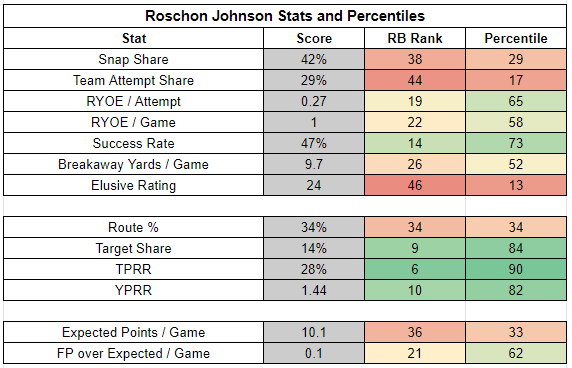 Rams at Colts, 1 PM
Rams Implied Team Total: 22.5
Entering the season, the idea of a pass-heavy Rams team would not have been all that surprising. This was a team that we expected to be trailing quite a bit. But the fact that they've largely been passing from a position of strength, without Cooper Kupp in the lineup, is shocking.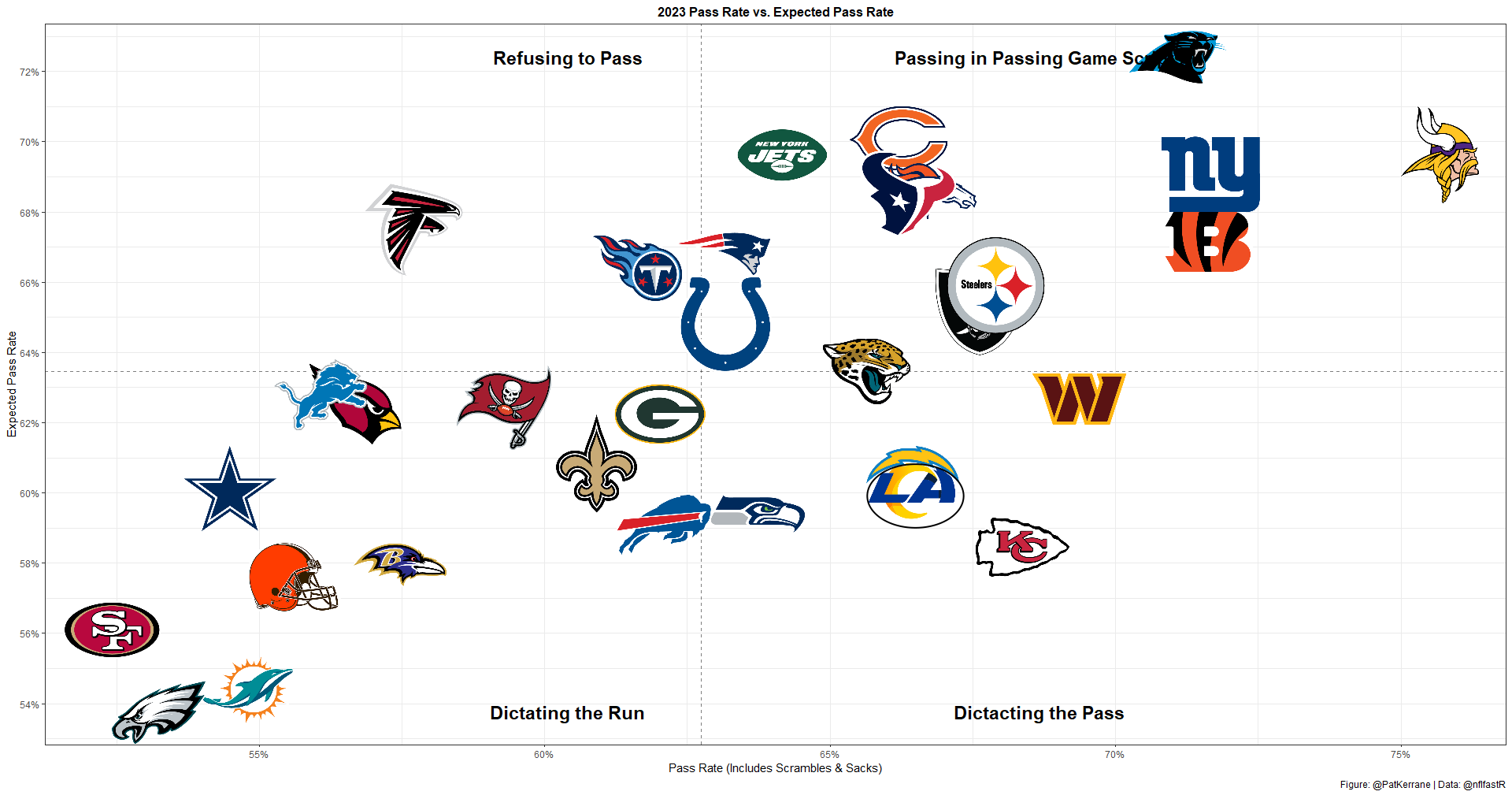 This approach makes sense because Matthew Stafford is playing well this season. Stafford struggled in Week 3 against the Bengals, but for the season he still looks very solid, ranking QB15 in EPA per game and QB12 in success rate.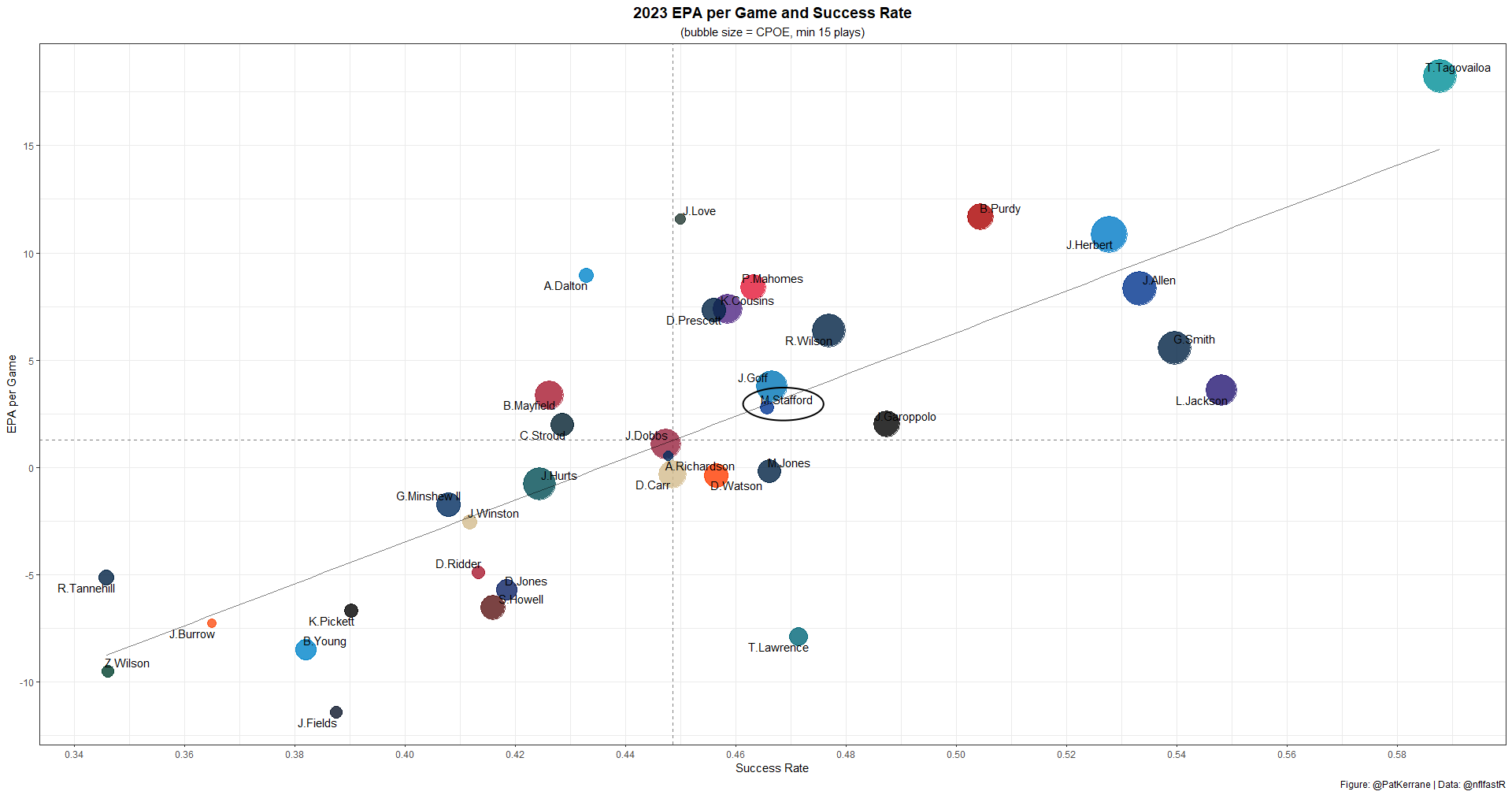 Stafford now gets a beatable Colts secondary, ranking 26th in coverage grade and 28th in preventing 15+ yard passes. It could be a fun week.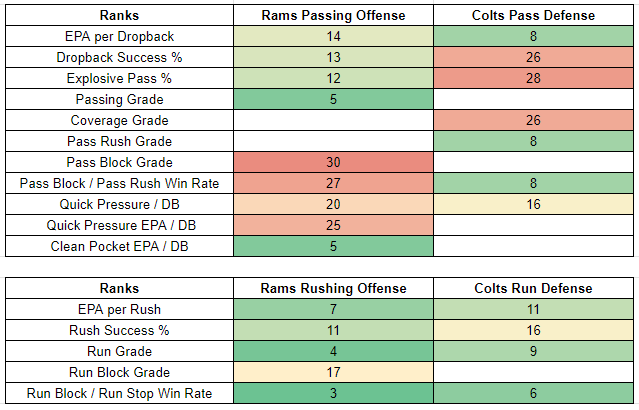 But Stafford could also be looking to get the ball out quickly against a Colts defense that ranks eighth in PFF's pass rush grades and eighth in pass rush win rate. The Rams' offensive line is starting to profile as a major weakness, so Stafford may be unable to be able to sit comfortably in the pocket and let deep routes materialize.
Sounds like a perfect setup for an intermediate target dominator.

Not only is Puka Nacua seeing shallow targets (8.5 aDOT), but he's also seeing first-read targets at a very high rate (25%). If you're looking to get the ball out quickly, quick-developing, first-read routes seem like an ideal solution.
I don't want to take anything away from Tutu Atwell. He's played very well this season and should be able to produce big plays against a weak Colts secondary. But this looks like an ideal spot for Nacua to turn in another massive target total.
In the backfield, things are even simpler. Kyren Williams is the only option.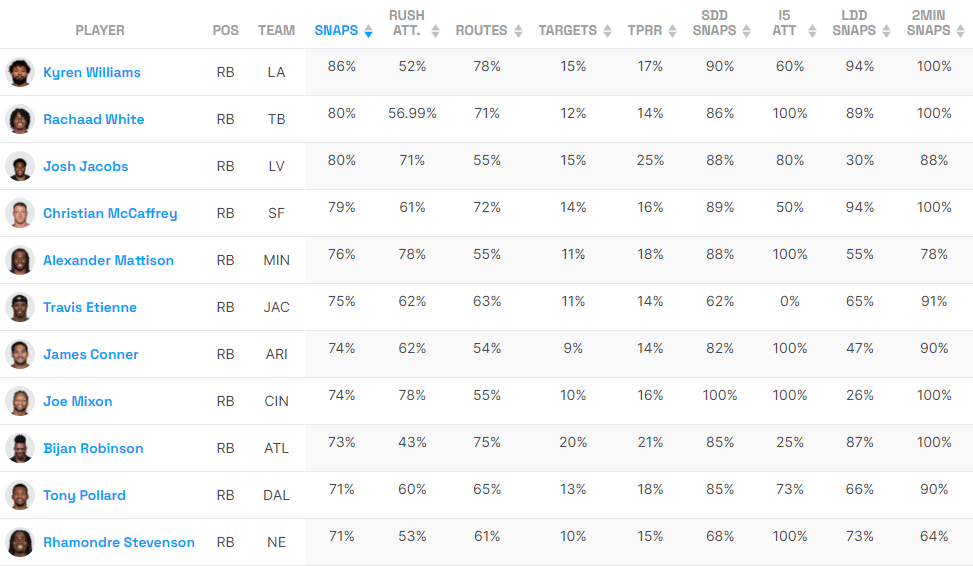 Williams ranks RB1 in snap share, RB1 in route participation, and RB6 in target share. Based on poor efficiency accross the board, Williams is probably not very good. And that could eventually prove to be a big problem. It certainly helps explain why Williams totaled 65 scoreless yards on 17 opportunities against the Bengals.
But Williams is averaging 21 expected points per game this season. He can still underperform significantly and turn in high-end RB2 production on that kind of workload. If he performs in line with expectations, he could deliver borderline elite value this week.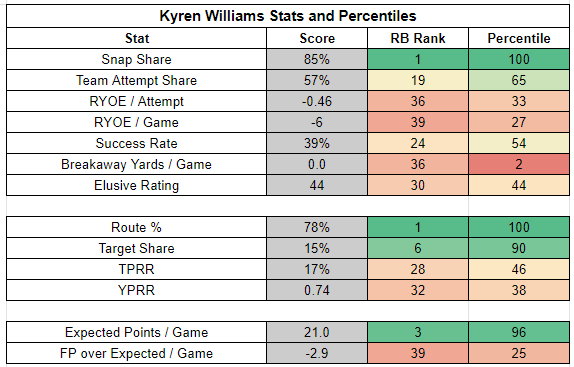 Colts Implied Team Total: 23.5
Anthony Richardson remains in the concussion protocol, but has returned to practice. So there's a decent chance he's cleared in time for this game.
Last week, without a dual-threat rookie under center, it would have been reasonable to expect the Colts to play faster and shift toward the pass.
The exact opposite happened. The Colts only slowed down in pace slightly, finishing eighth in situation-neutral seconds per play after leading the NFL through the first two weeks. More dramatically, the Colts moved from a balanced offense to a run-heavy one.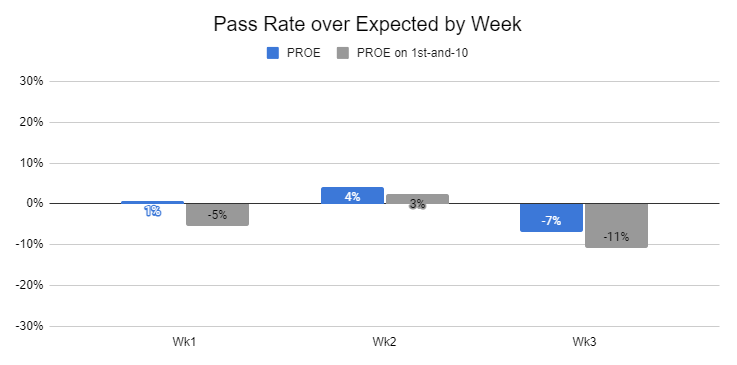 This approach worked out pretty well, leading to an overtime win over the Ravens. But it may have been neccessary in part to hide Gardner Minshew, who did not impress.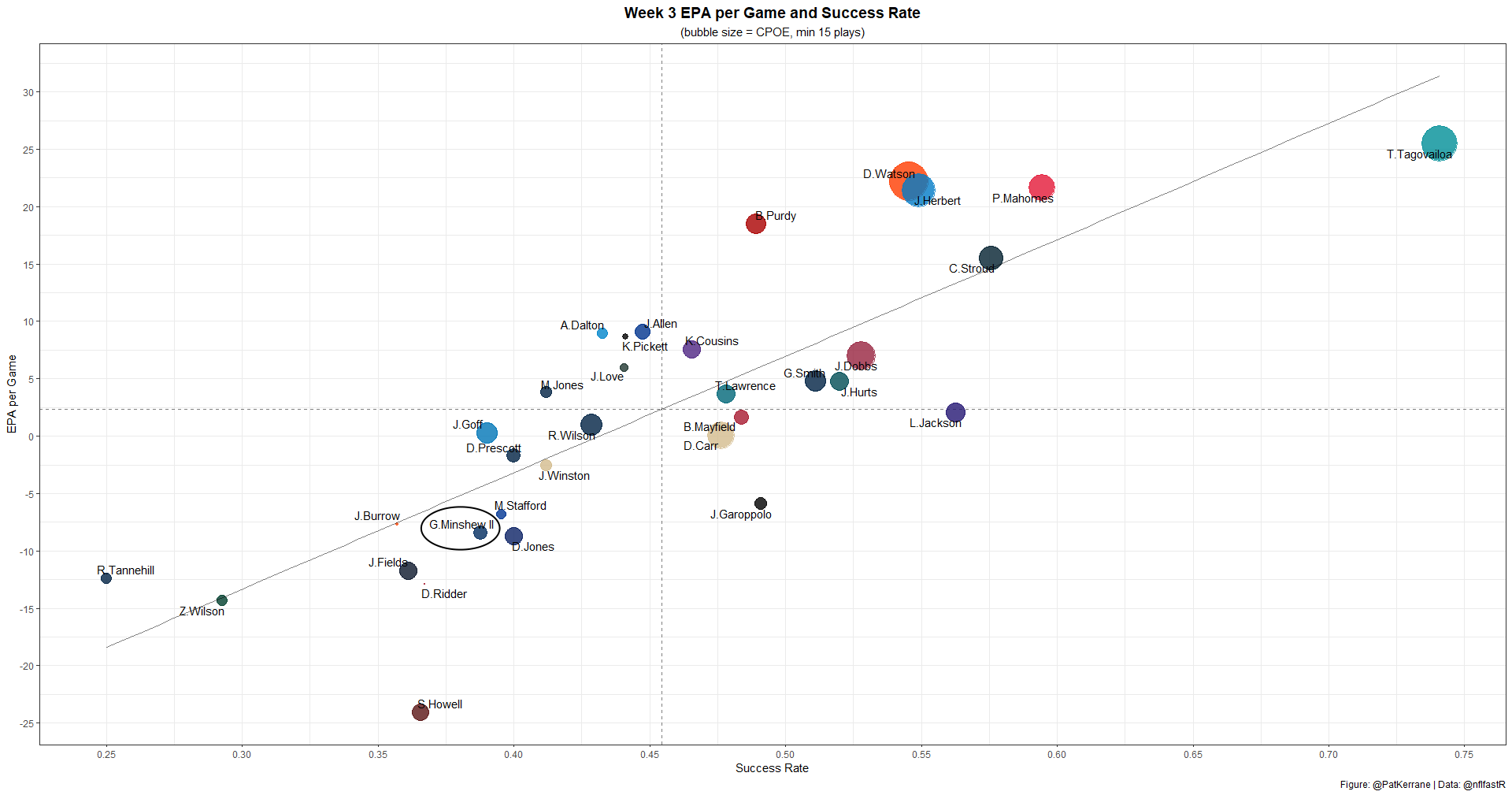 If Richardson returns this week, he won't be a huge upgrade on Minshew. But the rookie has been solid so far, ranking QB19 in EPA per game, QB20 in EPA per play, and QB19 in success rate, despite being as inaccurate as expected. Richardson ranks just QB31 in CPOE. Minshew's accuracy is far better, ranking QB18 in CPOE. But he ranks QB24 in EPA per game, QB24 in EPA per play, and QB29 in success rate.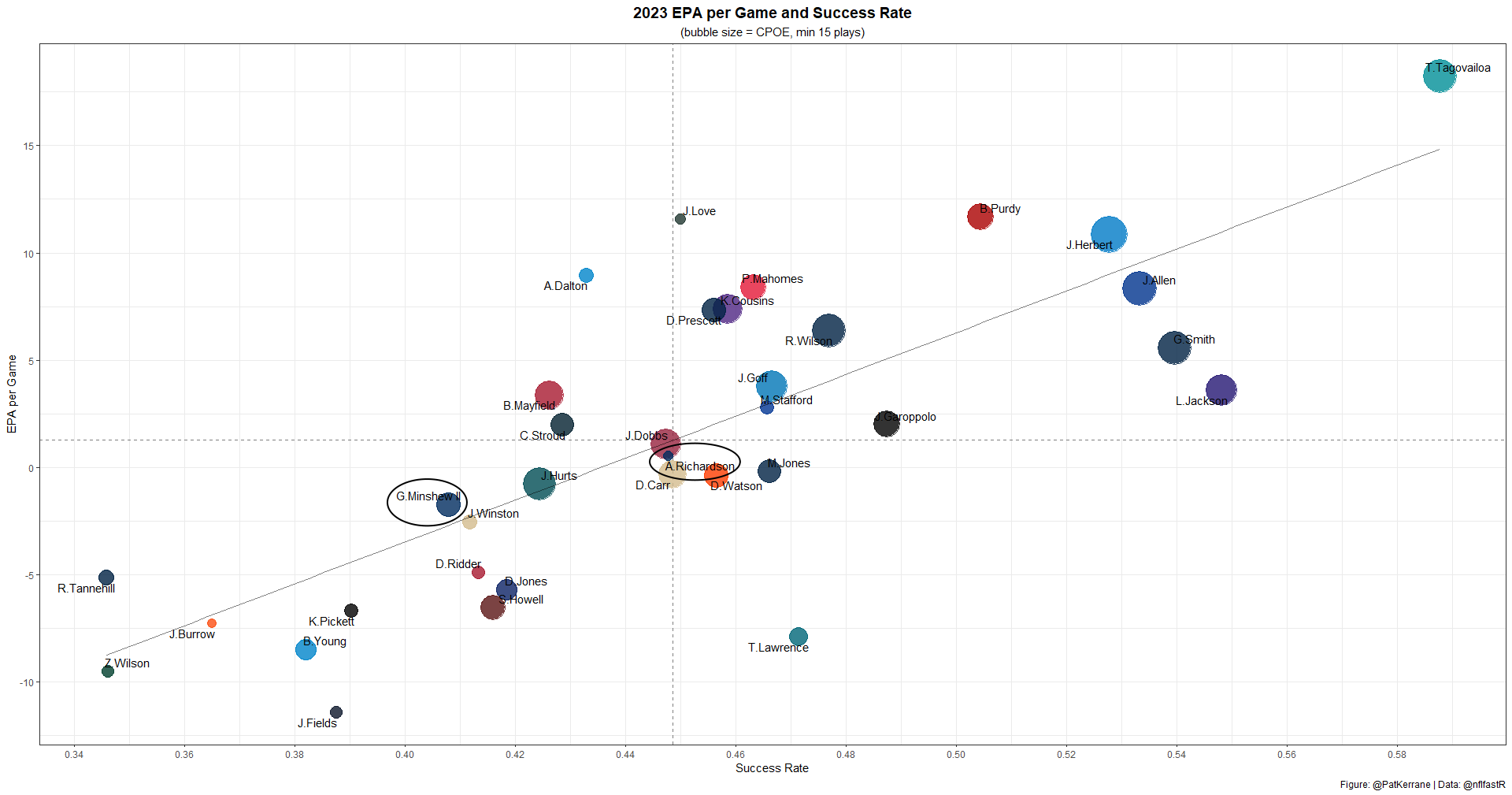 Assuming the rookie is back under center, the Colts should feel good about attacking a Rams defense that ranks dead last in PFF's coverage grades.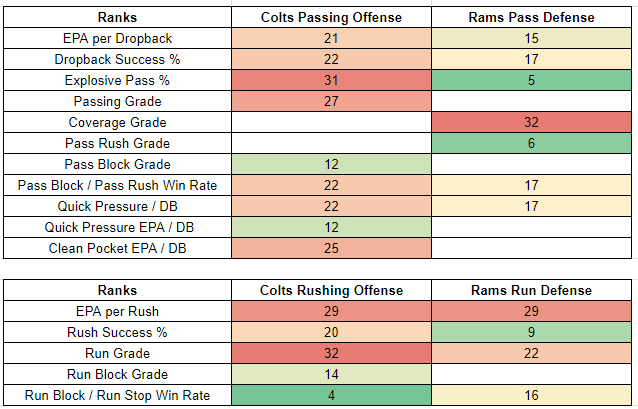 Last week's matchup against the Ravens could have gone very poorly for Richardson. Baltimore is strong in both coverage and against the run, but has an unimpressive pass rush. The Rams are the opposite. Their middling rush is their strength, with poor coverage and frequent letdowns in the run game. That's a much better setup for a rushing QB. Richardson should pick up where he left off against the Texans.
As expected, Michael Pittman saw solid target volume from Minshew, drawing 11 targets and going 9/77/0. But Josh Downs was the big story. On a career-high 84% route participation, he saw 11 targets, going 8/57/0. Intriguingly, 8-of-11 targets were first-read. Downs now looks like a far more interesting secondary option than Alec Pierce.
But I would note that Alec Pierce's 16.9 aDOT gives him signficantly more upside when targeted than Downs' shallow 5.9 aDOT does. And it's hard to see Downs' underneath skill set meshing well with Richardson's inaccuracy. Downs is starting to emerge but I'd pefer to keep him on the bench for now.
The Colts are not messing around in the backfield; they are feeding Zack Moss. Moss' snap share was down from Week 2's absurd 98% rate, but he still handled 86% of team attempts for the second straight week. Trey Sermon drew two targets and cut into Moss' receiving game role a bit. But the rushing workload is more important here, especially with Richardson under center.

Moss has been startlingly effective this year. He has a very solid 42% sucess rate and ranks RB10 in RYOE per game. Moss is largely a product of the Colts' strong offensive line play; they rank fourth in run block win rate. But as long as star guard Quenton Nelson plays through a toe injury, we can expect strong blocking again this week, along with zero competition in the backfield. Shockingly, Moss profiles as a low-end RB1.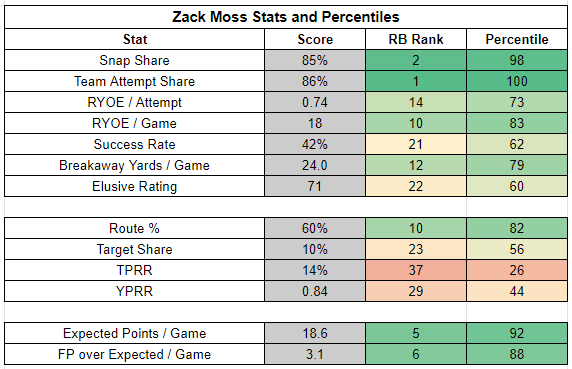 Dolphins at Bills, 1 PM