Week 3 Walkthrough: Jordan Addison Deep Shot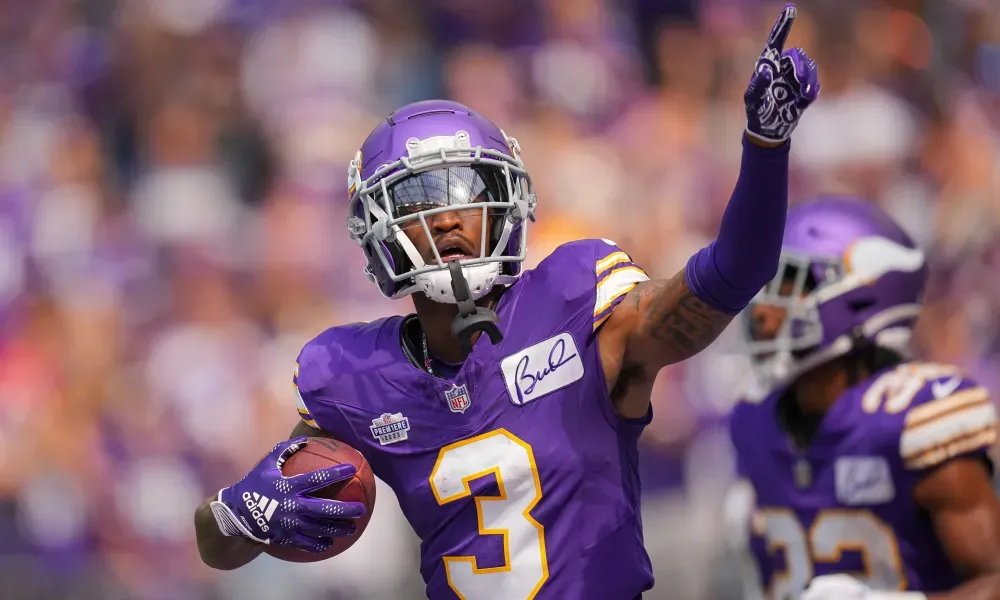 Welcome to the Week 3 Walkthrough.
In this article, I'll outline critical fantasy football context for this third glorioius week of football.
Quick Links:
Win Rates in the Trenches
This week, I've added ESPN's pass block, run block, pass rush, and run stop win rates to my matchup charts. These metrics are based on the NFL Next Gen player tracking data. In a sense, they are the trenches version of NFL Next Gen's rush yards over expected (RYOE) / success rate metrics or ESPN's open score / receiver ratings. Given that I'm a big fan of both groups of metrics, I'm excited to be able to have another player-tracking metric to add to the arsenal.
On the pass blocking / pass rushing side, ESPN's metrics will serve to reinforce quick pressures per dropback in my analysis. Per ESPN: "...our pass rush win rate metric tells us how often a pass-rusher is able to beat his block within 2.5 seconds. Likewise, our pass block win rate metric conveys the rate linemen can sustain their blocks for 2.5 seconds or longer."
On the run blocking side, the metric may prove even more valuable to this article – given that I didn't really have a rough equivalent already in place. Per ESPN, "In run stop win rate, a defender can earn a win by doing any of the following: beating his blocker so he's in better position to stop the runner; disrupting the pocket or running lane by pushing his blocker backward; containing the runner such that he must adjust his running lane; or recording a tackle within three yards of the line of scrimmage. If a defender earns a run stop win, his blocker earns a loss -- and vice versa."
I will be using the team-level version of the metrics, but you can dive into player specific metrics here. And I may touch on those as needed in future weeks.
Let's get to it.
(The stats below are from PFF, NFLfastR, rbsdm.com, RotoViz, FantasyLabs, ESPN, NFL Next Gen, and Fantasy Life).
Chargers at Vikings, 1 PM
Chargers Implied Team Total: 26.5
The Chargers dropped to 0-2 against the Titans, but at least their passing game showed some life.
After a slight tilt to the run in Week 1, the Chargers shifted to the pass against a pass funnel Titans defense, operating with a 5% pass rate over expected and an 8% PROE on 1st down. Through two weeks, they now look perfectly balanced.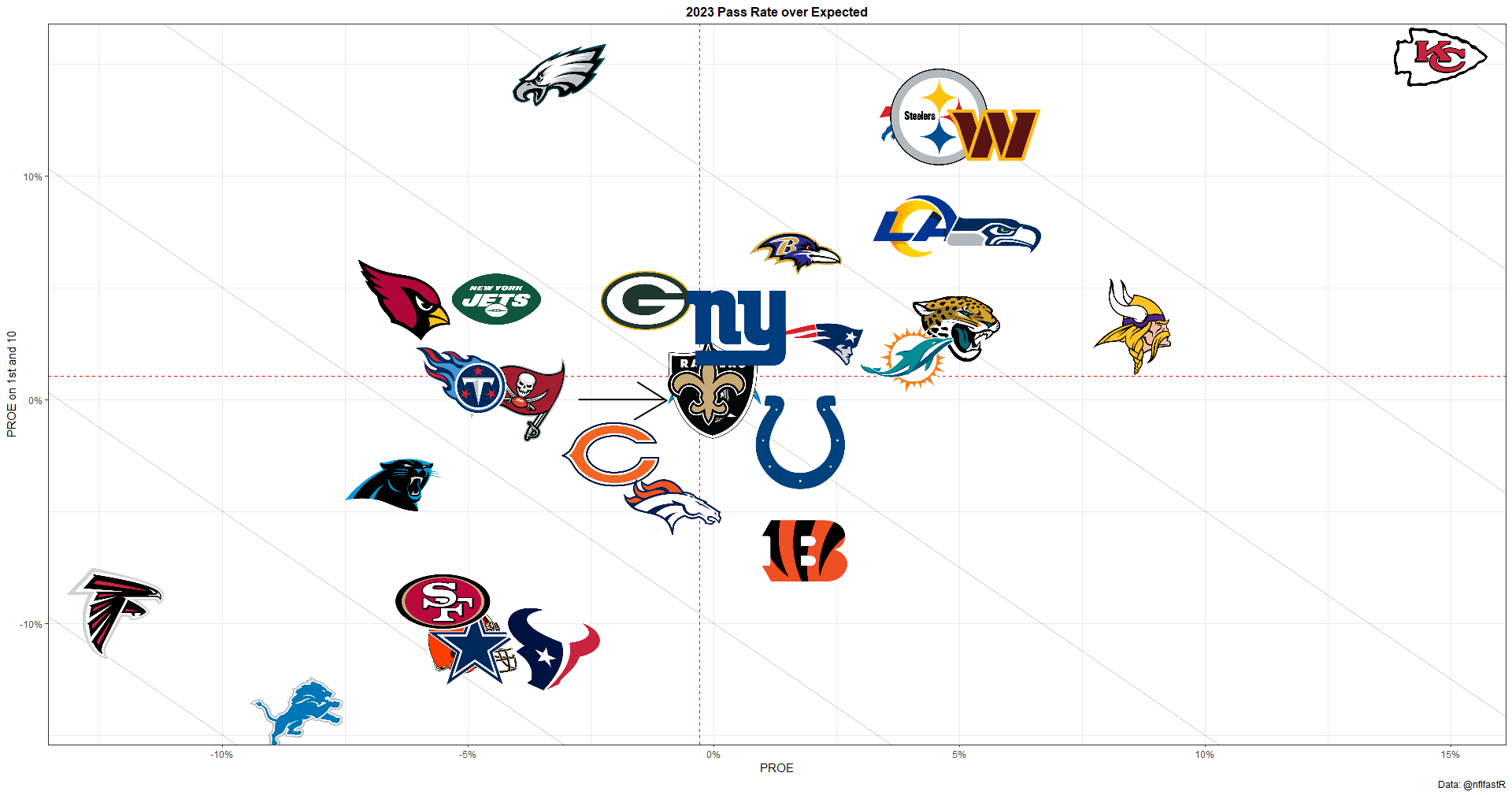 But, like the Dolphins, the Vikings will probably invite the Chargers to run the ball. After operating with an 8% PROE in Week 1, the Eagles shifted heavily to the run against Minnesota, posting a -12% PROE. This seemed to be a choice by the Vikings, as a means of keeping a cap on the Eagles' explosive passing game.
As we saw in Week 1, the Chargers are open to running the ball if the opportunity arises. And even if the Vikings don't prioritize stopping the pass over the run... the Vikings can be run on.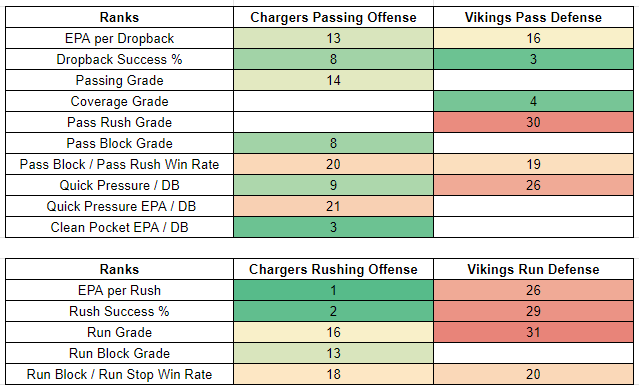 With Austin Ekeler still dealing with an ankly injury, it looks like another week of Joshua Kelley leading the way.
Kelley handled the load for the Chargers in Week 2, posting a 78% snap share and a 62% share of team attempts. Elijah Dotson, who I'd definitely heard of before the game, mixed in for four carries, with Isaiah Spiller seeing just one attempt.

It was a brutal week for Kelley, who managed just 3.9 PPR points. But the biggest issue for is that the Chargers clearly do not view him as a passing game weapon. With Ekeler out of the lineup, Kelley saw high-end route participation (66%) but was targeted just once. He has just a 3% target share this season.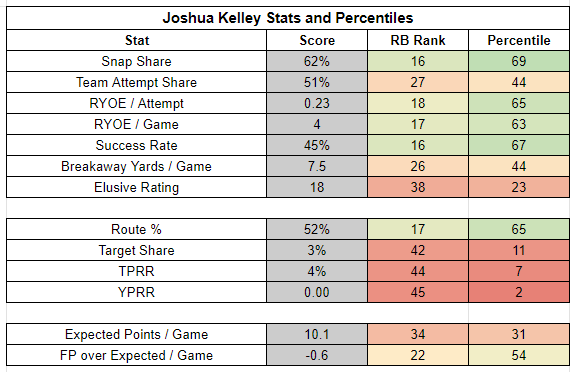 Kelley's fantasy value is driven almost entirely by rushing production. But, fortunately, he looks like a competent rusher. He ranks RB17 in RYOE per game and RB16 in success rate. This is the type of matchup where he's worth going back to as an RB2, assiming Ekeler is out.
But even with the potential for a run-first game plan, Justin Herbert should be an efficient producer. Herbert ranks QB11 in EPA per game and QB5 in success rate.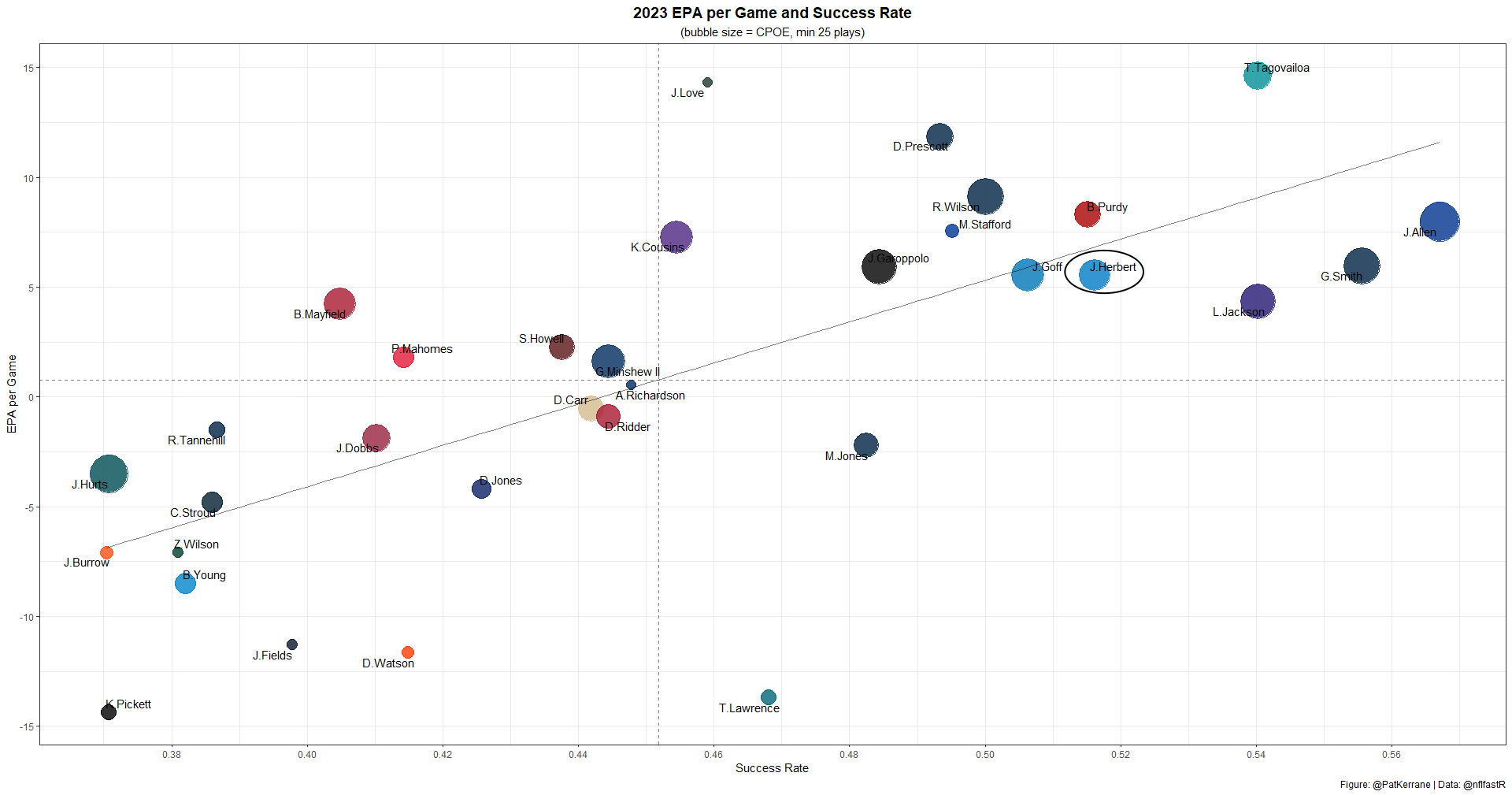 And the Chargers passing game remains highly concentrated. Quentin Johnston debuted with 38% route participation and then dropped to 20% in Week 2. The passing offense continues to flow through Keenan Allen and Mike Williams who are combining for a 52% target share.

Both Allen and Williams look like great plays this week. Williams missed some routes in Week 1 after taking a hit, but he was back to 89% route participation in Week 2. And after seeing strong per-route target volume against the Titans, he looks like just as solid of a play as Allen.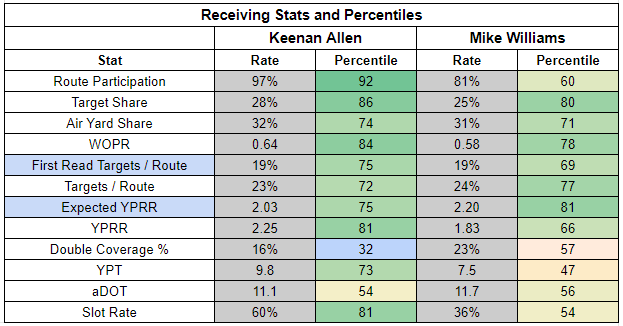 The Chargers commitment to the pass a minor concern this week. But there should be plenty of points in this game, given it has the highest total of the week. And when Herbert drops back, we know where the targets will be going.
Vikings Implied Team Total: 27.5
The 0-2 Vikings need a get-right spot... and they've already played Tampa Bay.
But the Chargers defense profiles as a near-perfect matchup for the Vikings.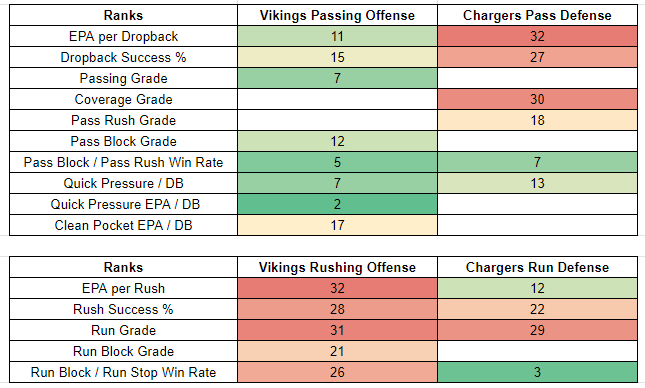 The Chargers are decent at stopping the run, but the Vikings can't run the ball on anyone, so who cares? More importantly, the Chargers have been terrible at stopping the pass, allowing Tyreek Hill to go nuclear in Week 1 and letting Ryan Tannehill lead the NFL in completion percentage over expected (CPOE) against them in Week 2.
The Chargers are decent at getting pressure, but the Vikings have held up well in pass protection this year, ranking fifth in pass block win rate.
With the highest total of the week, Vegas is expecting this game to be a shootout. If it plays out that way, we can count on the Vikings to lean into the script. That's how they played things in 2022, and that's how they're playing it this year.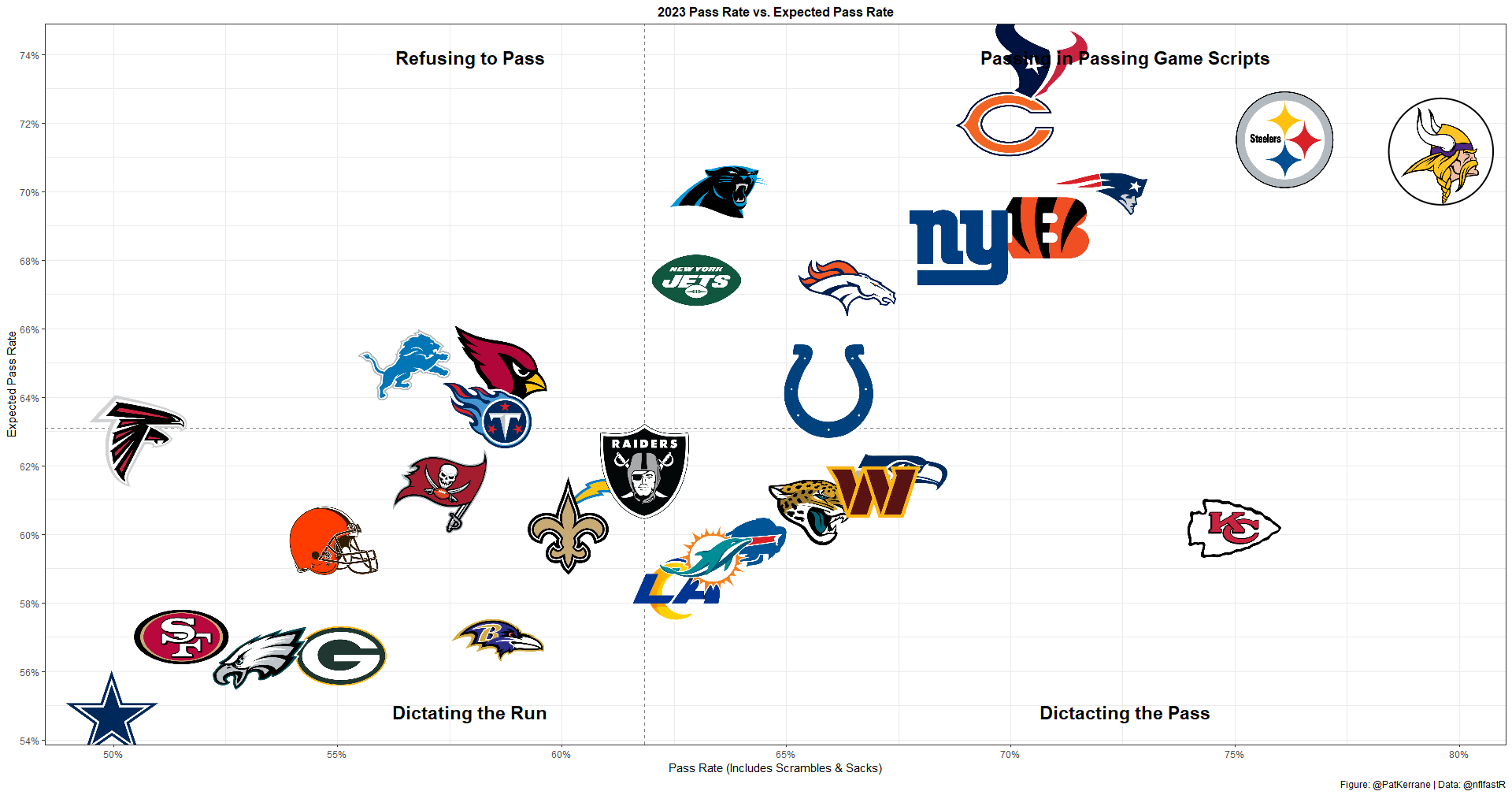 If the Vikings can continue protecting Cousins, they should have a lot of success attacking downfield. In a league obsessed with preventing explosive gains, the Chargers aren't getting the job done. They've allowed 15+ yard passes on 26% of dropbacks, the highest rate in the NFL. Much of that was driven by Miami's 17 (!) explosive passes in Week 1. But this is not the defense you'd pick to shut down Justin Jefferson.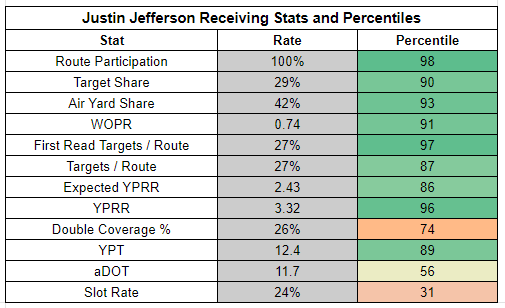 Unsurprisingly, Jefferson looks like an absolute superstar this season. He hasn't missed a single route and is the engine of the passing attack with a 27% first-read target rate. Even while dealing with a high rate of double coverage, he's delivering an ultra-elite 3.32 YPRR. He has a massive ceiling this week.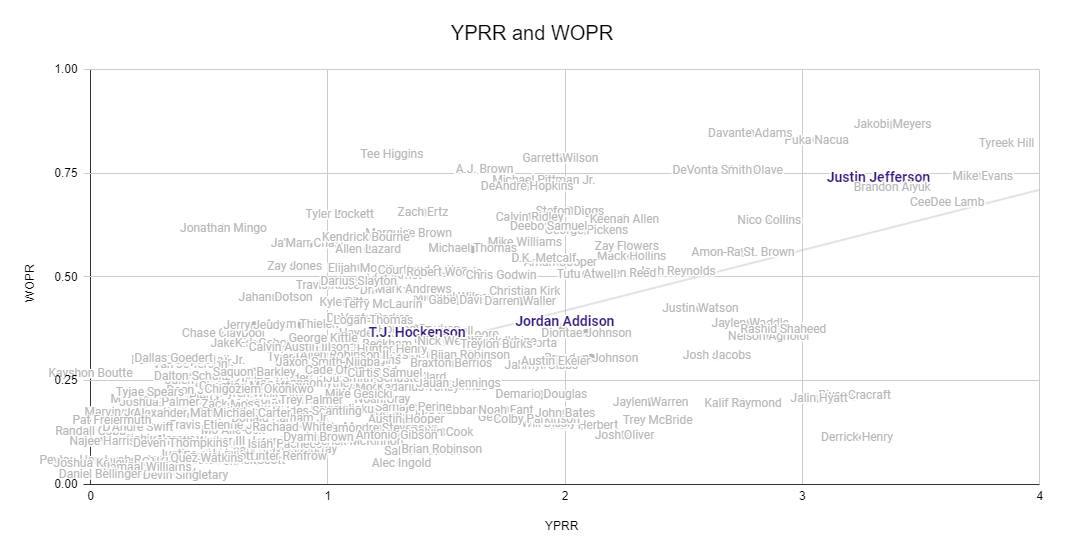 Jordan Addison's profile is less exciting than Jefferson's, but he looks like a great fit for this matchup. The Vikings should be taking shots downfield against the Chargers, and Addison has been their go-to guy on deep shots.
With defensive attention flooding to Jefferson, defenses can't fully account for Addison, who has seen double coverage on just 15% of his routes, compared to 26% for Jefferson.
And the Vikings are taking advantage of Addison's ability in one-on-one matchups downfield. With a 16.5 aDOT, a 26% air yard share, and 1.99 YPRR, Addison is operating as a high-level deep threat.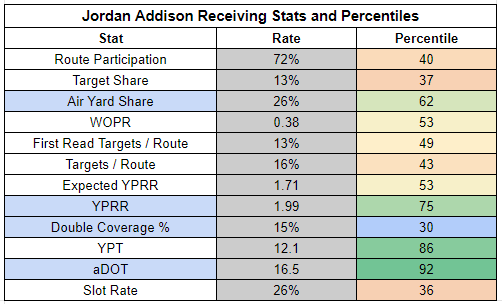 In route participation, Addison (72%) remains behind K.J. Osborn (95%), but Osborn's low-end 0.74 YPRR would make him vulnerable to losing playing time under normal circumstances. It doesn't help that he has an explosive rookie on his heels.
Addison is a boom/bust option this week, but he's the type of guy I'd be breaking ties toward in the FLEX. Addison is also a very interesting DFS play. He's in an ideal game environment and gets a matchup that perfectly fits what the talented rookie is bringing to the Vikings offense.
T.J. Hockenson is more volume-dependent. He has an elite 21% first-read target rate, but his role in the offense has him soaking up a lot of underneath coverage. And when he is targeted, it tends to be very shallowly.
Hockenson's role in the Vikings offense isn't dissimilar to Evan Engram's with the Jaguars—with the important distinction that Hockenson is a much bigger part of his offense.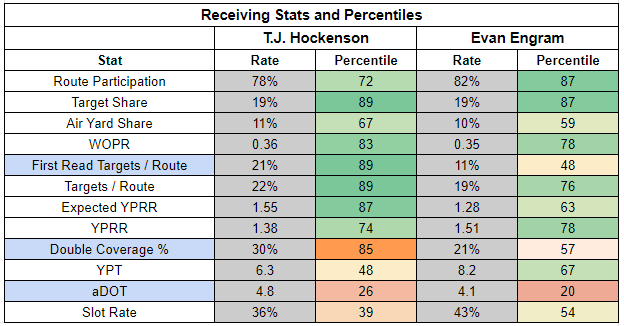 Even though Hockenson looks like a volume-driven play, he is earning targets at an impressive rate. In a game with a 54 point total and a game plan that should revolve around the pass, target volume shouldn't be a problem.
Volume was the stated reason for Alexander Mattison's ridiculously inflated late-summer ADP and Mattison's rushing volume has been as promised... so far. He has an elite 79% share of team attempts.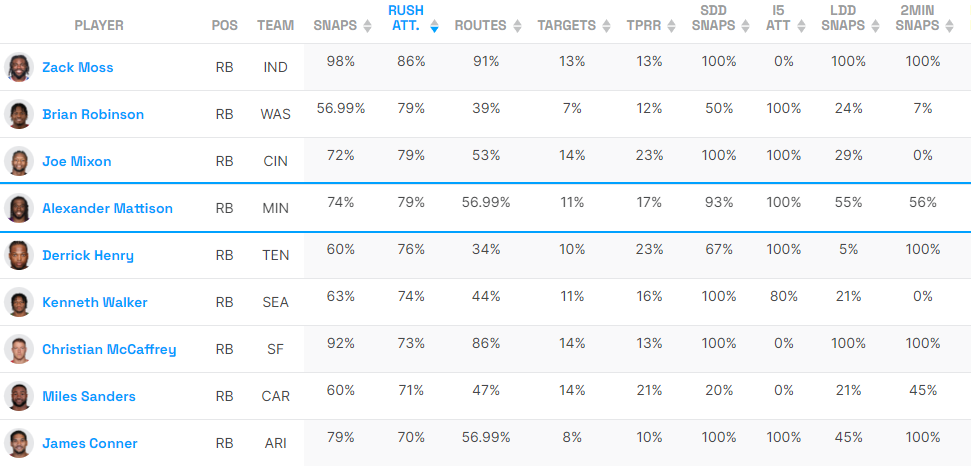 The problem is that Mattison is not a starting-caliber NFL RB. His four-year track record in the league made that blatantly obvious entering this season, but the Vikings and a slew of fantasy managers powered ahead anyway. The results have been even worse than I anticipated.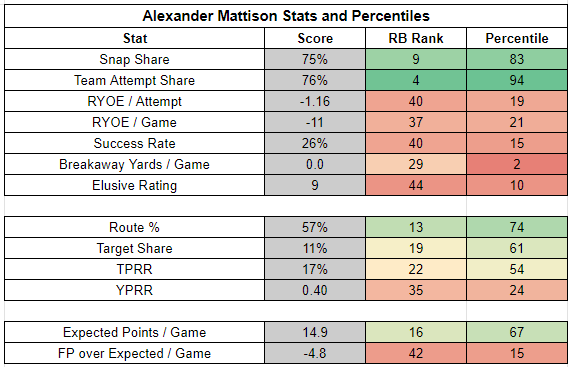 The Vikings have now added Cam Akers to the mix. But Akers has been even less efficient than Mattison and didn't earn a single target in Week 1.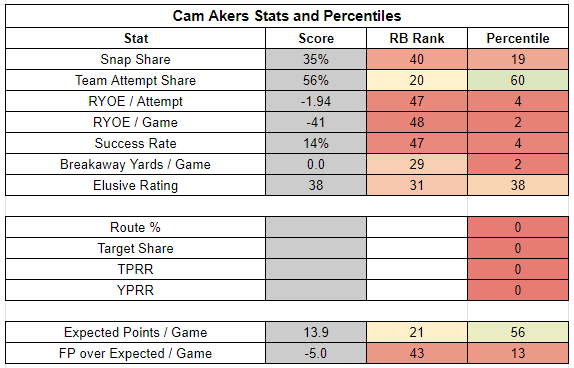 Akers doesn't look like a threat exactly, but he does create some uncertainty for Mattison's workload. Mattison's receiving volume looks safe. But it wouldn't be shocking to see Akers used at the goal line. Mattison has handled 100% of the Vikings' attempts inside the 5. Given his efficiency, if he cedes any of the work to Akers it will really hurt.
Mattison profiles as a TD-or-bust RB2. This is the right game environment for a TD-dependent bet, but Mattison's floor is definitety a concern.
Broncos at Dolphins, 1 PM
Broncos Implied Team Total: 20.75
Maybe the issue really was Nathaniel Hackett. A season ago, Russell Wilson produced negative EPA and finished QB31 in success rate. And that's when he wasn't filming chilling commercials for Subway.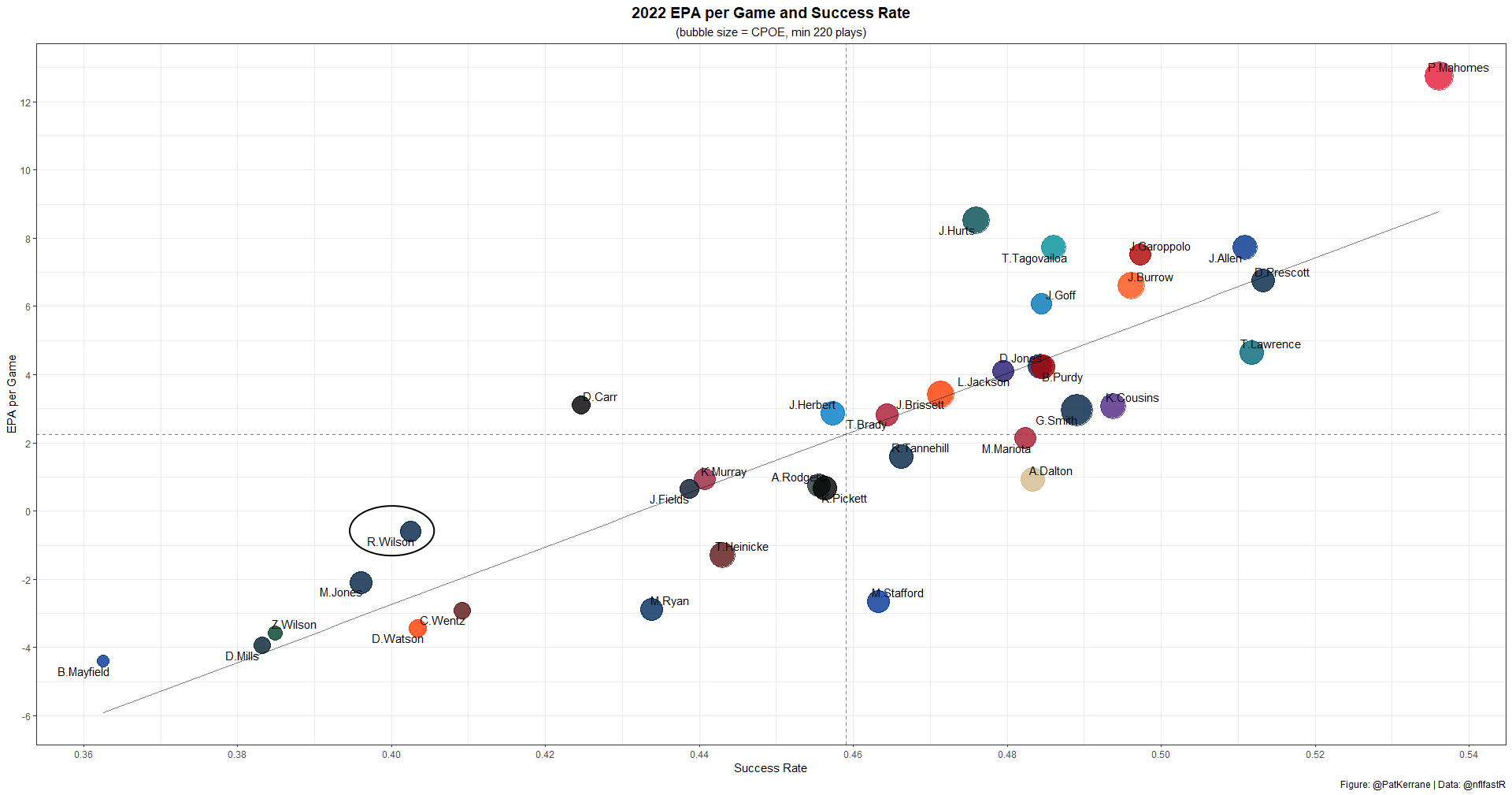 But in two games under Sean Payton, Wilson has been much better. Sure, he hasn't been perfect. But the Broncos can produce a functional offense with Wilson playing like this.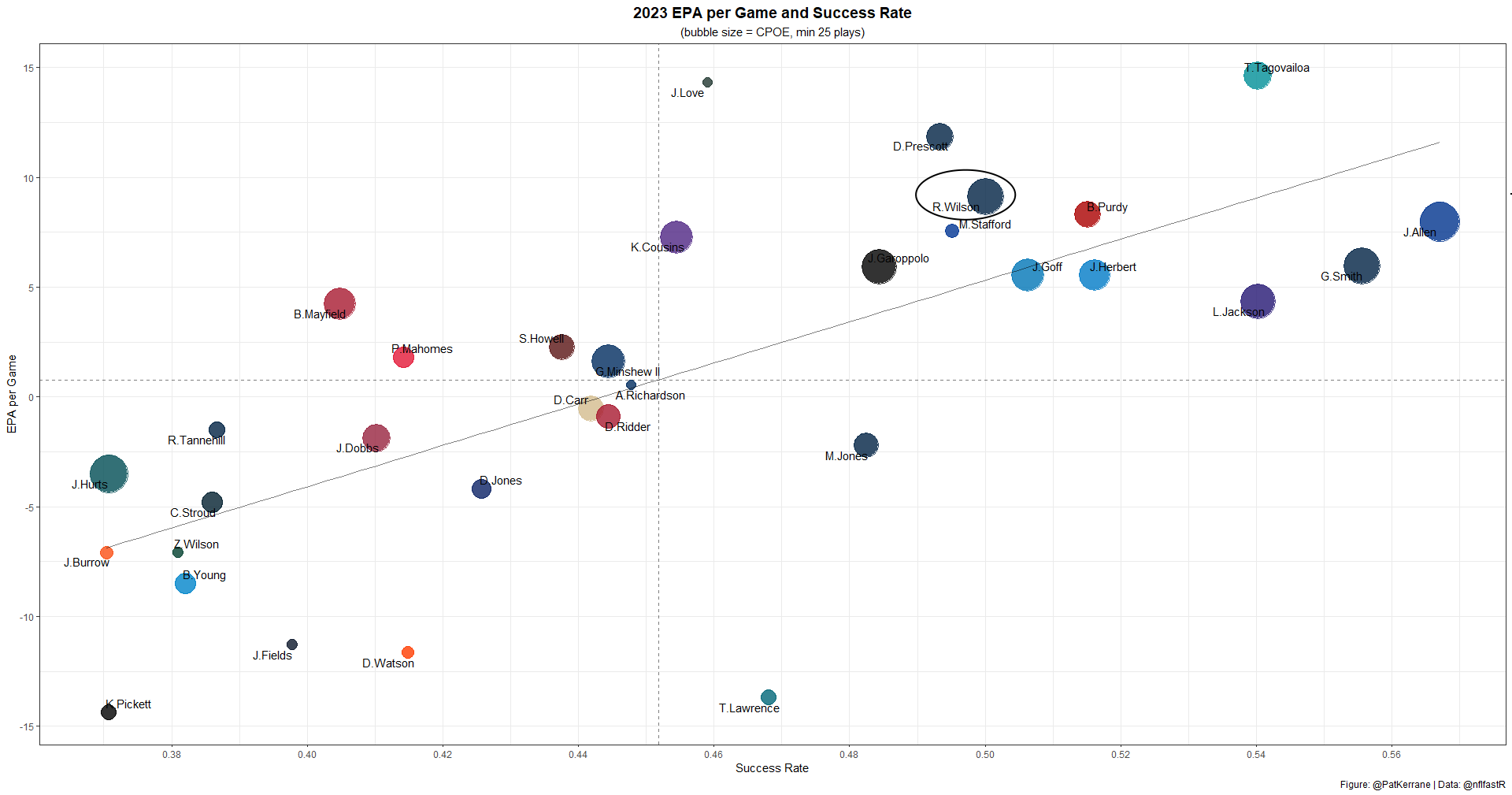 Encouragingly, Payton seems to like what he's seeing. The Broncos have a -1% PROE and a -5% PROE on 1st down. So they're signaling a somewhat conservative approach. But their game scripts have not been conservative so far. Their expected 67% pass rate is the 10th-highest in the league. So their "balanced" overall approach is leading to plentiful dropbacks.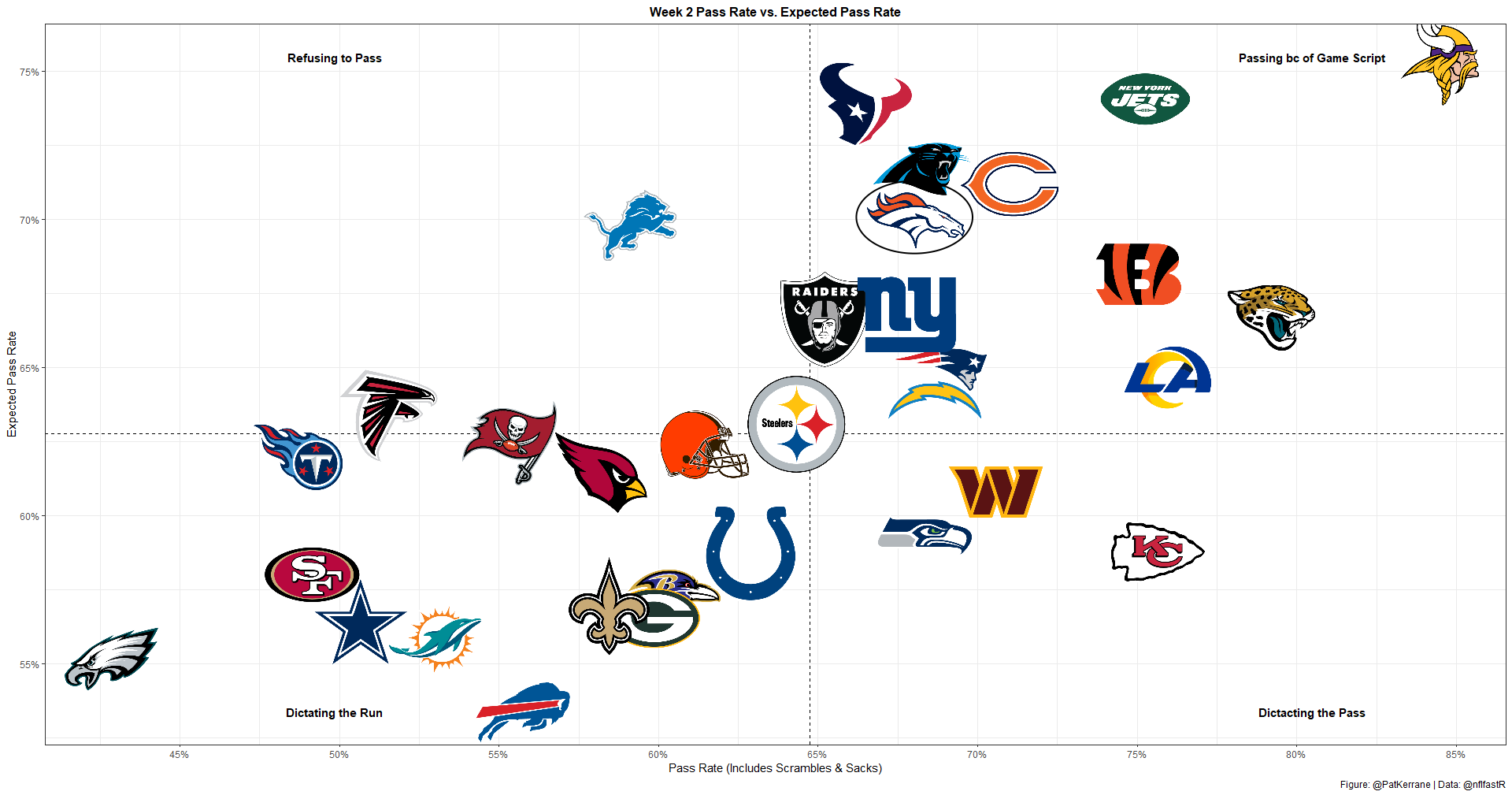 The Broncos' willingness to lean into pass-heavy game scripts is especially important as 6.5 point road underdogs in Miami. If Payton got to pick the style of this game, he'd likely pick something fairly conservative. But he appears willing to play to win, which could mean a lot of passing if the Dolphins play up to their potential.
And the Broncos are nearing full strength in the passing game. Jerry Jeudy returned in Week 2 to post 86% route participation. His 19% target share was a bit lacking, but he should see more targets in his second week back in action. Jeudy looks like a better way to play this passing game than Courtland Sutton, who has a similar target profile but doesn't have the excuse of returning from a hamstring injury.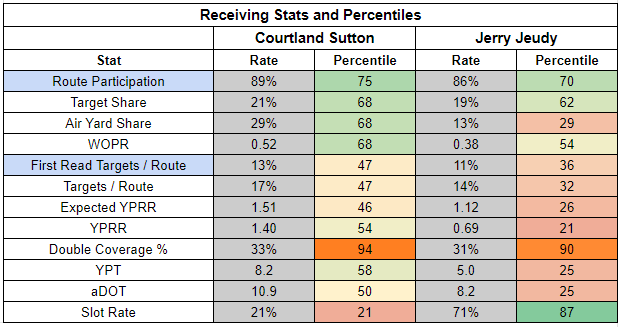 But this offense won't be at its best until Marvin Mims has a full-time role. Mims is being kept off the field by Brandon Johnson and Lil'Jordan Humphrey but it's only a matter of time until the rookie earns more playing time.

The Broncos are absolutely feeding Mims when he's on the field. He has an elite 25% first-read target rate, which is especially impressive for a deep threat. With a 23.8 aDOT, Mims has an expected 3.13 YPRR. So, yes, he's going to regress from his absurd 7.63 YPRR. But he still has elite per-route opportunity backing that up. Now we just need more routes.
In this type of situation, I would not expect Mims to suddenly be in a full-time role. But at the same time, I would be shocked if Mims stayed in this type of rotational role all season. This is often the story with rookies. It doesn't always happen right away, but when a high draft pick delivers on big opportunities, we can expect big things down the line. For now, I'd keep Mims on the bench, but he's a priority stash even in shallow bench formats.
In the backfield, things remain split. In fact, after leading the backfield with a 48% snap share against the Raiders, Javonte Williams (46%) played slightly behind Samaje Perine (51%) against the Commanders. Perine appears to have a meaningful route participation edge, and projects to be the snap leader again this week.

Frustratingly, Williams only has 25% of short-down-and-distance snaps... making him a dreaded TRAP back. Hopefully, as Williams returns to full health, he'll capture more of Denver's high-value touches.
And that isn't just blind hope. Williams ranks RB2 in TPRR. His route participation is frustratingly low, but his target rate indicates that the Broncos view him as a receiving game contributor. More snaps should mean more routes, eventually.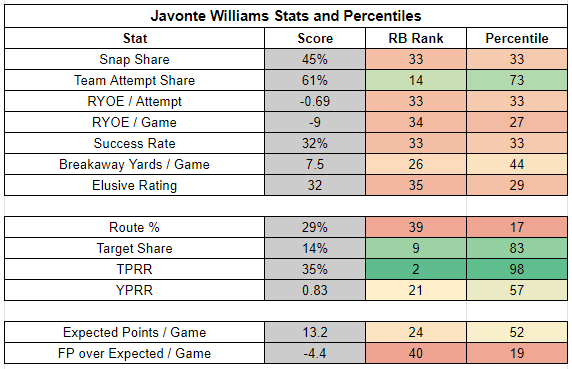 This week, Williams looks like a very risky but viable play. And with the potential for this game to shoot out, Perine looks mildly intereting as a starter on zero-RB teams.
Dolphins Implied Team Total: 27.25
The Broncos' defense has faced the Raiders and the Commanders this year, yet they still rank 29th in EPA allowed per dropback. In other words, the Broncos look like a bad pass defense, but they might be a really bad pass defense. And they are now facing the top ranked passing offense in the NFL.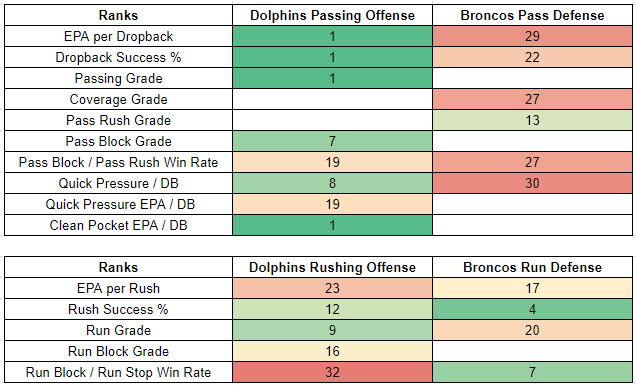 The Dolphins' biggest weakness as a passing offense is that they don't have a great offensive line. They've held up pretty well so far, but rank only 19th in pass block win rate. But they are likely to get Terron Armstead back this week. And either way, the Broncos are not well suited to take advantage of poor offensive line play. They rate well in PFF's pass rush grades, but aren't winning quickly; they rank 27th in pass rush win rate and 30th in quick pressures per dropback.
An inability to generate quick pressure is an especially big issue when facing the Dolphins because Tua Tagovailoa has the quickest time to throw in the NFL.
And unlike many other quick passers, Tua is still attacking downfield on quick throws. On throws under 2.5 seconds, Tua has a 7.6 aDOT, the second-deepest in the NFL. Other quarterbacks, like Sam Howell (1.1 aDOT), Desmond Ridder (2.6 aDOT), and Justin Fields (3.3 aDOT), are doing very little damage on quick throws. But Tagovailoa is able to pick apart defenses that can't get to him quickly.
To make matters worse, Denver is actually pretty decent at stopping the run, ranking fourth in rushing success rate. That strength could ultmiately be a weakness if it causes teams to attack their pass defense even more aggressively. And the Broncos are already flashing signs of being a pass funnel.
Teams are averaging a 5% PROE against Denver and shifting 3% to the pass. And these games were Jimmy Garoppolo's first start for the Raiders and Sam Howell's third start of this career. In other words, the Broncos look like a pass funnel, but they might be a big-time pass funnel.
This is all terrific news for the Dolphins passing game, which is already operating at an extremely high level. Tua currently ranks QB1 in EPA per game and QB3 in success rate.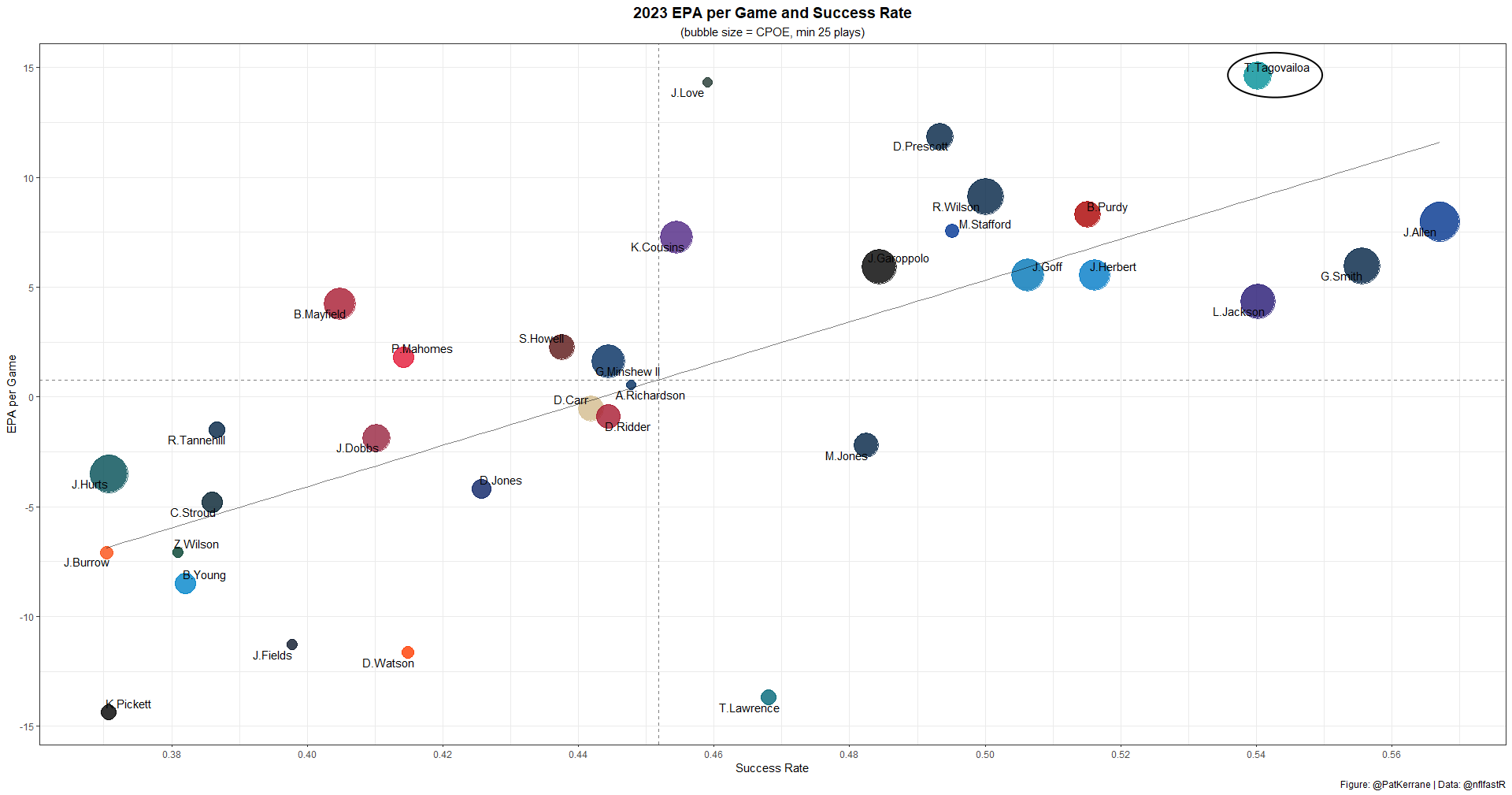 This week's matchup offers the potential for efficiency and volume. It's hard to believe that Mike McDaniel hasn't noticed how juicy this passing matchup is. And even if the Broncos offense doesn't push back, the Dolphins have shown a willingness to pass from ahead.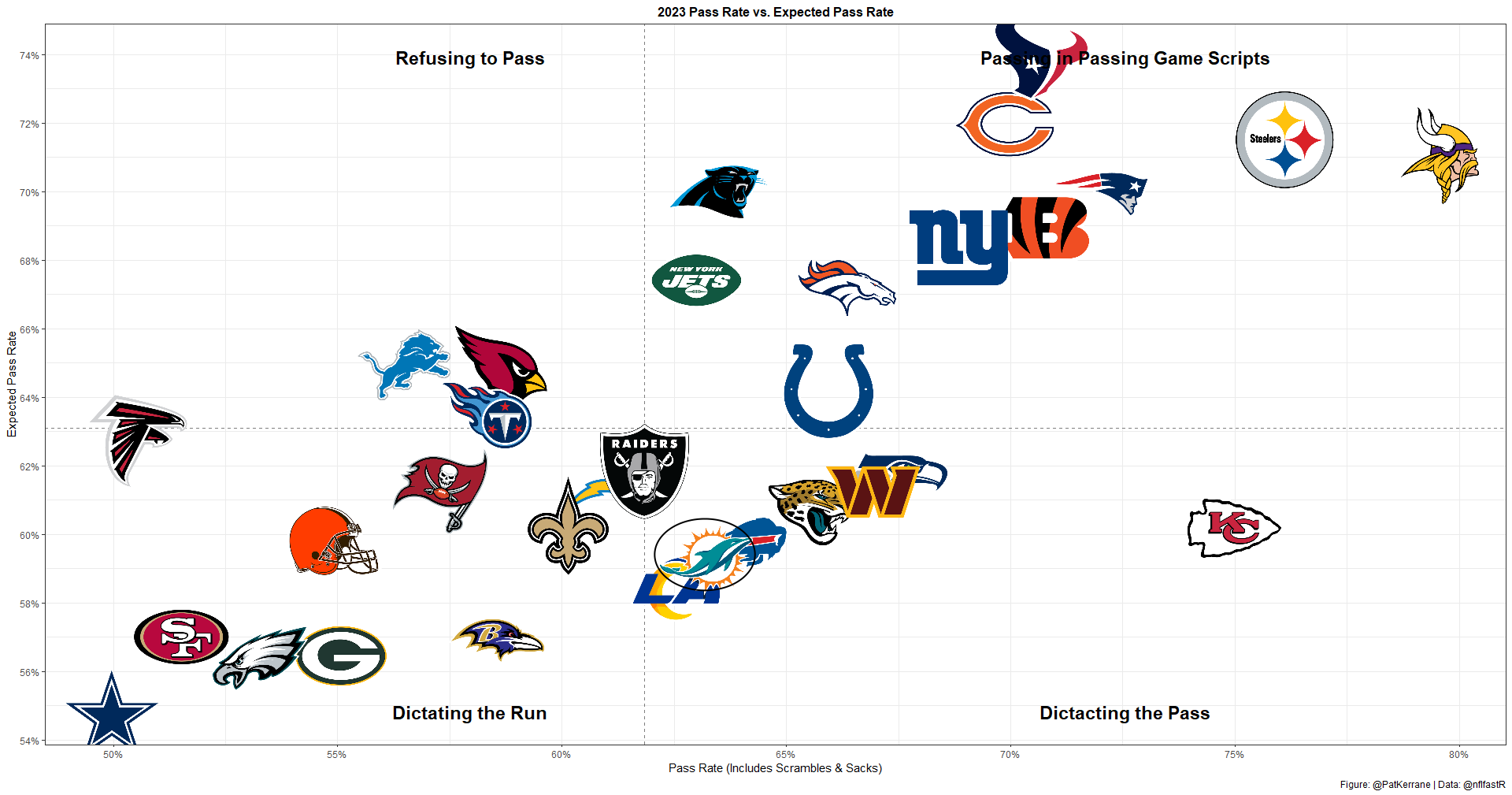 And even without Jaylen Waddle – who has yet to practice this week – this offense should be more than capable of putting up points. Tyreek Hill is just that dominant. With a 0.82 WOPR, Hill is accounting for an enormous share of the Dolphins offense, and he is doing it with an NFL-leading 3.86 YPRR.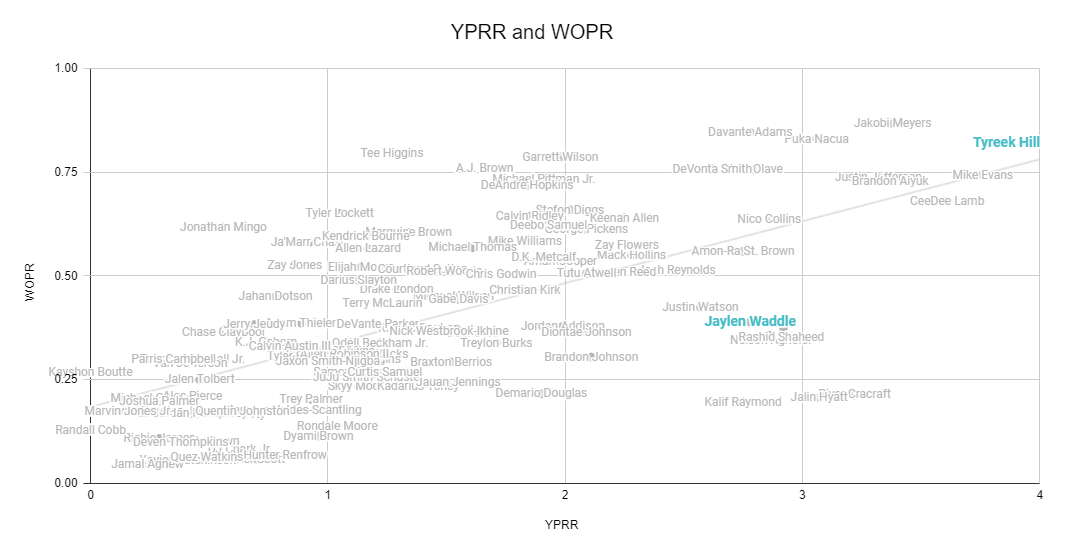 Hill profiles as the highest-upside skill player of the week.
If Waddle is unable to suit up, River Cracraft looks like his replacement. Cracraft lined up exclusively on the outside against the Patriots, and played well, posting 4.25 YPRR. With two first-read targets on eight routes, he wasn't ignored, and he'll likely run more routes without Waddle than Braxton Berrios who has run 59% of his routes from the slot. Cracraft's playing time projection is risky, but he looks like a viable DFS punt play, as does Berrios.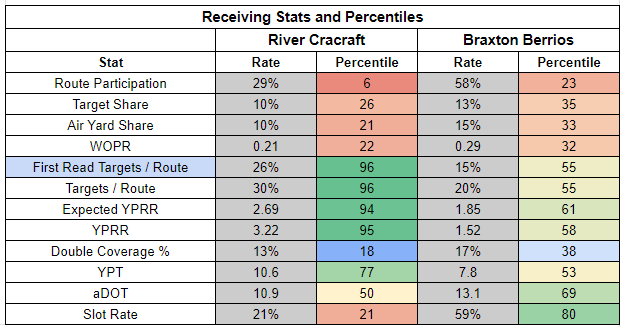 Less target competition is good news for Durham Smythe, who has been running a lot of empty routes. Smythe ranks TE1 with 94% route participation. If you want to tilt Kyle Pitts drafters, tell them he's running routes less frequently than Durham Smythe.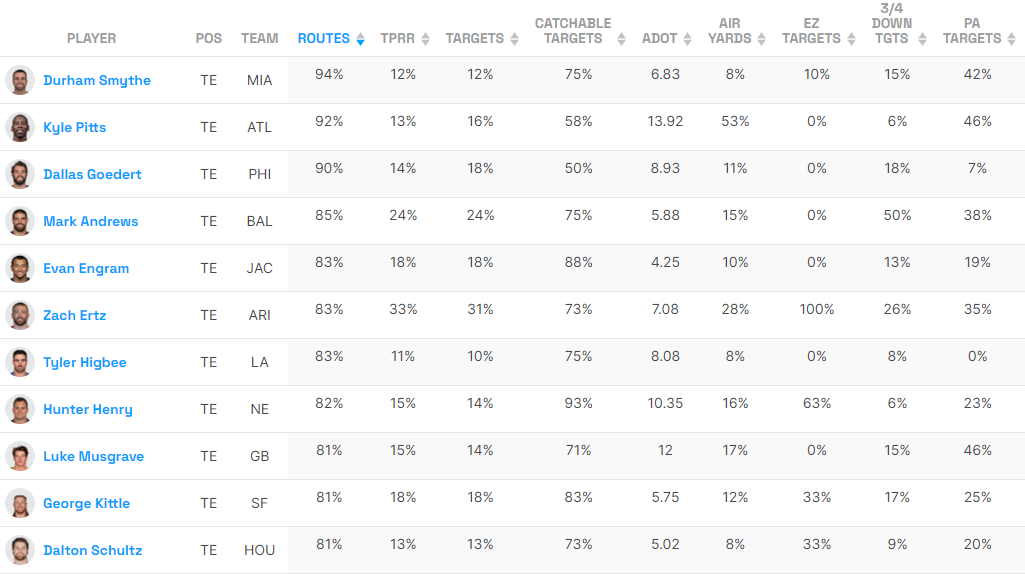 Smythe is validating my thesis PAPR by consolidating some of Mike Gesicki's receiving role with the traditional TE snaps Smythe already had locked down. But Smythe isn't doing much more than running around. His 12% target rate is just 22nd percentile for the TE position. But in this matchup, his route volume puts him in play as a TD-or-bust bet.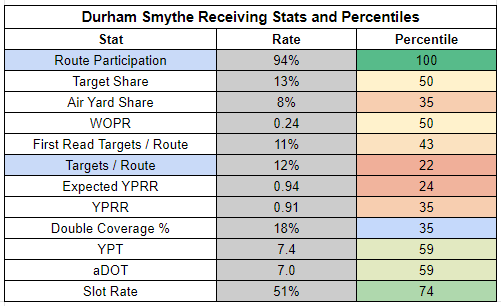 Passing volume isn't great news for Raheem Mostert, though. The Dolphins starting RB has just a 4% target share and a 6% TPRR. Interstingly, Mostert is running plenty of routes, ranking RB7 with 66% route participation. But the Dolphins offense isn't built to check down to the RB.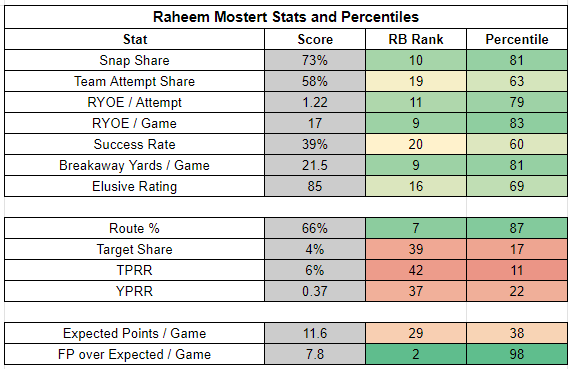 However, Mostert's rushing profile has been impressive. He's RB9 in RYOE per game and is providing an explosive element to the run game. With a 39% success rate, Mostert would be a tough watch if the Dolphins tried to run their offense through him. But his consistency is far less important in his current role. Attached to an NFL-leading passing offense, Mostert is operating as an explosive counterpunch against defenses who don't view him as their top priority. The Broncos are solid against the run, but Mostert is still set up to rip off some long runs.
Texans at Jaguars, 1 PM
Texans Implied Team Total: 17.75
Despite themselves, the Texans might be fun this year.
The Texans would definitely prefer to play conservatively. With a -3% PROE and a -11% PROE on 1st down, they are operating – relative to game script – like the 49ers, Cowboys, and Browns.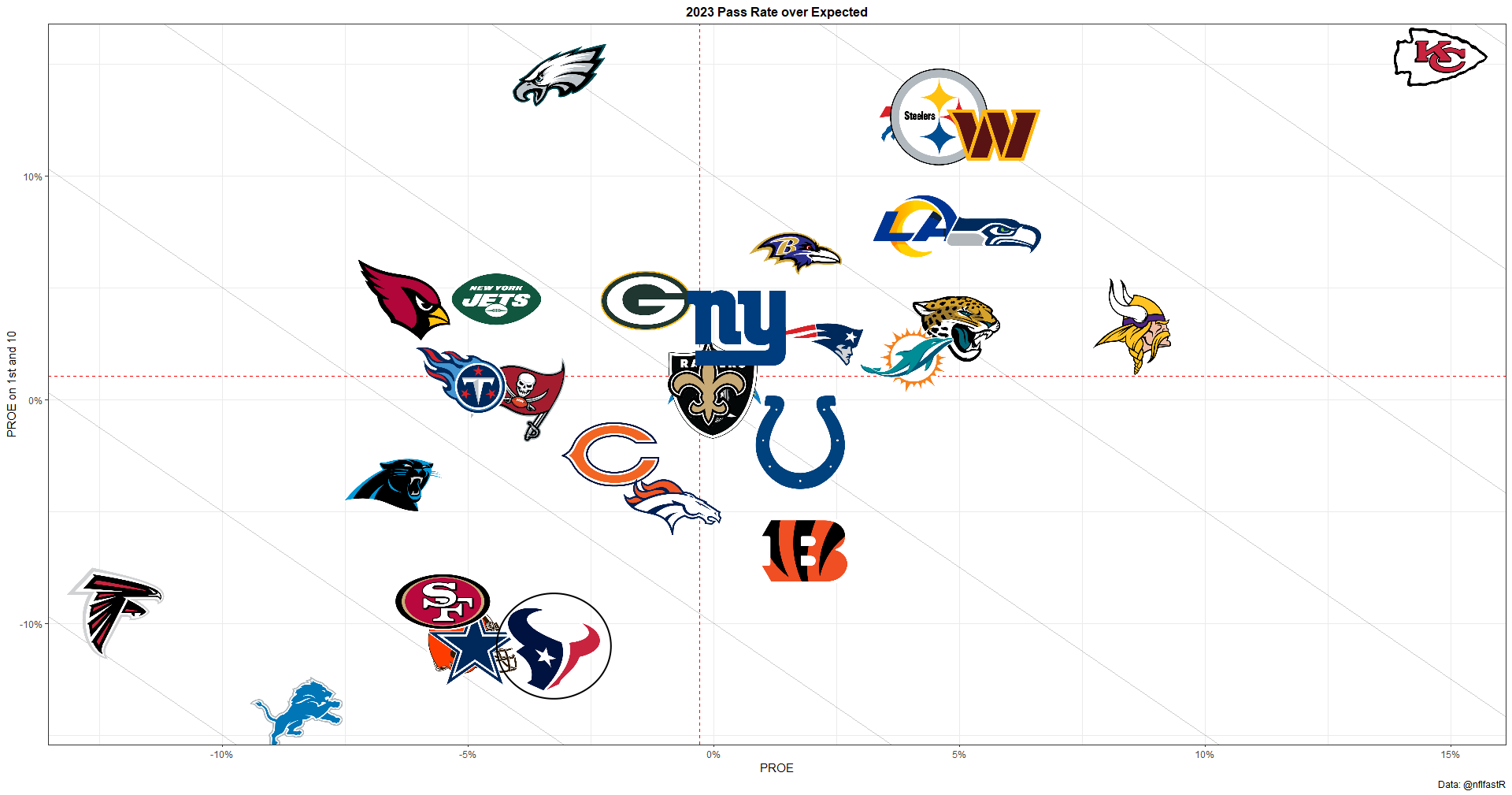 But the Texans aren't nearly as good as the 49ers or Cowboys, or even the Browns. While those three teams have been run heavy in scripts that call for it, the Texans are fighting against pass-heavy scripts.
But... the Texans haven't been fighting that hard.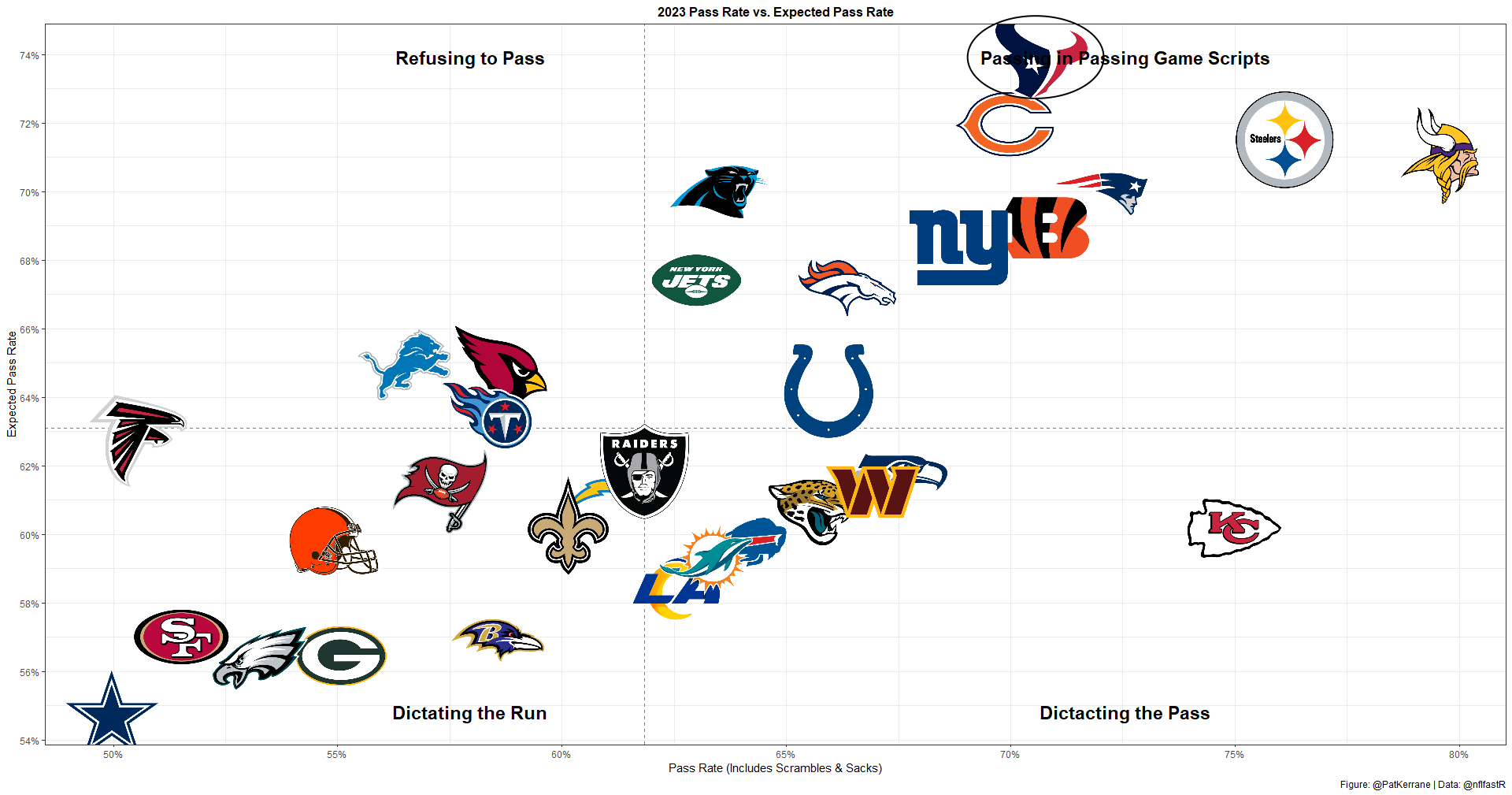 With an expected 74% pass rate, no team has been in pass-heavier game scripts than Houston. So even after finish 3% below expected, their 71% pass rate still comes in as the sixth-highest in the NFL.
This has provided much-needed volume for an inefficient passing game. Eventually, C.J. Stroud may prove capable of efficiently operating an NFL offense, but right now he's among the least efficient signal callers in the NFL.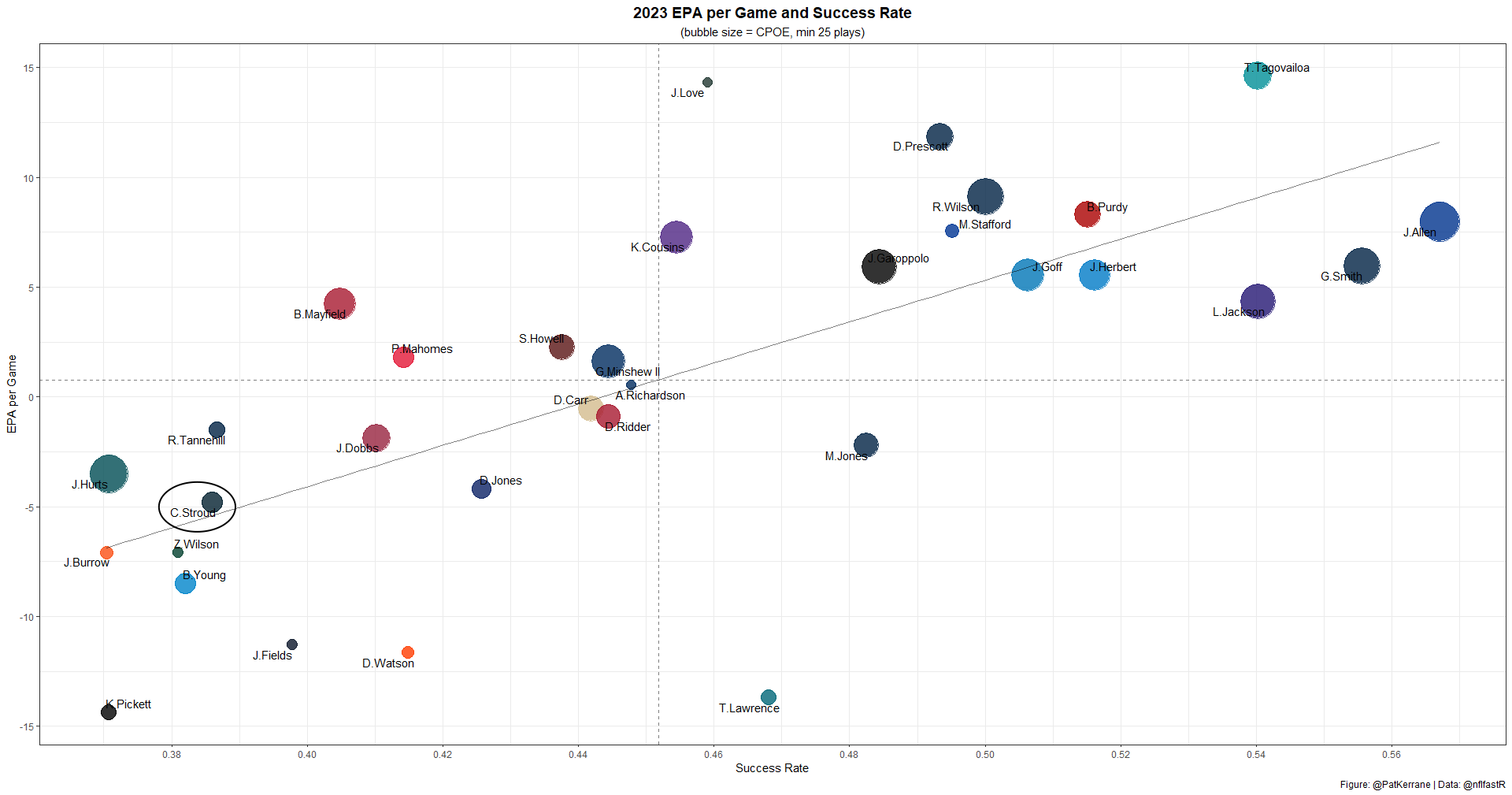 This matchup doesn't look great for Stroud from an efficiency standpoint. The Jaguars aren't a lights-out pass defense, mostly because they can't get to the passer. But they've been very strong in coverage and rank seventh in dropback success rate despite having played Patrick Mahomes.

But the Jaguars offense should help out here. As 9 point home favorites, they are a good bet to put up TDs. That should keep volume in this passing game for the third-straight week.
Of the gross, late-round best ball plays, the Texans WRs are starting to look like the runners-up to the Rams WRs. That's fine by me. One of the first articles I wrote after launching this site identified Nico Collins as a target. I eventually ceded the Nico Collins mantle to Jakob Sanderson and began tweeting about Robert Woods. It's safe to say that Jakob had the better summer.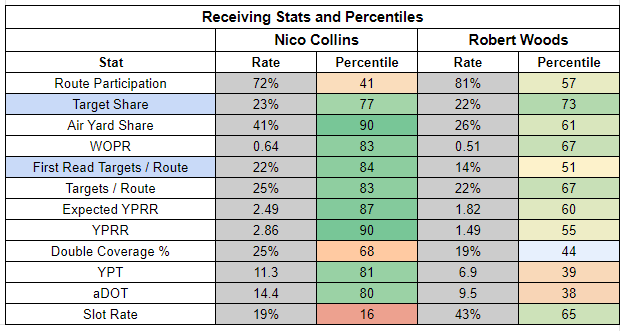 Both players have solid target shares, but Collins looks like the far more interesting player going forward. His 22% first-read target rate indicates that he could be treated as a true No. 1 WR for the Texans. The last step is higher route participation.
With Noah Brown out last week, there was a chance for Collins to see more playing time, but the Texans instead deployed Tank Dell on 82% of dropbacks... leading the Texans' WRs. But although Dell is impressing for an undersized 3rd-round pick, his profile isn't to the level of Collins'.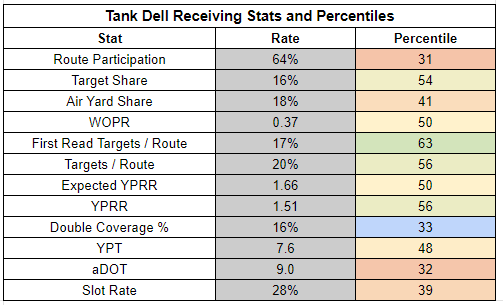 Woods and Dell look like viable dart throws this week, but Collins profiles as a confident FLEX start.
The Texans' backfield continues to look muddled. I've had some pushback on this characterization, with people pointing out that the No. 3 RB usage is coming in garbage time. But... this is the Texans. Garbage time is a fact of life.
Last week, Mike Boone wasn't out there but the result was the same for Dameon Pierce.

Pierce dealt with a heavy dose of Devin Singletary (35% snap share) and Dare Obunbowale (21%). He still managed 63% of Houston's attempts, but only saw three targets for the second-straight week.
Pierce is going against a Jaguars run defense that is almost definitely a paper tiger. They've been awesome by the numbers. But ESPN's player tracking metric is a reminder that they've played Deon Jackson and Isiah Pacheco. Pierce is better than those backs.
But the issue is that the Texans' offensive line may be worse at creating lanes than the Jaguars are at filling them. Eventually, someone will expose the Jaguars on the ground, but it probably won't be Houston, who ranks 30th in run block win rate.
Jaguars Implied Team Total: 26.25
Trevor Lawrence's efficiency has been rough to start the season. In two games, his efforts have cost the Jaguars 13.7 expected points per game; only Kenny Pickett has been worse.
But Lawrence has been much more respectable when looking at success rate, ranking QB13.
Success rate is more stable than EPA. This makes intuitive sense. Success rate measures whether a given play produced positive expected points result or not. A long TD pass or a costly fumble is going to create a big EPA swing, but won't have a huge effect on success rate. The metric is likely to underplay the excellence of a peak Patrick Mahomes season, but success rate will also do a better job of filtering out small sample noise.
When comparing Trevor Lawrence's success rate and EPA, he looks like a clear candidate for positive regression.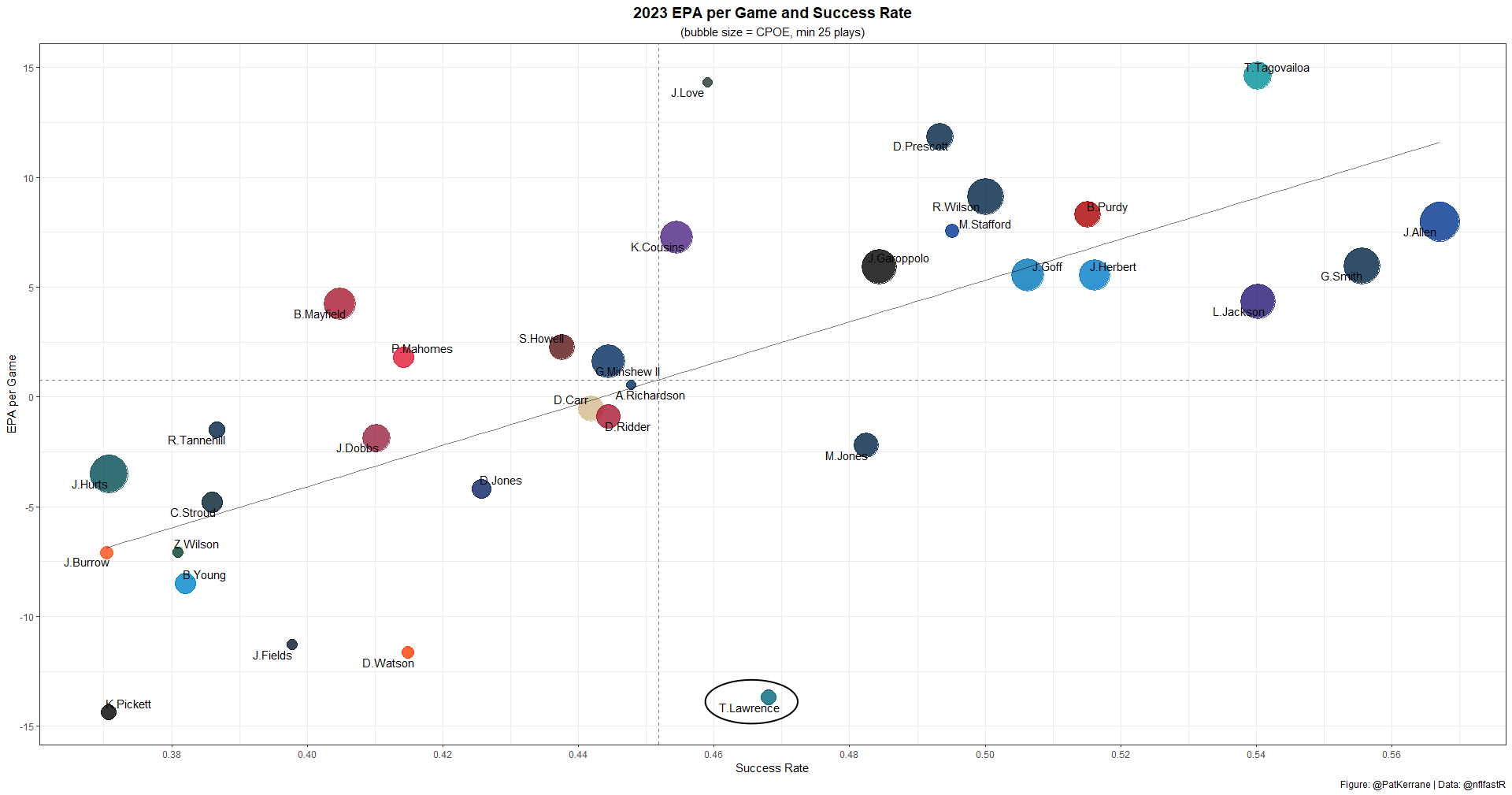 Lawrence now gets a Texans defense that ranks 22nd in EPA allowed per dropback and 19th in success rate. And Houston is banged up as well. They may be without both starting safties for the second-straight week.
The Texans have shown a knack for generating pressure quickly but they look very beatable on the back end.

And despite Lawrence's struggles, the Jaguars are running their offense like a team that believes in their QB. In Week 1, they were aggressive on 1st down against the Colts, despite a run-first game plan. Then against the Chiefs, Jacksonville leaned into their passing game.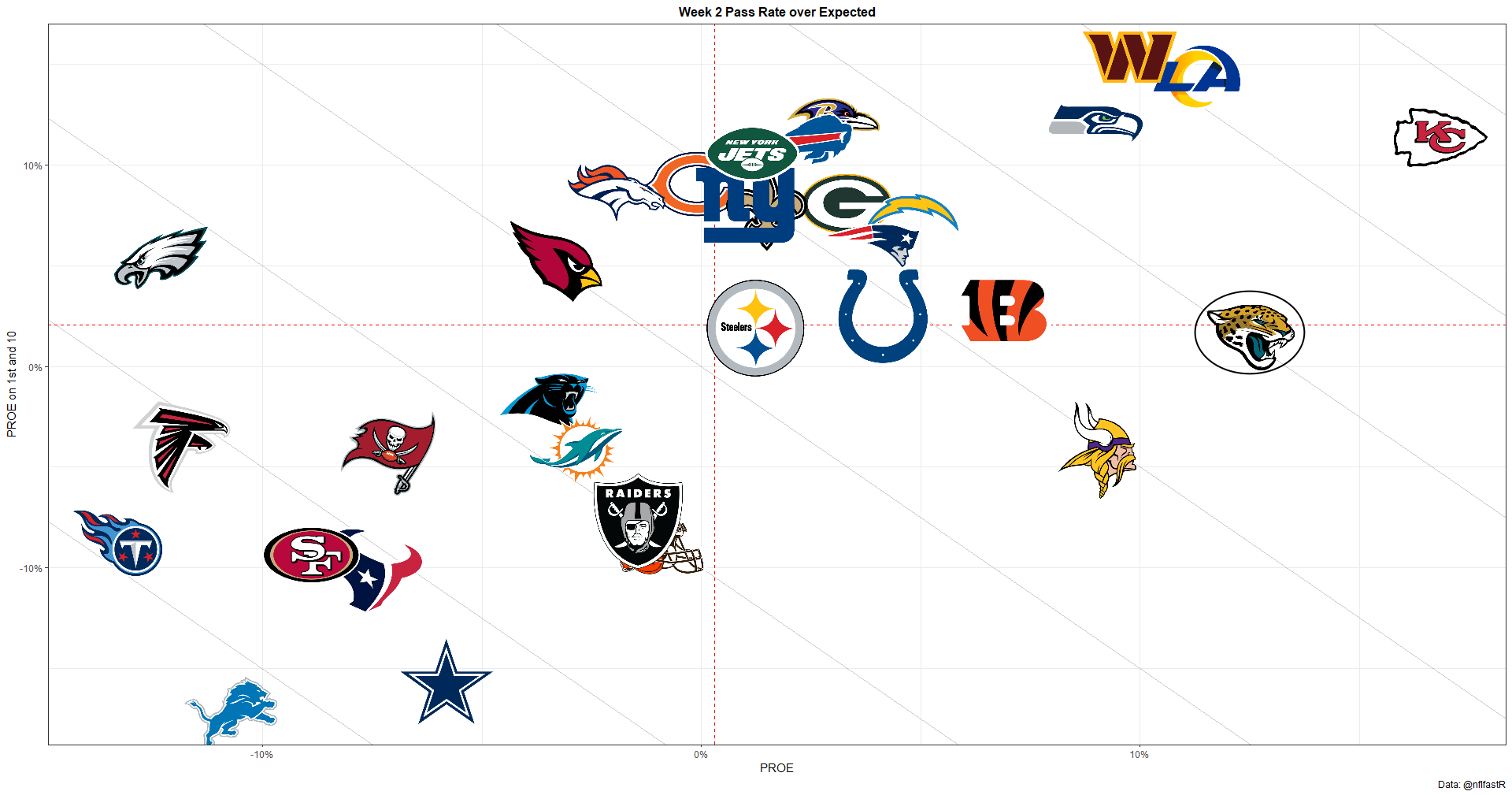 The Texans are vulnerable on the ground, but the Jaguars are likely to maintain a balanced approach against them, giving Lawrence a chance to rebound in efficiency.
Week 2 was a disappointing follow-up for Calvin Ridley, who looked like a potentially dominant WR after Week 1. But his Week 2 production may have been negatively impacted by slamming into the goal post on an end zone target. Either way, through two weeks, Ridley still profiles as the Jaguars' clear No. 1 option.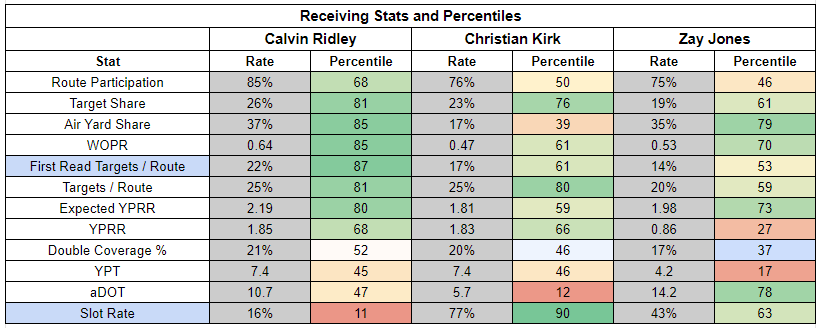 Christian Kirk came to life against the Chiefs, drawing 14 targets, nine of which were first-read. But we could see more heavy personnel against the Texans this week. Houston can be run on and their passing game isn't in the same universe as the Chiefs'; the Jaguars won't feel pressure to air it out aggressively.
But Kirk certainly looks like a better bet for production than he did after one week, especially with Zay Jones now dealing with a knee injury.
At tight end, Evan Engram remains an uninspiring play. As I covered this summer, Engram tends to run routes close to the line of scrimmage, leading to a very shallow aDOT. This makes him a volume-based fantasy play, which isn't ideal in an offense with three viable downfield options. Engram is impressive after the catch, but his 11% first-read target rate indicates that he'll be tough to count on for targets. Although, if Zay Jones is inactive, that should help somewhat.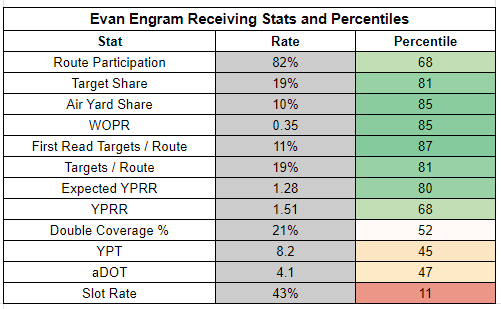 But at least Engram is running a lot of routes. The same couldn't be said for Travis Etienne last week.
After Etienne led all RBs with 83% route participation in Week 1, his receiving involvement cratered against the Chiefs. Etienne's route participation dropped from 83% to 54%, and his target share dropped from 16% to 5%. It was a crushing development in a game where the Jaguars were bitterly disappointing overall.

But the good news is that Etienne's share of rushing attempts spiked from 53% to 86%. He now gets a Texans defense that ranks 30th in EPA allowed per rush and 32nd in run grade.

It was nice to see Etienne's Week 1 receiving involvement because it appeared to indicate a much wider path to fantasy stardom than we'd assumed in the preseason. But rushing is the strength of Etienne's game. He's well-suited to take advantage of this week's matchup and profiles as a high-end RB1.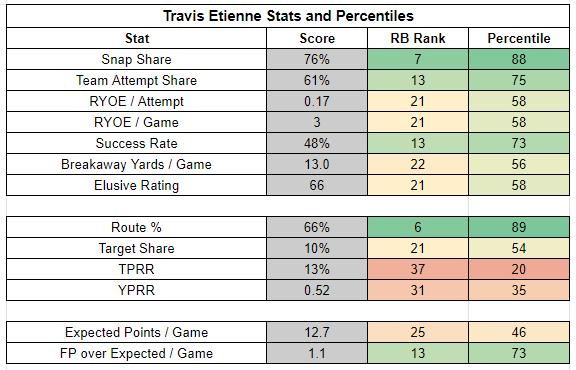 Titans at Browns, 1 PM
Titans Implied Team Total: 18.25
Ryan Tannehill has not had a strong start to the season. He ranks QB21 in EPA per game and his QB27 ranking in success rate profiles similarly to C.J. Stroud, Bryce Young, and Zach Wilson. He's been less consistent than Justin Fields. It hasn't been ideal.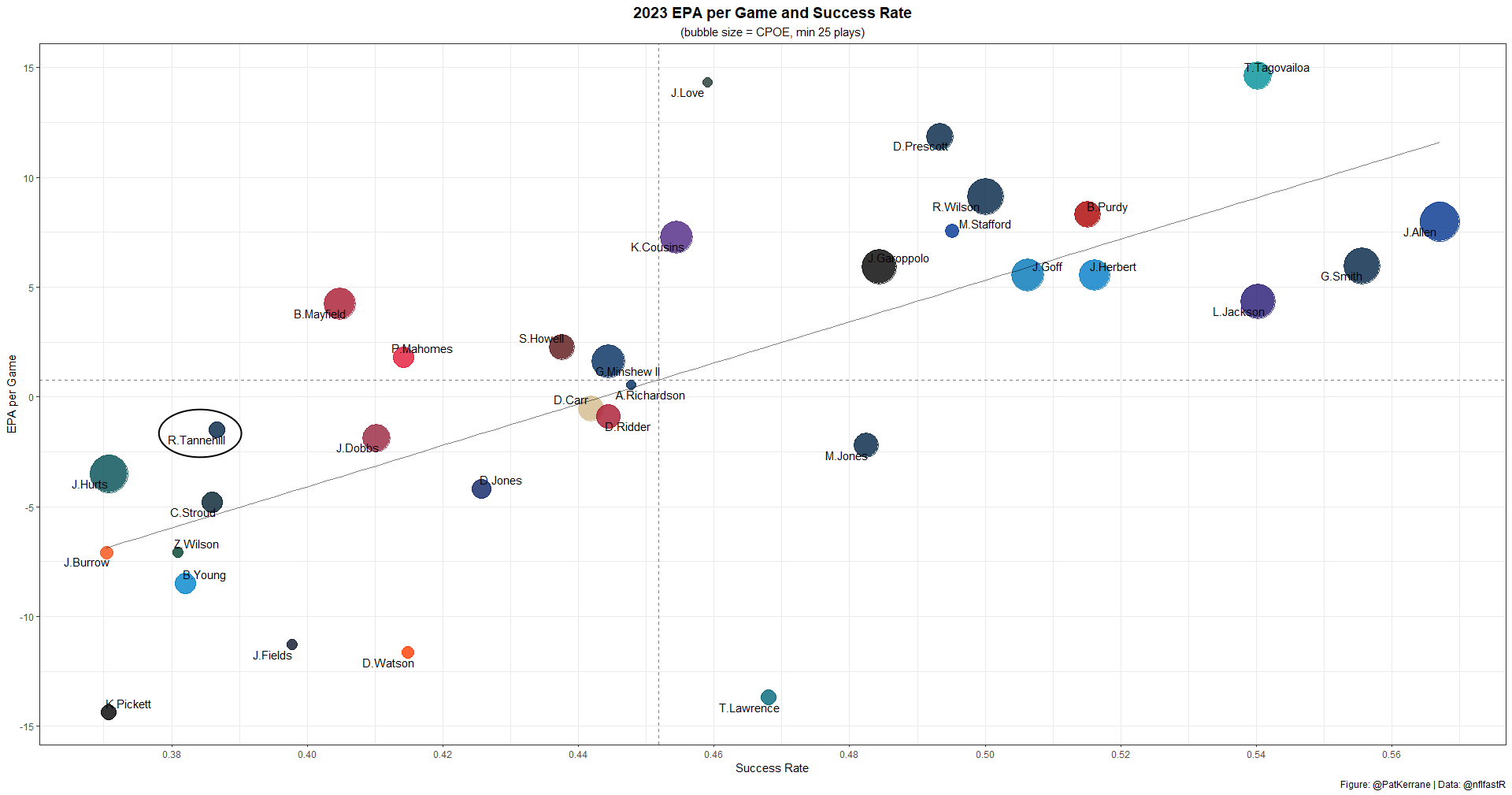 Although, to be fair, most of Tannehill's poor efficiency is being driven by a rough Week 1. He was much better against the Chargers than he was against the Saints.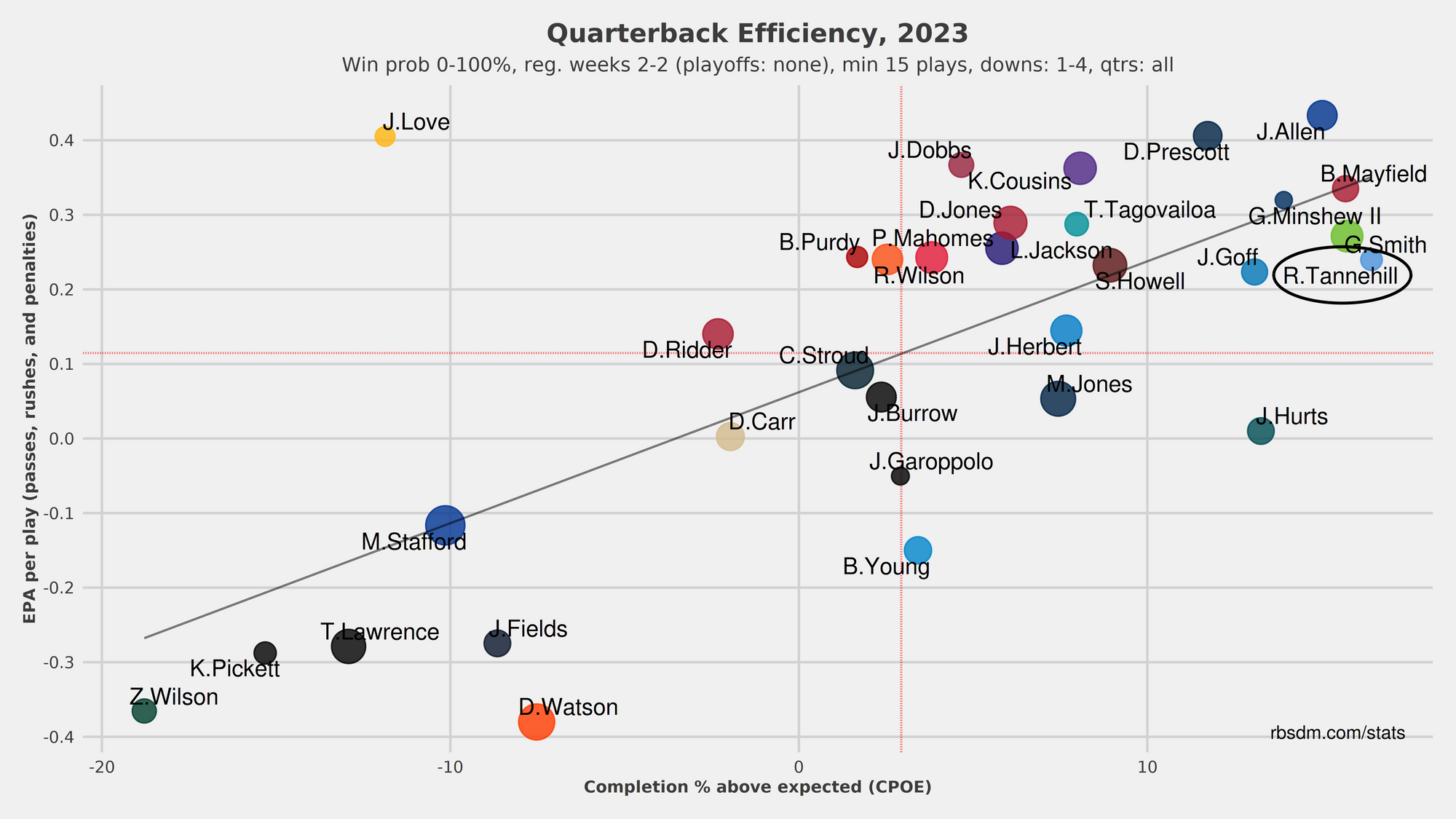 But Tannehill now gets a fearsome-looking Browns defense. Sure, so far they've played a hobbled Joe Burrow and Kenny Pickett, but they'll still present a tougher challenge than the Chargers. And the Titans are expected to be without rookie guard Peter Skoronski – already their best offensive lineman – for the second-straight week.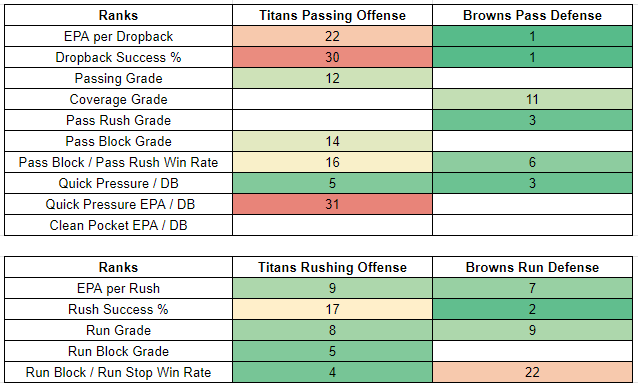 Fortunately, DeAndre Hopkins was able to gut it out on Sunday and will have another week to get right before this game. Tannehill has been leaning on Nuk in a big way this season.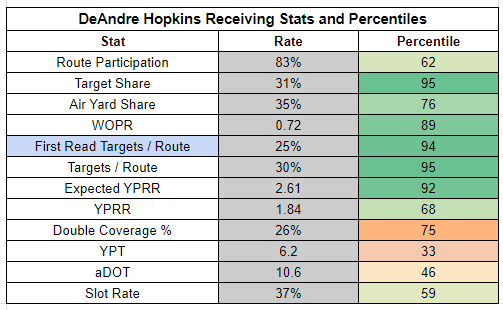 Even in a difficult matchup, Hopkins can be trusted to earn significant target volume.
Treylon Burks is beginning to show signs of life as well. After just a single first-read target in Week 1, he saw three against the Chargers (17%). He's still behind Hopkins in the target pecking order, but as his 70-yard catch showed, he adds a deep-threat element that Hopkins lacks at this point in his career.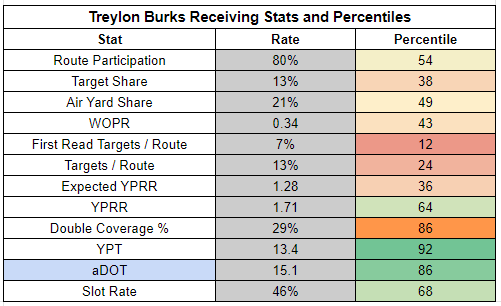 Burks is probably not someone you want to be starting this week. But he looks to be nearing full health after his preseason LCL sprain. He could be a very interesting start in a week or two.
Meanwhile, things look a little more bearish for Chig Okonkwo. After logging 71% route participation against the Saints, he fell to 66% against the Chargers.

It wasn't all bad. Okonkwo saw a solid 17% target share and a strong 21% TPRR. That was nice to see after he struggled to earn targets in Week 1. But Okonkwo's route participation was at part-time levels last week, which makes it difficult to believe he'll see elite route volume in this game.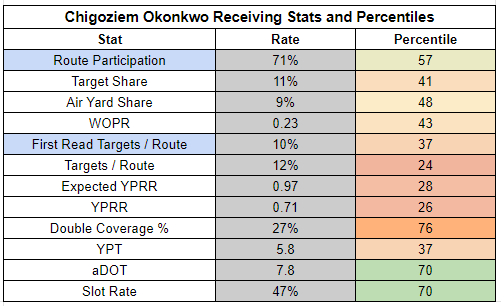 In a tough matchup and with Burks looking more capable of earning targets, Okonkwo looks like a dart throw option. His best bet is that the Titans utilize him on screens to slow down Cleveland's pass rush. Okonkwo has seen 17% of his targets on screens, which ranks TE5 among full-time players.
Against the Chargers, King Henry regained his backfield throne, playing 73% of snaps with Tyjae Spears at just 35%. And Henry was more involved as a receiver, earning three targets.

But Spears still stole two targets after seeing four in Week 1. With limited receiving volume going to the RBs in Tennessee, Spears continued involvement hurts. And now facing a Browns defense that ranks second in rushing success rate, it could be a low-value-touch kind of day for Henry. Given his unimpressive rushing efficiency this season, that is not a great setup.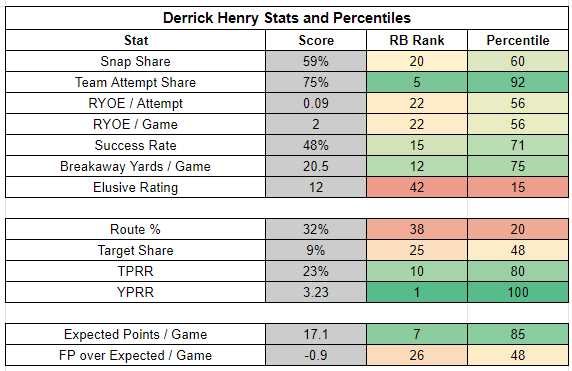 But with the Browns offense struggling to get anything going, the Titans are unlikely to be completely pushed off their game plan, which – surprise – will be to establish Henry. He's profiles as a low-end RB1.
Browns Implied Team Total: 21.25
Of all the timelines we could be living in, it feels safe to say that this one is not the best. But hey, at least the Browns look like total clowns for mortgaging their franchise for Deshaun Watson.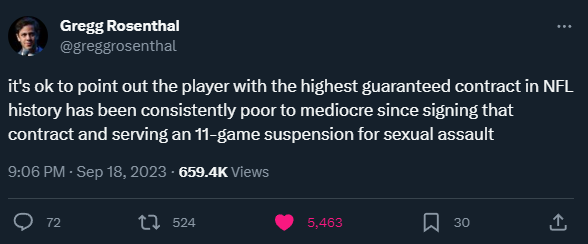 Watson ranks QB30 in EPA per game, ahead of only Trevor Lawrence and Kenny Pickett.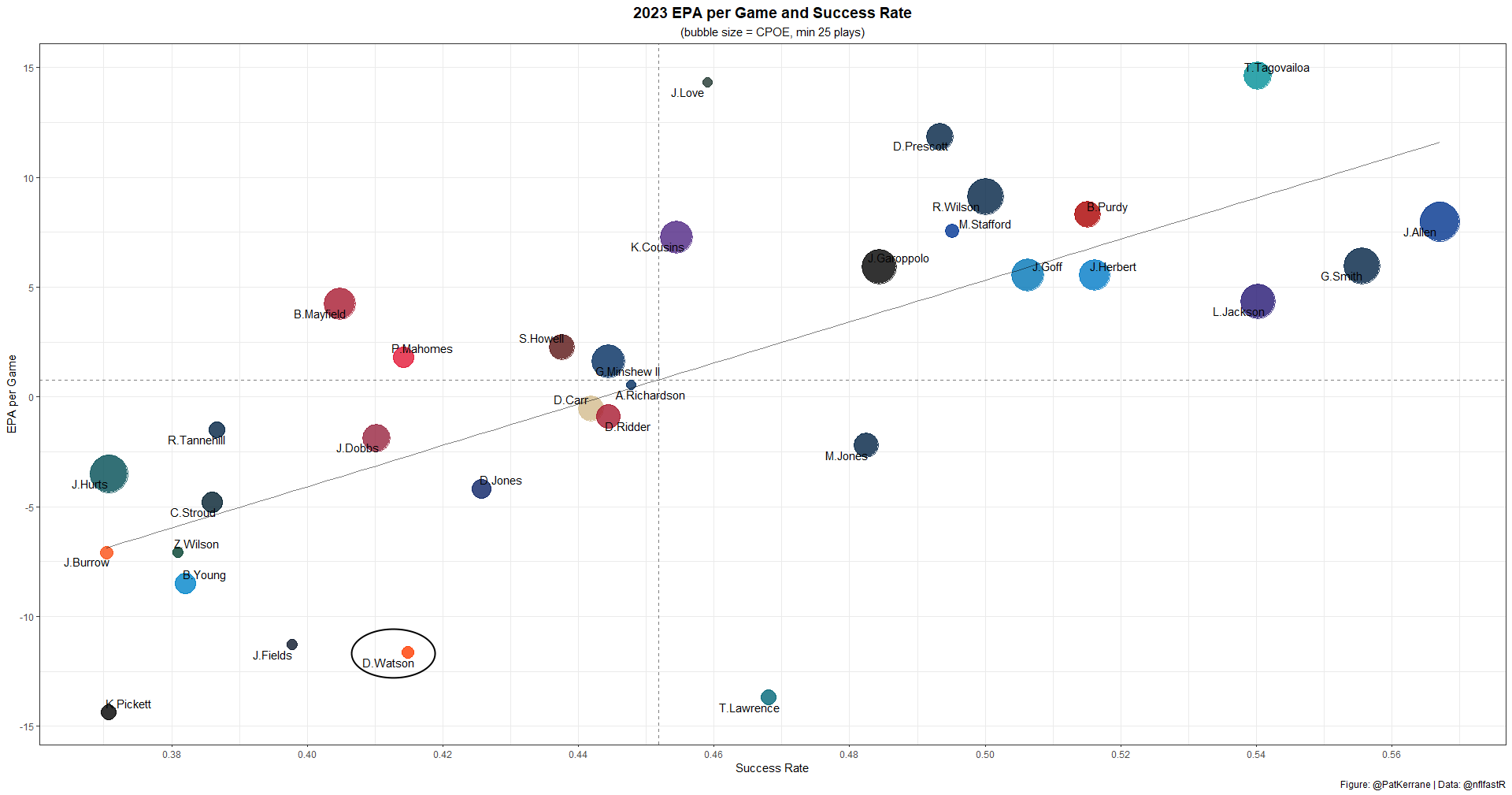 But, like Lawrence, Watson looks like a positive regression candidate. His success rate doesn't show as much potential for improvement as Lawrence's but he's unlikely to remain quite as inefficient as he's been so far.
And this week's matchup should help.
Watson gets a Titans defense that ranks 25th in EPA allowed per dropback and 22nd in success rate.

But while this week's matchup should help the Browns' passing game, that effect could be limited by the Browns' playcalling. Facing a Titans offense that is unlikely to push them, the Browns may play things conservatively, as they have done to start the season.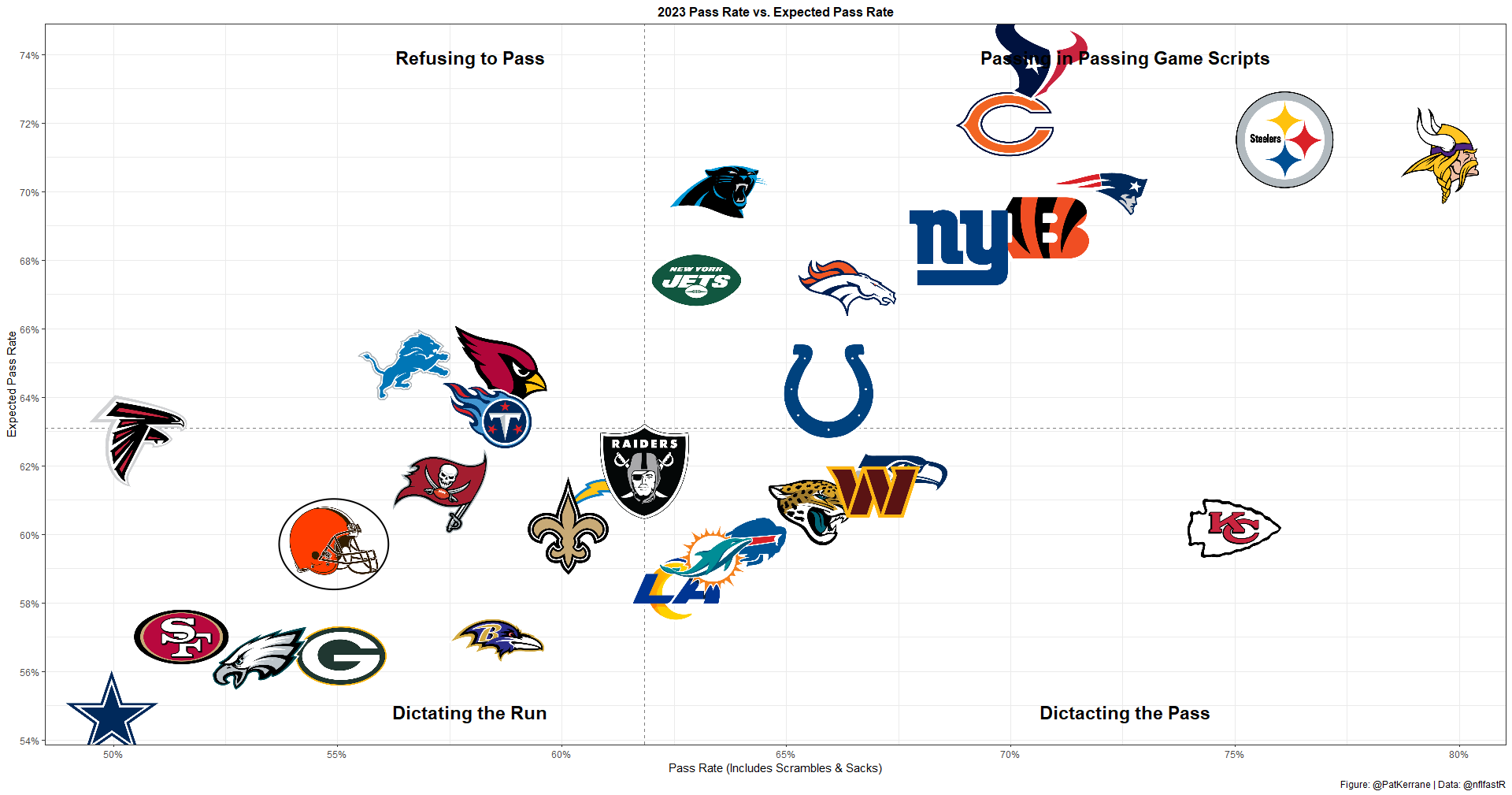 The Browns have generally been in game scripts that allow for high-rushing volume, and they've happily taken advantage of that. But this week, a run-heavy attack is unlikely to pay off.
This game will be a helpful data point regarding Kevin Stefanski's remaining level of trust in Watson. So far, opponents have shifted to the pass against the Titans, but the Browns, who have a -5% PROE this season, aren't a lock to follow suit.
Brutally, we lost Nick Chubb for the season on Monday night. Chubb is truly one of the all-time rushing greats, and was off to an excellent start this season.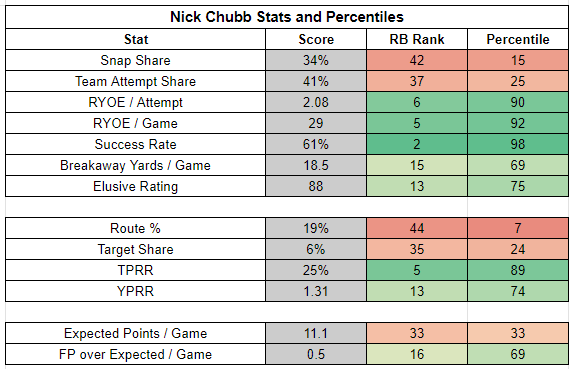 Chubb's 61% success rate is insane, especially as part of an offense that was struggling to move the ball through the air.
The Browns are now forced to feature Jerome Ford in the running game. Ford has flashed serious big-play ability on his 31 attempts. But he's also struggled badly with consistency.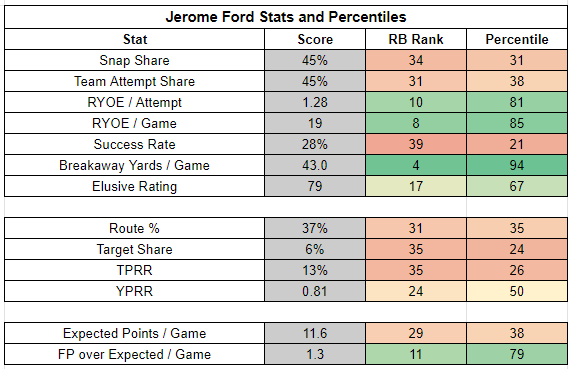 With Chubb in the backfield, the Browns had the option to take a break from their ineffective passing game, knowing that Chubb would be able to reliably churn out yards.
But Ford looks like a different type of back.
As an inconsistent but explosive runner, he looks better suited to being the big-play counterpunch to a dangerous passing game. In other words, if the Browns' passing game was clicking, he could be Cleveland's Raheem Mostert.
But Ford looks like a bad bet to consistently beat a staunch Tennessee front. He should be in for some very productive days as the Browns fill-in starter. But this week reeks of a Joshua Kelley-style letdown.
But perhaps knowing that they can't lean on Chubb will push the Browns to the air, increasing their odds of putting up points in this matchup.
And if the Browns' passing game can get things going, we should at least know where the targets are headed.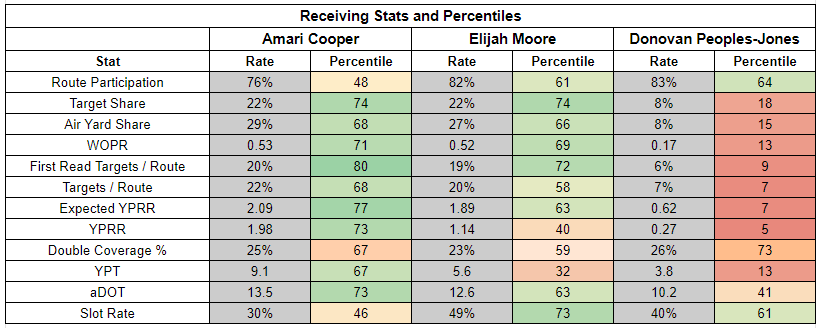 Amari Cooper and Elijah Moore have emerged as a 1A/1B tandem. Cooper looks to be the 1A... but it's too early to say for sure. Cooper has a slight lead in first-read target rate and expected YPRR, but Moore leads the league in almost cool catches.
Moore has just a 1.14 YPRR this year, but there's still plenty of meat on that bone. Elijah, if you can figure out a way to complete a catch before going out of bounds, add some broth, a potato, baby you got a stew going.
Cooper and Moore are helped by the fact that Donovan Peoples-Jones and David Njoku are professional wind sprinters.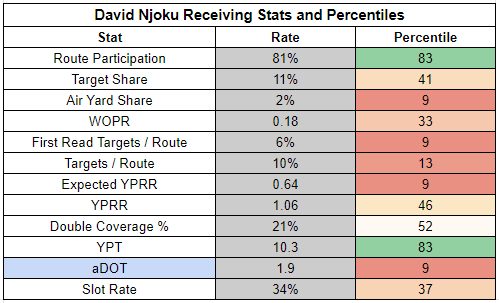 With a 6% first-read target rate, Njoku doesn't appear to be out there to catch passes. But with a 1.9 aDOT he's not pulling downfield coverage like DPJ (10.2 aDOT). So Njoku's version of cardio isn't even wind sprinting; it requires far less movement. Yoga maybe?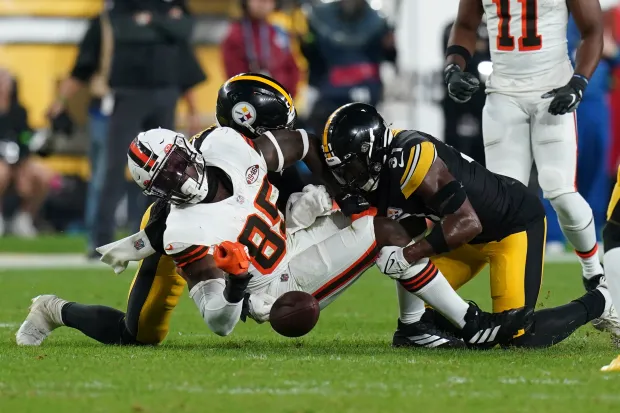 Regardless, Njoku is best left on benches outside of point per Downward Dawg leagues.
Bills at Commanders, 1 PM